THE IAIDO JOURNAL
(a TIN production)
ISSN 1498-8143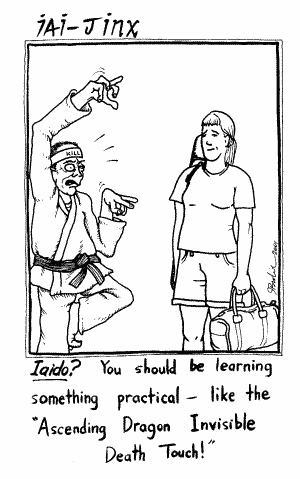 2001
A Report on the 8th European Iaido Championships: Arefiev (12/01)
Guelph School of Japanese Sword Arts 2001 (11/01)
Meiji Jingu Hounou Enbukai 2001: Lee (11/01)
The teacher is the needle: Explaining my choices in the Aiki Batto: Stenudd (10/01)
The Iaido Interviews: Kanto Boys in Queensland: Gilham (10/01)
A Glossary of Terms in Japanese Swordsmanship (10/01)
The Iaido Interviews: Nittai Instructors: Gilham (09/01)
Rank, Stinkin' Rank: Boylan (09/01)
The Iaido Interviews: Peter Swarczbord: Gilham (08/01)
A sword for the aikidoka: Choices made in constructing the Aiki Batto: Stenudd (08/01)
The Iaido Interviews: Sherman Lee: Gilham (07/01)
Kendo-World Magazine, a new English Language publication: Robison (07/01)
Miura Hidefusa and the Jikishinkai: Taylor (07/01)
The Iaido Interviews: Dean Hawthorne: Gilham (06/01)
Developing firm basics: Why the Aiki Batto sword exercises were created: Stefan Stenudd (06/01)
Urasenke: John Seavitt (06/01)
Miyamoto Musashi's "Self-Precepts" and "Nine Articles": John Stevens (06/01)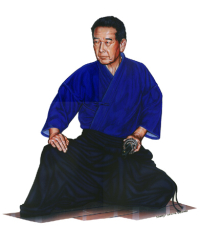 The Iaido Interviews: David Kolb: Gilham (05/01)
Judges, groveling and getting home: Gilham (05/01)
Swordsmanship at its Pretty Good: Castellani (04/01)
Tameshigiri Fundamentals: Taylor (04/01)
Interview with John Isaacs, Australia: Gilham (04/01)
Spiritual Practice in Budo: Boylan (02/01)
500 waza: New Year's Practice at Guelph: Taylor (01/01)
Feedback:
You are welcome to comment on the journal to the editor, Peter Boylan.
or leave us a note in the EJMAS guestbook
Want to join an iaido or kendo class? Check out the links at the All US Kendo Federation, the Canadian Kendo Federation, the British Kendo Association, the Kendo Australia, and the rest of the world.

The Iaido Journal is a publication of EJMAS







Receive email when this page changes


Click Here