Journal of Combative Sport, Jan 2002

Hawaiian Boxing: Walter Cho

By Joseph R. Svinth
Copyright Joseph R. Svinth © 2002. All rights reserved. The article appears in a slightly different format in "Fighting Spirit II: Korean American Boxers," Occasional Papers, A Publication of the Korean American Historical Society, 5 (2000-2001), 135-154.
Acknowledgments: Newspaper research by Patrick Baptiste, Rod Masuoka and Curtis Narimatsu. Interviews with Helen Cho by Pete Jhun and Paul Lou. Photographic research by Paul Lou and Curtis Narimatsu. The assistance of the Cho family, Michael D. Machado of the Hawaii State Boxing Commission, the Japanese American National Museum, and the Korean American Historical Society is also acknowledged.
In 1924, Japan's Toyama Military Academy adopted boxing as an official sport, and two years later Yujiro Watanabe, a Japanese who had boxed professionally in San Francisco, organized a college boxing smoker in Tokyo. A Honolulu businessman and Asahi baseball team financial patron named K. Oki happened to see the bouts and was impressed by the spirit of the young Japanese boxers. As a result, upon his return to Honolulu he became a great supporter of amateur boxing in Hawaii. Oki was not alone in his support of boxing, and so in August 1929 professional boxing was legalized in Hawaii. Among Hawaii's first legal prizefighters was the Korean American Walter Cho.
The son of Chai Yun Lee and Ai In Yoon, Walter Cho was born at Ewa on August 26, 1911. He was the fifth of six sons, and he also had two sisters.
In 1928 Walter and his brother Harry took up boxing at the Cosmopolitan Athletic Club. He and Harry did a little prizefighting before it was legal. "We used to fight for $5 for three rounds back in 1928-29," Cho told the Star-Bulletin's Jim Easterwood in May 1973. "We'd wrap our hands 12 or 15 times around with black friction tape, take the tape off and soak it in water. Then we'd put them back on -- it was like plaster of Paris."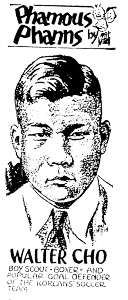 Walter Cho, from the Star-Bulletin, April 18, 1932.
Cho's first legal bout took place in Honolulu on October 12, 1929. His opponent was an experienced flyweight named Malicio Diotay, and in the words of the Star-Bulletin, "Cho did not take more than a minute to learn that this veteran of the ring possessed a wicked wallop," and the Filipino won by knockout in the second.
Cho's second fight took place on November 30, 1929. The opponent was an experienced fighter named Tadato "K.O." Kuratsu. "Cho forced the fighting, while Kuratsu was off," reported the Star-Bulletin, and as a result Cho won the decision. Sportswriter Leslie Nakashima, who later worked for Japan Times, added that Cho's victory was owed mostly to Kuratsu's overconfidence -- Kuratsu had the skills but waited until the fourth round to show them, and then, failing to knock Cho out, he lost the fight.
Cho's brother Harry boxed on the same card, earning a draw with Jack Fomain. According to the papers, Fomain had "been in training for nearly three months."
Although Cho had no fights in December 1929, in January 1930 the Advertiser's William Peet still rated him the eighth best featherweight (118-126 pounds) in Hawaii. As Cho had a 1-1-1 record, this suggests a bit of hyperbole on Peet's part. Still, living up to Peet's expectations, Cho won his next four fights.
Cho's win at Lihue, Kauai, on March 15, 1930, was by a foul. The opponent was the Kauai fighter "Kid" Bentura Lucaylucay, and in the third, said the Advertiser:
Bentura had rushed the Korean boy and dropped him with a wicked left cross and as he followed it up with a right and a left, these blows landed on Cho while he was on his knees. The foul came at the end of the third round as the bell rang, while Cho was on the mat. Referee [Johnny] Ferreiro sent Bentura to his corner and awarded the bout to Cho.
In front of 1,500 Kauai boxing fans on April 12, Cho lost a rematch with Lucaylucay. "Cho had only one chance to win," said the Advertiser:
That was in the first round when a stiff right to the button sent the Filipino to the mat, but Bentura came back and evened matters before the end of the round. The study Kauai boy outpointed Cho in the second, third, fourth, and sixth, but lost the fifth by a slight margin.
Back in Honolulu, Cho won six more fights between April and July.

On July 5, he fought a six-round main event against Speedy Reyes. The venue for the latter fight was the American Legion arena in Hilo. At the end of the first, Cho knocked Reyes down, but during the second round Reyes replied by knocking Cho down twice. As a result the fight was judged a draw.

On August 1, Cho fought Conrad Sanico in Honolulu. In the words of the Star-Bulletin, "Cho, pitted against a hard hitter as well as a clever boxer, fought the best scrap he has offered in a local ring. After taking some severe wallops to the body during the first few rounds Cho outlasted his opponent and handed out such punishment during the last few rounds that there was nothing for Sanico's seconds to do but toss the towel into the ring."

Since the Sanico fight was a crowd pleaser, on September 1 matchmaker Stanley McKenzie rewarded him with a rematch with Cho. This raised some eyebrows because Cho and Sanico had the same manager, the Korean American Mark K. Choo. If there was collusion, it didn't matter, as this ended up being the second-best fight on the card. Furthermore, said the Star-Bulletin, Sanico, "while given a draw, claims the honor of [being] the first boxer to drop Cho."
In the middle of the second round Sanico shot a right from his shoulder and landed on Cho's button [chin]. Cho dropped fast but his great condition held him in good stead and at the count of nine he got up.

Before the round ended, Cho was again knocked down for a count of four. It was a half push and knees that got Cho.

The first round went to Cho who outboxed Sanico. Cho also took the fourth and fifth round by cleverly boxing Sanico.
On October 24, 1930, Cho had a six-round fight with Gus Sproat at the Honolulu Stadium. It was ruled a draw. "Cho closed Sproat's left eye in the fifth and then cut his right eye in the sixth," William Peet wrote the following day in the Honolulu Advertiser. "How the judges ever ruled it a draw is beyond us." The Star-Bulletin thought that Sproat's best round had been the fourth, when he staggered Cho with a right to the jaw, but concluded that Cho evened things during the fifth and sixth.

During the winter of 1930-1931, Cho did not box but instead served as trainer for a Korean basketball team that played in a YMCA league. He also played goalie for a Korean soccer team and served as assistant scoutmaster for Boy Scout Troop 19, the Flying Eagles. Most of the scouts were Korean, too, as names mentioned in the papers included George Cho, Joseph Kim, Paul Kim, Richard Kim, Adam Lee, Hark Soo Lee, Kenneth Lee, and We Sun Lim. (Troop 19 was founded in 1919, and according to its 1932 annual report, it had 18 members. Basketball was a favorite activity, but scouts also hiked and practiced first aid, fire-by-friction, and knot-tying.)

On January 15, 1931, Cho got a job working for the Star-Bulletin in its distribution department, and this may have contributed to Don Watson of the Star-Bulletin subsequently rating Cho the fifth best featherweight in Hawaii. Nevertheless, probably due to his new job, Cho did not have another fight until July 4, 1931, when he fought Pedro "Kid Aiea" Maltis in Honolulu. "Cho came up off the floor to win," said Watson, "dropping Aiea for the count with a hard right to the jaw just 42 seconds after the third round started."
Cho took the first round and the second was fairly even. The third was hardly started when Aiea dropped Cho with a hard right to the jaw, but Cho bounced up without taking a count. Cho then ripped into his opponent and the two stood toe to toe and slugged, Cho finally slipping over the sleep producer.

The winner does not look quite as rugged as he used to, but showed that he can still take them on the chin and also that he has not lost his kayo wallop.
Cho continued devoting after-work hours to training, and on September 8 he "made short work of Nero [José "Kid Nero" Nere] in the six round main preliminary, stopping the Filipino boy after one minute and 15 seconds in the first round. Cho looked like a million and Nero hardly laid a glove on him."

Cho's fight eleven days later was not so easy. This time the opponent was José "Little Moro" Bagtong, and, "when it comes to butting with his head," said the Star-Bulletin, "this chap, Little Moro, takes some kind of a prize."
He cut both of Cho's eyes by butting and it looked as though he was doing his best to repeat during the balance of the fight. Cho proved too tough for the Filipino, however, and threw more gloves into the latter's face than he had seen since leaving the Philippines. It must be handed to Moro that he is a tough youngster. Lots of the boys would have gone down for the count under less than Moro took.
The next opponent was Rosendo "Rough Dumagilis" Guelas, and their fight took place December 18, 1931. Cho won the first four rounds on points. Then in the fifth, Guelas knocked Cho down three times, and he remained strong in the sixth. As a result the judges called the fight a draw.

Due to work continuing to interfere with training, Cho quit fighting for the next fourteen months. However, he remained physically active and on April 18, 1932, the Star-Bulletin described Cho as a "Boy Scout, boxer, and popular goal defender of the Koreans' soccer team." He also continued to enjoy basketball, and served as athletic trainer for the Star-Bulletin basketball team. (As a registered professional fighter, by AAU rules he was ineligible to play for an amateur team. This was not a problem in soccer, however, as the AAU did not control soccer. Therefore several professional fighters played soccer in Hawaii during the 1930s.)

On February 17, 1933 Cho returned to the ring for a match with Telesforo "Kid Schofield" Daguio. Cho won by knockout in the first. Said the Star-Bulletin afterward: "The first was hardly started when Cho staggered the Filipino with a right to the jaw. He was faster than Schofield and got away after landing his rights before Schofield could counter."
Cho landed one right to the body that drew a warning for being low. He then switched his attacks to the head and a hard right to the jaw sent Schofield staggering back to the ropes. Cho was on top of his man with a shower of lefts and rights to the head, a final right to the jaw sending Schofield between the second and bottom ropes, where he remained on the floor while being counted out. The bell sounded to end the [first] round just after the count of 10.
On March 24 Cho beat Henry Callejo. "Cho won the decision without question," said the Star-Bulletin, "but could not put the Filipino boy down." On June 16, he also fought a draw with the Manila fighter Dionicio "Young Dumagilis" Quianio. Cho was expected to win easily, and only about 400 people attended the fight. The result, however, was closer than anyone expected, and "Had it not been for a knockdown in the fourth round," said Don Watson in the Star-Bulletin, "Cho would probably have taken the nod over Dumagilis, but there were no protests when the affair was called a draw."

Following this fight, Cho took some time off to let an injury to his right wrist heal. As a result he did not fight Midget Wolgast during Wolgast's 1933 tour of Hawaii, nor even the popular local fighter Johnny Yasui. However, by May 1933 he felt healthy enough to play second base for "The Koreans" in the local Reach League.

During August 1933 Joe Dunn took over the boxing gym on Vineyard Street, and its former manager Jim Sato (real name: James I. Fukuoka) decided to organize a trip to Japan. Honolulu businessman K. Oki, who was simultaneously sending his Asahi baseball team to Japan, provided the funding. The fighters who went to Tokyo were Billy Boggs, Anson Rego, Walter Cho, and "Tiny" Tommy Muroda, and their manager was Katsu Kudo.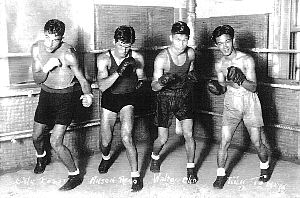 From left to right, Boggs, Rego, Cho, and Muroda, in Japan, 1933. Photo courtesy the Paul Lou collection.
"Cho has a job and has been given three months' leave to take to a trip to his homeland," explained the Star-Bulletin in September 1933. "After Japan he plans to go to Korea, where his parents were born. Korean boxers are very popular in Japan."
The boxers sailed for Japan aboard Tatsuta Maru. "The boys are going with the idea of vacationing," manager Kudo told the Star-Bulletin. "If we happen to make some money, it will be considered lucky."
On October 17 Cho participated in a double main event in Tokyo. His opponent was Koichi Takeda, and Cho won in six. "In Japan there isn't any fire regulation," Cho wrote Don Watson in Honolulu, "and standing room is sold for one yen. There were about 2,000 persons standing in the back and in the aisles. They don't have inspectors in the dressing rooms. No adhesive tape is allowed on the hands. The only place you can use tape is on the wrists. Since there is no boxing commission, fights are put on by different clubs and there is no limit to the number of rounds. Last night they had 56 rounds of boxing."
On October 24 Cho defeated Fukuo Matsuoka during a six-round semi-final match in Tokyo. "I started the first round feeling my opponent out and had a slight edge," Cho wrote Watson. "I rallied in the second and put Matsuoka down for a nine count with a right to the solar plexus… I dropped Matsuoka again in the third for no count. In the fourth round I landed another right to the solar plexus and he tried to claim a foul. The referee said it was a clean blow, however, and Matsuoka had to continue. I coasted through the last two rounds and got the decision."
A week later Cho had a rematch with Takeda. "After the fight was over," Cho wrote Watson, "the referee raised my hand, giving me the decision. After I had my street clothes on and was sitting in the dressing room one of the boys came in and told me that the announcer, just before the second main event, announced that my fight with Takata was a draw. I guess one of the judges changed his mind after the fight. Fight judges here take an awful risk, because if the verdict is not to the fans' liking they give the judges a beating."
On November 16 Cho fought Fighting Yaba; although details are not available, the result was Cho winning in eight.
Cho returned to Hawaii in December 1933. Upon disembarking the SS President Taft, he weighed 133 pounds, about ten more than when he left. "It's the weather," he told Percy Koizumi, "and in that weather you eat."
During the winter of 1934 Cho played goalie for a Korean soccer team, and in the spring he played first base for the Star-Bulletin baseball team. And on July 3, 1934 he was ready for a fight with Herminigildo "Young Gildo" Baguio. The fight took place at the Kahului Fairgrounds on Maui, and as both fighters were popular there was a capacity crowd. Although Cho lost, the Star-Bulletin reported that the "scrap was one of the closest ever seen on Maui and the throng went away highly pleased with the affair."
"It was a treat to talk to Walter Cho, pro boxer, after he came back from Maui," said Watson. "Instead of offering alibis Cho had nothing but praise for the ability of his opponent. He said there was no question about it, that Gildo defeated him during the last part of the fight and deserved to get the decision."
In September 1934, the Territorial Boxing Commission rated Cho the best class 2 featherweight in the Islands, behind Young Gildo and ahead of Johnny Yasui. The rating may have been a bit generous, however, as on October 12 Cho lost a decision to Joe Velasco. The reason, he said afterwards, was that a recent promotion at work meant less time for training. So, as work was more important than boxing, he announced that his last fight would be a rematch with Young Gildo.
The bout took place on Maui on November 1, 1934. It was a neat exhibition, said Don Watson, "closely contested all the way, but there was no question about which should get the decision. Gildo outspeeded Cho, landing more blows, although the wallops Cho landed were more effective."
Following retirement from the ring, Cho remained active with Scout Troop 19. He also coached commercial league softball teams and took up golf and bowling. On July 27, 1940, he married Helen Yang, formerly of Sacramento, and the couple had their first child, son Walter Jr., in 1941. In 1947 they had a second son, Jeffry. In 1947 Cho went to California for five weeks to study newspaper techniques on the Mainland. While there, he also visited Boy Scout organizations. In August 1956 the whole Cho family went to the Mainland to visit Mrs. Cho's family and to tour the western United States, and in November 1969 the Cho family went to Korea, a visit Cho commemorated by golfing in the snow. Meanwhile, Cho was promoted to mailroom foreman and made a member of the paper's credit union credit committee.
But boxing remained in his blood. From 1935 to 1938 he coached amateur boxing at Palama Settlement and Aiea Plantation, and in 1938 he became a boxing referee. He was paid for refereeing the professional fights but did the amateur fights for free, and he was proud of having attended every major Honolulu fight from 1935 to 1973 except one in 1960 when he was sick. Obviously this was not always as referee or judge, but typically it was, and he always took his official duties seriously. "The referee has great responsibility in the ring," Cho told journalist Andrew Mitsukado in October 1969. "He must see to it that the fans get their money's worth of fighting and at the same time he must protect the boxers from serious or fatal injury… Sometimes the fans do not agree with his judgment and decision, but that should not deter him from acting as his judgment dictates."

Walter Cho standing between Tsuneshi Maruo and Manuel Ortiz, 1948. Photo courtesy the Paul Lou Collection.
Thus he was picked to be the referee in Hawaii's first world championship bout (David Kui Kong Young versus Manuel Ortiz, May 30, 1947), plus three other world championship fights (Ortiz vs. Dado Marino, 1949; Marino vs. Terry Allen, 1950; Marino vs. Terry Allen, 1951). He was also a referee and judge at the US Golden Gloves tournament of champions held in Minneapolis in March 1972. Finally, from June 1977 to June 1981 he was a member of the Hawaii State Boxing Commission.
Walter Cho died in October 1985.


Career Record
Cho's known record stands at 31 fights. He won 20 (9 by knockout, one by foul), drew 6, and lost 5 (one by knockout).

| | | | |
| --- | --- | --- | --- |
| Date | Opponent | Venue | Result |
| 1929 Oct 12 | "Young" Malicio Diotay | Honolulu | L by KO2 |
| 1929 Nov 30 | Tadato "K.O." Kuratsu | Honolulu | W4 |
| 1930 Jan 31 | Tsugio "Jab" Hayashi | Honolulu | W4 |
| 1930 Feb 21 | Mariano Mascardo | Honolulu | W4 |
| 1930 Mar 7 | Joe P. Miller | Honolulu | TKO3 |
| 1930 Mar 15 | "Kid" Bentura Lucaylucay | Lihue, Kauai | WF3 |
| 1930 Apr 12 | "Kid" Bentura Lucaylucay | Lihue, Kauai | L6 |
| 1930 Apr 18 | M. Freitas | Honolulu | TKO5 |
| 1930 May 3 | Joe P. Miller | Honolulu | KO2 |
| 1930 May 9 | J. "Patsy" Fernandez | Honolulu | W6 |
| 1930 May 29 | Roberto "Bobby" Rodrigo | Honolulu | TKO3 |
| 1930 Jun 10 | Andreas Alcala | Honolulu | W6 |
| 1930 Jun 20 | Mariano Matias | Honolulu | W6 |
| 1930 Jul 5 | Pedro "Speedy" Reyes | Hilo | D6 |
| 1930 Aug 1 | Conrad Sanico | Honolulu | TKO6 |
| 1930 Sep 1 | Conrad Sanico | Honolulu | D6 |
| 1930 Oct 24 | Gus K. Sproat | Honolulu | D6 |
| 1931 Jul 4 | Pedro U. "Kid Aiea" Maltis | Honolulu | KO3 |
| 1931 Sep 8 | José "Kid Nero" Nere | Honolulu | KO1 |
| 1931 Sep 19 | José "Little Moro" Bagtong | Honolulu | W6 |
| 1931 Dec 18 | Rosendo "Rough Dumagilis" Guelas | Honolulu | D6 |
| 1933 Feb 17 | Telesforo "Kid Schofield" Daguio | Honolulu | KO1 |
| 1933 Mar 24 | Henry Callejo | Honolulu | W6 |
| 1933 Jun 16 | Dionicio "Young Dumagilis" Quianio | Honolulu | D8 |
| 1933 Oct 17 | Koichi Takeda | Tokyo | W6 |
| 1933 Oct 23 | Fukuo Matsuoka | Tokyo | W6 |
| 1933 Oct 30 | Koichi Takeda | Tokyo | D6 |
| 1933 Nov 16 | Fighting Yaba | Tokyo | W8 |
| 1934 Jul 3 | Herminigildo "Young Gildo" Baguio | Kahului, Maui | L8 |
| 1934 Oct 12 | Pedro "Joe" Velasco | Honolulu | L6 |
| 1934 Nov 1 | Herminigildo "Young Gildo" Baguio | Maunaloa, Molokai | L6 |