InYo: Journal of Alternative Perspectives June 2002

'The Lion of the Punjab' – Part II: Stanislaus Zbyszko
By Graham Noble

Copyright © Graham Noble 2002. All rights reserved.

Editor's note: The term "Indian," as used in these articles, is geographical and historical rather than political, and refers to the citizens of British India, a region that is today divided into India, Pakistan, Bangladesh, Sri Lanka, Myanmar (Burma), and the disputed area of Kashmir.





Preface

The first portion of this article appears at http://ejmas.com/jalt/jaltart_noble_0502.htm. Along with my articles on Yukio Tani and Youssuf Ishmaelo, these are chapters from the book I'm trying to put together on turn of the (nineteenth) century jujutsu and professional wrestling. I never intended to write a book, but the interest of the subject took hold, and it somehow seems that the book itself wants to be written. At any rate, when I began to write on these subjects, help and material began to flow my way from some excellent historians and researchers.

I want to acknowledge my use of material from Joseph Alter's historical essays on Gama, as they were an invaluable source for Gama's pre-England career. Grateful thanks also go to Robert W. Smith, who first stirred my interest in Gama with his 1963 Black Belt article, who supplied me, just at the right time, with a copy of Muzumdar's Strong Men Over the Years, and who allowed me to quote extensively from his Stanislaus Zbyszko letters; to wrestling historian Mark Hewitt; to Michael Murphy, who has been amazingly generous in sharing material from his collection; to John Spokes, for the loan of his old editions of Health and Strength; to Joseph Svinth for sending me copies of Ernest Sodergren's clippings on the Great Gama (which he in turn received from Nadeem S. Haroon); and to the British Library and British Newspaper Library. Thanks are also due to Joe Roark, for obituary material relating to Hackenschmidt and Zbyszko, and Balbir Singh Kanwal, for Indian newspaper accounts relating to Gama and Zbyszko.

Hopefully that's included everyone, and if anyone has further information on Gama and the other great Indian wrestlers of the early twentieth century, please contact the editor at jsvinth@ejmas.com.




III.

Nat Fleischer, the editor of The Ring, once rated Stanislaus Zbyszko as the third best professional wrestler of all time. That was a rather easy, glib judgment, and Fleischer was really known as a boxing journalist, but I suppose a case could be made for Zbyszko's placing based on a long professional career of over thirty years, his winning of the world championship twice (the second time at age 46), and his win-loss record in a pro wrestling world which was supposed to be genuine.

Certainly Zbyszko was one of the most interesting figures in twentieth century pro wrestling. He was active from the turn-of-the-century days of strongmen and Greco-Roman tournaments held throughout Europe to the new world of professional wrestling which came into being in America in the 1920s and 1930s. In his later years, from his home in Missouri, he looked with disdain on the modern style of wrestling, which he contrasted with the good old days when it was an honourable sport contested by athletes rather than showmen.

He was born Stanislaus Cyganiewicz, in Krakow, Poland, a city which was at the time part of the Austro-Hungarian Empire. The Social Security Death Index says that his date of birth was April 1, 1881. Zbyszko – the name he later took for his wrestling career – started training in his teens, and while attending college in Vienna, he joined the well known Vindobona Athletic Club. (Vindobona was the Imperial Roman name for Vienna.) There he trained with weights and made rapid gains: Zbyszko was one of those rare people who are genetically disposed to put on muscle rapidly with exercise.

Early photos of Zbyszko show an impressive development of the upper body. He was still relatively trim at this time, but he soon put on additional size as he established himself as one of the top Greco-Roman wrestlers on the Continent. The extra weight was useful for wrestling, and some of it may have been excess flesh by today's standards, but beneath that there was still massive muscular development.

Zbyszko was a genuine heavyweight, but he wasn't all that tall: as Leo Gaudreau noted, in a lineup, other heavyweights such as Jankowski and Dettinger seemed a full half head taller. His height is generally given as five foot ten, though Desbonnet measured him at a little less than five foot nine, and Health and Strength once had him as five foot seven and a half. I would think he was around five foot eight, but still a real heavyweight: Desbonnet weighed him at 240 pounds, with 20 inch neck, right biceps 20-1/2 inches, right forearm 15 inches, thighs 28-1/2 inches, and for a man of Zbyszko's height, that pointed to tremendous physical power.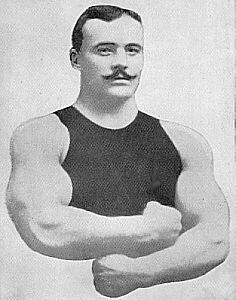 Stanley Zybszko
Zbyszko had trained with weights, but never really specialised in weightlifting, trying rather to develop "agility, speed, quick orientation, points necessary for wrestling." Yet, in front of Desbonnet he could still do a two arm press of 253 pounds, a clean and push press (feet together) of 264 pounds, and a performance of 275 pounds on a Regnier dynamometer. The dynamometer was a device used to measure grip strength, and Zbyszko's 275 pounds was near the top of the range: it was, for example nine pounds better than Charles Batta had done, and Batta was a strongman famous for his grip strength.
Around 1900, as Zbyszko recalled, "George Hackenschmidt made his sensational appearance, attaining spectacular victories over the great Turkish wrestlers Kara Ahmed and Halil Adali, two wrestlers who had been considered invincible." Zbyszko was attracted by a career in professional wrestling, and he seems to have been introduced to the professional game by the well-known Polish wrestler Ladislaus Pytlasinsky, who at one time he considered his "mentor."
By 1903, Health and Strength listed Zbyszko as one of the leading continental heavyweights. The records, such as they are, indicate that "St. Cyganiewicz" was second place winner in a Greco-Roman tournament in St. Petersburg as early as 1900, and Zbyszko took third place in Paris in 1903. Zbyszko himself thought that he established himself in the top flight in Petersburg in 1905, when he wrestled the famous Ivan Poddubny to a two-hour draw. In 1906 he won the big Greco-Roman world championship tournament held at the Casino de Paris. George Lurich took second place and Constant le Marin third.
Zbyszko was then brought to England by Charles Cochrane. This was the same Charles Cochrane who had been Hackenschmidt's manager. He wasn't brought over to wrestle competitively, but to work the theatres and music halls, and according to Cochrane, who described Zbyszko as "a good soul, of good family, well educated, cultured even" and "most straightforward in his dealings," he was a great success. "He was a great drawing card. They came hoping to see Zbyszko beaten. He was a splendid showman, and gave the public exactly what they wanted."
In his book Secrets of a Showman (1925), Cochrane described how it all worked:
After his London engagement Zbyszko did enormous business in the provinces. I supplied him with a number of aggressive contestants, who always appeared to have a good chance with him – and this made for big receipts. I had learned from experience with Hack that the music hall public required a show, and I had no compunction in giving them what they wanted – a show.

A member of the troupe, who was particularly successful in creating excitement, and making the receipts go up, was a raw-boned Scotsman. Zbyszko wrestled under Graeco-Roman rules, but the Scotsman always disregarded them, and notwithstanding the protest of the referees, in the different towns we visited, practised catch-as-catch-can holds. In one case, I remember, he threw the referee himself into the orchestra.
Zbyszko did wrestle some competitive matches against other professionals, but, for example… when Zbyszko was appearing at the London Pavilion, a Turkish wrestler, Kara Suliman, "The Champion of the Bosphorus," turned up with his manager and challenged him. Zbyszko did have an open challenge, but since Kara Suliman hadn't fulfilled certain conditions, he wouldn't wrestle that night. But a match was arranged for a few days later.

They met at the Pavilion on January 4, 1908, for £50 a side, Zbyszko undertaking to throw Kara Suliman in twenty minutes. In fact, Zbyszko had to act on the defensive for most of the time against the 6 foot, 265 pound Turk: Suliman generally had the advantage but couldn't get a fall, and "Zbyszko was apparently all at sea with the Turk's methods." After twenty minutes, time was up and the match was stopped, to cheers for Kara Suliman and boos for Zbyszko. Actually, "Pandemonium reigned for some time," and Charles Cochrane recalled some of the crowd pulling electric light fittings off the wall and throwing them on the stage. Things only calmed down when it was announced that a return match would take place.

The management of the Pavilion was so shocked by these scenes that they stopped any wrestling at the Theatre, and Zbyszko's appearances there were cancelled. However, it worked out fine because Cochrane signed a contract for Zbyszko to appear at the Gibbons music halls for eighteen weeks, and also had the use of the Holborn Empire for the Zbyszko-Suliman rematch. This was an eagerly awaited contest and Cochrane remembered that receipts were in the neighbourhood of £1,000.

He return was in the Greco-Roman style, for the best of three falls, and this time Zbyszko won easily. Although Suliman was able to turn Zbyszko over, and "time after time brought him close to his shoulders, "he couldn't get the pinfall," and finally Zbyszko "gripped him in a vice, and with Herculean strength gradually forced Kara Suliman onto his shoulders with a reversed chest hold." The time was 30 minutes 40 seconds. After a rest the second fall was contested, and Kara Suliman was pinned in the disappointing time of 33 seconds. He seemed to have no fight left in him.

The papers thought that Kara Suliman's performance was poor, and that Zbyszko was not too good either: "The best that can be said of the match was, it was a sight of two burly men tossing each other about, sometimes very aimlessly, and in a style totally devoid of scientific principles."

And there it might have ended, just another Zybszko victory, except that someone tipped off the papers, because The Sporting Life of February 22 revealed that Kara Suliman, Turkish "Champion of the Bosphorus," the son of a wealthy carpet dealer, etc., didn't exist. Rather, Zbyszko's opponent had really been Ivan Offtharoff, a Bulgarian, who had in effect been in Zbyszko's employ the whole time. Offtharoff had disappeared from his lodgings at 259 Kennington Road, which, strangely, had previously been Zbyszko's lodgings, and which even now housed Weber, a member of Zbyszko's wrestling troupe. It was established that Offtharoff's rent and food bills at Kennington Road had been paid by Zbyszko, and that now that he had left, his landlady had instructions to forward his mail to 46 Kennington Oval – which happened to be Zbyszko's current address. Furthermore, no one had ever seen "Mr. Constanin Papiani," Offtharoff/Suliman's backer, or could even establish that he existed. And there had been the hullabaloo over Suliman's "secret preparation," an oil that was absorbed into the skin before the match, but which came to the surface during wrestling and made Suliman impossible to hold. Cochrane had insisted that both men were fully washed before the contest, which they were, but in his memoirs he admitted that there never had been any secret preparation: it was all a publicity stunt that he had dreamed up.

The Sporting Life summed up the whole affair in its edition of February 24, 1908:
We cannot deny that there is a certain element of humour in the situation. Here are two foreign wrestlers hoaxing the British public as it has not been hoaxed for many a long day. There were challenges and counter challenges, affected quarrels, threatened breaking off of negotiations, meetings at the Sportsman office, the deposit of money on behalf of Mr. 'Constantin Papiani," who does not exist, charges of skin-greasing, and to crown it all, hot water baths for the two friends who were soon to be in each other's deadly embrace. How these two fellows must have enjoyed their baths – with their tongues in their cheeks, while the deluded British public were rolling up in their thousands to pay for admission to see the wrestling. It is more like a bit from a comic opera than anything we have ever heard of in the world of sport. While we admit to the humour of the situation, we cannot shut our eyes to the seriousness of the matter, and we ask, How long is the generous-hearted supporter of wrestling to be imposed upon by these gentlemen from the continent? If a state of matters exist such as we have shown existed between Zbyszko and Suliman, what confidence can we have that when the men, after due palaver, do meet, we are to have real honest wrestling? Both at the Pavilion and the Holborn Zybszko and Suliman gave good 'shows', but the story we have disclosed of Zbyszko paying for Suliman's board and lodging since he stayed in Kennington Road does not reassure us that the two men were really trying. Is this wrestling farce never to end?
It was for reasons such as this that many people were unhappy when the short-lived "Professional Wrestling Board of Control" chose Zbyszko as one of the four contestants in their abortive Championship elimination process, the others being Gotch, Hackenschmidt, and John Lemm. "We detest his fake proclivities," was one comment. Yet I don't think anyone ever doubted Zbyszko's physical power. The well-known professional strongman and trainer Monte Saldo recalled helping to train Zbyszko for his abortive match with Giovanni Raicevitch, the Italian heavyweight who had won the big Paris (Folies Bergeres) tournament in 1908: "The practical training for this intended match took place at my small gymnasium in Leicester Place, Leicester Square, London. The usual method of procedure was to line up six men, when Zbyszko would throw them in sequence again and again, until they all had enough."

Zbyszko's powers of physical strength and endurance were also illustrated by his London match with Ivan Poddubny, on December 12, 1907. Poddubny, who was often described as "The Cossack," was considered by many to be the strongest Greco-Roman style wrestler in the world. He had won many championship tournaments, including the big Paris events. Edmond Desbonnet measured Poddubny at 6 foot tall, weighing 246 pounds, and considered that, "currently, Padoubny is the athlete who gives the greatest impression of strength." Although Poddubny wasn't a weight-trained wrestler he possessed great natural power, and at the "Weightlifting Club of France," Desbonnet saw him raise a cast-iron bell of 468 livres. (A livre is French pound, and that lift was 505.6 English pounds, or 229.3 kilos.) When his match with Zbyszko took place at the London Pavilion, the theatre was "packed in every part," and such was the interest that large crowds had to be turned away.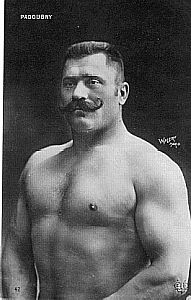 Ivan Poddubny. Courtesy Michael Murphy.
These really were two of the most physically powerful men in the world, and the report in The Sportsman read:
When the two great protagonists of Greco-Roman wrestling appeared on the mat, a murmur of admiration came from the expectant house at the spectacle of two such magnificent specimens of humanity. Padoubny at once struck the eye as the harder and better trained man. He simply towered over the other but his greater length of limb gave him an advantage that was more apparent than real, and if anything Zybsco carried more advantages for Greco-Roman wrestling in the superior concentration of muscular power in his arms and shoulders. Balance is everything in this style of wrestling, and the Galician's abnormal development of chest gave him a perfect leverage in warding off the attacks of his opponent, for Padoubny had to bend down to get to grips and thus found his full power considerably lessened. Zbysco appeared to carry too much flesh, but it is an axiom with Continental wrestlers to get fit with as little loss of flesh as possible as they regard weight as one of their most telling assets. The Galician's build above the waist is simply superb and a strong, square head is moulded on a neck as firm as a block of marble and as thick round as the average man's thigh. He has enormous width of shoulders, and his biceps are the biggest possessed by any living wrestler. Padoubny took the stage weighing 19 st. 1 lb. [261 pounds], Zbysco, Mr. Cochrane's protégé, turning the scale at 18 st. 2 lb. [254 pounds]."
The referee was George Dunning and the timekeeper E.W. Barton-Wright. It was announced that the match was for £200 a side, in the Greco-Roman style, one pin fall to decide the winner. The winner would receive all the gate money, less expenses. The loser would get nothing. The men would wrestle for fifteen minutes, then have two minutes rest before going on for up to three hours. For some reason "this last announcement provoked a ripple of laughter."

At the start of the contest they came to grips – and from then on neither would budge an inch. The match lasted 35 minutes and, up to the end, they were never once off their feet. Both strove to find a weakness, or to get an advantageous hold, but their strength was equally matched: "For thirty five minutes the men strove in vain to find a weak spot in his opponent's guard. Not once did either get an effective hold, and it looked as though the match would only be decided by the process of exhaustion."

Poddubny was the aggressor throughout, but he found Zbyszko's dour resistance hard to break down, and mostly it was a struggle for holds. At one point Zbyszko tried to push Poddubny down with a neck grip, but Ivan pulled out of the hold. A few minutes later Poddubny began uppercutting Zbyszko under the chin, giving him a cut lip that bled profusely. Then he began butting with his head, an action for which he was cautioned by the referee and booed by the crowd.

The break at fifteen minutes came round, and then after two minutes rest, the contest resumed. "Up to this point," said The Sporting Life, "not one single good point in wrestling was observable."

As the second round got under way, Poddubny was again the aggressor, with Zbyszko defending. Zbyszko's tactic was to wait, to let Poddubny do all the work until he began to tire himself out. As he wrote after the match: "I must defend and keep on defending until I wore him down. It is always my policy." And, despite all the rough handling, Zbyszko remained strong. "He appeared to carry such a powerful reserve of strength," read one report, "that he was able to push his opponent at will."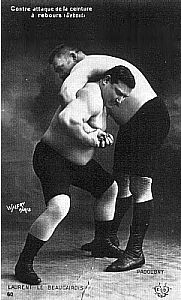 Laurent le Beaucairois (left) and Ivan Poddubny. Courtesy Michael Murphy.
Poddubny continued his rough tactics, including the use of the head. Zbyszko butted back once, in retaliation, and then a few minutes later, "Padoubny ran full tilt at Zbysco with his head and gave the Galician a terrific blow. This incensed the crowd, and they called loudly for Padoubny's disqualification. He was cautioned."
After Poddubny was warned that he would be disqualified, he calmed down a little, although he attempted a prohibited stranglehold, which Zbyszko broke fairly easily. He managed to get on a partial arm lock, and then a head hold, but by now both men were covered in sweat, and Zbyszko again slipped free. The match had now become a grim struggle in which it seemed endurance would be the deciding factor.
Then, at 35 minutes into the match, Poddubny made "a wild dash" at Zbyszko and threw him over his outstretched leg so that both men went through the bottom ropes, Poddubny on top. They continued to struggle, and Poddubny had to be pulled off his man by the referee and seconds.
That throw was a foul under Greco-Roman rules and, "For a time there was such a pandemonium as is seldom witnessed in a place of entertainment in London. Padoubny had to be pulled away from his man, and it was amid much angry shouting that Mr. Nixon [the emcee] announced that the referee had disqualified Padoubny for unfair play."
"Padoubny seemed to lose his head completely on being disqualified," said The Sporting Life. He hurled "defiant threats" and it looked as if he was going to attack Zbyszko until both men were restrained. He strode about the stage insisting it had been a fair throw and he shouldn't have been disqualified, but the crowd were unsympathetic, hostile even, and eventually he left the scene. Zbyszko took the side stake of £400 and his share of the gate receipts, after expenses. And he still felt able to call himself "Zybszko, Champion Wrestler of the World," at least in the Greco-Roman style.
Charles Cochrane recalled this match in his 1925 autobiography, Secrets of a Showman:
During Zbyszko's engagement at the London Pavilion, Sir Oswald (then Mr.) Stoll brought over the Russian, Padoubny. He was a veritable Hercules, and probably the strongest man in the world. He had considerable skill in the art of Graeco-Roman wrestling, but knew nothing of catch-as-catch-can.

Mr. Stoll issued a challenge to the world on Padoubny's behalf, and particularly mentioned Hackenschmidt and Zbyszko. A match with Zbyszko was arranged in the offices of The Sportsman for £200 a side. Mr. Stoll's contract with Padoubny stipulated that he or his manager – a very knowing fellow named Dumond who had organised the most successful championship tournaments in France – should back themselves with their own money. My contract with Zbyszko called for the Pole to put up his own side bet. Moreover, Mr. Stoll insisted that one of the conditions of the match should be 'winner take all'. Articles to this effect were signed, and an arrangement was come to for the match to take place at the London Pavilion. The Pavilion management found the house, the staff, did the advertising, and took one third of the receipts. The other two thirds were to go to the winning wrestler.

I have never known Piccadilly Circus more crowded than on the day of the match. Although we charged a guinea for the majority of the seats – a very big price in those days – thousands were unable to gain admittance. A more violent contest has never been seen in London. Both men were enormously strong. The day before the match I was walking with Zbyszko in Regents' Park, and I asked whether he felt sure of the result. He told me, I remember, that he was positive Padoubny could not get him off his feet; but at the same time, he was not at all sure he could move Padoubny.

And from the start it was obvious that Zbyszko had sized up the situation properly. Both men stood like rocks.

After a few minutes, Padoubny, finding himself unable to shift Zbyszko, began a series of foul tricks, all the time growling out barbaric Cossack terms of abuse. He would take a neck hold, and in breaking it would let the back of his hand fall heavily on Zbyszko's ear. Several times he tried to push Zbyszko's head back by putting the palm of his hand savagely under his chin. Then he would bring his elbow viciously in contact with Zbyszko'' chin. The audience repeatedly cried 'Foul!' 'Disqualify him!' and so on. Mr. G.T. Dunning of the Sportsman – one of the squarest men who ever lived – was the referee, and repeatedly he warned Padoubny to desist, but to no purpose. Mr. Dunning was most anxious not to end the match by a disqualification, as he knew what dissatisfaction it would give to the audience, even though they were clamouring for it.

However, after twenty five minutes of Padoubny's savagery, with Zbyszko bleeding from mouth and ears, and the audience in a state of frenzy, Mr. Dunning stopped the match and disqualified the Russian. Antonio Pierri, 'The Terrible Greek', Charlie Mitchell, and Apollo, were all in Padoubny's corner. Padoubny's party shouted execrations at Zbyszko and his camp. It looked as if there would be an ugly finish.

I got hold of Mr. Dunning, whose paper was holding the stakes, hurried him into a cab, and took him down to Fleet Street. Upon arrival at the Sportsman office, I found that the cheque had been drawn, but not signed, and that the name of the drawee was not filled in. We were told that Mr. Batty Smith, one of the proprietors of the Sportsman, was at the Victoria Club. Dunning and I went there with the cheque and got his signature. Then I returned to the London Pavilion, where the wrestlers and their followers were still arguing upon the stage. I asked Mr. Glenister to pay over immediately the wrestler's share of the gate. This he did. When I came out of Glenister's office I learned that Padoubny and his manager, with Pierri, Apollo, Mitchell, and others had gone to the Sportsman office, as I expected they might do. They had gone to protest against the paying over of the stake money. It was lucky I had forestalled them.

… Padoubny was engaged to appear that night at the Shepherd's Bush Empire. He was in his dressing-room ready to go on when he received a notification from the Stoll offices that, in accordance with a clause in his contract which gave Mr. Stoll the right to cancel it, in the event of his being beaten in any match, his engagement was then and there terminated. Dumond either had not understood the clause, or had forgotten its existence. What happened at the London Pavilion had cost him and Padoubny £200 in cash, and Padoubny had lost forty weeks engagement on the Stoll Tour at a very big salary. Zbyszko and I, on the other hand, had won Padoubny's £200, and about £700 as our share of the gate; also we had all the contracts we wanted from music hall engagements.

A section of the sporting press suggested that the Zbyszko-Padoubny match was a fake; but a more unjust accusation was never made. It was in every sense a needle match. Padoubny was probably the world's greatest Graeco-Roman wrestler, but he knew that it would take him hours to throw Zbyszko by legitimate means, even if he could throw him at all. His tactics were to frighten the Pole. Had the match been in the hands of a weak referee, he might probably have gained a decision through sheer brutality.

Dumond had the reputation of being a pretty tough fellow, and I must confess that it was with some trepidation that I accepted an invitation to meet him the next day at the Café Monaco. But I found him resigned to the position of affairs, and most philosophical about his losses. He was anxious to have a return match in a place which would hold more money than the London Pavilion. We could have filled Olympia; but I could never get Zbyszko to agree to take the mat again with Padoubny.
As to the merits of the two men, opinion was divided. The Sporting Life thought that "on points Poddubny was all over the better man," as he was always acting on the offensive, while "never once did Zbyszko attack." The Sportsman, on the other hand, thought that Poddubny was slowing down and if anything, Zbyszko, with his "impregnable defense" was stronger towards the end.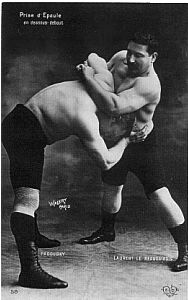 Ivan Poddubny (left) and Laurent le Beaucairois. Courtesy Michael Murphy.
So the eagerly awaited match was a profound disappointment: "A Colossal Fiasco," as The Sporting Life headed its report. And yet, the descriptions of the action are intriguing. Maybe it really was something rare: a genuine contest between two top, very powerful, Greco-Roman champions. It's difficult to judge, and some of the action sounds reminiscent of the 1906 meeting between the two men in St. Petersburg, when neither could gain an advantage and the match ended in a draw after Poddubny attempted a throw and both landed on the judges' table. So an old routine may have been working itself out in the London match. The referee, though, George Dunning of The Sportsman, had a reputation for being straight, and he didn't seem to think that Poddubny was faking. "Padoubny," he wrote, "struck one as being a man of a temper that was at times almost beyond control." And if it was a work, it's not easy to see what anyone got out of it. Both Poddubny and Zbyszko were seasoned pros who were well able to give the audience a show, and yet in the London match there was little wrestling, just a grim struggle for holds. The reputation of both men suffered, and there was no big money rematch. The newspapers did report that Poddubny's contract with Moss Empires had been cancelled, and that actor Bransby Williams (known for "dramatized Dickensian extracts of unforgettable awfulness") would take his place at the Shepherd's Bush Empire. I suppose the match might have been a work that turned real, but in that case the financial arrangements are difficult to understand. We'll never know, but if it was a genuine contest then, despite all the negative press comment, it could actually have been a fascinating thing to watch: a battle of will, endurance, and tactics between two of the strongest wrestlers in the world.
This contest was held under Greco-Roman rules; in fact, it was billed as for the world championship in that style. Both men had made their reputation in Greco-Roman, but as Zbyszko began to spend more time in England and America, he began to gradually switch over to catch-as-catch-can. In fact, for several years yet he wrestled in both styles as he moved between countries and continents. I'm not sure exactly when he began wrestling in catch-as-catch-can, but in November 1909 he wrestled a handicap match with Frank Gotch in Buffalo, New York, Gotch undertaking to throw him twice in an hour. He failed to do that, and some accounts say that Zbyszko held his own, and may even have been slightly the stronger at the end of the contest. That helped to establish Zbyszko in America, and when he beat Youssuf Mahmout the following May by two falls (after 1 hour 4 minutes, and 45 minutes of wrestling respectively), the last obstacle was removed for a match with Gotch for (as Health and Strength called it) the "so-called World's championship."
The story of that match, held at the Chicago Coliseum on June 1, 1910, was that, as the men came out of their corners, Zbyszko extended his arm for a handshake, but Gotch ignored the gesture, took Zbyszko's legs, and threw him to the ground, following up with a pin in the world record time of "6-2/5 seconds," something which seemed suspicious then and still seems suspicious now. Zbyszko protested, "horrified at the disaster that had befallen him," but to no avail. He was still unsettled as the second bout began after a five-minute break. Some good wrestling followed, although Gotch was always on top, and he pinned Zbyszko for the second fall in 27 minutes 33 seconds, using an armbar and wristlock.
Some writers regarded this contest as the best performance of Gotch's career, although others wondered about the sportsmanship of "a fall secured by diving beneath an opponent's proffered handshake for a surprise attack." As for Zbyszko, he had failed in his attempt to win the World championship, but he had some excuse in the way Gotch had taken advantage for the first fall, and he was now established as one of the top men in the world in both Greco-Roman and catch-as-catch-can wrestling. Thus he would be a testing opponent for Gama, the Lion of the Punjab.
To be continued