Journal of Theatrical Combatives Nov 2006
Stage Combat at the 2006 Association for Theatre in Higher Education Conference

copyright © 2006
Deborah Klens-Bigman
, all rights reserved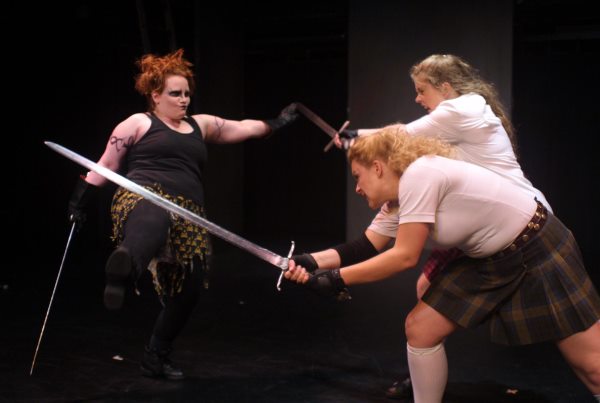 I have been to the Association for Theater in Higher Education conference numerous times over the years, as a grad student, an adjunct, and lately and less frequently as an independent scholar. My interest in the group could be said to have waned with time, as the politics and pressure of academe have come to no longer apply so directly.
However, this year's conference, held August 3 - 6, 2006 at the Chicago Palmer House hotel, was somewhat different, owing to the several sessions that dealt with issues surrounding fight choreography and stage combat. As the editor of the Journal of Theatrical Combatives, I am always on the lookout for new material and perhaps people who will also contribute their share. The stage combat was also a nice antidote to the sessions of droning and ramblings of people simply reading papers, however interesting the content.
The first session I attended was "Stage Violence for Playwrights and Dramaturgs: What Writers Need to Know About Fighters," organized by Meron Langsner, a stage combat choreographer/doctoral student from Tufts University in Massachusetts. Langsner's presentation discussed issues of logic and verisimilitude in fight scenes. Owing to the increasing popularity of fight scenes on stage and screen, aspiring playwrights would often like to include an action scene but don't always situate the scene properly according to the plot or characters. Though it may seem obvious to some of us, a conflict that becomes physical cannot just come out of thin air. The playwright needs to sow the seeds of a potential physical conflict much earlier than when the conflict actually arises. Langsner used successful and unsuccessful examples of fight scenes in scripts to illustrate his point. He also discussed practical matters, such as giving the choreographer enough time to train actors involved in fight scenes. Directors should also make sure the choreographer or playwright is not inflicting her/his inner Errol Flynn on undertrained or unskilled actors. Put simply, the fight scene must be introduced by some dialogue or action some time before the fight erupts, must fit with the characters and plot, must be well-prepared, and must have a resolution of some kind in order to make sense to the audience (we are talking realism here).
Though the turnout for Langsner's session was unfortunately small (ATHE for some reason decided to accept every proposed session this time around, seemingly at odds with the idea that theatre people might want to spend time Friday night ­ at the theatre), I learned a bit about how professionals approach the various problems of writing and staging fight scenes.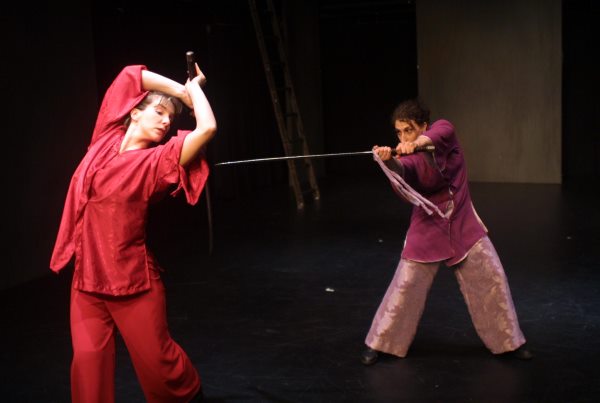 Saturday afternoon I attended the "Babes with Blades" session presented by the troupe of the same name. The Babes are a women's stage combat group that has been active in the Chicago area for several years. The group laid out their raison d'etre and then gave a short presentation of vignettes of several types of fight scenes ­ rapier and dagger, unarmed fighting and broadswords.
I enjoyed the fight scenes, but had trouble placing them in any sort of context. Somehow violence between men needs much less background than fights between women. Fairly or unfairly, we accept men fighting without much explanation. However, we are so unused to seeing female-female violence that without a clear justification, the Babes' fight scenes ended up being a little disconcerting to watch, even for me.
The fight scene vignettes also underscored another serious problem for the group - lack of good dramatic material to perform. To remedy the situation, BwB has sponsored a playwriting context, which netted more than 30 scripts, one of which was performed this season.
Part of the BwB stated rationale is to empower women and girls to stand up for themselves. While I laud the idea, the martial artist in me thinks they should not over-psychologize their work and should instead concentrate on being one of the area's best stage combat troupes (lead by example, I say). For example, the Lady Cavaliers, an NYC-based troupe, focuses on the little-known tradition of women in combat, a more concrete and accessible goal. Feeling the same dearth of material, the Lady Cavaliers has also commissioned plays to perform. LC has also included men in their casts when need arises, rather than concentrating on activities exclusively involving women, which broadens their audience appeal.


Nevertheless, Babes with Blades is an appealing and exciting group, and the increasing visibility of women stage combat performers in media bodes well for their future.
The last session I attended truly got the audience off its butt: "Swordplay: Safe and Simple," a workshop in basic stage combat with rapier, taught by Dr. Andrew Hayes, a SAFD (Society of Stage Fight Directors) Certified Teacher, from DePauw University. Hayes took us through a simple rapier sequence, emphasizing proper form and safety in execution, and it was a good deal of fun. I have not done any rapier work/stage combat work in many years, since I was a fencer charged with choreographing a community theatre production many years ago (I took stage combat rapier lessons to prepare).
Of course, as a martial artist, I kept feeling the disconnect: the movements were too big to be effective in the way I would have defined them. I was very impressed that both Langsner and Hayes had experience in martial arts, and yet could visualize and realize all this fake stuff in purely dramatic terms. Perhaps it was easier that their experience was generally in unarmed martial arts vs. armed stage combat. However, it is not that easy. One of the workshop participants, who sometimes choreographed fight scenes at her university, told of how she once had a problem with a karate student who took the stage conflict he was involved in way too seriously (he was replaced). Even though I was well aware of the difference, I had a difficult time not sending my rapier to more efficient targets than the phrase d'armes intended.
The presence of stage combat at ATHE was very welcome. After a raft of papers year after year that, whatever the topic, emphasize book learning or deal with movement in tangential ways, presenting work on the "action" part of theatre was a happy development. Though I prefer martial arts to stage combat as an activity, the emphasis on proper form and excellence in training and execution was something we all have in common, and something we all shared in Chicago this year.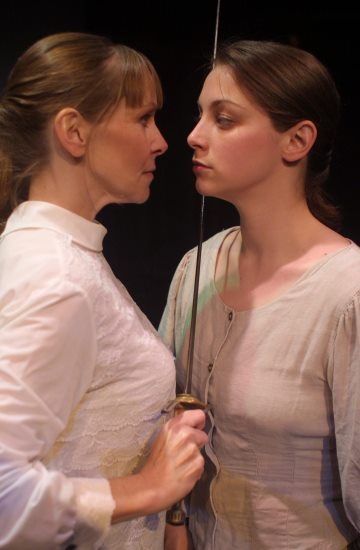 Photos courtesy of Babes with Blades. Photographs by Johnny Knight.

---
Our Sponsor, SDKsupplies