Journal of Non-lethal Combatives, Feb 2001

The Fairchild Air Force Base Judo Club, 1951-1960

By Joseph R. Svinth

Copyright © 2001 Joseph R. Svinth. All rights reserved.


The US Army Air Corps established the Spokane Air Depot on Sunday, March 1, 1942. The location was selected because Spokane businessmen donated $101,078.66 worth of land and standing crops to the Army for its construction. (Which was hardly as charitable as it sounds, as the post soon employed 15,500 civilians, and had a payroll of nearly a million dollars a month.) The post was 95% complete by July 1943, and served throughout World War II. Although deactivated in 1947, it was reactivated in January 1948 as Spokane Air Force Base, and given to the newly organized Strategic Air Command (SAC) as a bomber base.

SAC of 1948 was more bark than bite, and planes and crews were not in the best of shape, as was proven when its B-29s deployed to Japan for missions over Korea in 1950. The new commander of SAC, Lt. Gen. Curtis E. LeMay, decided that if SAC was to be America's nuclear deterrent, its men and equipment should be the best available. Therefore he started a slew of new programs.

For Spokane Air Force Base, the first action was to change its name to Fairchild Air Force Base. (The name honored a recently deceased Air Force general named Muir S. Fairchild.) The second was to start a major upgrade of training and readiness. To support SAC's now much harder working airmen in their off-duty hours, LeMay ordered significant improvements in their living conditions. Thus the base's first true gymnasium, complete with basketball court, lockers, and bleachers for 550 spectators, was contracted in November 1950, and opened a month later.

A less-popular upgrade included ordering SAC aircrews to improve their physical fitness. The reason was transcontinental flying. While a B-29 might spend twelve hours in the air, the new B-36s might spend thirty. This fatigued physically unfit crews, and fatigued crews caused accidents. And General LeMay hated accidents.

As a result, LeMay ordered Lt. Gen. Thomas Power, the man who watched Tokyo burn in March 1945, to start an experimental physical conditioning unit at Offutt Air Force Base, Nebraska. This program stressed both preflight conditioning and post-flight relaxation. For the relaxation methods, the flight surgeons recommended steam baths and professional massages. For the preflight conditioning, they decided on judo, partly to "provide training for crew members who find themselves unarmed and unable to use weapons when in contact with the enemy," and mainly to teach crew members to fall and roll, an always useful skill for potential parachutists.

The results were good, and LeMay hired a California wrestler named Emilio Bruno to manage the program. As the Air Force had no trained judo teachers, Bruno was given permission to hire civilians, with the idea that they would train their replacements, thus providing the Air Force with its own trained cadre within a few years.

Field Manual (FM) 21-150, "Unarmed Defense for the American Soldier," was the Air Force's first prescribed training manual. The techniques shown were too difficult for beginners, and recruit injury rates were high, especially taught by poorly trained instructors. In December 1953, for example, Fairchild's commander had to order the gym staff, which was headed by a green belt, to make judo training less physically injurious to aircrew members. And, as the problem was systemic rather than local, shortly thereafter an instructor training course was established at March Air Force Base in California.

This said, hardly anybody ever read the training manuals. Men trained in Kodokan judo taught Kodokan judo, men trained in Shotokan karate taught Shotokan karate, and men trained in nothing hummed a few bars and faked it.

Regardless of who taught them or what they learned, combat aircrew and Air Police went through their combatives training as units rather than individuals. Organizationally, this meant class size averaged thirty to fifty men. Flight commanders were ordered to schedule supervised training at the rate of about one class every three weeks, and to conduct supporting training on their own.

Training took place mostly inside base gyms. A typical class went something like this. About ten to fifteen minutes were devoted to conditioning exercises such as leg lifts, sit ups, push-ups, pull ups, dips, etc. For the next thirty minutes, beginners were started on falling, while intermediate students worked on throws and various self-defense techniques. After a short cool-down, the students were sent to take showers and return to work, while the physical conditioning unit cadre (that is, the teachers) prepared for their next group of students.

Non-combat units like maintenance and medical units also could schedule judo training, but only on a space-available basis. Interested individuals could, however, join judo clubs led by physical conditioning cadre after normal working hours. The latter clubs placed far less emphasis on hand-to-hand combat, and were essentially sport clubs.

LeMay's new physical conditioning program was instituted throughout SAC effective September 15, 1951. The program continued to be directed by Lt. Gen. Power.

Mel Augustine was Fairchild's first fully trained judo teacher. Of Portuguese descent, the 21-year old Augustine had been raised in Hawaii, where he began training in Danzan Ryu jujutsu in 1946. Upon moving to San Francisco in 1947, he studied Kodokan judo under Mits Kimura at the American Judo Academy. Kimura promoted him to shodan (first black) in May 1949 and to nidan (second black) in February 1951. Soon after, Emilio Bruno offered Augustine a job teaching judo to airmen. Augustine accepted, and was assigned to Fairchild Air Force base in Spokane.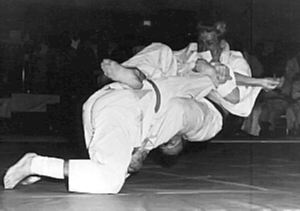 A2C Thomas R. Goudy attempting arm lock, McChord AFB, 1962 (photo courtesy W. Stewart Bush)
Upon arriving at Fairchild in late 1951, Augustine found that the floor on which the throws were to be done were concrete. While the Air Force had purchased good horsehide wrestling mats, the concrete floor still made a very hard surface for practicing falls. If the trainees had been simply low-ranking Air Police, this might have been a problem. But as trainees also included the base commander and his staff, it didn't take long before the gym had a new raised floor designed specifically for judo.
PFC George Roberts and Sergeant George Latimer of the 92nd Air Base Group and Sergeant Martin Di Francisco of the Air Police were among the first airmen to receive instructor training at Fairchild. Instructor candidates were selected from airmen possessing strong backgrounds in combative sports such as boxing or wrestling, and then having them study judo at their units until they could be sent to Japan for advanced instruction. In July 1952, Airman Roberts (the Air Force had changed its rank structure by then) visited the Kodokan in Tokyo.
A judo club was also formed. Team training took place in the base gym on Monday, Wednesday, and Friday afternoons. Beginners' classes were held in the same location on Tuesday and Thursday evenings.
The Fairchild judo team's first demonstration came during a boxing smoker held at Fairchild on Friday, January 18, 1952. Mel Augustine gave the demonstration, with Major John Quinn and PFC George Roberts as his partners. Augustine also gave a fifteen-minute "combatives measures" demonstration during a boxing smoker held at the base gym on Friday, March 14, 1952. His partners were Sergeant Weldon Branch and PFC Tommy Barratt.
These methods worked for attracting new team members, and by Friday, May 9, 1952 Augustine had over twenty men training in judo.
The Fairchild judo team gave demonstrations in town whenever possible. For example, Augustine wrestled with Airman Albert Arauj during the Shrine Sportsman Show during a fair held at Spokane's Natatorium Park on Friday, May 23, 1952.
And, being a team, members attended tournaments. Fairchild's first important meet took place in the Fairchild gym on Friday, June 13, 1952. The opponent was the team from California's Travis Air Force Base. After that, there were regular matches at Air Force bases in California, Idaho, and Nebraska, plus occasional matches at Fairchild.
In September 1952, Staff Sergeant Gerald W. Smith became Fairchild's first enlisted airman to receive promotion to green belt. Smith had started judo training in Japan, and was excited to discover a club in Spokane. A month later, Captain Dalton Smith became Fairchild's first officer to receive promotion to sankyu, or third brown. Smith was a former P-51 pilot who had spent his lunch hours for the past year practicing judo. Said he following his promotion, "All too many men come into judo expecting to learn everything about it in a few months. It doesn't work that way. It takes months of practice and training to develop the timing and confidence necessary to make a good judoist. It takes years to become an expert. Men interested in judo would do well to keep that in mind."
In November 1952 the Fairchild team attended its first SAC-wide tournament. Fairchild's star player was Airman Al Bumoskey, who received promotion to nikyu, second brown, as a result of his performance. Augustine's promotion to sandan, or third black, was announced during the same tournament.
Augustine left Fairchild in January 1953. The reason was his induction into the Army. (By then, he had already received five deferments as a result of his service at Fairchild. The Air Force offered to make him an officer and assign him as a physical training instructor at Fairchild, but he didn't want to make a career out of the military. Therefore he decided to take a shorter tour as an enlisted soldier in the Army instead. It worked out fine, too: he reached Korea about the time the war ended, and was assigned to a unit that had been decimated, so saw no further combat. And, since he had been to college, knew military regulations, and got along well with both officers and minority soldiers, he became a senior NCO in no time.)
After Augustine left, Airman George Roberts became Fairchild's judo instructor. As Roberts was only a green belt, training standards declined. And, when tournaments were held at Fairchild, local black belts such as Spokane's Bob Takeshita had to be invited to officiate.
Toward improving this situation, several Japanese and American judo, karate, and aikido instructors visited Fairchild during June 20-22, 1953. The Japanese included Sumiyuki Kotani, Tadao Otaki, Chugo Sato, Takahiko Ishikawa, Kenji Tomiki, Kiyoshi Kobayashi, Hidetaka Nishiyama, Kusuo Hosakawa, Isao Obata, and Toshio Kamada. Their American escorts included Emilio Bruno and Walter Todd. According to Robert W. Smith, writing in the Budokwai quarterly Judo, the Japanese were in the US for about sixty days, and were scheduled to return to Japan on September 12, 1953. Said Smith:
It would seem that they are stressing functional judo, as the combat aspects of karate and aikijutsu are being emphasized. Nishiyama, one of the highest graded karate men in Japan, splits two-inch boards with his feet and hands while Tomiki pushes, pulls, and twists multiple opponents in his incomparable demonstrations of aikido. Judo, however, is not neglected. One report has Ishikawa (7th Dan), 1950 All Japan Champ, dropping six yudansha [black belts] in 30 seconds; the mechanics of the art are ably demonstrated; and Kotani (8th Dan), even allows himself to be thrown by seven-year-old Alan Damron at the Castle Air Force Base in California.
At Fairchild, an unnamed local airman tried to beat Emilio Bruno. Said the Spokane Bomber Views afterward, "Realizing the aggressive intent by the airman, Mr. Bruno proceeded to put him to sleep with a pressure squeeze on his neck. The airman was only too happy to cooperate after being revived."

While the Americans learned to cooperate, the Japanese were in turn stimulated by so much contact with men who routinely asked questions. As Masatoshi Nakayama, a future head of the Japan Karate Association, said, "The Americans simply were not satisfied with following blindly like the Japanese. So, under Master [Gichen] Funakoshi's guidance, I began an intense study of kinetics, physiology, anatomy, and hygienics."

As a result of this alchemy, changes were implemented in training methodology on both sides of the Pacific. In Shotokan karate, for example, the changes included teachers placing emphasis on building callused knuckles and more emphasis on teaching light, natural blocks and strikes powered by fluid, centered movement. (Details appear in Egami Shigeru's 1976 book called The Way of Karate.) Aikido underwent similar revisions, as exemplified by the hard, competitive edge in modern Tomiki aikido. And even Kodokan judoka had to admit that strapping Air Force players like George Harris were certainly a lot better at judo than men their size had any right to be, and so by the late 1950s several Olympic-caliber players had added weight training to their training programs.

In January 1954 Fairchild was authorized to send a twelve-man team to the Fifteenth Air Force judo tournament held at California's Travis Air Force Base. Despite a base population of over five thousand men, Fairchild could field just eight judoka, nearly all of whom worked at the base gym. Airman Lemuel Robson, the brown belt who headed the Fairchild physical conditioning unit, was unsurprisingly the Fairchild team star.

On Wednesday, January 27, 1954, the Fairchild team raised $150 for the March of Dimes with a judo demonstration given at Spokane's Rogers High School. Five months later, on Friday, June 4, 1954, Airman S. Payne became Fairchild's first Air Force black belt. (The Air Force black belt association was only established in 1954.)

In February 1955, the Fairchild Air Police received a new chief instructor. (Air Police instructors were separate from gym instructors. Airman Lemuel Robson, a nikyu, or second brown, remained the senior gym instructor.) This was Staff Sergeant Martin Di Francisco. Di Francisco had begun studying judo under Mel Augustine back in 1951, and by this time was ranked nikyu, or second brown. An all-rounder, he also knew some kendo and karate.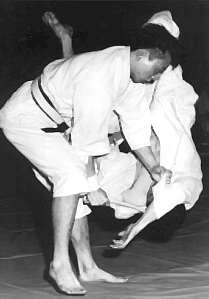 A2C Toyoshige Tomita throwing with seoi otoshi, McChord AFB, 1962 (photo courtesy W. Stewart Bush)
Di Francisco was also something of a ham who enjoyed thrilling crowds with karate-style breaking tricks. His first demonstration took place at Spokane's Fort George Wright NCO Club on February 27, 1955. Next came shows at the Spokane Moose Lodge on March 26, 1955, Gonzaga University on May 25, 1955, and the Good Shepherd's Home on May 27, 1955. In October 1955, Di Francisco advertised a ladies judo class, and in January 1956 he did a demonstration for a Spokane television station.
In the spring of 1956 Di Francisco went to Japan for additional training. A couple months later, he returned with shodan (first black) ranking in kendo. His kendo style was Shinto Shinmei Ryu, and his instructor was Tiazan Yamamoto. The novelty of seeing a European American doing karate and kendo thrilled television producers, and Di Francisco made appearances on US national television in 1957, 1959, and 1960, and Japanese national television in 1958. During these shows both Americans and Japanese billed him as the only American to held high rank in kendo; apparently people in New York and Tokyo still didn't consider Japanese Americans to be real Americans. Structurally, he was presented as something of a buffoon, too, as in both the US and Japan his usual range of television tricks included little more than the ability to dress in Japanese clothing and cut carrots with a sword.
By 1958 the Fairchild judo team was down to six members, almost all of whom worked at the base gym as physical conditioning instructors. On base, professional wrestling attracted a far larger local audience (Lou Thesz showed at Fairchild once), and pinups of Hollywood starlets were more popular yet.
Although judo had never been enormously popular on base, this sad state of affairs was due in no small part to the way that the Air Force gym instructors advertised the benefits of training. In an article published in the Fairchild Times on Friday, December 6, 1957, Master Sergeant Donald Sadler of the Physical Conditioning Unit said the overall purpose of his judo program was to improve the physical endurance of crew members to reduce fatigue on long flights, to develop coordination, and provide a method by which downed crewmen could dispose of captors to effect an escape. "As part of the program," said Sergeant Sadler,
every combat crew member must receive 15 hours of initial training in combative measures and 15 hours of physical conditioning each year. Additionally, each member receives refresher training in each activity of seven and one half hours every six months… Combat Crew members have priority, but all members of this command are welcome to use this facility.
In other words, outside a few Olympic-preparatory academies, the SAC judo program had become almost entirely a fitness program for bomber crews. And even this program went into extinction during the Vietnam era. After all, downed B-52 crewmen rarely found much opportunity for fighting hand-to-hand with North Vietnamese farmers itching to stick them with pitchforks. So, by the mid-1980s, Air Force physical conditioning programs were directed almost entirely toward weight reduction and cardiovascular fitness.

Given this, the SAC judo program could be described as a failed experiment. Except for two things. First, the United States Judo Association (USJA) grew from the Strategic Air Command Judo Association begun in 1954. In the 1990s, the USJA boasted ten thousand members and an annual budget exceeding a quarter of a million dollars. Even more importantly, discharged Air Police and Physical Conditioning Unit instructors established gyms in their garages or home town YMCAs, and soon after began teaching judo and karate to their neighbors and friends. As instructors, they were mostly half-trained, but they made up for this in enthusiasm. And that was enough. For the first time, the Asian martial arts took root in Middle America. And there they have flourished ever since.