Journal of Non-lethal Combatives, Dec 2002

The Science of Jiujitsu

From Japan Times, March 24, 1914, page 3.
Introduction and postscript by Joseph R. Svinth. Copyright © EJMAS 2002. All rights reserved.
Editor's introduction: The following article describes the arrival of the British professional wrestler and showman Leopold McLaglan [EN1] in Shanghai in 1914. The descriptions of jujutsu and katsu (resuscitation) are not accurate, but nonetheless show that patterns of promotion commonly used today are not recent innovations.
***
The word jiujitsu will have a new meaning for many in Shanghai today. Hazy notions of the science promise to develop into practical knowledge of its utility. Most people believe that jiujitsu can only be mastered by the young and athletic who are prepared to give years of study in order to attain proficiency. But Captain Leopold McLaglen, jiujitsu champion of the world, holds a different opinion, which is supported by the letters of British army officers who took their first lessons after they had reached fifty years of age, says the North-China Daily News of March 14.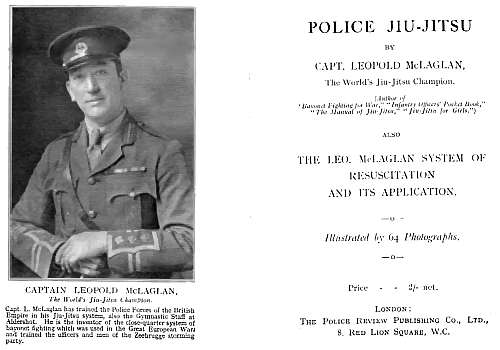 From Police Jiu-Jitsu, London, 1922
Captain McLaglen, who has offered his services to the S.V.C [ Shanghai Volunteer Corps], says that every man should know something of the science of jiujitsu. In the course of a conversation yesterday [e.g., March 13] he said that we often hear that the pen is mightier than the sword, but he could truthfully say that jiujitsu is mightier than physical strength. It teaches us that the small and apparently weak must not be despised. A slight knowledge of the science puts a man in the position of being able to defend himself against any ruffian who may attack him.
Capt. McLaglen, met casually in the street, would strike one as an exceptionally powerful man. He stands 6ft. 6in. in height and turns the scale at 226 lbs., while he is hard as the proverbial nail. One has little difficulty in believing that he is a champion at jiujitsu, but while he admits that his physique has been a great factor in success, yet he emphasized that more strength is really a vain, and empty thing.
The rudiments of jiujitsu can be absorbed by the student in eight lessons, but of course he must practice assiduously. Capt. McLaglen has had pupils under his instruction who have weighed nine stone [126 pounds] and been able to defeat professional athletes weighing fifteen stone [210 pounds].



The Science Explained
Jiujitsu is a system which is built upon the applications of anatomy: a series of interlocking bones which, when once applied, makes it impossible for an opponent to escape. Then there is the great secret science of kai-jitsu [sic, kiai jutsu is meant], or producing simin-jitsu [sic; saimin jutsu, or hypnosis, is meant] which enables the exponent to put a subject to sleep by the mere pressure of the hands. [EN2]
Before simin-jitsu is taught, the pupil must become proficient in katsu , which is undoubtedly one of the most ancient and perfect systems of restoration. [EN3]
Capt. McLaglen said: "I can stop the heart beating and restore it to its normal condition by katsu. It is interesting to note that many soldiers in warfare receive a bullet through their bodies and die, not because the wound was vital but from shock. A man in such a case could be restored to life, if the heart had stopped beating for half an hour, provided the climatic conditions were suitable. Persons suffering from epileptic fits can also be restored by first putting them to sleep and then awakening them by katsu."
"I believe, he continued, "that I am right in saying that the European population of the world will realize in the future of the great value of this science which, according to authentic records now in the keeping of the Emperor of Japan, was known 200 years before Christ." [EN4]



Stimulation of Nerve Centers
It is quite simple to impart this knowledge to pupils, and if the members of the Volunteer Corps desire to learn they may now do so. The science of katsu teaches how to stimulate the nerve centers of the body – those controlling the action of the heart, the auditory nerves and the neurogastric nerves. These different nerves are affected simultaneously and in a few seconds the subject can be restored to consciousness.
To attain such proficiency in jiujitsu as to be able to protect himself, the pupil does not require to wrestle on the floor or to fatigue himself. There is no great strain or labor; nerve control overcomes brute force.
Capt. McLaglen began to study jiujitsu at the age of twelve years. His uncle was an officer attached to the British Legation in Tokyo, and when he returned home he was accompanied by a Japanese student who became a servant in order to travel and learn English. At that time McLaglen was a tall, thin schoolboy who was always getting whipped by smaller boys. The Japanese began to teach him jiujitsu, and in a month he was able to whip any boy in the school. The Japanese remained with the family until McLaglen was nineteen years of age, by which time he was able to defeat his master.



Severe Tests
When the South African War [1899-1902] broke out, Capt. McLaglen volunteered, and in 1901 he was sent out with the Mounted Infantry. The war over, he became a professional instructor in jiujitsu. Later he went to America and was there challenged by Prof. T. H. Kanada, and they met to decide the championship of the world. Before an audience of 15,000 in New Westminster, B.C., McLaglen won the championship. Later he defeated T. E. Hiria, M. Tani and Prof. Yamagata, one of the best men in Japan, who was engaged by President Roosevelt to teach the American police jiujitsu. Captain McLaglen broke the professor's arm. Prof. Fukamauchi, Prof. Shimura and [Henry] De Raymond all sustained defeat, the last named, a man of 350 lbs., retiring with a broken shoulder blade. In Calcutta, January 1913, Capt. McLaglen defeated Prof. Yamasaki and Prof. Toda, these contests, according to the Englishman, taking place on two carpets worth £500 apiece. Jack Johnson and [Frank] Gotch declined challenges. [EN5]
Capt. McLaglen has been retained as instructor to many branches of the British army in India and South Africa, while he has given lessons to troops and police in Burma, the Straits Settlements [e.g., Singapore], Manila and Hongkong.



Demonstration in Town Hall
Lieut.-Col. R. N. Bray, Major T. E. Treeman, and Captain Hilton Johnson were amongst those present to witness a demonstration of jiujitsu by Captain McLaglen in the Officers' Room at the Town Hall last evening [e.g., March 13, 1914]. [EN6] Captain McLaglen gave an interesting outline of the history of jiujitsu, mentioning that the Japanese jealously guarded the deadly secret of the science – the death blow, by which they brought about death in three ways: a blow on the spine, one on the head, or two on the neck. To Europeans, they only taught the rudiments of these blows, and also of the sleep producing holds.
The lecturer then proceeded to demonstrate some of the jiujitsu methods of defending oneself by means of scientific attack, and clearly showed that he, at any rate, had gathered much more than the rudiments of the art from his instructors. He first showed how a man threatening to attack with a knife could be brought to the ground by means of a simple movement of his wrist; also, by the means of pressure on the waist from behind, paralyzing a nerve center and bringing the opponent down; and again by pressure against a nerve under the nose. The sleep producing hold was also demonstrated, the "subject" being sent into an apparently sound, natural sleep within ten seconds, and restored again to complete consciousness in an equally short space of time.
At the close of the demonstration, Lieut.-Col. Bray thanked Captain McLaglen for his lecture, and expressed the hope that a sufficient number of volunteers would give in their names at the Orderly Room to enable the class to be started.
The lessons are to occupy an hour a day for eight days, beginning at an hour most convenient to those who join the class, probably 6.30 in the evening.


Editor's Postscript
In the foregoing account, note that
The teacher was initially a bullied lad who found an anonymous foreign instructor from whom to learn a hitherto secret martial art.
The secret art was subsequently perfected in a foreign war.
Upon returning from military service, the teacher made challenges to the wrestling and boxing champions, but these were ignored, apparently because the champions were afraid of the teacher's skills. Nevertheless, based on the outcome of some poorly documented matches, the teacher subsequently claimed to be the undefeated champion of the world.
The teacher has given many seminars to policemen and military reservists.
The teacher's art is too deadly for words, but it can still be learned by pupils of good character in just eight lessons of one hour per day.
All of these are themes of folklore.

In addition, as one might surmise, contemporary newspaper accounts of McLaglan's exploits do not always correspond with the subsequent hype. For example, following McLaglan's match with Kanada, the one that McLaglan later said made him Champion of the World, a sportswriter for the Vancouver Daily Province (October 5, 1907, p. 14) observed, "There was little, if any, jiu-jitsu to the performance… It was apparent to everyone that McLaglen's knowledge of the game could be covered with a pinhead." This is another common theme of modern martial art promotion – you don't have to be any good to be a "master," you just have to promote yourself well.

For further reading on the topics of folk history in the martial arts, and Captain McLaglan's role in it, try the following:
Green, Thomas A. (Forthcoming). "Sense in Nonsense: The Role of Folk History in the Martial Arts." In Thomas A. Green and Joseph R. Svinth (Ed.), Martial Arts in the Modern World: Transmission, Change, and Adaptation (Westport, CT: Greenwood).
Green, Thomas A. (1997). "Historical Narrative in the Martial Arts: A Case Study." In Tad Tujela (Ed.), Usable Pasts: Traditions and Group Expressions in North America (pp. 156-174). Logan: Utah State University Press.
Noble, Graham. (2002). "Early Ju-jutsu: The Challenges," Dragon Times Online, http://www.dragon-tsunami.org/Dtimes/Pages/articlee.htm
Svinth, Joseph R. (Forthcoming). "British Columbia." In Joseph R. Svinth, Judo in the Nikkei Communities of the Pacific Northwest, 1900-1950 (Guelph, Ontario: Electronic Journals of Martial Arts and Sciences).
Endnotes
EN1. Leopold McLaglan normally spelled his name using "a" rather than "e." However, his brother, actor Victor McLaglen, normally spelled it with an "e," as did the author of this newspaper article.
EN2. In a letter to Robert W. Smith dated May 28, 1950, E. J. Harrison wrote, in reference to his famous kiai-jutsu story, "True, Kunishige could revive a seemingly dead person, and knowledge of kuatsu enables its possessor to restore the victim of strangulation provided it is promptly administered. But, say, the story of causing birds to fall senseless from a tree and then reviving them is taken from my Fighting Spirit of Japan. The story deals with one Matsujuro who flourished hundreds of years ago, and I myself never vouched for its truth!"
EN3. Today, katsu has been almost entirely superseded by CPR.
EN4. Legends notwithstanding, Japan's oldest known court histories only date to about 800 CE.
EN5. These descriptions come from McLaglan, and have not been verified through contemporary newspaper accounts.
EN6. Alan Hilton-Johnson was a member of the Shanghai Municipal Police from 1908-1925, so connections between W. E. Fairbairn and McLaglan are possible.
---

In February 2002, reader Mark Hewitt wrote:
Recent research confirms that the Capt. Victor Fred MacLaglan who was in the Minneapolis/Milwaukee area from approximately November 1911 through March 1912 was none other than Leopold MacLaglan. He is working as a doorman in a Milwaukee movie theater when he began making challenges to fight broadsword contests. He claimed to be an expert at "the sabre, broadsword, foil and bayonet." He won three duels versus Carl Brosius, "of the German army," and lost a boxing match to Fireman Jim Flynn. He claimed to be a Boer War veteran and to have boxed Jack Johnson (this was actually Victor's accomplishment). Then, the newspapers recognized him as the same guy who previously had appeared in jiu-jitsu contests. Victor MacLaglan, in Texas touring the vaudeville circuit with the Romano Brothers troupe, heard about it and sent a letter denouncing the imposter. Apparently the brothers had a falling out which was still unresolved in the 1930s, when Leopold tried to sue Victor for defaming him. It's odd that Leopold used the name "Victor Fred" as these were both names of two of his brothers. (Another MacLaglan brother boxed and wrestled as Fred McKay.)