Journal of Combative Sport, July 2002

Judo: Kunisaburo Iizuka
By Joseph R. Svinth
Copyright © EJMAS 2002. All rights reserved.

Kunisaburo Iizuka was arguably the leading Japanese collegiate judo coach of the 1930s. Born on February 13, 1875, he started learning jujutsu at Keio Gijuku (the future Keio University) in 1889. His instructor was a night watchman named Sekiguchi and his training partners included a Kodokan 2-dan named Shosaku Kominami.

In 1890, Iizuka left Keio to attend a naval academy in Tokyo. Although there was no judo club at the academy, one day he saw a man carrying a judo uniform and followed him to the Kodokan. There he applied for entry, was found acceptable, and signed its enrollment book on November 23, 1891. In his first bout with a much larger and more experienced black belt, he was thrown about. "As I was a rather pretentious young man I was burning with rage," Iizuka later recalled (1957a: 4). "In order not to be beaten by him and to beat him, I applied myself very seriously to my work."

During this period, training at the Kodokan started at 5:00 a.m. and ended at 7:00 a.m. Men went to work after exercising. Sakujiro Yokoyama was head instructor. Tokyo had no bus or subway lines yet, so to stay warm while traveling to and from classes, students frequently jogged with their heads wrapped in their judo jackets. Suspicious policemen would of course stop the youths to find out what they were doing. The standard answer was that training in the cold during the middle of winter encouraged mental and physical toughness and reduced the risk of diseases such as tuberculosis (Japan Times, Jan. 8, 1913, 1).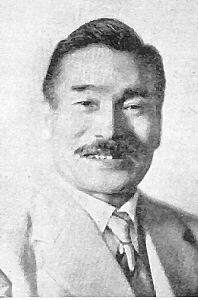 Kunisaburo Iizuka, ca. 1910
Through a combination of luck, skill, and sheer hard work, Iizuka earned promotion to 6-dan in 1905. Though he had hoped to travel overseas, in 1906 he instead accepted a job teaching judo at Keio University. "Of stature somewhat below average even for a Japanese," said Britain's E.J. Harrison (1982, 60). "He was built on the lines of a miniature Hercules, and although in those days some thirty-seven or thirty-eight years of age, was still more than a match for the strongest and most expert of his pupils ten and fifteen years younger."
Several of Iizuka's pupils were Americans. In Harrison's day, for example, Iizuka's American students included David T. Weed, who earned 2-dan ranking at the Kodokan in 1914. Thirty years later, Japanese Americans who trained with Iizuka included Kaname "Ken" Kuniyuki, who was subsequently a leader of judo in Southern California. Iizuka also trained Chuji Sakata, the Japanese expatriate who headed Seattle's Tentoku Kan judo club from 1935 to 1938.
Of course, most of his students were Japanese. Perhaps the most internationally renowned of Iizuka's Japanese students was Yoshio Sugino. Sugino, a future leader of the Tenshin Shoden Katori Shinto Ryu, started training with Iizuka at Keio University during the 1918-1919 academic year. At the time, Sugino was aged 14. "I was in just about every club there was," Sugino told Tsukasa Matsukazi, "judo, kendo, kyudo, sumo and quite a few others. I'd join just about anything I was asked to." After awhile, he found he liked judo best, and so started training twice a day. Once, Matsuzaki wrote (1997):
Sugino was ordered by one of his seniors to referee a judo match, since there happened to be no one else in the dojo to do it just then. Hearing this, Iizuka roared, 'Absolutely not! You don't even have a hakama to wear today. We certainly can't have someone with no hakama referee a judo match!' 'Ordinarily Iizuka was a very gentle, very nice man,' says Sugino, 'but in the dojo he was a tiger of a teacher. Even now I feel the highest respect and gratitude toward him.'
In 1919, Sugino entered his first tournament as a brown belt, and as he threw six black belts, he earned his promotion to black belt in less than a year.

In 1922, another Iizuka student named Okutsu visited Honolulu. The taxicab driver who took Okutsu to Diamond Head was Kakuji Fukai, a jujutsuka of the Kito-ryu school. During the drive, the conversation turned toward judo, and Okutsu suggested that Fukai should affiliate with the Kodokan. Fukai replied that he would, except that he knew no one there. Okutsu then gave Fukai Iizuka's Tokyo address. "I guess we corresponded back and forth for about a year," Fukai later recalled (Makiyama, 1967, 43):
It finally culminated in the rankings being presented… This is, as far as I know, the first certificate which was issued to a judoka in Hawaii by the Kodokan. As you can see, it was granted to me by the Kodokan on January 14, 1923. I was appointed second dan at the time. I was never a first dan, and this was my first ranking. At the same time, first dans were awarded to Koichiro Miyamoto, Kayata Sakai, Shimba Fujii, and Megumi Yamashita.
In the fall of 1934, Iizuka met the British judoka Sarah Mayer. Said Mayer, in a letter to Gunji Koizumi (Nov. 27, 1934):
Prof. [Hajime] Isogai came from Kyoto and came to lunch with me at the Imperial Hotel. I had invited two 6th degree men who had been very hospitable to me, but Prof. Isogai and Prof. Iisoka [Kunisaburo Iizuka] joined us. We had a very merry party in the course of which Prof. Isogai drank several cocktails and plenty of sake. I will say that for a man who has never tasted a cocktail before he carried it remarkably well. It is true that he offered me a 5th degree if I would go to Kyoto, but otherwise he was quite himself. He broke his leg a short while ago and arrived leaning heavily upon a stick, but he left the hotel waving it in the air. When I remember how terrified I was of him in Kyoto I can't help laughing. As for Prof. Iisoka -- I've never been able to take him very seriously since I taught him the Charleston.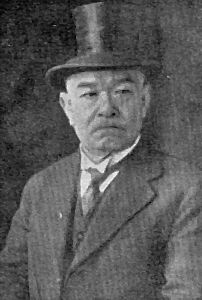 Hajime Isogai, 7-dan
During the summer of 1938, Iizuka took the Keio University judo on a tour of North America. The Keio team left Yokohama on June 23, 1938. They sailed aboard Tatsuta Maru, and reached San Francisco on July 7, 1938. After beating several California judo teams, the Keio squad moved north.
They reached Seattle on August 6, 1938. During a tournament held at the Nippon Kan theater on Sunday, August 7, Keio's Tokuzu Wada, 3-dan, was the star, as he threw five Northwestern 2-dan (Akira ["Poison"] Kato, Tom Okazaki, Mitsuo Hiranaka, Takuzo Tsuchiya, and Mitsuo Shinoda) before finally succumbing to Masato Tamura. The individual competitions went nearly as badly for the Northwesterners, and Art Koura and Joe Nakatsu were among the rare Northwest winners.
On August 8, 1938, the Keio team gave a demonstration at the University of Washington. The Japanese were mostly over 5'8" and 200 pounds. "After giving as reckless an exhibition of manhandling as one could hope to see," Bill Hosokawa recalled (Japanese-American Courier, Aug. 13, 1938: 3), "the boys said blandly, 'Oh yes, we left some of the big boys at home because they had to take important examinations.'"
Next, the Keio judoka attended a reception held at the home of Japanese consul Yuki Sato and visited Mt. Rainier, Bainbridge Island, and Vancouver, British Columbia. Then they returned to San Pedro, California, stopping en route to give an exhibition in Portland, Oregon.
Iizuka received promotion to 9-dan on December 23, 1937. His 10-dan ranking came on May 4, 1946, and he died in Tokyo on July 25, 1958. At his death, he was a member of the Kodokan Council and the Dojo Consultative Group.
---
References
Harrison, E.J. 1982. The Fighting Spirit of Japan. New York: Overlook Press.
Iizuka, Kunisaburo. 1957a. "I Remember," Judo Kodokan Review, 7:2, March 15: 1-4.
-----. "I Remember," 1957b. Judo Kodokan Review, 7:3: May 15: 5-9.
Makiyama, Thomas H. 1967. "Judo and Jiu Jitsu versus Sumo," Black Belt, July: 43-44.
Matsuzaki, Tsukasa. 1997. "The Last Swordsman: The Yoshio Sugino Story," Aikido Journal, Winter. http://www.aikidojournal.com/articles/general/Sugino_01.htm.
Mayer, Sarah. 2000. "An Englishwoman's Description of Learning Judo in Japan: Letters from Sarah Mayer to Gunji Koizumi, 1934-1935, Part IV," Journal of Combative Sport. http://ejmas.com/jcs/jcsart_mayer1_0500.htm.