InYo: Journal of Alternative Perspectives Nov 2001

Boxing: Women's Champion Kim Messer
By Joseph R. Svinth

Originally appeared in Occasional Papers, volume 5 (2001), a publication of the Korean American Historical Society. Text copyright © Joseph R. Svinth 2001. All rights reserved. Photos courtesy Kim Messer, and used by permission. All rights reserved.

The assistance of Kim Messer, King County Landmarks and Heritage Commission, and the Korean American Historical Society is gratefully acknowledged.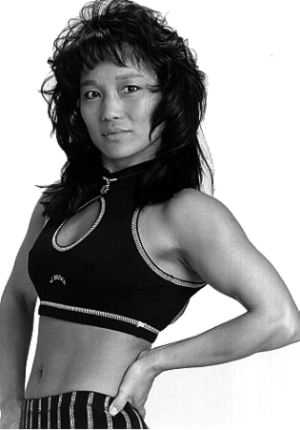 Kim Messer. Photographer: GaryQuinn*PhotoMagic.
In 1969, a Korean girl estimated to be three years old was found wandering in a train station in Chechon, Republic of Korea. No one claimed her, so she subsequently spent the next two years living in an orphanage run by Holt International Child Services in Chechon, which is about four hours from Seoul.
At the orphanage, the girl was called Baek Kee-Soon. Baek means "White," and referred to the orphanage director, Jane White. As for the girl, her only memory of that period is a recurring dream of a long dirt road and a high fence.
In 1971, John and Marlys Sanford of Caspar, Wyoming adopted this girl as their only child. She arrived in the United States with a single dress in a bag and speaking only a few words of English.
A few months later, the Sanfords moved to Silverton, Oregon, where the girl was enrolled in elementary school under her new legal name of Kimberly Sue Sanford. Her birthday was listed as the date she was found in the train station.
As a youth, Kim Sanford took ballet lessons for eight years and played piano for five. In high school she was a gymnast and a cheerleader. She also played volleyball, softball, and tennis. "I've always been a borderline tomboy," she said.
After graduating from high school in 1984, she enrolled at Chemekata Community College in Salem, Oregon. While there, she joined a taekwondo class and in the process met her future husband and manager, Mark Messer. As she explained it: "It wasn't love at first sight or anything like that, but I was at the gym just as much as he was. We were kindred spirits. He didn't want to go out with girls at the school, but he finally gave in." The couple was married in her parents' backyard in 1989.
During the years preceding their marriage, the couple competed in regional taekwondo tournaments, eventually amassing several hundred trophies. "We got to a level where we were looking for something a little more challenging," she said, "and he got involved in boxing. Of course, being me, I wanted to do that, too. Back then boxing was not receptive to it. It was like girls can be here, but only as ring card girls."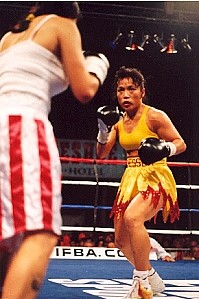 Messer fighting at Louisiana's Horseshoe Casino. Photographer: Sandy Goldberg.
So she took up kickboxing instead. The trainer was Joe Fay, who had trained alongside kickboxing champion Maurice Smith in Seattle. "My manager proposed the idea of fighting Naoko Kumagai, the reigning world champion, in Japan," Messer said.
He told me told me that even if I didn't win but put up a good fight that the Japanese promoters would have me back and that it was a good opportunity for exposure and to establish a reputation. My husband and my trainer knew that no woman would or could hit me as hard as they did and so weren't really concerned about my safety.
Besides, "I just wanted to fight in the Tokyo Dome, which is like ooooohh, a big deal if you're into Eurasian style kickboxing."
Messer fought Kumagai in Tokyo on July 18, 1992, and unsurprisingly, she lost. "I was paid virtually nothing," she said, "but it was a pivotal moment in our lives and even though I didn't win, I did well and actually managed to kick her in the head. Since we all knew that Kumagai was one of (if not the best) female kickboxers at the time, then we figured that meant I must be world class material if I could deal that well with her on my first time out. And once we knew I had the potential to attain a world title, we packed our things and moved to Seattle to train alongside Maurice Smith at AMC Kickboxing and chase our dreams."
During this time, Messer became known as "Fireball." "My nickname came from my style of ring fighting," she recalled. "A 'ball of energy,' seemingly 'relentless energy,' 'non-stop action.' My old manager actually started it and it's stuck ever since." And it was accurate enough, too, as during the next six years Messer won three world kickboxing championships. Her first was in the light atom-weight division on July 18, 1994. The opponent was Lisa Smith, and their fight was held at the Civic Auditorium in Santa Cruz, California.
In 1995, she fought four times. On March 13 and May 13, she successfully defended her title against Yvonne Trevino and Angelica Bodanova, but on August 26, she lost a decision to Toni Taylor. Then on November 11, she came back by knocking out Sugar Miyuki in the first round.
In 1996, Messer had a world kickboxing championship fight with Lisa Houghton in Ireland and a full contact world championship fight with Cheryl Robertson in San Juan, Puerto Rico. She won both. Unfortunately, the pay was awful. The promoter in Puerto Rico, for example, gave her a worthless check, while another promoter boasted in front of her that he was taking his third trip to Hawai'i that year with money he'd earned from her fights. Therefore she decided to try professional boxing instead. As she told Dee Williams, "I've got three world titles, plenty of air [television] time, lots of people know me. I should get paid enough so that I don't just break even after time off from work and taxes!"

Messer in corner; husband Mark Messer is on the left. Photographer: Mary Ann Owen (all rights reserved).
Boxing is "not a profession you would choose for your child, especially a daughter," John Sanford told the Seattle Times' Danny O'Neil in August 2000. His wife meanwhile won't watch her daughter fight live, and only reluctantly on videotape. The reason is that she doesn't like to see people hitting her daughter. But Messer was nothing if not determined, and her first professional boxing match took place in Karlsruhe, Germany on June 10, 1995. The opponent was a hometown favorite named Regina Halmich, and unsurprisingly, the decision went to the German.
Her second fight was against Theresa Arnold. It too was a loss. "She was just too darn big," said Messer, who stands 4'11" and weighs about 108 pounds. Following this loss, her husband took over her management, and since then she won ten straight fights and a world boxing championship.
Messer's first victory was at Balley's Casino in Las Vegas on June 26, 1998. The opponent was Brenda Wasilewski, and Messer won by technical knockout in the first. "It was really a KO," said Messer. "I hit her with a right hand to the body, a left hook to the head and then an overhand right to the temple that literally knocked her half way out of the ring and they had to drag her back in to revive her, the referee was so shocked and distracted that he forgot to count her out."
Her second victory came in Biloxi, Mississippi, on September 17, 1998. The opponent was Maritza Marquez, and the victory was by split decision. On the day after Christmas, 1998 (Boxing Day), Messer was back in Las Vegas, fighting Valory Troike. Again she won by split decision.
In 1999, Messer began winning by unanimous decisions. For example, on February 27, she beat Tracey Stevens at Emerald Queen Casino in Tacoma, Washington. On April 30, she was in Bossier City, Louisiana, beating Lisa Houghton in six. And two weeks after that, she defeated reigning junior flyweight Jill Matthews in Pikesville, Maryland. Although it was a non-title fight, it still moved her up in the standings.
On June 11, 1999, Messer returned to the Horseshoe Casino in Bossier City for a fight with Maribel Ocasio-Soto of Puerto Rico. Ocasio-Soto failed to answer the bell for the fifth, thus giving Messer a win by technical knockout.
Messer had her first shot at a title on December 3, 1999. The opponent was Delia Gonzalez of Chamberino, New Mexico, and the fight took place in Temecula, California. Unfortunately the pair butted heads, resulting in an eye injury to Gonzalez that resulted in the fight being called a technical draw in the third.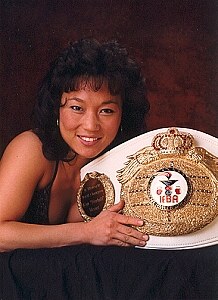 Messer with junior flyweight world championship belt. Photographer: GaryQuinn*PhotoMagic.
Messer continued winning in 2000. For example, in Kenner, Louisiana, on February 11, 2000, Yvonne Caples' manager told journalist Sue Fox that the fight was a mismatch, that Messer didn't stand a chance. Messer won by unanimous decision, 58-56.
Meanwhile, back during the summer of 1999 Messer's husband had sent a press kit to the Korean American monthly magazine, KoreAM Journal. In October 1999 the magazine turned the material into a feature article that was subsequently translated into Korean and carried in a Seoul newspaper. This in turn brought Messer's career to the attention of Korean fight promoter Shin Woon-Chul, who decided that she would be worth promoting in Seoul. As a result, on August 5, 2000, Messer participated in Korea's first-ever women's boxing match. A world title bout in the junior flyweight division, her opponent was Yumi Takano of Japan. Messer won the fight, and the Korean press went wild.
She fought her first title defense on November 19, 2000. The opponent was Michelle Sutcliffe, and Messer won a unanimous ten-round decision.
As of November 2001, Messer's career record stood at 10 wins, 2 losses, and 1 draw. Yet, despite the sponsorships and product endorsements that followed the championship, Messer continued working as a waitress at Daniel's Broiler in Bellevue, Washington. "Women's boxing is still an relatively unknown profession," she explains, "battling for recognition and respect."
Recognizing that her immediate financial future relied on Korean rather than American fans, Messer enrolled in Korean language classes. "This is a whole new world," Messer told Greg Johns of Bellevue's Eastside Journal in September 2000. For, as she told Urbanasian.com, "Most of us have dreams and most of us let them pass by and we don't go after those dreams. I feel very fortunate that I've had the support for one and taking on the challenge to chase my dreams." Nevertheless, she remained rooted in America. "Our future plans include opening a boxing/fitness gym for all ages and interest levels," she said. "An international facility where people can live and train for fights and a place for Olympic hopefuls to develop. Whatever the goal, personal fitness, amateur competition, or professional dreams, our gym will be the place."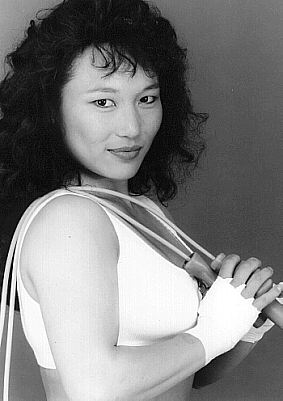 For Further Reading
The official Kim Messer website is http://www.fireballsite.com. Other sites worth visiting include: