InYo: Journal of Alternative Perspectives June 2001

A Master of the Situation: Yasuji Fujita (Iota Shima)
By Joseph R. Svinth

Copyright © Joseph R. Svinth 2001. All rights reserved.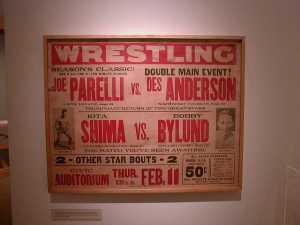 Poster advertising the match between Bobby Bylund and Iota Shima in Seattle on February 11, 1931. The poster is part of the John Ochs Collection, and is shown hanging in the Japanese American National Museum in Los Angeles.


Although Yasuji Fujita weighed only about 150 pounds, he was ranked 4-dan in judo and before coming to America he had been the captain of a Meiji University judo team. So as a wrestler he was not out of his league in America. For example, when he met 195-pound Jimmy the Greek at Seattle's Nippon Kan Theater on Wednesday, October 23, 1929, the Japanese-American Courier reported:
In the first fall-match, the contest was mixed judo and wrestling. As the gong sounded Fujita calmly walked to the center of the ring and gripping the neck and arm of the Greek threw him with full force to the floor.

Before the loud acclamations of the [mostly Japanese] crowd had died down the Japanese again threw his opponent to the mat with a judo hold and kept repeating the tactic until it was evident that the Greek was well-nigh exhausted. Then Fujita threw him for the final fall and holding the giant down won the match with an arm hold.

In taking the second fall, the match was contested in the time-honored catch-as-catch-can style. This time Fujita was faced with some difficulty, but the Japanese … displayed some surprise by his adeptness in working half-Nelsons, toe-holds, and armlocks… After twenty minutes of this wrangling Fujita, turning his man over, took an arm lock and pinned his man…


On November 8, 1929, Fujita met the 215-pound Canadian Bill Thornton at the Nippon Kan. Said the Japanese-American Courier:
Towering over his man Thornton rushed his man at the gong to catch Fujita and swing him in position for a fall. Fujita applying a judo trick took advantage of the rush to sidestep and throw the Wild bull to the mat. Both wriggled and changed positions for a time but both got to their feet again in a short time to do it all over.

Fujita, however, was the master of the situation, and after throwing Thornton to the mat until he was exhausted, he then took the first fall with an armlock. The second round, in the catch-as-catch-can style, was a draw, and in the third, which reverted to jackets, Fujita won in a minute.

In a third match at the Nippon Kan, this one on December 6, 1929, Fujita got an armlock on Big Zep to win the first fall, stripped off his jacket and lost the second fall, then put on the jacket and an armlock to win the third fall.

After leaving Seattle, Fujita wrestled throughout Southern California and the upper Midwest, where he was mostly known as Iota Shima. His home base, though, was Ohio, and during April 1931 Fujita was reported beating Art Perkins.

Fujita returned to Seattle during November 1931 and June 1932, and as all Japanese looked alike to the average North American wrestling fan, hardly anyone outside the Japanese community remembered Fujita's 1929 visit. Therefore he caused a stir by moving from the preliminary bouts to the main event after just three "victories." As the Seattle Post-Intelligencer put it on November 30, 1931:
Iota Shima never stopped chewing gum. 'I'll make him stop chewing gum tomorrow night,' said Leo Chase, the middleweight. Iota chewed right along Friday night in winning two straight falls from Johnny Coyle in the second bout of the Greater Athletic Club wrestling card at Civic Auditorium, the Coyle roughness creating an excellent mounting for the Japanese politeness which never faltered, even in victory.

Shima, brought here from Cincinnati, has his eye on Joe Parelli, the tattooed former middleweight champion. But he'll have to dispose of Chase first, and then chase Parelli.
Being professional wrestling, both the victories and the contrast of American roughness versus Japanese politeness were pre-arranged. In this particular case, the angle was the build-up preceding Fujita's eventual defeat by local champion Joe Parelli in December 1931 and national champion Jack Reynolds in February 1932. And in professional wrestling, which has more in common with soap opera than sport, angles were (and are) everything. Explained promoter Jake Pfeffer in an article published in Collier's in October 1938:
This isn't sport; it is show business… You can't get a dollar with a normal-looking guy, no matter how good he can wrestle. Those birds with shaved, egg shaped heads, handle-bar mustaches, tattooed bodies, big stomachs – they're for me! Dopes who wear Turkish fezzes and carry prayer rugs into the ring with them, kurdled Kurds, bouncing Czechs – all those foreign novelties I import for my stable… I teach them their routines and ship 'em out. The suckers think they're hot stuff – haw!
Pfeffer had a point, too, for as James Shinkai wrote in the Japanese-American Courier, "There must be something in the game when it outdraws all the other winter sports. Especially cash customers, and they're who count." [EN1]

Fujita returned to Columbus, Ohio, in August 1932, and during the next six weeks he beat Gordon Arquette, Jack Domar, and George Gable, and lost to Wildcat McCann. However, in October 1932 Fujita relocated to Japan. The reason was that in May 1932 US immigration authorities had arrested him in Detroit for visa violations. Although released on bail and allowed to keep wrestling until his trial, the US Department of Labor had no trouble showing that Fujita had entered the US on a student visa. And, while he audited two semesters at California's Whittier College during the 1926-1927 academic year, since then he had mostly worked as a professional wrestler. Then, during 1927, he began working as a professional wrestler. Since he didn't have a work permit, this was illegal. So, in the words of the Japan Times, the judge concurred with the "Department of Labor that Mr. Fujita's scholastic enrollments were not in good faith and that his real motive for being in the United States was to make money as a wrestler and not to improve his education in other lines."

Still, a college sheepskin is no substitute for acting ability, and upon returning home, Fujita went into politics and eventually became the mayor of his hometown.

END NOTES

EN1. Shinkai exaggerated only slightly: according to the Civic Auditorium's published figures, wrestling provided 18% of the facility's annual revenue in 1930 whereas ice skating and hockey provided 23%. (Post-Intelligencer, May 21, 1931.