InYo: Journal of Alternative Perspectives Apr 2001

Harold Sakata: Olympic Weightlifter and Professional Wrestler
By Joseph R. Svinth Copyright © Joseph R. Svinth 2001. All rights reserved.






An earlier version of this article appeared in Wrestling Then & Now 2000 Annual. For additional information, see www.walkertown.com/wtnow.

The assistance of Pat Baptiste, Jon Bluming, Lee Giles, Curtis Narimatsu, Brian Niiya, Norman Sakata, Robert W. Smith, the Japanese American National Museum, and the King County Landmarks and Heritage Commission is gratefully acknowledged.

Harold Sakata was born near Holualoa, in the Kona coffee country of the Big Island of Hawai'i, on January 7, 1920. His father was an Issei (Japanese immigrant) named Risaburo while his mother was a Nisei (American of Japanese ancestry) named Matsue. Growing up, Sakata had ten siblings -- six brothers and four sisters.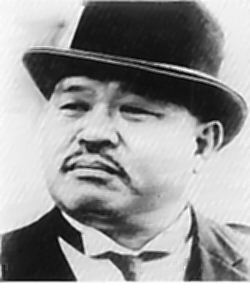 Harold Sakata in his most famous role, that of the James Bond villain Oddjob
In 1936, Sakata dropped out of school to help work the family's coffee farm. The following year, he started paid employment at a sugar plantation located about 75 miles away from his home, after which he went to the island of Lanai to work on a pineapple plantation. He then moved to Maui to do more agricultural work, and in 1938 he ended up in Honolulu, a city he called home for the rest of life. [EN1]
At age eighteen, Sakata stood 5'8" but weighed only 113 pounds. After seeing some physical culture magazines he decided to start lifting weights "so I'd look as good as the other guys." This took him to the Nuuanu YMCA, which was Honolulu's main Asian YMCA. (YMCAs were racially segregated then.) The gymnasium portion opened in May 1922, and was located on the corner of Fort and Vineyard. The current building is across the street; the old building was sited on what is today a Safeway parking lot. [EN2]
At the YMCA, Sakata's weightlifting partners included Emerick Ishikawa and Richard Tom. Ishikawa was from Maui while Tom was from the Honolulu suburb of Palama. After about a year of serious training Sakata had gained about twenty pounds. Inspired by this success he started entering local lifting contests and in 1941 he won the Territorial light-heavyweight championship. The Japanese attack on Pearl Harbor stopped travel to the mainland but over the next two years Sakata won several more Oahu championships; in June 1943, at 165 pounds, he was pressing 250, snatching 240, and clean and jerking 310, for a total of 800 pounds.
In January 1944, a photo of Sakata and Tom appeared in Bob Hoffman's magazine Strength and Health. Soon after, Sakata joined the US Army, where he was assigned to the 1399th Engineer Construction Battalion. Known as the Chowhounds, this was a Japanese American unit activated in April 1944 at Schofield Barracks, outside Honolulu. General Douglas MacArthur twice requested that the 1399th be sent to the Philippines but instead the War Department kept the battalion in Hawai'i building water tanks, warehouses, airfields, and roads. Assigned to Special Services -- that is, the unit gym -- Sakata spent his time in the Army lifting weights.
Following his discharge, Sakata remained in Honolulu. Although the Nuuanu YMCA had a good weight room, it didn't have a regular trainer or coach. Instead the weightlifters simply read magazines (notably Strength and Health) and then tried different things. In essence, the Hawaiian weightlifters were self-coached regarding both technique and diet until the Korean American physician Richard You came along during the early 1950s. Nevertheless, some of these men, most notably Richard Tom, Richard Tomita, Robert Tong, and Gilbert Lum, were very serious about their lifting, and because he was both strong and gregarious, Sakata soon became their leader.
Training took place after work, which normally meant between 5:00 and 7:00 p.m. Mondays through Friday. By modern standards their technique was not horribly sophisticated. For example, most lifters then used the split technique when cleaning the bar. Now they use the squat technique pioneered by Tommy Kono during the late 1940s. "I had this fear of dropping the bar on my front leg while doing the split, even though it never happened," Kono told interviewer Brian Niiya in 1999. "So I tried the squat and it felt very natural, and I felt like I could lift more that way." And, as Kono was among best lifters in the world during the early 1950s, first the York Barbell team and then everyone else followed suit.
Another difference between then and now was that then there was little cross training. There were boxers and wrestlers, for example, who trained at the YMCA, but like the weightlifters, they kept to themselves.
During a tournament held at the Nuuanu YMCA on November 1, 1946, Sakata set a Hawaiian record in both the snatch and the clean-and-jerk, plus an unofficial world record in the press. The following year he also won the Mr. Hawaii physique title. Training for Mr. Hawaii required a different regimen than training for the Olympic-style AAU championships. For example, the Olympic-style lifters didn't do curls.
In December 1965, Sakata told a reporter from the Honolulu Star-Bulletin that he succeeded in both aspects of the iron game because hard work was nothing new to him: "I didn't have an easy time working in the coffee fields and bringing home the money. Lots of times I wanted toys and wondered why life was so hard."
In Honolulu, Henry Koizumi, athletic director of the Nuuanu YMCA, suggested that Sakata and Tom organize a weightlifting team. The goal was to place well in the US Nationals, which were held in Dallas, Texas, on the weekend of June 20-21, 1947. Sakata placed first in the 181-pound class with a total lift of 800 pounds. Tom meanwhile placed first in the 123-pound division with a total lift of 610 pounds.
After the Nationals, Sakata and Tom went to York, Pennsylvania. There they visited Emerick Ishikawa, who had moved to the mainland shortly before World War II and then become a national-class member of the York Barbell Club. Bob Hoffman, president of the York Barbell Company and the de facto head of the US Olympic weightlifting program, gave the visiting Hawaiians jobs in his barbell factory so they ended up staying in York until the World Championships, which were held in Philadelphia in August 1947. During these championships Tom took second and Sakata took fourth. After that Tom and Sakata returned to Honolulu.
Knowing that he had a good chance at making the US Olympic team, Sakata trained hard during the 1947-1948 season. As a result, he was ready for the US Senior Nationals, which were held in Los Angeles on May 13-14, 1948, and ended up taking second overall. This in turn earned him an invitation to the Olympic tryouts held in New York City on July 9, where he placed second to York Barbell Club's Stan Stancyzk. This was good enough for a berth on the US squad, and in London Sakata again took second to Stanczyk, thus earning an Olympic silver medal. "It was the biggest thrill of my life," the 28-year old Sakata told Pacific Citizen afterwards. "I certainly didn't expect to finish that high against the world's best." [EN3]
In May 1949, Sakata traveled to Cleveland for the US Senior Nationals. The outstanding lifter was again Stan Stanczyk, who set a world's record. For Sakata, though, it was a disappointing trip, as this time he only took third.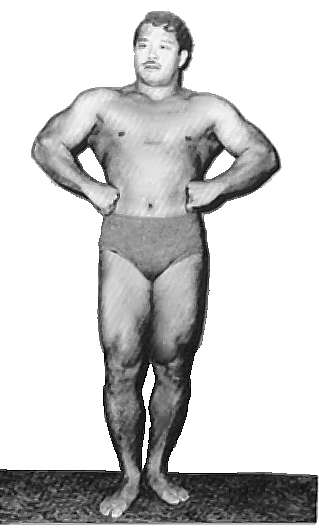 Harold Sakata, circa 1950
With his 20-inch neck and 50-inch chest, Sakata was no longer the skinny kid from Kona. But, after winning the Mr. Waikiki physique competition and touring California in 1949, Sakata told Pacific Citizen, "A very wise man asked me if I were happy. Sure, I said. 'And you're proud of those silver trophies?' Sure I'm proud. 'Now let's see if you can eat them,' he said."
This made him think, so after setting four Hawaiian records during the Nuuanu YMCA Senior Invitational weightlifting tournament held in Honolulu on December 18, 1949, Sakata gave up amateur weightlifting for professional wrestling. At first he planned on retiring in five years and then opening his own gym. But in the end wrestling became his life. The reason, he told the Star-Bulletin in 1965, was that after five years in the business, "I realized I was still an apprentice and then I knew you don't learn anything the easy way."
Sakata's wrestling instructors included the former professional wrestlers Tetsuro ("Rubberman") Higami and Ben Sherman. Higami, Sakata told Pacific Citizen in 1951, was the greatest living wrestler of Japanese ancestry in the United States. And, as a US Olympic medalist and discharged war veteran, Sakata didn't have to play a heel. Instead he was billed as "Mr. Sakata, the Human Tank" and given scripts that allowed him to win using honorable methods.
Sakata's mainland debut took place in Seattle on April 3, 1950. His opponent was Pacific Coast Junior Heavyweight Champion Bob Cummins, and Sakata got to win. "We missed the show," Budd Fukei wrote in the Northwest Times afterward, "but the fans reportedly got quite a ban out of Sakata's wearing a colorful Japanese apparel [a black silk robe] with getas [wooden clogs] to boot."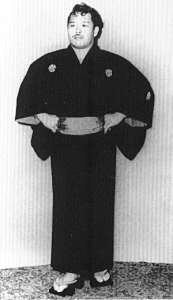 Sakata in "colorful Japanese apparel"
A couple days later "the body beautiful from Hawaii," as Fukei termed him, paired with Tacoma's Frank Stojack in a tag-team match to score another commercial success. Over the next few weeks Sakata also achieved victories over Charlie Carr and Danno McDonald. His favorite techniques included flying hip throws "in which the opponent is slammed against the ropes and then caught and thrown on the rebound."
The circuit was not an easy life. Sakata "usually wrestles four or five times a week," Larry Tajiri explained in Pacific Citizen in January 1951, "appearing on wrestling bills hundreds of miles apart on successive nights. One night, for instance, he headlined a show in Klamath Falls, Ore., and the next night was in Vancouver, British Columbia, more than 400 miles to the north. He has appeared in fishing towns like Nanaimo on British Columbia's Vancouver Island and in cities like Seattle, Portland, Spokane and Tacoma."
The job sometimes required Sakata to do odd things, such as tussling with "Gorgeous Gus, the wrestling bear" in Ogden, Utah, in January 1951. But it also had its rewards. For example, in Seattle in July 1950, Sakata proved a great hit with a group of Japanese American teenagers taken to Tex Porter's wrestling show as the guests of King County police officer Don Armeni. In another Seattle wrestling show a week later the highlights included meeting former world middleweight boxing champion Freddie Steele, who was referee for the night.
During late 1950 and early 1951, Sakata wrestled throughout the Intermountain West. Besides Salt Lake City, this circuit included stops in Logan, Ogden, and Provo, Utah; Ontario, Oregon; and Idaho Falls, Idaho. "He traveled by train, plane and bus to his matches," Larry Tajiri wrote in January 1951, "but this week bought a new sedan to use on his tours."
From February to May 1951, Sakata was in Washington and Oregon. After that it was east to tour the US and Canadian Midwest. In the Midwest he was frequently paired in tag-team matches with the Japanese Canadian heel Tor Yamato (real name: Toyoki Uyeda).
In July 1951 Sakata went to Honolulu, where promoter Al Karasick was holding a tournament featuring Mike Mazurki and Danny McShain. About the same time, Tokyo's Torii Oasis Shrine Club decided to bring some American professional wrestlers to Japan for the purpose of raising $50,000 for crippled children. Shrine Club leaders involved in this plan included Maurice Lipton, Bernard Diamond, Frank Scolinas, and Joe Miller. Karasick was contacted, and wrestlers who flew Pan American into Tokyo on Saturday, September 15, 1951 included Sakata and Bobby Bruns. Four days later they were joined by Len Hall and Casey Berger, who in turn were followed by Ovila Asselin, Pete Demetros, and Gino Vagnone.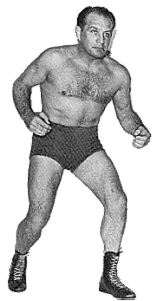 Bobby Bruns, ca. 1952
The first show was for Japanese police officers only, and was held at the Tokyo police gym on September 25, 1951. Two days later the wrestlers put on another show for United Nations soldiers recuperating at the Tokyo Army Hospital.
The first public show took place at Tokyo's Memorial Hall on September 30, 1951. According to the Nippon Times, "Sakata seemed to use a jujitsu trick in his flying hip move to throw the giant Casey Berger."
Another public exhibition took place at the Tokyo Kokugikan (the prewar sumo hall and the largest sports arena in Asia) on October 14, 1951. Two weeks after that, yet another exhibition was staged at Memorial Hall. This exhibition was significant because it marked the professional wrestling debut of Rikidozan (birth name Kim Sin-rak), a Korean sumotori who went on to become perhaps the most popular professional wrestler of the late twentieth century. The result, if it matters, was a ten-minute draw with Bobby Bruns. [EN4]
On November 14, 1951, the troupe went to Yokohama, where they appeared at the Fryars' Gym. The opening acts included sumotori Rikidozan versus wrestler Ovila Asselin and judoka Kokichi Endo (Ko Togo in the US) versus wrestler Bobby Bruns.
Meanwhile, the aging heavyweight champion boxer Joe Louis announced a visit to Japan. Louis liked doing charity shows, so Tokyo's Torii Shriners had no trouble convincing his manager to add Louis to Shriner wrestling cards. As there were no competent Japanese heavyweights, the opponents found for Louis were all US military boxers.
The Shriners' Carnival of Sports took place at Tokyo's Korakuen Stadium on November 18, 1951, and started about 1:30 p.m. Although priced at ¥1,800-¥2,000 (about US $2.75-$3.00), which was a lot for those days, more than ten thousand tickets were sold. The matches started with five fights between US military boxers. Next the professional wrestlers entered the ring: Ovila Asselin drew with Rikidozan, Andre Adore drew with Harold Sakata, and Bobby Bruns beat Gino Vagnone. Finally Louis entered the ring, where he scored two knockouts in six rounds against five opponents.
One of the opponents Louis didn't knock out was Seattle's Lee Giles. Giles was a 40mm gunner from the cruiser USS Toledo. Giles had recently won the Far East Area Command light heavyweight championship, but the bout with Louis was still just the fourth boxing match in his career. Therefore he decided on a cautious strategy. "From the movies, I knew Louis was big," said Giles in 1999. "But when I walked out to face the guy, I couldn't see around him. Luckily it was an exhibition. He moved in a kind of a halting way. You know that shuffle that he had? I was fast enough to keep away. So I did everything but run. I was Ali without the sting. I remember hitting him once, right in the forehead. It was like hitting a wall."
Two days later Louis and the wrestlers traveled to Sendai, Osaka, and Sapporo. As usual, they did exhibitions for US military personnel at their bases and hospitals, and in between played a lot of golf.
The troupe reached Yokohama on December 2, 1951, and during a match in that city Louis fought six opponents. The main event featured Louis against the Far Eastern Area Command heavyweight champion K.O. Hubbard, who fell in the second round of a scheduled six-rounder. The wrestling events included Sakabe versus Sakata, Endo versus Adoree, Rikidozan versus Asselin, and a tag-team match. "Endo and Rikido-zan have improved with every bout," said the Nippon Times on December 5, 1951. "Rikido-zan's stomach blows after cornering his opponent is something new to wrestling and is going over with the growing ranks of wrestling fans here."
While Louis then returned to Tokyo to participate in a celebrity golf match, the wrestlers repeated their act in Yokohama on December 9, 1951. This time Endo went with Asselin, Rikidozan went with Sakata, and afterwards there was once again a tag-team match.
Louis left Japan during the early morning of December 13, 1951. While in Taipei, Taiwan, on December 14, the Associated Press reported that "Tough-paunched Wang Shu-chin, 47, invited anyone to take a swing at his solar plexus. He insisted Louis try, too. Louis said no, he might kill the man." Additional details of Wang Shu-chin's iron belly appear in Robert W. Smith's Martial Musings (Erie, PA: Via Media Publishing, 1999), 181-185. For their part, the wrestlers left Japan in January 1952. Before leaving, Sakata married a Japanese woman. (Like many Japanese Americans of his generation, Sakata spoke conversational Japanese and English about equally well.)
In May 1952 Sakata returned to the Pacific Northwest, and on May 26 he appeared in a televised match in Seattle. Other Japanese wrestlers on this card included former All-Japan judo champion Masahiko Kimura and former Utah football player Robert Shibuya. Kimura returned to Japan to establish the International Pro-Wrestling Force in Kumamoto, but he quit this in 1955 and went back to teaching judo. His most famous student was probably the Canadian Olympic silver medalist Doug Rogers. Shibuya meanwhile went on to become the well-known heel Kinji Shibuya. As Shibuya told Rafu Shimpo's George Yoshinaga in August 1999, "The meaner I acted in the ring, the richer I walked out of it. Playing the bad guy was fun. I would have been a run-of-the-mill wrestler without the dirty stuff. As a villain, I became a champion."
During 1953 Sakata wrestled throughout the United States and Canada. As he was scheduled to be a heel he was now known as "Tosh Togo" rather than "Mr. Sakata." "I took the name Tosh Togo," Sakata said, "because Toshiyuki is my middle name and Togo was a great man in Japan. Not Tojo -- Togo, the admiral who outmaneuvered the Russians in 1906 [sic; the Battle of Tsushima Straits was actually fought in May 1905]."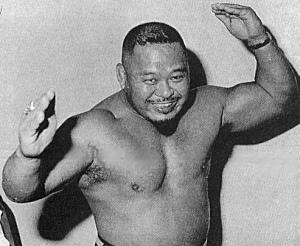 Sakata as Tosh Togo
Somewhere during this period Sakata encountered an Irish wrestler named Charles "Tim" Geoghegan. "Strangler Lewis managed me for two years (1949-50)," Geoghegan told Robert W. Smith years later. "Lewis liked me because of my sleeper which made weight irrelevant. It brought them all down to size. I didn't learn my sleeper from Lewis but developed it from a choke against both carotids taught me in London during World War II by Dr. Kasutu Higami, a ju-jitsu adept in his 80's. I blended it with a one-carotid choke I got from Indian wrestling. It was so decisive that I would sometimes have the ring full of the bodies of challengers from the audience. In Toronto once I had twenty asleep at the same time. When Harold ('Oddjob') Sakata of 'James Bond' movie fame first met me in California he couldn't believe that I could choke him out and, when he came to, he thought he was back in Montreal the week before."
When he wasn't wrestling, Sakata entertained the crowds by breaking bricks with his hands. He may have learned this trick from Mas Oyama, a Korean who toured the North American wrestling circuit during the 1952-1953 season. [EN5] Jon Bluming, who studied karate with Oyama during the early 1960s, described Oyama's breaking tricks as follows: "I went to the pile of tiles they had prepared for punishment and picked up the top tile. It felt like paper, it was so light, and on its underside was a baked-in line along the length of the tile. So at the middle the tile was maybe a millimeter thick…The bricks were no different. They were specially baked, and if someone leaned on them they would crumble. His wood was also very lightweight. As for that famous bottle trick, first you prepare the bottle by rolling a sharp stone around the bottle's neck. That way when you hit it, it breaks along the carved line." This, by the way, is not to say that Oyama and Sakata couldn't perform such tricks legitimately, only that in the ring they rarely left anything so important to chance.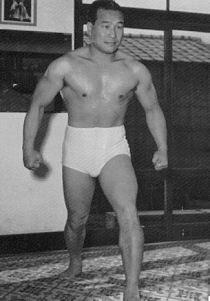 Mas Oyama as Mas Togo, circa 1952. Photo courtesy Jon Bluming.
Since Sakata was a former Olympic champion, the promoters sometimes allowed him to become a tag-team champion. For example, in July 1954 Sakata paired with the Great Togo (Oregon's Kazuo "George" Okamura) to become the Canadian tag-team champions. In Tokyo in November 1955, he and Rikidozan became the All-Asian Tag Team champions, and shortly after that Sakata became the Hawaiian Territorial champion. In 1960, he and Ike Eakins were proclaimed the Southern US tag-team champions, and in late 1962 he and "King" Curtis Iaukea were pronounced the Hawaiian tag-team champions.
During the late 1950s Sakata spent a lot of time wrestling in Japan, where he lived with his wife and two children (son Jon, born September 1954 and daughter Glenna, born July 1957). The travel was constant, however, and this caused his marriage to fall apart during the early 1960s.
During February 1963 Sakata toured Australia, where he was known as Tosh Tojo, probably because the latter name, alluding as it did to Japan's wartime prime minister, did a better job of inciting the Australian fans. After that he went to Europe. While in London Harry Saltzman and Albert Broccoli saw him on British television and this led to Sakata being selected to play Oddjob in their upcoming film Goldfinger. [EN6] Written by Ian Fleming during late 1957 and early 1958, Goldfinger pitted secret agent James Bond against Auric Goldfinger and his taciturn bodyguard, a Korean killer whom Goldfinger called "Oddjob because that describes his functions on my staff." In the book, Bond eventually killed Oddjob by means of sticking his commando knife through an airliner window. This depressurized the cabin and caused the Korean to be sucked through the opening "with a terrible whistling noise" as though his "body was toothpaste." In the movie, however, the scene was changed so that Oddjob was electrocuted after reaching into an electric fence to retrieve the alloy-rimmed bowler hat that was his trademark weapon. Explained Gene Hunter in the HonoluluAdvertiser in December 1965: "They had to shoot Oddjob's death scene twice -- once from a distance and once as a close-up. Technicians used fireworks to simulate the sparks shooting out from the electric fence, but something went wrong. Sakata got a painful burn on his right hand and wrist. For the second scene he was offered an asbestos glove but refused to wear it. The second time one of the sparks shot into the seat of Oddjob's pants. 'I showed agony in my face as I was dying,' Sakata said. "'That was real pain.'"
It took Sakata five months to master Oddjob's trick of spinning his bowler hat. "It's not like throwing," he told the Star-Bulletin in December 1965: "It's the whip, the spin, the slicing blade. Like a boomerang that doesn't come back. I worked with a plaster statue of a girl and aimed for the neck. I got so I could topple the head off every time. It made me very conscious of necks. Every time I'd meet a pretty girl, I'd say, 'My, you have an attractive neck.' I really felt terrible about that lovely girl in the film. 'Can't I kill an ugly one?' I asked the producer. 'Not Oddjob,' he said."
One final story from the filming of Goldfinger relates to the day that Sakata was riding in a yellow Rolls Royce through Switzerland. Said Sakata: "We passed a military compound. I was glazed with a hangover that day and sat in the back seat staring into space. As we passed the sergeant at arms, he and a corps of troops gave me a full salute. I was very flattered. My chauffeur exchanged a few words with the sergeant and as we drove on he told me the Swiss army thought I was the Japanese ambassador on my way to the Geneva convention."
Although Goldfinger was Sakata's most successful film -- the residuals included an 11" Oddjob action figure sold through Sears for $6.99 -- he also appeared in at least seventeen other productions. Among the more obscure were Death Travels in a Box, a French-Spanish-Italian production never released in the United States, and A Poppy Also Is a Flower. (Based on "an idea by Ian Fleming," as the executors of Fleming's estate put it, the latter film was about the international heroin industry.) And he also made appearances on the Tonight Show and television commercials. [EN7]
Despite this cinematic success Sakata remained the same pleasant, gregarious man he had always been. He always signed autographs for children and whenever in Hawai'i he held reunions with his Olympic weightlifting buddies. Since his death, however, such reunions have been rare. "We should get together," said Richard Tomita told Brian Niiya in 1999. "We don't want to just meet at the funerals."
But Sakata did adopt Oddjob's bowler hat as his professional trademark. "You should see the commotion it causes," Sakata told Gene Hunter in December 1965. "It frightens the women, but they still want to touch it." There was a gash in the top, too. "I was showing it to a young lady," Sakata told Cobey Black in the Star-Bulletin, "and her escort didn't like the idea. He took out a knife and slashed it. A mad man. I tell you, I meet all kinds of people." (Speaking of the famous hat, in September 1998 the British auction house of Christie's auctioned it for £61,750. The previous owner was Graham Rye of the James Bond fan club; the new owner is anonymous.)
Harold Sakata died July 29, 1982, aged 62. The cause of death was liver cancer, which within six months metastasized to other internal organs. Although written almost twenty years before Sakata's death, the following summation of his life by British reporter Bill Fryer provides a fitting epitaph: "He flits about the world so fast and so often that though he makes many friends in many places he is rooted to none. What a pity! This strong man who could kill with one blow of the hand has so much friendship in that hand to offer."
For Further Reading
Fair, John D. Muscletown USA: Bob Hoffman and the Manly Culture of York Barbell (University Park, PA: Pennsylvania State University Press, 1999)
Niiya, Brian, ed. More Than A Game: Sport in the Japanese American Community (Los Angeles: Japanese American National Museum, 2000)
Reynolds, William Mason. "A History of Men's Competitive Weightlifting in the United States from its Inception through 1972," unpublished MS thesis, University of Washington, 1973
Endnotes
EN1. For descriptions and photos of life on the Kona coffee plantations during the 1930s, use the search features at the University of Hawai'i site http://www2.soc.hawaii.edu. (Try the keywords "Kona plantation".)
EN2. To my knowledge, there is no early history of the Nuuanu YMCA easily available on the Internet, therefore a detour. In 1899, Reverend Takie Okumura organized a Honolulu baseball team called the Excelsiors. A year later, Okumura helped organize a four-team league, and after that, ethnic involvement in Hawaiian sport became fairly widespread. Meanwhile, Asian students attended the YMCA's college at Springfield, Massachusetts, and joined the YMCA in Tokyo and Shanghai. So in 1911 a clerk at the Japanese consulate applied for membership to the YMCA at Hotel and Alaska streets in Honolulu, and this caused significant controversy: should an Asian be allowed to join an American YMCA? After months of heated public debate, the Japanese was finally offered membership, but by then of course he was unwilling to join. So in March 1912 B.M. Matsuzawa of the Tokyo YMCA came to Honolulu for the express purpose of opening a Hawaiian YMCA that would cater to Asians. In September 1912, a Missouri missionary named Lloyd Killam joined Matsuzawa, and between them, they began offering English and Japanese-language Bible classes in a room at the Central YMCA. During a sabbatical to the Midwest in 1915, Killam convinced several friends to join him in Hawaii, and in 1916 these missionaries began campaigning for an interracial YMCA in the Islands. The existing (white) leadership of the Hawaiian YMCA opposed this, so in March 1917 the missionaries set about raising money for a dedicated Asian facility. Gifts and public subscription soon raised the necessary funds, and the Nuuanu YMCA's first meeting rooms opened in April 1918. During the dedication, 600 Japanese sailors were marched into a membership luncheon for the Korean members. "When the eight Koreans sat calmly and enjoyed their lunch meeting and did not throw a sugar bowl or a dish at one of the naval men," said Killam afterwards, "I knew that the inter-racial plan would be a success." Over the next five years, membership grew, and so did the facilities. The large gymnasium, for example, dated to 1922, while the swimming pool opened in 1924. So, by April 1937, as Killam proudly noted in articles published in the Nippu Jiji, there were 119 boys' clubs affiliated with the Nuuanu YMCA, and 2,766 young men using the facility on a regular basis.
EN3. For a photo of Sakata at the 1948 Olympics, see the top left image at the Japanese American National Museum site http://www.janm.org/events/sports_cards. Rubberman Higami is immediately below, and Tommy Kono is at the bottom right.
EN4. According to the Japanese wrestling media, Rikidozan took up professional wrestling after losing a bar fight with Sakata. However, neither Rikidozan nor Sakata was usually a confrontational man. For example, in 1961 two judoka named Jon Bluming and Bill Backhus were out on the town in Tokyo. Says Bluming: "A carload of guys cut us off. They were hangers-on of Rikidozan, the professional wrestler, and having just seen him in a match, they thought they were pretty tough. But after we dragged them out of their car and gave them a piece of our mind, we then marched them into the restaurant where Rikidozan went and said, "What is this? You want a fight, we'll give you a fight!" Rikidozan looked at us and laughed, saying, "What do you guys want for dinner? It's on me, whatever you want." Therefore the story of his fight with Sakata is probably a promotional legend.
EN5. Details of Oyama's act appear in "Sticks and stones don't break his bones," Scene, June 1952, 31-33; Nat Loubet, "News of the Mat World," Ring, September 1952, 28; and Chester A. Thomas and William F. Brown II, "Karate: Pictures Tell the Story," Argosy, October 1953, 32-35. See also Masatatsu Oyama, The Kyokushin Way (Tokyo: Japan Publications, 1979), 30-31.
EN6. For a discussion of Goldfinger that includes a photo of Sakata, see http://thewag.net/bond.htm.
EN7. For a filmography, see http://us.imdb.com/Name?Sakata,+Harold.
---

UPDATE Nov 2002

According to a letter from the National Personnel Records Center dated October 24, 2002, Harold T. Sakata, 30109509, entered the Army of the United States on June 21, 1944, and served until March 4, 1946. His rank at discharge was Technician 5th Grade.