The Iaido Journal Oct 2002
Haruna Matsuo, reminiscence

In the early hours of Sept 12, 2002 Matsuo Haruna died in hospital leaving many students around the world saddened by the loss. He had a profound influence on iaido and many people will remember him as a sensei, and as a friend.
Jeff Broderick, Sei Do Kai, Canada
Haruna Matsuo Sensei's reputation preceded him wherever he went, I suspect. Before I ever saw him in person, I had heard the senior members of the Sei Do Kai dojo, who had practiced with him before, speaking of him in reverential tones. They told me that he had been the all-Japan Iaido champion. They said that his technique was awe-inspiring. Some of them said that I would look at Iaido in a totally new light after watching him demonstrate a technique.
The poster that was prepared to advertise the seminar featured a black and white photo of Haruna Sensei. I looked at his face with a mixture of fear and awe. It was truly scary; he showed an intensity I had never seen before. At this point, I was becoming intimidated. The idea of training with this man was making me nervous.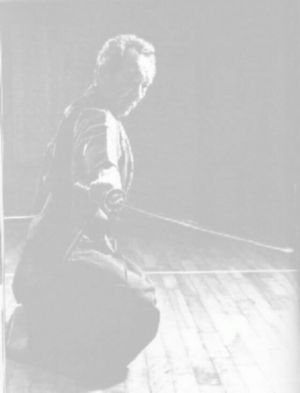 Ten years (and ten seminars) later, I found myself living in Japan. Rather than do the "normal" thing and go home to see my family for Christmas, I took a succession of bullet-trains and local trains up into the hills of Okayama to visit Haruna Sensei at his home in the small village of Ohara. He came and met me at the station in his white sports car. I was feeling trepidation over this meeting. He had invited me to come and stay with him, but I couldn't shake the suspicion that I was imposing. This feeling was dispelled when he met me with a big smile and a warm welcoming handshake, and took me back for a home-cooked meal.
Over the next few days, I stayed in his home and trained. In our off-time, we visited historical sites in the village, which is the birthplace of Miyamoto Musashi. We went for a drive up into the mountains, and he showed me a look-out he was particularly fond of. We drank tea and looked out over the valley as a quiet, gentle snow fell on the birthplace of Japan's most famous swordsman. Words cannot describe the feelings I felt as I tried to burn this moment into my memory. Afterwards, we went to a hot spring and soaked our aching muscles. I say "our", but I suspect that I was in worse shape than he was, despite being less than half his age. His enthusiasm for Iaido remains an inspiration to everyone who trained with him.
We spent the evenings with our legs under his hot-table, watching iaido videos. He pointed out friends, and reminisced. Despite the language barrier, I found him easy to understand, perhaps because he was used to speaking about iaido to foreigners. On the last night before I had to leave, I asked him what he felt was the most important thing for Iaidoka to remember. He told me his opinion, and at the time, I felt like I was receiving a koan containing the secret key to the Universe. (No, I'm not telling you what he said!)
To this day, I think Haruna Sensei did Iaido better than anyone else I have ever seen. But in addition to being spectacularly talented, he was a kind, generous man with a warm sense of humour and a great spirit. I was lucky to have spent time with him. He will be sadly missed and not soon forgotten.
Michael Castellani (Sei Do Kai Iaido Club - Burlington Kendo Club):
Having known Haruna Sensei was a blessing. I, like so many others, owe the person I am today and the life I am blessed to be living to Haruna Sensei. It started in 1996, when by chance or fate, I saw his picture and information about a seminar. I was immediately drawn to the presence and power one could feel from the picture (which hangs on my wall even now). After a few inquires, I was led to my first Iaido Seminar, which allowed a whole new world to be opened to me.
It was inspiritional to watch Haruna Sensei perform or even teach Iaido. As well, watching him made you feel like there was a level of perfection that, while you may never reach it, he made you want to strive for it. Over the period of years, I never missed an opportunity to practice with him and was always grateful for any information passed to me.
Because of Haruna Sensei I have a richer and fuller life. That picture lead me to start Iaido and opened new doors. I was blessed, and the opportunity lead me to where I am today. For if it wasn`t for that picture, I would never have practiced Iaido, never known all of the great people in the CKF who have guided and inspired me. Even now, I`m in Japan, training, all because of a recommondation given to me by Haruna Sensei. I am where I am now and I`m pushing constantly to move even farther and I owe it all to Haruna Sensei, what more needs to be said. And I am not alone, I know that anybody reading this, has the same debt of gratitude and same Love for the one that helped us in so many ways to be who and where we are today.
Ed Chart, Sei Do Kai, Guelph:
I had the honor of practicing with Haruna Sensei the first time he came to Guelph 1991. I did not know it then, but the next time we would meet he would change my outlook on life. My Iai practice ended in the summer of 1993, due to rather tragic circumstances. As far as I was concerned my previous life was over, all of the activities I once enjoyed now seemed like impossible activities offering only pain, frustration and in the end disappointment at my inability to recapture what I had once been able to do.
Two years later on a warm spring night I decided out of curiosity, to show up at the annual Guelph Iaido Seminarís Saturday night bash and say hello to old acquaintances. Haruna Sensei was there and he recognized me and motioned for me to come over. He asked me what had happened and why I had not shown up for the seminar. I quickly explained what had happened to me, but I was not able to explain why I had not shown up for the seminar. It was a funny thing, at that moment it became clear to me that if I could not justify to Haruna Sensei why I was not practicing, then maybe I should be! His attitude changed my attitude and I was able to regain the confidence to return to Iai. It may not seem like much, but with only a few words and a no-nonsense get back into it attitude, Haruna Sensei was able to reawaken my love of Japanese Sword Arts, an activity which has become a very important part of my life.
As a student of Iai, I count myself very lucky to have had the privilege of Haruna Senseiís instruction. As a person I will never forget the influence he had on my life. I will miss him dearly.
Carole Galligan, Sei Do Kai Canada:
I was very sorry to hear of Haruna Sensei's passing! I was also very shocked too. He always had such a strong sense of spirit that it was easy to forget that he wasn't young. I will always remember the intensity and passion with which he practiced Iaido. Every technique was done with total intensity, even when he was demonstrating to beginners or at the end of the day of training when we were all tired. He was an inspirational instructor and usually demonstrated by example. His Iaido was always very powerful and intense, but looked ever so easy when he performed the techniques. It always surprised me that he was constantly working on ways to improve a technique (even though they all looked perfect to me when he demonstrated them), but every year his Iaido had evolved and was better than before. I feel very fortunate to have trained with him. If I can capture a little of his passion and intensity for Iaido, I will be very happy. Training with him was very strenuous but also a lot of fun. I have enclosed a photograph of the Sensei's doing their Yakuza impression. I think it really shows what a great sense of humour he had. I will deeply miss him. I don't think the spring seminars will ever be the same, but the memories I have of all the years of seminars will always be happy ones. He definitely set quite a high standard for us to follow. They say that the best payback you can give an instructor is to be better than him (what a scary thought).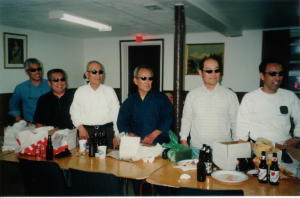 L. to R. Ohmi, Kimeda, Iwamoto, Haruna, Namitome, Oshita senseis
1999 Guelph Spring Seminar
I spent last night going through the old photographs I have. I am surprised how few I really have (too busy training I guess). I think one of my favorite memories of Spring Seminar was the time you lost the Senseis. Best of all, you had absolutely nothing to do with it, but since they were missing it was obviously your fault. I know you always cringe when I mention it but I still laugh when I think about it. Haruna also taught me some of my first Japanese words. The first one was "dame" sometimes followed by "sososososo" and a smile. Over the years, he learned quite a bit of English and we picked up some Japanese, but I always knew what he meant (if not the actual words). I still laugh when I think of the time Haruna sensei was telling me something and Trevor Jones was translating. Sensei must have said several sentences but Trevor only translated a very short sentence (definitely made me want to learn more Japanese). There was also the party at your house where we had the "bag-o-beer" which was green as I recall. Scarier still... we drank it.
In remembrance I think a practice of exceptionally gruelling practice followed by shandy for everyone would be perfect (but don't let Trevor Jones order the shandy or we'll be drinking beer and lemonade! Wasn't as bad as you'd think). This is kind of rambling. I have so much to say but when I try to put it into words it doesn't sound right.
Sandra Jorgenson, Japanese Canadian Cultural Centre, Toronto Canada:
Practising Iaido for many years one comes to the realization that some years you progress and other years you just stagnate. Similarly, some years I felt like I learned a great deal at the annual "Haruna Seminar" and other years I found myself at a loss to have learned anything at all. One year, many years ago, I found myself at the end of the seminar feeling like one of those years where I wasn't getting anywhere and with no idea what I needed to work on. In asking Haruna sensei what I should focus on, he said quite simply "keiko, keiko, keiko". Haruna was always refreshingly direct and without pretense - he told it like it is - contrary to the popular misconception about the Japanese. I recall this irritating some people, but I always appreciated his bluntness; it was always humbling and ultimately enlightening. This simple lesson from Haruna sensei - that one should simply practice, practice, practice - provided me with an approach to Iaido which eschews the frustrating need to feel like one is "progressing" all of the time - just focus on practising in and of itself - that in itself will be rewarding.
Bill Mears Yugenkan Dojo, Ridgeway, Canada:
I first met Haruna Sensei in 1989 in England. I remember before I left, Ohmi Sensei telling me that Haruna Sensei was a famous man and how lucky I was to be meeting him - something of an understatement to say the least! His plane had been delayed, so the morning of the seminar was without him or the other sensei. They arrived at lunchtime, still in 'civvies' but I was immediately aware of the man's extraordinary quiet dignity. As one of my students recently put it "I only met him once, but I felt he could have pushed me through a wall - in the nicest possible way".
For the past 13 years he has been 'my sensei in Japan'. Always an inspiration, always making the impossible seem so easy and elegant, always caring for each and every one of us as if we were members of his family. Learning from him was a privilege and a delight. A rebuke was an opportunity to spent the next months and years trying to fix the problem - how I sulked if he didn't pick me up on at least one thing each time we met! If there is such a thing as enlightenment, I found it with Haruna Sensei; every move he made was an opportunity for me to watch and learn and wish I had a fraction of his talent. He told me that because he started iaido later in life, he practiced it 25 hours a day, either in the dojo or in his mind and he advised me to do the same - I hope I can in part live up to his ideals; his legacy will be the myriad of students he encouraged and inspired across the world.
Greg Robinson, Japan:
Please allow me to introduce myself. My name is Greg Robinson and I am a Sandan in Iaido from Canada. I used to live in Kitchener and train with Kim in Guelph. I had the privilege of attending a few of Haruna Sensei's seminars as well as spending a year at Musashi Dojo training weekly with Haruna Sensei and Trevor Jones Sensei. I am basically the spoiled child of Iaido because I have so many great experiences with Haruna sensei/thanks to Haruna Sensei that I don't think even now I can fully appreciate them. Although with Haruna Sensei's death my eyes have now opened wider!! Please allow me to share a few of my moments with Haruna Sensei as well as attending the funeral with Trevor Jones Sensei in Ohara at Sensei's house.
Sitting in my office on a sunny day in Nagoya, Japan I realize that my being here is directly related to my first meeting with Haruna Sensei about 9 years ago.
To get into detail would be boring but I'll be happy to tell the full story next time we can meet at the seminar auction/barbecue. I met Sensei at the Guelph seminar (9 years ago) and 4 months later I stayed 2 weeks with Trevor and trained at Musashi dojo with Haruna Sensei. Eight months later I found myself training every Monday night with Haruna Sensei in Musashi dojo. Trevor and I would sneak a practice in every Friday morning as well before I would humble him at Table Tennis at the local Onsen. Of course, Trevor seems to remember things differently (whoops I digress). Practice was not the only time that I had a chance to talk with Haruna Sensei as he seemed to have a knack for turning up at Trevor's house on nights when Trevor and I would be going head to head: roku dan (at the time) vs No dan in a contest of skill, agility and wit.......er on the cribbage board. Sensei's car horn would sound and Trevor would take a peek to wave sensei up. These were welcomed visits for Trevor and I (especially for the one who was losing the game at the time). Here Sensei would get us caught up on the latest Iaido news and give us results of the latest taikai or health of some of the older sensei. These conversations were always enjoyable because I could laugh with Sensei as opposed to him laughing at me and my Iaido.
Training with Sensei in Ohara, and since with other Sensei throughout Japan I have come to realize Sensei's special gift as a teacher. Everybody knows what a fine swordsman Sensei was but as a teacher he could imitate any type or level of Iai he had just witnessed so accurately that many times my own embarrassment was also mixed with laughter (mine, as well as Sensei's and Trevor's). Even today I train with an excellent teacher (who Haruna Sensei also introduced to me) in Nagoya Japan and I have no complaints. However I must say there is/was only one Haruna Sensei and I, an unworthy student of Iai had many chances to witness his demonstrations and now I can only wish I could see him at the Kyoto taikai one more time or have tea with him and Trevor at the house just to hear him chuckle (all Iai aside) would be just as great.
I had seen Haruna Sensei this year at the Kyoto Taikai and being fully aware of the health concerns he was having I was surprised to see him so upbeat. I had talked to him on the phone a couple times since and I was hearing about Sensei through regular conversations/visits with Trevor. Then out of the blue I received a call from Trevor who had heard from Haruna Sensei's family that he had taken a sudden turn for the worse. Trevor and I discussed it and agreed to go visit the day after next (Thursday). Trevor called me Wednesday night and told me that Sensei's condition had worsened to the point that we were not allowed to see him. I had a wedding to attend with an acquaintance of Trevor and I on the Saturday and Trevor elected to stay in Okayama to see Sensei at any possible chance. Fortunately Trevor did have a chance on Friday. I attended the Wedding on Saturday and received a call from Trevor that Sensei had died early that morning. I was staggered but kept my composure for the sake of my friend's wedding. I discussed attending the funeral with Trevor and I mentioned that it was more of a family affair so I was a bit reluctant to go for their sake. Trevor mentioned my desire to attend to Oshita Sensei and the family (many of whom I haven't seen in 8 years). They said I was more than welcome to attend.
So I hobbled down to Trevor's flat where we broke out the crib board and had a few laughs (but of course we both knew there would be no car honking interruptions). It was just like old times on the drive to Ohara except that we were wearing blacks suits and the hakama and keigo stayed home. Upon arrival at Sensei's house we registered, had a meal and then were ushered in to the living room. We were told to sit at the far wall with Trevor beside Iwamoto Sensei and myself right behind. I was honoured and embarrassed because this seemed to be a place for honoured guests such as family, other sensei and close friends of the family. I felt with my status in that given situation I would be honoured just assisting parking cars! Needless to say it was very overwhelming. An excellent picture of Sensei in his Keikogi was on display and all I could do was smile at how greatly it displayed him. The service started with Buddhist priests chanting. Upon the finishing of the chanting a speech was made by Ide Sensei and this was one of the most emotional moments of the ceremony. Ide Sensei made a speech as if talking to Sensei himself and recounting how he had met Haruna Sensei in the All Japan tournament in consecutive years and the impact Haruna Sensei had on Ide Sensei as well. This speech was followed by a former local Kendo Instructor colleague of Haruna Sensei's, Nagahata Sensei (who also happened to be Haruna sensei's main Niten ichi ryu partner)! He recalled how Sensei seemed so healthy and was always optimistic about leaving the hospital in better health (Trevor will be attending a Taikai this weekend in which he and Haruna Sensei had registered only a couple months ago)! Nagahata Sensei also mentioned how the local Junior High School students (many who still live in the area) described Haruna Sensei as a Kendo instructor: (Note: the following translation is my own so please no hate mail to anyone else) "one mean S.O.B."!! This brought a few stifled chuckles including my own. Once the speeches were completed the coffin was opened up and the family and close friends lined up to place flowers on Haruna Sensei. Once again I was honoured by being allowed to participate in this part of the ceremony although I was feeling so much sympathy for the family at this stage that my final bow to my Iaido teacher was somewhat insignificant compared to all the other emotions in the room. Never the less that was the last time I will ever see the man who purchased my first iaito, hakama and keikogi for me, who taught me many things about Iai (far too many I have forgotten I am sure), and a person who even 2 years ago helped sponsor my current apartment and who as early as last year helped me enter a tournament out of my prefecture. Upon leaving I glanced around and noticed all the flowers from various places and I was happy to see a flower arrangement sent from Canada as well. Trevor and I had a chance to visit with the family briefly afterward. One of Haruna Sensei's grandchildren even remembers me beating him badly in Nintendo soccer 8 years ago (ok so maybe he doesn't remember the "beating badly" part). Trevor drove me to the station and I remembered what Trevor had told me earlier, that Haruna Sensei had his katana at his bed at a hospital in Okayama and when a local doctor objected to its presence Haruna sensei politely (or impolitely) insisted that it stay put. Haruna Sensei had in his possession a tenugui as well that read "Zanshin" which he actually wrote. He was a swordsman through and through, no I stand corrected, a Bushi in the truest sense.
Haruna Sensei will live on through our swords, our kata and our hearts. For me the spoiled child of Iaido the importance of the bow to the shomen just became a lot greater.
Allan Tattersall, Lancs. England: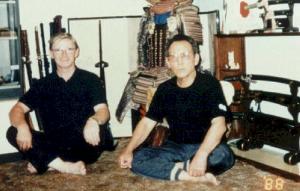 I have many, many stories of sensei, here's one or 2 you might like. One day in '99. we were sitting in his front room, Trevor and I, when sensei asked me for my iaito. He took the fittings apart on the handle, asked Trevor to pass him a tsuba from a cabinet, fitted it on, then produced a new sageo and put that on. He then gave a little grunt and passed the iaito back to me in a beautiful silk bag. Trevor sat open mouthed the whole time, then said "Haruna sensei has just put a 400 year old tsuba on your iaito." .............I looked at him, then looked at Haruna sensei, then back at Trevor and keeping a straight face throughout the whole time I said to Trevor "ask him why he keeps giving me all his Old Stuff." Trevor nearly fell off his chair saying "I can't say that!" "Go on" I said, "ask him." After Trevor did, Haruna sensei looked with a stern face, stroked his chin, then burst out laughing.
I did the same thing when I once asked him to translate a very old sake cup. At that time there were a couple of older sensei with us, each one looked at the Kanji then said "HaAAAA! a sake cup from the Kamikaze." "Oh." I said to Haruna, "sensei" I said, "Why did they wear crash helmets?" Same effect of stroking the chin, then a big laugh! That was Haruna.
He once asked me when I was teaching "Tattersall-san! You say a different word when technique wrong." "Oh sensei, when?" He said "I say 'dame', what do you say?" "Oh I get it sensei, I use Crap!" "Oh good word, Yes! Sensei number one in UK" and sensei wrote it in his book. The next day on the seminar, Brian Bettison was doing a kata not to sensei's liking after showing him the points a couple of times. He exclaimed "Bettison-san Crap!" The whole room fell about laughing in tears! Haruna sensei looked at me in a stern manner and said "they laugh?" Quick as a flash I said "Yes sensei! They know now that you know the number one word in UK." "HMMM!" he said, took out his book again saying "number 1" and put a tick at the side.
These are true stories. In 1990 in my town he came to visit directly from Dartford in the South, so we had a seminar, a banquet in the Town Hall, full demonstrations from many arts, and a raffle were Haruna sensei presented £500 to the heart unit of the hospital in town. Then back to my place for a party, the whole time he travelled in a Rolls Royce limosine with the town's coat of arms on, complete with driver. I went in another car. "No coming with us Allan San?" "No Sensei, you go in my second car", was my reply. Mouth open, he got in.
That night as the party needed livening up, I got a stripper-gram for Haruna which brought the place down, and was the end of a great weekend. Years after I had the tapes from that weekend put into NTSC and sent Haruna sensei, Mano sensei, Fujii sensei, and Oshita sensei copies.
Those are memories to me of a great friend, teacher, and the best swordsman I, and many others are ever going to see. -Allan Tattersall, www.ukjjai.com hanshi@ukjjai.com
Kim Taylor, Sei Do Kai, Guelph Canada:
Since the news of Haruna sensei's passing, I have been thinking of all that we've lost, but more importantly, of all that we've gained from this wonderful man.
I remember first hearing rumours of "this excellent iaido instructor" from Bill Mears, who was told of him by his instructor in England, Mr. Malcolm Copp-Taylor. Bill had come to Canada and joined Ohmi sensei and the CKF at the end of the 80s when the CKF iaido section was being created. A little while after that Bill went back to England and met the man himself. The stories that came out of that trip prompted us to send Ohmi sensei to England the next year to meet Haruna sensei and thus began our decade long involvement with one of the best instructors I've ever met.
In 1991 Canada hosted Matsuo Haruna sensei at the "First Annual Spring Iaido Seminar" which we held at the same time as the World Kendo Championships in Toronto. There was a considerable focus on Canada at that time and the combination seems to have been a good one. Iaido in Canada has grown and flourished since then.
That first year was the first of several "jumps" in my personal iaido. Watching sensei demonstrate, and then having a small word in the ear produced amazing results in a very short time. There was no doubt that we had found someone who could teach us. More than that though, we had found a man who was happy to teach students who didn't really need him. Let's face it, a beginner doesn't really need to be instructed by an All Japan Champion, but throughout the years, Haruna sensei would always be found with the non-kyu and kyu section. At the end of each seminar we would make him promise to come and teach us again, he kept that promise every year.
I remember being in England for a cold autumn seminar and being lucky enough to stay with Haruna and Ohmi sensei at Allan Tattersall's dojo. One afternoon, having had enough of sitting around breathing second hand smoke and listening to those two talk in Japanese, I snuck out to practice downstairs. As I was about 5 minutes into it, slowly trying to unfreeze my toes (Allan didn't heat that mat area if he didn't need to) I was startled to hear a sharp correction from behind me. Haruna sensei had noticed that I was gone and likely couldn't bear the thought that there was a student within reach who could be getting a lesson. That afternoon was one of the most painful, humiliating, difficult and wonderful of my life.
Back in Canada in the early days Haruna sensei used to stay with Chris Nunan, the first "official" student of the Sei Do Kai and a great friend of sensei. Chris would arrive at class in the mornings looking like hell, telling us of late nights staying up serving beer and tea, listening to the sensei talk in Japanese until 3 or 4am, demonstrating and waving chopsticks like katana. He claimed that he learned more by watching out of the corner of his eye during those sessions than he ever did in the dojo, despite the language barrier.
I remember seeing sensei angry once or twice, but only when someone wasn't trying hard enough, or wanted to go in a direction that wasn't good for them. If you wanted to learn, and were willing to put the effort into it, he would teach, and teach, and teach. His patience never seemed to wear thin as long as you tried your best. One year he asked casually what I would like to learn this time. Being young and an idiot I suggested that I'd like to learn Niten Ichi-ryu since I had heard he practiced that art. He fixed me with a rather frightening eye and asked if I thought I'd learned enough from iaido. I stammered and stuttered and found something else to do for a while, but later that seminar he showed me a little Niten, and each year after that he showed a little more. One year he asked why there weren't more students in the Niten session and I realized that even if he didn't really think I should be learning something, what he taught me it wasn't for my personal amusement, I'd better be practicing and teaching it as well as I could.
In the last few years sensei was slowing down a little bit, but stayed as always with the beginners, sending the younger sensei to teach the more experienced students. Each year at the end of the seminar I would ask the beginners if the training went well, and if we should send another instructor down to help. The answer never changed, "NO". The beginners wanted no changes, they wanted Haruna sensei and someone to translate, and that was just fine thank you very much.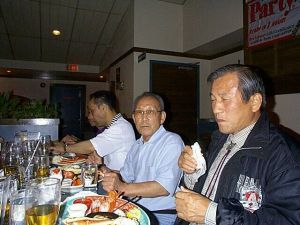 Oshita Masakazu, Haruna Matsuo and Ide Katsuhiko
Guelph Spring Seminar dinner out
In order to get some of his time we "big shots" would arrange "senior classes" where Haruna sensei would take the "dojo leaders" apart bit by bit and put us back together again. Woe unto the student who thought he or she knew something about iaido and didn't pay attention. It was always a more humble, but more learned group of "instructors" who walked out of those classes, and each year a couple weeks before the seminar I would receive emails, letters and phone calls to remind me that we needed to set up another "senior's class" so we could all become beginners again. I'm sure I'm not the only "instructor" out there who hears sensei's laughter in my ear when I perform a technique badly, or who also hears sensei's advice in the other ear. That advice always came immediately after the laughter because sensei believed that no matter how bad the technique, it could always be fixed with a bit of effort, so there was no need for worry.
Haruna sensei went into hospital and couldn't practice with us this year. Up to the last minute he planned to attend but it turned out not to be possible. Still, he kept teaching us, arranging for last minute replacement teachers from the hospital. Haruna sensei said he'd be back next year, and that was the only promise to us he didn't keep.
Haruna Matsuo came to Canadian Iaido at a time when we were just getting started, and he's been with us ever since, from perhaps 20 students to a strong organization with dozens of dojo and a yearly seminar of well over a hundred swordsmen from all over North America and overseas. He will remain with us for as long as we pick up a sword and go out onto the floor to try once again to "get it right".

---
If you would like to contribute a memory to this page, please email it to Kim Taylor at kataylor@ejmas.com