The Iaido Newsletter January 2000
Sachiko Yamauchi, Naginata in NYC
By John Prough
The New York Naginata Club (NYNC) is happy to announce the return of Yamauchi Sachiko Sensei to New York for continued training in Naginata. Yamauchi Sensei lives in Matsuyama-shi, Ehime-ken in Shikoku Japan. She has generously offered to help the NYNC improve Naginata training in New York. She is also "Advisor" to the East Coast Naginata Federation (ECNF). Yamauchi Sensei holds the rank of Kyoshi (senior instructor) from the All Japan Naginata Federation. This is the 2nd highest rank there is in naginata. She will be in New York from February 13 to May 7, 2000.

There is a Naginata Seminar schedule in New York City on the weekend of March 11 & 12, 2000. Exact place and time will be announced later.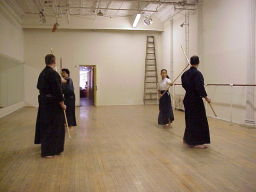 Sachiko Yamauchi started her Naginata training in 1971 at the Naginata Club of Matsuyama Shinonome junior high school. By 16 years old she had reached Shodan. She was promoted to her current rank of Kyoshi in 1996 a year after she had become age eligible. Yamauchi Sensei is one of the youngest to ever be promoted to that rank. The Naginata Federation ranking system is: Shodan (1st degree black belt) through Godan (5th degree black belt), followed by the teaching titles of Renshi (instructor), Kyoshi (senior instructor) and Hanshi (master instructor). Minimum age requirement for Hanshi is 55.
Her tournament record is also very impressive. In the 15TH All Japan Naginata High School Championship, she was the team captain of the winning team. The next year she took the paired (engi) College Championship. She continued her career in college, winning both in team competition and individually during various All Japan College Naginata Tournaments. Yamauchi Sensei was in many All Japan prefecture competitions both as a team player and as a paired (engi) kata competitor. Quite often placing in the top 10% or better. In 1989 at the 30th All Japan Prefecture Championships, she took 1st place as an individual. Thus, she has won first place in All Japan level naginata tournaments in high school, college, and as an adult.
Yamauchi Sensei also has a great career as a teacher and coach. She has taught Naginata at various levels. This experience ranges from teaching Elementary and Junior High School children to teaching older section (45+) at the Saijo Wako Club in Saijo City, Ehime. She is qualified as a college level Naginata seminar leader as well as Gifu and Ehime prefectures seminar leader. Sensei holds a B level Naginata coaching certificate. She is a Class A Referee.
Among her many duties in Japan are: a Standing Director of Ehime Naginata Federation (past General Secretary) and since 1996 Chairperson of the Board of Directors, Advisor to All Japan College Naginata Federation, Advisor to the Ehime Prefecture Sports Association, and Standing Director of Matsuyama City Sports Association. In 1991 Yamauchi Sensei received the Ehime Prefecture Sports Associationís Outstanding Coach Award and the Matsuyama City Sports Associationís Distinguished Coaching Award.
The NYNC holds a regular class in Naginata on Sundays 1 to 3 PM at the White Street Fitness Center, 43 White Street, Manhattan. This is located between Broadway and Church Streets in lower Manhattan. White Street is parallel to Canal Street and about 2 blocks south of Canal.
Anyone who wishes to do Naginata is welcome, beginner or advanced. The NYNF has extra equipment for use by beginners until they can obtain their own. A hakama and keikogi or just comfortable clothes are all that is needed to start.
The Naginata being taught is the new sport naginata which is similar to kendo.
There will be some extra classes schedule to take advantage of Sensei's being in New York City. The time and place to be announcd.
Yamauchi Sensei is a very knowledgable teacher and it is a great honor as well as an opportunity to be able to train with someone at her level.
For further information you can send email to ny_naginata@hotmail.com or to
me at jpro@bellatlantic.net or telp. (201) 656-0117.
For an mpg video (1.2mb) of Yamauchi sensei teaching, click here.


TIN Jan 2000