The Iaido Journal July 2002

Swordplay in Japan.
by Kinza Hirai, first published in Outing, March, 1895, Vol. XXV, No. 6, p. 466-471.

THE Japanese regard swordplay and the various methods of offense and defense with the sword with an intense sense of chivalry, because, though they are used by civilians at present merely as recreations, they were originally the important accomplishments of the knights and swordsmen. This evolution of deadly contest into harmless amusement and wholesome sport has all taken place within the last twenty-six years; that is, since the free intercourse of her people with the rest of the world broke down the ancient feudal system.

There are several kinds of swords in Japan, and the regular knight used to wear two at the same time, one much longer than the other, the longer one being for general fighting and the shorter for close combat. There is still another kind of long sword called "Tachi," the blade of which is bent in the opposite direction from that of the common weapon, and a very short pocketsword carried by ladies.

We have many experts of the art of fencing, and each branch contains a number of schools. One will use a short sword or spear, another longer ones, and again another school two swords at the same time, one with either hand. In former times, in every famous castle town, there were many teachers of these different schools, and we have numerous romantic stories about the prowess of the knights, who received political advancement according to their skill.

Beside the sword, the spear was formerly in general military use, and it shares, with the sword, the more peaceful purpose of the fence.

Of spears there are two or more kinds generally used by men. Some handles are very long, others are short. For exercise where no real fighting is done, a long pole, having a round ball instead of a blade, is substituted for the spear. The inside of the ball is filled with white powder and the outside covered with a piece of cloth, so that, whereever the mock spear touches, it leaves a white mark. If the combatant perfectly controls his mind, he will conquer; success lies in a knowledge of the secret of the art. When the pupils of a teacher graduate, he gives to them his own written system. This is really nothing else than the conscientious practical application of the religion of the people to everything in which they engaged. There are many text-books about the use of the sword written by religious authors.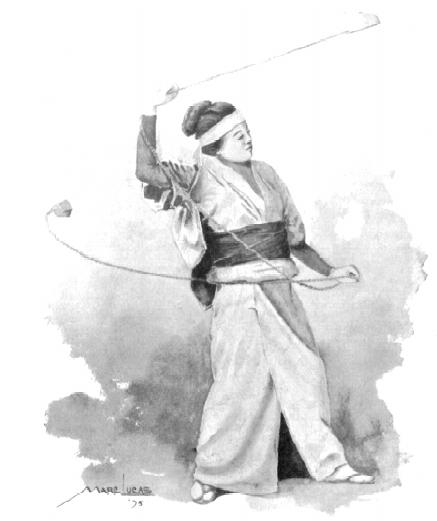 Not an ordinary woman's weapon.
If we judge from the point of common sense, one will think the long spear a better weapon than the sword, but many experts prefer the sword. I will relate a story to prove that a long weapon is not necessarily advantageous. A feudal lord, named Kanso, of Saga, had a long new spear of which he was very proud. One day when the high priest of the temple visited him, he showed him the spear. The priest said, "What can you do with that long weapon?" "I can thrust a man with it, and kill." Then the priest said, "Oh, no, you cannot kill with it." The feudal lord angrily answered, "Shall I try it on you?" "Yes," replied the priest, and sitting still on his seat he waited the attack. The feudal lord thrust at him, but the priest evaded the blow by leaning to one side, and the spear struck the wall; again a thrust was made and again evaded, the priest leaning to the other side, the spear striking a column. At this the lord deliberately broke his spear.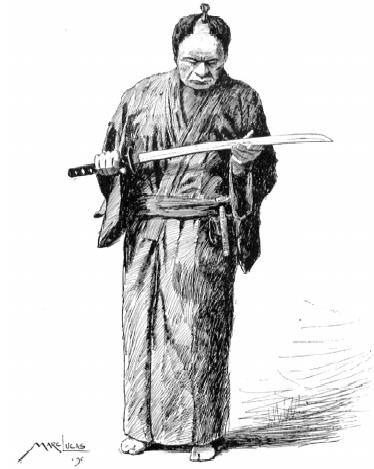 A connoisseur.
When I was a boy, I took great delight in attending the fencing-school, and watching the remarkable results obtained by those who had mastered the art of defense. The peculiarity of this art is that a man who is more expert than another holds out his sword in position of defense so that no inferior will dare to attack him. When one stands facing his superior, he feels as if fronting an iron wall; if you want to strike downward, there is danger of being hit upon the head; if you aim at the loin, you yourself will be struck there, so you can find no point to attack. This art has many secret theories, as to the positions of the body and the manner of holding the sword so as to afford almost absolute protection. The reliance based upon these theories by masters in the art is very remarkable, and that the theories are capable of effecting the results claimed is proved by many instances, only one of which I will relate.
There was once a mere beginner who spoke very egotistically of his accomplishment with people who did not understand it. At one time he disputed with another person about the system of fencing, and at last was obliged to accept a challenge to fight with him with true swords. In fear and trembling he resorted to his teacher, and asked him the best method of gaining a victory. The teacher inquired the name of his young pupil's opponent and discovered that he was a famous expert. The teacher said in great sorrow, "You can never defeat him; you must surely die." But the disciple begged to be saved. Then the teacher replied, "I see but one chance; if you can by any possibility hold yourself firmly in a certain position, never moving a hair's breadth even though he attempts to force you, you may barely escape." Upon the appointed day he went out to meet his formidable adversary, surrounded by the thousands of spectators who had come to witness the battle. His opponent arrived, and, after consultation, they both at the same time drew swords. The pupil held himself and his weapon firmly. His superior gave signals, and brandishing his sword attempted to fight; but the young pupil still stood erect, not moving a muscle. Again the superior signaled, and again moved forward, but still the young man stood. Many, many times the superior signaled and challenged, but the pupil braced himself and was rigid as a rock. After numerous signals and challenges the superior drew back his sword, and bowing very politely said, "I admire you; I can never be a match for you." The superior was completely deceived. According to the Japanese theory, certain positions of the sword indicate certain sallies, perfectly scientific, and in these the art lies. The attitude of the young pupil had been so firm that his opponent presumed him to be an expert whom he dared not fight.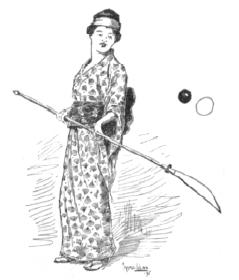 The halberd and ball.
The women of Japan are very clever at swordplay; they use as a weapon a halberd in shape quite different from the spear or halberd used in America or Europe, for it is formed like the new moon. A dexterous woman will revolve it so quickly that no enemy can touch her, and she defends herself perfectly.
There was once a daughter of a knight who was very expert with the halberd. She had many suitors, but to them all she replied that she would only marry the man who could conquer her. A day was arranged, an arena made, and in the presence of the feudal lord, knights and ladies the struggle began. One after another was repulsed, not being able to touch her, so rapid were the revolutions of her halberd. Finally the last and most beautiful knight appeared without any weapon in his hand but his iron fan. Watching his opportunity he sprang beyond and behind her, and quicker than lightning disarmed her—greatly to her delight, but perhaps not to her astonishment.
Another important woman's weapon, which serves also as an instrument of amusement, is a steel chain over ten feet long, on one end of which is attached a sickle, and on the other a heavy iron weight. When she throws this chain, it stiffens like a rod; instantly she pulls it back and throws again, or perhaps the alternate end as rapidly as lightning. Sometimes she hurls both ends, holding the middle, so that she gets the effect of two chains. Again she will revolve it while holding the center; according to her will it revolves in parallel or straight lines.
Two young girls once revenged the murder of their father with these weapons. The murderer had escaped justice, and his daughters could not rest until they had punished him. For a number of years they practiced under an expert teacher with the sickle and chain until, finally becoming proficient, they met the slayer of their father in a public arena, and conquered and killed him. Of course, in Japan at the present time nothing of this kind would be allowed, for the government permits no private revenge, but in old feudal times loyalty to one's parent or lord was a virtue, even when it resulted in death.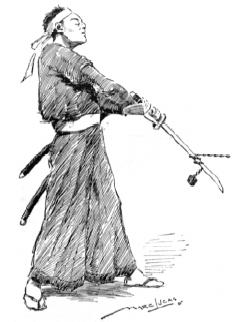 Now for the reserve sword.
The best blade of the Japanese sword costs over a thousand dollars, and many competent judges pronounce them even better than Damascus blades. To make these is the highest art, and in connection with the work many tragic stories are told. The finest artist will only make a few perfect blades in a life-time. Before he begins his work upon a sword, he purifies his mind from all outside attractions, so that he may concentrate it entirely upon the work in hand, putting his complete vitality into that alone; often in the night bathing in the cold waterfall to attain energy, and by other means bringing his forces to a concentration that shall give him the power to temper the steel.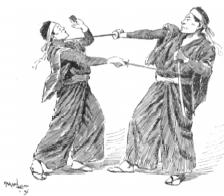 At close quarters.
There is a touching little story told in Japan, which illustrates this necessary concentration. A young swordmaker's apprentice married his master's daughter, whom he dearly loved. The old sword-maker died, and the young man neglected business and lost the power to make a good weapon, so that he became rapidly poor. One day a feudal lord sent him a sum of money by the chief of the town as a retaining payment toward a fine weapon which he wished him to manufacture. The young man went to work, but the result was a failure. Again he tried and again he failed, making only inferior swords, which the chief of the town would not accept. His wife reproached him for his repeated failures, and finally left him. He was distracted at first, not being able to discover her whereabouts. Suddenly he thought of the money, and in making search for that found it had also disappeared. He immediately became very angry, and in his extremity decided that he must concentrate his thought and make a sword that would lift the stigma of dishonor from him. For days he worked, until at last he produced a perfect blade, and inviting a young artist to accompany him they went together with the sword to the feudal lord. "Ah," he said, "this seems a perfect blade, but the only way I can surely know is to test it. Come here, young man, and let me cut off your head; if it does clean work I shall know it to be a good sword." The young man, standing erect, stretched out his arms, and making of himself a cross, cried out in an excited tone, "Cut off my head! Try to cut this steel-tempered neck, if you can." But the feudal lord put up his weapon and, smiling, said, "Young man, it was this temper of your mind that gave this temper to my sword." And he filled his hands with gold. The sword artist bowing, left the lord, knowing that his honor was redeemed. Returning to his house, he accidently overturned a box which before he had not noticed, and to his astonishment found within it the money which he had supposed his wife had taken, and a letter in which she stated that she had left him in order that he might thus be enabled to concentrate his mind upon his work, and that she would remain away until he had succeeded. It was not long after discovering this letter that he also discovered her, deep in meditation in a cave of the mountain.
The stories I have told are legends quite familiar to the Japanese, and are all of them founded upon truth. There is a historic and romantic halo about the ancient games of Japan. It will be many generations before their charm will pass entirely away.