The Iaido Journal Dec 2002
Iaido "Down East" in Canada
by Dave Green

Well, I'm back home after travelling down east with Ohmi Sensei for seminars in Fredericton and Halifax, and thought people might be interested in a seminar report.

The weekend started on Friday, with Ohmi Sensei and Tsutsui Kohei arriving at the Fredericton airport just before noon, where they were met by myself, and Bill Anderson, our local host. Bill has just recently moved to Fredericton after practicing Iaido in Ottawa at my club, and is the fellow responsible for starting Iaido classes in Fredericton.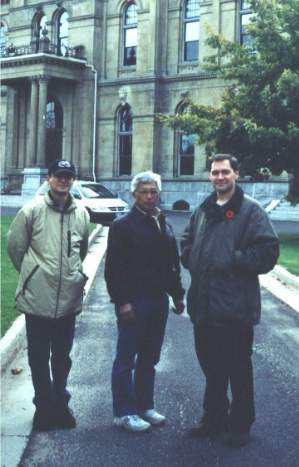 Ohmi Sensei, Tsutsui Kohei and their local host Bill Anderson outside the New Brunswick legislature building.
We had an Iaido class scheduled for 7pm, so we spent the afternoon touring some of the local attractions, including the New Bruswick Legislature Building, and a local art museum, as well as a stop at a local pub for a late lunch of Fish and chips. After lunch, Ohmi Sesnei and Kohei went back to their hotel (the Lord Beaverbrook Hotel) to rest for a few hours.
The first part of the evening class was given over to an overview of the basics of Iaido, as the Fredericton club has only been practicing for about 2 months. Later in the evening, we reviewed some of the katas from Zen Ken Ren iai. The group of about 12 students were all very serious in their practice, and the evening went very well.
The next day started with a trip to the Fredericton Market, which we were told was the highlight of the Fredericton social scene. We were not disappointed! Quite a few vendors of local produce, foods, and crafts were out, and we all got something for breakfast, and Ohmi Sensei bought a selection of smoked meats and cheeses for late night snacking. This also gave us a chance to misplace Ohmi Sensei, which seems to be a tradition at these sorts of events.
Class started at 10AM, and consisted of a two hour session followed by lunch, and a three hour afternoon session, which gave us time to review all of ZenKenRen, with opportunities for the students to ask any questions they had. We also took a bit of time to "cut" sheets of newspaper with bokken, to show the difference between a good cut and a bad one. Ohmi Sensei also took a few minutes to show the class his live blades, so they could compare them to both bokken and iaito.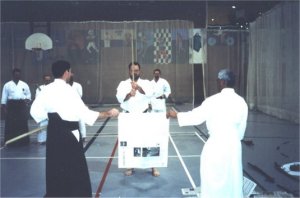 Students showing some pieces of newspaper what they can do.
After class, the group all went to dinner at a local restaurant, which was, as always, a great opportunity to kick back, and get to know some of the people from the local club. After dinner, Ohmi returned to the hotel for a few beers and some more discussions about iaido.
Sunday morning saw us up and about early, as we had to drive to Halifax for the second part of the weekend. Bill Anderson provided the van for the trip, and did all the driving. We arrived in Halifax with just enough time for a quick lunch before pracitce. Iaido went from 2pm until 6pm, with just enought time to show the basics and a few katas. Once again, the club in Halifax is a new club, and so none of the students had much experience, but again, they made good efforts to learn what they could.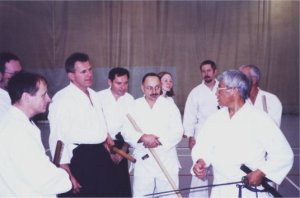 Ohmi Sensei answering questions from students.
After this class, we went down to the waterfront, as the Halifax club had promised Ohmi Sensei a chance for a lobster dinner. When combined with a good local beer, the meal was quite a success. After dinner, we headed back to an evening kendo class.
The kendo class had Ohmi Sensei first teaching the non-bogu students the important points of kendo, with the bogu wearing students as targets. This was followed by a session for the bogu wearing students alone, and then a round of jigeiko, with Ohmi Sensei joining the pracitce. Once again, the students showed a lot of energy, and were eager to learn as much as they could.
After that, it was back to the hotel, for a few more beers, a bit of scotch, and a feast with the smoked meats and cheeses that Ohmi Sesnei had bought in Fredericton, and then to bed.
I flew out of Halifax the next morning, but Bill, Ohmi and Kohei are staying on for a few more days, to do some touring of the Maritimes. I'm sure they're having a grand old time.
All in all, I think it was a succesful tour, not the least because of the above-and-beyond help of Bill Anderson. As we all know, getting the people to the practice at the right time is the hardest part of any of these seminars, and Bill really came through for us. There was much talk of a return visit, perhaps sometime next summer, and I know I'm looking forward to it.