The Iaido Journal Oct 2002
Ontario Open Iaido Championships 2002
Report on the Ontario Open Iaido Championship - Sept. 21-22, 2002
Japanese Canadian Cultural Center, Toronto, Ontario, Canada
Under the Auspices of the Ontario and Canadian Kendo federation
The Second Ontario Open Iaido Championship was held at the Japanese Canadian Cultural Center in Toronto on Sept. 21-22, 2002. The event was organized under the able leadership of Sandra Jorgenson and the somewhat fumbling support of yours truly. Special thanks go to Stephen Cruise for making and donating all the trophies. Thanks for help on the weekend, also go to Fred Kay and Peter Schramek. Participants came from as far away as Thunder Bay, Ottawa and Montreal, as well as Niagara Falls area, including over the border in the US.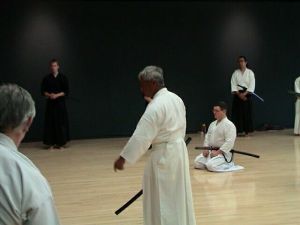 Ohmi sensei teaching

The tournament was preceded on Saturday by a seminar taught by Ohmi Goyo sensei (7th Dan, Renshi), Steve Cruise sensei (6th Dan, Renshi), Kim Taylor sensei (6th Dan, Renshi), Bill Mears sensei (5th Dan) and several and sundry 4th Dans. You know who you are. Part of the seminar was used by Ohmi sensei to teach the judges the fine points of judging a tournament whose competitors ranged from non-kyu to 4th Dan. The 4th Dans both competed and helped judge the competition next day. Loads of correcting went on during the seminar, in fact, I believe I lost two hat sizes by the end of the seminar. I'm sure that the 30 students that attended the seminar learned as much as I did, how could you not.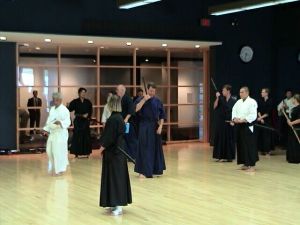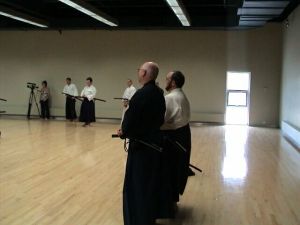 JCCC iaido seminar

The Seminar was followed by a dinner to honor the well deserved achievement of 7th Dan by Ohmi sensei. At the dinner the students of the JCCC, Yoshinkan, and Toronto Kendo Club Dojos presented Ohmi sensei with a striped hakama. He looked great the next day at the tournament in his new attire. As well, the students from Shidokan dojo in Montreal, led by Dr. Robert Miller, presented Ohmi sensei with a beautiful framed calligraphy with the kanji for "Mu Shin" (no mind) by Er Kung of Beijing, commissioned by Santoso Hanitijo. Over 50 people attended the dinner at the Memories of Japan Restaurant on Don Mills. I don't remember seeing much restraint on drinking and eating that evening, but then again I don't remember much about that evening.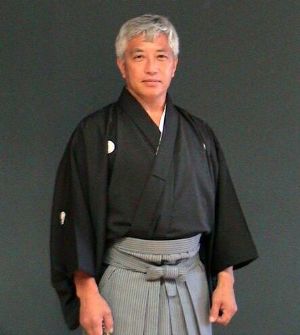 Ohmi sensei and his new hakama

Forty students signed in for the tournament next day. The tournament itself was preceded by a brief welcome from Kim Taylor and a short speech by Ohmi sensei followed by a demonstration of Jodo by Kim Taylor and Eric Tribe and a demonstration of Iaido from the division winners of the previous Ontario Open Iaido Championship (Sandra Jorgenson, Tracy Sheppard and Amy Leh - the women ruled last time out!). The tournament itself began with non-kyu participants competing for the Spirit Award (won by Liam McDonald of the Yoshinkan Iaido Club) for having the courage to participate in a tournament when they don't even know anything yet! The non-kyu/kyu competition followed until lunch time.
The tournament resumed after lunch with a demonstration of Iaido by the top sensei (4th Dan and up).

The final two categories were 1/2 Dan (otherwise known as half Dan) and 3/4 Dan (you guessed it.....three quarter Dan). Of particular note, and to ensure family harmony, the husband and wife team of Amy Leh and Eric Chiu both placed third in the 1st/2nd Dan Division. The semi finalists of all three divisions then competed for the championship of each division for a dramatic conclusion to the tournament.
Congratulations go to:
Non Kyu Spirit Award - Liam McDonald (Yoshinkan)
Kyu:
First Place - Tyler Rothmar (Sei do Kai)
Second Place - Corina Ardeleanu (JCCC)
Third Place - Michael Hodge (JCCC) and Alan Szeto (Yoshinkan)
Spirit Award - Misoo Ko (Sei do Kai)
1st/2nd Dan:
First Place - Doug Martin (Rai Un Kai)
Second Place - Michael Gan (JCCC)
Third Place - Eric Chiu and Amy Leh (both Toronto Kendo Club)
Spirit Award - Dean Jolly (Shidokan)
3rd/4th Dan:
First Place - Sandra Jorgenson (JCCC)
Second Place - Ed Chart (Sei do Kai)
Third Place - Peter Schramek (Yoshinkan) and Tim Wakefield (Shugyokan)
Haruna Cup - Sandra Jorgenson (JCCC)
The weekend was overshadowed by the recent sad loss of Haruna sensei. Canadian Iaido will sorely miss his guidance and his presence at the annual May seminars in Guelph. In his memory, an award was instituted, to be given to the winner of the highest division at the present and future Ontario Open Iaido Championships. Many thanks go to Oshita sensei and Kim Taylor sensei for instituting this so quickly in preparation for the tournament. The award was a plaque with Haruna's family mon etched in glass. Eventually, a permanent trophy will be created with each recipient's name inscribed after each tournament.
Ohmi sensei commented at the end of the tournament how difficult it was to judge many of the matches - they were all so close. While there were some winners, there were no losers - everyone gains something from such an event - the opportunity to demonstrate one's Iai, to test oneself in front of others, to learn more about oneself and one's Iai, to see old friends again, to meet new friends and to just plain have fun - and I know we all had fun.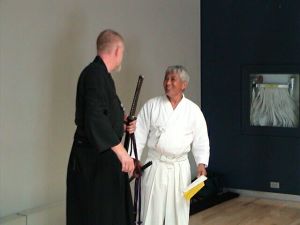 Bill Mears and Goyo Ohmi

Finally, the Canadian Broadcasting Corporation filmed part of the seminar, dinner and tournament for a special segment on "Culture Shock", a CBC Newsworld program to air sometime hopefully in November. Iaido appears to be gaining in recognition every year - Haruna sensei would be proud.

Enore Gardonio
Assistant Instructor,
Japanese Canadian Cultural Centre
Co-organizer of 2002 Ontario Open Iaido Championship

Photos by Eric Tribe, Rai Un Kai Thunder Bay