The Iaido Journal Oct 2003

Ottawa Tateyama Dojo Iaido and Jodo Seminar 2003
Another year, another seminar to put together. This year, from October 3rd to October 5th, Tateyama dojo had the pleasure and privilege to welcome two sensei from Japan: Hisashi Kikkawa, Muso Shinden Ryu Kyoshi 8-dan, and Hatakenaka Atsumi, Muso Jikiden Eishin Ryu Kyoshi 7-dan. Due to this special event, we extended the seminar to two days instead of the usual one. Of course, our regular cast of characters was present in the persons of Ohmi Goyo, Kim Taylor, Bill Mears and Iaidoka from New Brunswick, Newfoundland, Quebec and Ontario. It was definitely a full weekend's worth of good training and good times.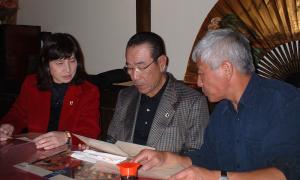 On Friday, the sensei, Kim and family, Dave Green and people from down east headed to the Old Fish Market restaurant for an early dinner. It seems a promise was made to Kim that he could eat fish here this year, so we hope he enjoyed that. This was followed by regular kendo practice at Tateyama, made special by the presence of Ohmi sensei and students from down east. I was not present for this event, but I am sure a good time was had by all. After the practice, the sensei got together at the hotel bar for drinks, but were sadly interrupted by the fire alarm.
Saturday was an all-day Iaido practice. The group started by demonstrating our Iaido to sensei by doing Seitei Iai a few times. We then separated into two groups for more in-depth Seitei practice. The shodan and below group was led by Hatakenaka sensei, and the 2-dan and above group was led by Kikkawa sensei. It was obvious that both sensei were quite skilled and were very dedicated Iaidoka. We all demonstrated our Iai to the sensei again before the noon break. For the afternoon, the groups broke down for koryu practice. Kikkawa sensei led the Muso Shinden folks while Hatakenaka sensei led the Muso Jikiden Eishin Ryu folks. Beginners and students who wished to continue practicing Seitei Iai had the luck of being taught by Bill Mears, who we all know is the hardest bastard there is and whose teaching is all the better for it. There was an interesting twist for MJER folks; it seems Hatakenaka sensei learned from Yamamoto Harusuke himself. As a result, we got to see what Harusuke-ha MJER was like. We struggled with some of the changes in the kata, but it was a very interesting afternoon.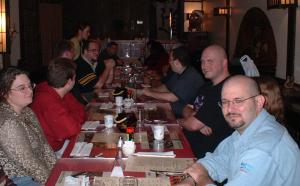 After practice wound down, we reconvened as usual at Suisha Gardens, our favourite japanese restaurant. Great food, great conversations, and beer and sake to soothe our aching muscles. A few of us even had the pleasure of getting yet more teaching, as Ohmi sensei instructed us on how to properly drink miso soup. All in all, it was great fun. I heard that there was some more drinking in Kikkawa sensei's hotel room that night, and they were again interrupted by the fire alarm. Strange coincidence.
On Sunday, practiced resumed. Sensei had to leave at noon, so we practiced all the harder. Kikkawa-s, Hatakenaka-s and Ohmi-s led us through Seitei Iai, doing each kata many times and studying their basics before moving on. Meanwhile, Kim Taylor led a few students through Seitei Jodo. Everyone was enjoying practice, but soon noon snuck in and the sensei had to leave. We had the usual gift-giving ceremony, with the sensei receiving wooden bowls made by our own Dave Green. Many people left at that point, but we nonetheless had a special kendo practice, and I believe some of the Jodo people continued on during the afternoon. The seminar drew to a close quietly, but left us with many pointers towards better Iai (and Jodo).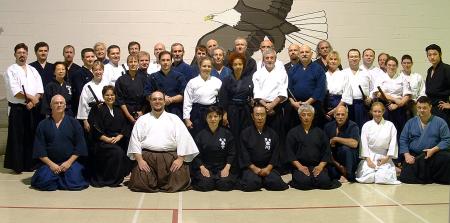 We would like to thank everyone who helped during the seminar, especially Kikkawa and Hatakenaka sensei, and our translators. We would also like to thank everyone for attending, and hope we will have as good a turnout, practice and great time next year.
Sebastien L.
Tateyama Dojo
---