The Iaido Journal Feb 2014
Of Shoji and the Kyoto Taikai

copyright © 2014 Pam Parker, all rights reserved.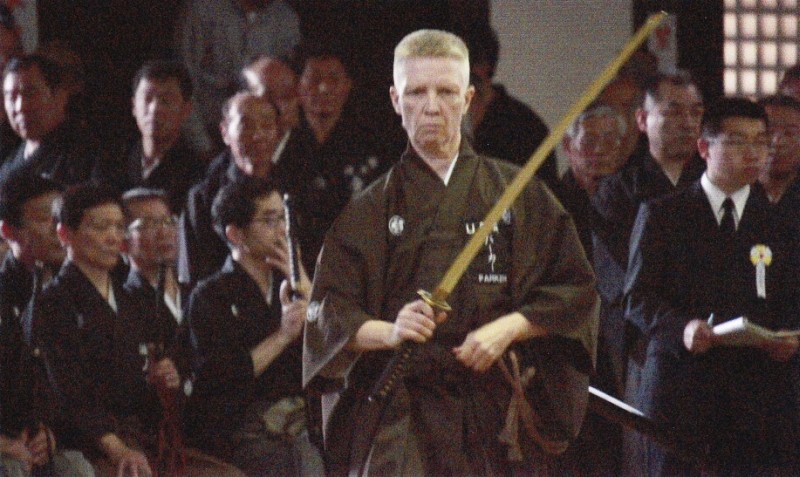 Pam Parker at the 105th ZNKR Kyoto enbu taikai


On Thursday May 23, 2009 two Japanese carpenters arrived, right on time, to install a pair of shoji at Ken Zen Dojo.

It was not quite 3 weeks since my first appearance in the Kyoto Taikai. When we moved into our new dojo location, in 2000, it never occurred to me that I might participate in Kyoto Taikai. But after I passed 6-dan in the summer of 2007, I knew it might be possible. When I applied for, and received Renshi, in the summer of 2008, the goal was nearly in sight.

As number 6 on the East side, I was in the very first group of Iaidoka. Luckily for me, I was in the back row. Waiting on the bench with the other members of the first group, I could hear the gentleman sitting next to me, who looked about my age, breathing deeply, just as I was. The younger members of the group were either not breathing at all, or hiding it better than the two of us. For several months prior to the moment of stepping out onto the floor, I had been visualizing how it would go. I had the advantage of having taken part in the 1997 World Iaido Festival's embu in the Budokaden. I had stopped by to look in the Budokaden on several trips to Kyoto, as well. Whenever the doors were open, indicating a practice in progress, I would climb up the steps and peer in. All the preparation, though necessary, wasn't quite the same as actually stepping on to the floor. Recalling other superb floors in Japan didn't give me a full sense-image of this one. Some of that has to be because this floor, and the rest of the building, are soaked in budo history. Budo history is also embodied in the 8th-dan Sensei who watched from the judges' table. Watching, that is, until it was their turn to step out on to the floor.

When my time came, I didn't do quite the set I had prepared. It seemed too crowded for ZNKR Iaido #7 (Sanpo Giri), and I didn't trust my legs enough to stand up into Omori Ryu #5 (Yaegaki). Watching later embu, it seemed clear that there was enough room, at least for other people, to do ZNKR #7. Regardless of my caution, it was thrilling to perform Omori Ryu, Eishin Ryu and ZNKR Iaido kata in the historic hall.

To celebrate, I bought lunch for my friends that day, and on returning to New York, the shoji.


---