The Iaido Journal May 2010
How to Attend a Seminar




copyright © 2010 Kim Taylor, all rights reserved

There are several seminars coming up in the next few months in North America, and all those who are interested in iaido or jodo should be paying attention to them. In fact, there is a bit of a circuit developing. The season starts off in May with the Guelph Spring Iaido and Jodo seminar which, in 2010 is celebrating its 20th year.

Guelph Ontario: May 21-24, 2010



http://seidokai.ca/iai.seminar.html

It is always held in Guelph, Ontario on the Victoria Day weekend (the first monday on or before May 24, or the weekend before Memorial Day). This year there are 8 sensei coming from Japan to teach at the seminar, including Kishimoto sensei, hanshi hachidan and head of the All Japan Kendo Federation iaido committee. For jodo the delegation is headed by Furukawa sensei, jodo hanshi hachidan from Tokyo along with Arai sensei. They are the instructors you see in the AJKF official jodo video.

Then in June the All US Kendo Federation has its annual iaido seminar, national tournament and grading. This seminar moves from place to place, this year it's in Texas and next year in Cleveland Ohio. If you miss Kishimoto sensei in Guelph, he'll be in Texas in June. Also teaching at this camp is Yamazaki sensei (hanshi hachidan) who will be at his fourth AUSKF camp. This seminar has become an annual event as well, and should be on everyone's yearly tour.

San Antonio Texas: June 9-13, 2010



Kishimoto sensei (left) and Yamazaki sensei (right)


Photos by

Dennis Ralutin

http://www.rivercityiaido.com/2010%20Summer%20Camp/index.html

Portland Oregon: The next weekend, June 17-20, 2010 sees the Obukan (Portland Oregon) kendo, iaido, and jodo seminar with a group of sensei from Hiroshima, headed by Okuda sensei, (iaido, kyoshi hachidan and jodo, kyoshi nanadan) and Yoshihara sensei (kendo, kyoshi nanadan).

Vancouver, BC: July 3-4 2010, will see Oda sensei (hachidan hanshi) will be in Vancouver, BC for a seminar which I suspect may become an annual event. This event is still firming up but in the meantime here is a page with information about Oda sensei. http://www.yaegaki-kai.be/koryu_eishin-ryu_oda-katsuo/oda-katsuo-sensei/ You can contact me for the latest information on this seminar.

Calgary Alberta: August 12-15, 2010 For those who are interested in the more esoteric koryu, the annual Calgary seminar will feature Colin Watkin (Hyakutake) (menkyo) who will be teaching both Kage-ryu and Niten Ichiryu. I will also be teaching Jodo at this seminar.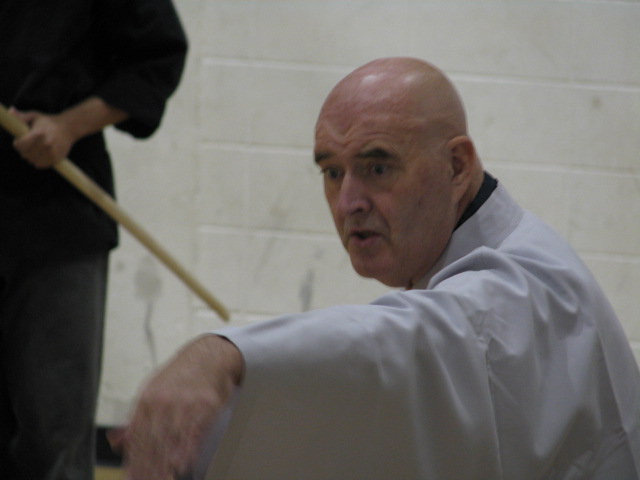 http://calgaryiaidoclub.net/

There are also regional seminars which are worth checking out, for example I will be teaching Iaido all day in Ottawa Ont. Oct 2, (Contact David Green <davidgreen@rogers.com>) and then the next day I'll be teaching Jodo in Peterborough Ont, 12:30-6pm. (Contact Mike Chinadi chinadi.mj@hotmail.com) My qualifications to do that are renshi nanadan in Iaido and godan in Jodo (head of CKF jodo section).

So, lots of seminars to think about attending, but what do you do once you get there?

First, if you're a beginner or haven't done any of these arts at all, don't hesitate to sign up and attend. There will always be instruction for you by some very qualified people and it will be an excellent start to your career.

For those who have been practicing for several years, here are my thoughts and personal practices at any seminar I attend. For some of you, these points will seem obvious but trust me, in 30 years of martial arts seminars I've come to understand that there is a need for this article.

Unka Kim's "Get a Clue" list for Seminar Attendance

Expect to jump at least a level in your practice. I don't think I've ever been at a seminar where I haven't learned enought to take my practice to the "next level", and often I've jumped even further than that. You must go with the attitude that you will improve dramatically, as this attitude will carry you through the rest of the points here.
Remember that you chose to attend, and that you're paying for the priviledge. See above for why.
Arrive prepared. Get your rest before the seminar, and try to arrive healthy, there may only be two or three chances in a year to get instruction from the top folks in the world in your art. Don't waste it by not being prepared to practice if you can help it at all. If you are injured, attend anyway, even watching will jump your skill level once you start practicing again. Check out the latest research on mirror neurons http://en.wikipedia.org/wiki/Mirror_neuron
Get some rest during the seminar. Absolutely, head out with everyone else for beer and bratwurst after the day's classes, but do try to get some sleep and hold the hangovers to a minimum so that you can get something out of the second, third and fourth days. The key is to be "down" during the down time so that you can be "up" during the time that counts, while you're in class.
Attend every class. EVERY CLASS. There are no unimportant classes, or any classes that are too early or too late, or classes that are too junior for you. You never know when sensei will say something that will trigger a cascade of understanding in your head. Remember that it's the beginner classes that hold the most fundamental and important information, the stuff you come back to over and over when you're trying to figure out the complicated stuff.
Get thee to the front. I can't tell you how important this point is, or how often I've watched seniors drift back to hide behind everyone else. Get up there to get picked on by sensei! Get up there so that he pulls you out and tears your technique apart in front of the entire group! It's good for you. Get up there so that you can see every little twitch of his hand and shift of his foot. Get up there so that you can hear what sensei is saying and then what the translator is saying. Get up there so that you can catch the tiny little nod sensei gives you when you finally get it right. Get up there so that your back is turned to all the other students in class who want to talk to you about something terribly important but not what you're in class learning.
It ain't practice. Don't come with the intention to go gangbusters for three days. All you'll do is injure yourself. Work hard but work smart, practice what you've been told to change, not what you already know how to do well. I've heard folks complaining that they didn't break a sweat in that class... so you stood around watching the top guy explain things for an hour? Poor you! Best go for a run instead eh? Sorry, the point is to do the endurance training on your own time, and train smart at the seminar.
Pay attention. Sure, after two days your attention starts to wander and it can get hard not to discuss important stuff like what you're having for dinner that evening, but while you're talking, sensei is teaching. If he can keep his mind on what you're doing, you ought to be able to do the same.
Don't teach. Don't even second guess what sensei is going to say next. There's nothing that wastes your time more efficiently than turning to the guy next to you and saying "oh we do it this way" except maybe just assuming you know what sensei is about to demonstrate and then trying to do that instead of what he actually told you to do.
Make notes. Really, after every class or late at night, give up a few minutes of your time to write down what is most important for you to remember. You may be good enough that you don't ever have to go back and read those notes but six months or three years down the road I often find some real gems in my chicken scratchings. In fact I often find myself saying things like "why haven't I been doing this since that seminar? It would have saved me months of work if I'd just remembered this!"
Don't complain. Sure you paid money to the organizers to be at the seminar but this isn't a theater performance, a movie or a spa experience. The obligation of the organizers ends at gettting you and sensei in the same room together. What you do from there is entirely up to you. Every minute you're harassing one of those working at the seminar about clean sheets, leaky toilets or not knowing when the grading is being held is a minute you could both be learning something.
Help out. Instead of complaining, figure out what needs to be done (like putting up a sign that tells everyone when the grading is being held) and go do it. It takes very little effort to make any seminar you attend into your own seminar. Take a few beginners under your wing and shoo them into the right class. If everyone is stacking chairs, pitch in. Ask your hosts if there's anything that needs doing, and then go do it. Listen, this can be a very selfish thing to do because helpers often end up sitting near sensei at the after-class classes.
After Class Classes. If sensei and everyone else is heading out for dinner somewhere, go along. So you don't like chinese food, you may like the chance to ask sensei questions for half an hour while you pick at your chow mein instead of the burger you are craving. Listen a lot, your technical question can be answered by a senior if one of the seniors is currently asking sensei about something delicate, unique and special. Listen closely and stay out of the way when you should.
Pay your own way. Don't forget that your hosts have spent a lot of money flying sensei to the seminar, providing him room and board, renting the gym, driving him around... if you're out with everyone else at dinner do put in enough to cover your meal and don't short the tip. In fact, slip in a little extra to help cover sensei's beer tab, or buy a couple rounds outright. On the other hand, if you're a poor student and have no extra money, but you are a hard-working student who follows all the hints I've given above, trust me, some senior with a job will happily cover your tab.
Remember why you're there. Always, remember your first seminar and how much you learned, and vow to learn even more at this one.
Sweep the floor.
Kim Taylor has been attending and hosting martial art seminars since 1980.
---