The Iaido Journal July 2010
20th Annual Sei Do Kai Spring Iaido and Jodo Seminar
copyright © 2010 Steve Kubien, all rights reserved
photos courtesy Stephen Cruise

Welcome to the 20
th
annual Sei Do Kai, Spring Iaido and Jodo Seminar. Well, ok, you aren't actually here but I wish you were. Since you are not, you will have to rely on my reporting abilities (or lack thereof).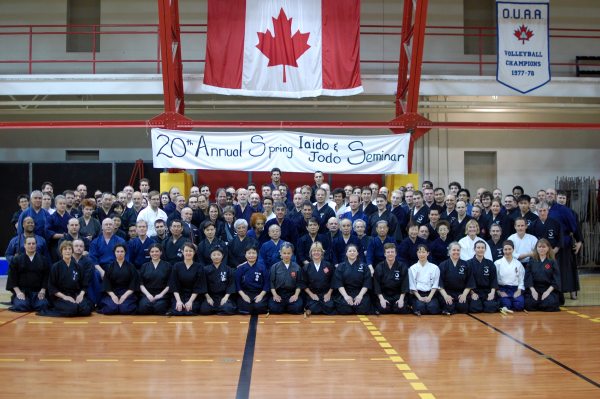 For me, the seminar began on Friday. I got to Guelph around 3pm. I check into the hostel here at the university, which is student residence when classes are in session. First class of the weekend is at 4pm so I had to get unpacked, organized, dressed and over to the athletic centre.

This class is kind of cool because most attendees do not come into town until Friday night (when they finish work) or Saturday morning. All of that means a small class size, and still a full compliment of sensei's to teach. It also means lots of corrections. See, I do not come to this to be told how wonderful I am doing at everything I touch. Oh no. I come here to get my techniques critiqued, torn apart and corrected. I am NEVER disappointed because so much of what I do is so vastly different from the correct way it ought to be done.

I study jodo, a 400-year-old Japanese martial art. On the surface, there is not a lot to jodo…12 basic movements (kihon), 12 paired movements (kihon sotai dosa) and 12 kata (combinations of movements with a partner). That's it. I can run through the entire syllabus in about 25 minutes. And yet, to get really good at this, well, I figure 40 years of training ought to get me close. Really. There are so many little things that make or break techniques that it's really quite amazing.

-Back to the reporting…. -

Friday's class saw us work through the kihon. Both Furukawa Sensei and Arai Sensei led the class. It always amazes me that they stress the same things every year. Relax. Strike to your opponent's eyes. Zanshin. I wonder if we will ever understand that kuri tsuke, kuri hanashi and tai atari start with a crisp, wiiiiiidddddeee step the left? Ok, some people understand this but we still get told, "wider stance!" Oh, and I should mention that bowing may not be the biggest deal here in North America for some people. But, in Japan (and jodo is a Japanese art) it is a VERY big deal. It is not difficult but get it right! Senior students, help the newer folks! That's your responsibility in the dojo!

One more pet peeve and rant before I move on…BE ON TIME FOR CLASS! It doesn't matter if you are an ikkyu, a menkyo-whatever-top-dog. If you cannot tell time, hang out with people who can. It's just plain disrespectful and inconsiderate. Be on time.

The class carried on with us being partnered with folks and we worked through the seitei kata. We didn't get through all 12 due to time constraints but that's ok. I think the visiting sensei's were trying to gauge where we were as a group and, thus, how they were going to steer the practises for the rest of weekend. One thing was certain…they were going to work us hard.

Friday night is a rather informal thing at the seminar. There is no planned activity or get-together. Nonetheless, a few of us found our way to a local pub and took part in another type of training: food and liquid-refreshment waza. It was great to catch up with Eric Tribe, Doug, Kat, Pam Morgan and our friendly wandering samurai-kendo-guy from Idaho Sensei Rob Stroud.

This year I was fortunate to stay in residence with a folks from Calgary. Chris and his students are a great bunch of guys. Cool thing about them is they are early-risers and one (Keith? Kevin? Ian? Arrgh, sorry!!!!) volunteered to pound on my door at 7am Saturday morning. A fresh cup of Timmie's in hand and I was off to class for 9am. People registered for the seminar under the guidance of Dave Green and we lined up for general introductions to our Japanese guests as well as a brief, "Where are you from and how long did it take you to get here?" from the dojo leaders. This year it seemed like we had fewer folks from the US than in years past but I would need stats to confirm that. The winner in terms of distance travelled certainly went to a pair of jodoka from Santiago, Chile! It was their first trip to Canada and I think they really enjoyed themselves (and passed their gradings).

Saturday morning's class saw us being drilled on the kihon or solo exercises. I feel so lucky that my Sensei (Ward Jardine) drills us on the kihon every single time we train and he doesn't treat the kihon like a warm-up exercise. No, these are an essential part of our training and he really hammers home the necessity of good technique. Now, I've got a lot less experience than many folks in terms of jodo but here are the nuts and bolts of things…if you cannot do the kihon properly, you cannot do the kata. Period.

In the afternoon we worked on kihon sotai dosa or paired practise. It always amazes me how many folks to not do this series of exercises and movements. These are what tell you if your hikiotoshi is really as bad as you think and also helps a lot with finding your range in all strikes. I felt really bad for my partner during this class because she had never seen or done the sotai dosa. She was lost. Being the less-than-shy guy that I am, I started breaking things down and going slower than the rest of the class. Furukawa Sensei saw what was going on and was great with us. He stepped in when I needed help but generally left us to work through at our own pace. My partner was really self-conscious and knew we stood out against that rest of the class. Whenever sensei spoke to us, she felt worse. I tried to explain that corrections from sensei are not criticisms or complaints. They are presents. They are gifts. They are to be cherished and welcomed. I think she understood, at least later in the day when emotions and adrenaline levels were lower.

Saturday Night Banquet and Auction:
This is a tradition of the seminar. Large quantities of solids and liquids are consumed while checking out (and bidding on) a huge assortment of cool stuff in the auction. The purpose is to raise money to offset the costs of bringing the Sensei over from Japan while having a few laughs at the same time. This year was pretty sweet in that a number of letters and testimonials were read and spoken giving props to our host, Sensei Kim Taylor. Sensei Taylor started this seminar. He bankrolls it until we show up on the floor, weapons in hand. He organizes it, along with the students of the Sei Do Kai who are not to be forgotten. Sometimes I don't think the students get as much attention and adoration as they deserve from us so here we go…"Students of Taylor Sensei and members of the Sei Do Kai, my hat is off to you. I can only imagine the amount of work that goes into this event. You are the unsung heroes. You help keep Sensei Taylor sane throughout. Bravo and Thanks!"

Sunday is practise time for those of us who were testing this year. In previous years we have drilled our 5 test kata for 2 days straight and I must say I prefer this approach. One day to get in the correct mindset is more than adequate. After all, we are not practising to learn the kata. It is all about intensity and being crisp. If you do not know the kata when you come to Guelph, you should not be testing. My partner Joe and I took things at a pretty leisurely pace. When the weapons were flying, we were intense. Between kata we relaxed a lot.

I managed to sprain my ankle early in the afternoon. Nice. I was really hoping I wasn't toast for the grading the next day. I enlisted the assistance of my friend Miki to train with Joe for the rest of the afternoon. Miki knows her stuff and is a treat to train with. For a tiny little person, she really comes at you hard! Joe was in good hands. I was off to ice and medicate my ankle. Vitamin I to the rescue!

Sunday evening there was a potluck BBQ at the residence. This is a fun time. Sensei Taylor held court and pontificated on such diverse topics as grading panel anatomy, woodworking, barley-based liquid refreshment and hot sauce. I didn't stay late as my ankle was making it difficult to stand. However, I ought to mention here…Ed, Miki, I have not forgotten what we discussed and suitable pieces of wood are now being sourced.

Monday morning, grading day. I love grading day. Seriously. It amuses me to see all of the stressed out people. Folks, this is not life and death. If your Sensei approved of you challenging for your next rank, well, in his/her eyes you are good enough for that rank. I doubt you are going to get treated differently whether you pass of fail. Relax folks. Save your stress for something that really matters. Joe and I went through our stuff a couple of times without stopping, as though we were in the testing room. That was enough. We were as ready as we would ever be. We tested. My ankle held up. As we exited the testing room it gave out but that's ok. I didn't need it anymore. Joe and I felt really good after our test. I do not know if we are capable of performing better at this point in our training. We left everything on the testing room floor. If we were to fail, I would have no idea why. We gave it our best.

The members of Renseikan went out for a dojo lunch after the results were posted. Some of use wanted to celebrate. Some of us wanted explanations and to drown our sorrows in cholesterol and fatty foods. Explanations were not forthcoming so were left with the sad task of consoling and trying to understand. I do not know how successful we were.

Injuries and exhaustion caused our little band to depart Guelph and head for home. We were "done" mentally, physically and emotionally. Our work was done in that we came, were performed, we were corrected (again and again), we learned.

Now the task is to figure out how to bring our training to the next level and try to gain a deeper understanding of what we are doing. I have a feeling the next few years are going to be a great time of learning for me. I learned so much between my nidan and my sandan (yup, I passed). I can only imagine what will come my way between sandan and yondan. I hope I am able to see it and catch it.



---