November 2008 will always remind me of a special opportunity and a wonderful experience. I would be spending a week in Naha City, Okinawa, Japan. Having never experienced international travel, needless to say, I was quite nervous. My travel plans were relatively simple: Louisville, Kentucky to Chicago, Illinois; Chicago, Illinois to Tokyo, Japan; Tokyo, Japan to Naha City, Japan. I had very little turn around time in Chicago and was a bit jittery about making my connection. Luckily enough I was delayed 28 minutes out of Louisville which meant it would be necessary to move quickly in Chicago, which I did with no difficulties. However, I could not say the same thing for my luggage. Touchdown in Tokyo brought me to the quick realization that my luggage had not made the trip with me. This did have an upside, I was hand delivered from person to person through customs and had little difficulty getting where I needed to go. The staff at Narita Airport promised to have my luggage to me within the next three days. I had to complete a form and they assured me my luggage would be delivered to my hotel on Friday at noon. Surprisingly I was met at Naha Airport by a friend and was told our accommodations had changed and we were at a different hotel. Crisis number two, getting my luggage re-routed to my new hotel. This endeavor took numerous phone calls by myself and the hotel staff, finally, resulting in success. My luggage arrived at noon on Friday just as promised.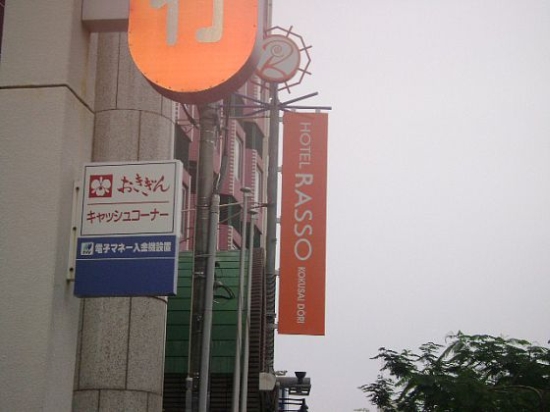 Hotel Rasso located on Kokusai Dori: Photo by author
My first day in Japan was spent connecting with my Goju ryu sensei, Robert Brown, and his group. They would be participating in the memorial training event for Eiichi Miyazato sensei, founder of the Jundokan. Initially my plan was to attend this training event, however, due to a recent injury I would not be capable of joining them. My injury would limit my training but would not prevent me from enjoying the local budo. I enjoyed breakfast with the group and had the opportunity to meet Mike Mancuso sensei, one of the highest ranked and most respected Goju ryu instructors in the United States. We enjoyed a breakfast of salmon, rice, pickled vegetables and soup, which would become the normal routine for my time in Japan.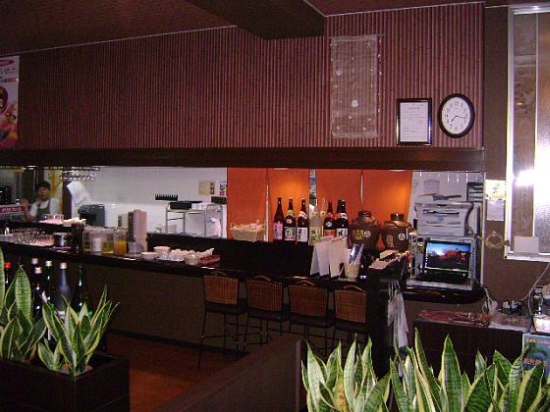 Poseidon Restaurant at Hotel Rasso
Photo by author
Prior to their heading to the Jundokan Dojo, Brown sensei spoke with the front desk staff and was able to get Shuri jo or Shuri Castle written in kanji. This would become my system of communicating with local cab drivers. I found a cab outside of the hotel and presented my note to the driver and was whisked away down the narrow streets of Naha City, on my way to the home of Ryukyuan royalty.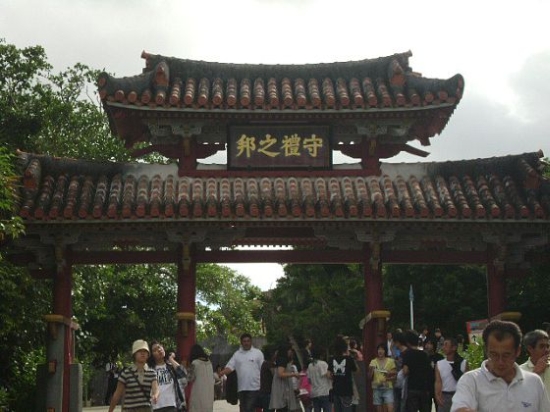 Shuri no mon
Photo by author
Shuri Castle was an amazing site and a wonderful experience. Originally erected in the 14h century it was to be the home of various Ryukyuan nobility from it's time of construction to the time Okinawa became an official prefecture of Japan. The castle had extensive damage during World War II and has since been re-built with construction continuing today. Shuri Castle is built with a number of gates that lead to the center of the castle. Shuri no mon is the second main gate and was built in the 16th century and shows significant Chinese influence in its design.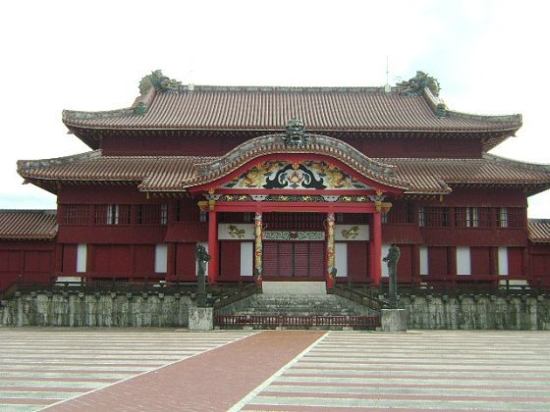 Seiden or Main Hall
Photo by author
The Seiden or Main Hall will be a familiar site to most practitioners of Okinawa Karate-do, due to the historical photograph of young students engaged in kata training.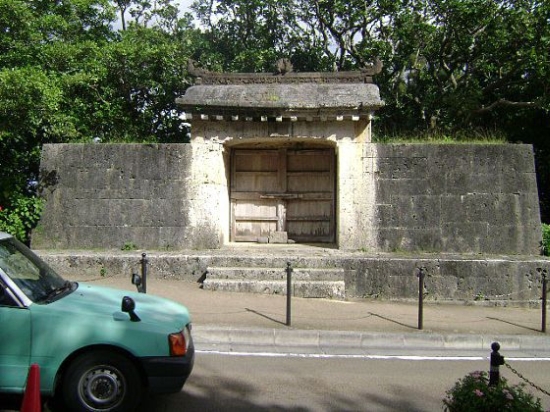 Stone Gate of Sonohyan-utaki
Photo by author
The Stone Gate of Sonohyan-utaki was built in the 1500's by King Sho Shin. Here the king would offer prayers for the well being of the Ryukyu Kingdom as well as to pray for his safety prior to traveling outside the castle.
The evening allowed me the opportunity to venture over to the Okinawa Prefectural Budokan. I was able to watch training in Aikido, Iaido, Kendo, Judo and Karate-do. The facility itself was amazing, three levels, one of which was the largest tatami matted floor I have ever seen. Also included on the grounds are a kyudojo and a sumo ring. The only action I found at the sumo ring was a large cat stretched out for a nap.
Prior to leaving for Japan I had spoken with Michael Veltri sensei who has trained extensively in Okinawa. Veltri sensei provided extremely helpful guidance on how to go about training with the Okinawa Aikikai while I was in Naha. His guidance did pay off and I was able to engage in some excellent training under Iwao Yamaguchi sensei. One thing that I was not prepared for was the humidity, you were easily in a sweat by the time you had your keikogi on and obi knotted.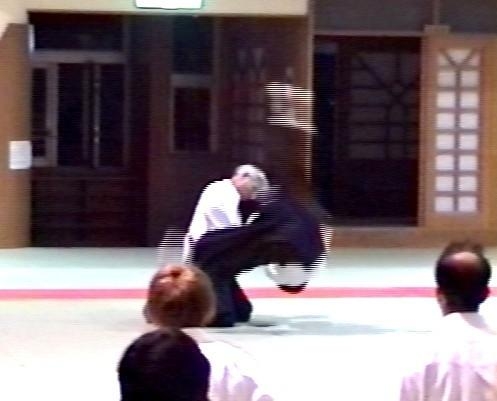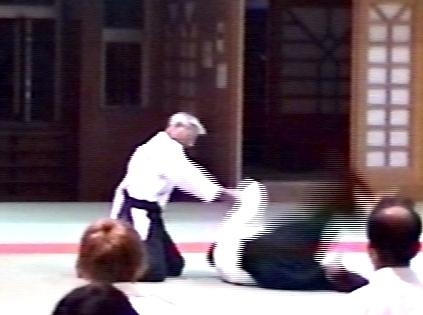 Iwao Yamaguchi sensei
Photographer unknown
While training at the Okinawa Aikikai I was able to train directly with Yamaguchi sensei and to take ukemi for him. Yamaguchi sensei was a very friendly person and said one thing directly to me while training, "okay, now you hold on." He proceeded to smile and toss me from side to side while doing kokyu dosa. One interesting moment came while sensei was working with a small child and his father, who were there for their first class. The child was trying to mimic sensei's movement in kokyu dosa but could not quite get it, however, with the help of sensei's hands the child was able to throw his father to the ground. The child's reaction, as well as his mother's response, were quite wonderful.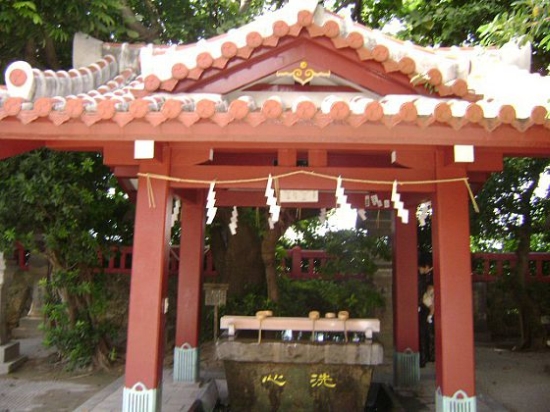 Chouzuya at Naminoue Shrine
Photo by author
The following day I was able to visit Naminoue Shrine as well as Fukushu Garden. Both of which were incredibly beautiful. Naminoue Shrine is a Shinto shrine overlooking Naminoue Beach and the ocean. While at the shrine I was able to purify myself at the temple's chouzuya, as well as to say a prayer and make an offering.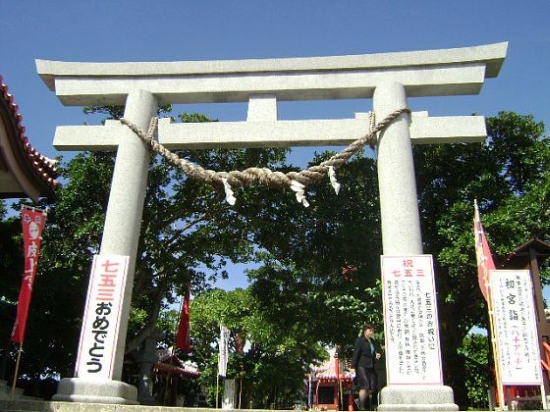 Main Gate at Naminoue Shrine
Photo by author
After my visit to Naminoue Shrine I made my way to Fukushu Garden. Fukushu Garden is a direct replica of a garden located in Fuchou, China. The garden was completed in 1992 and is representative of the renewed interactions between Okinawa and China.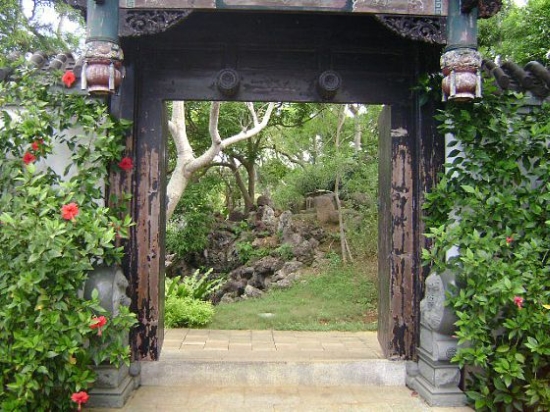 Fukushu Garden
Photo by author
While in Okinawa a chance meeting with an American, Nate England, in the Shureido Store lead to a very serendipitous training opportunity. While introducing himself Nate was explaining what he was doing in Okinawa and the arts he was training while he lived there. Nate indicated he trained Shinto Muso ryu which caught me by surprise as I had assumed very little koryu bujutsu existed on the island. This chance encounter lead to a wonderful day of training at the dojo of Fukuhara sensei in the art of jodo. My training time focused on kihon and seitei kata. Ikeda san spent several hours directly working with myself and Nate. Offering many insights into the use of the jo as it relates to this particular lineage of Shinto Muso ryu.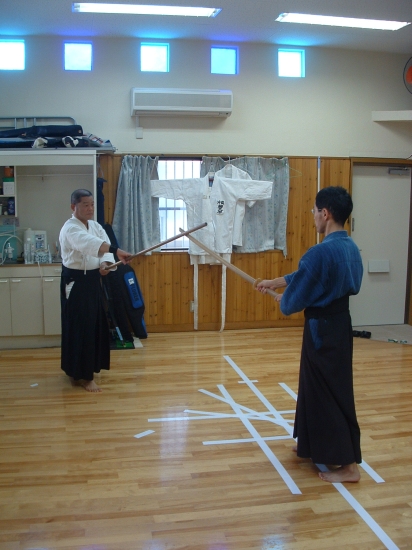 Fukuhara sensei and Ikeda san
Photo by Nate England
For this opportunity to train jodo and observe advanced kata of Shinto Muso ryu I am extremely grateful for the kindness of all those Fukuhara sensei's dojo.
No trip to Okinawa would be complete without training in traditional Okinawa Karate-do. Brown sensei made arrangements and confirmed an opportunity for me to spend an evening training at the Jundokan dojo. I was allowed to spend a couple of hours training the various kata of Okinawa Goju ryu. Sharing the dojo floor with greats such as Tetsunosuke Yasuda sensei, Tetsu Gima sensei and Masaji Taira sensei was an opportunity that few individuals have and for this I am extremely grateful.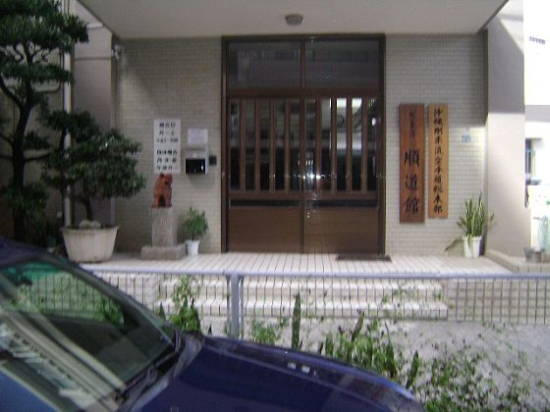 Jundokan Dojo Photo by author
My last evening in Japan was spent attending the commemorative embu marking the 10th anniversary of the death of Eiichi Miyazato sensei. The evening included multiple demonstrations of kata by various members of the Jundokan.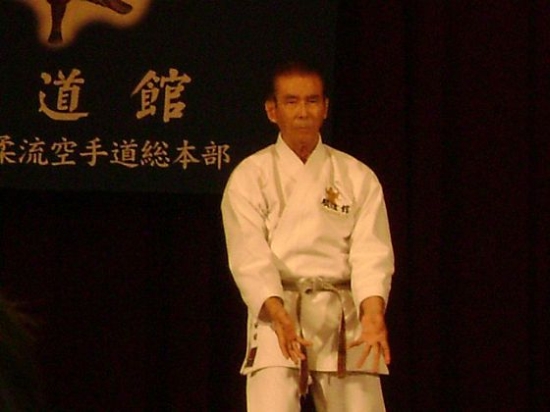 Yasuda sensei performing Tensho kata: Photo by author
The evening concluded with a wonderful dinner including sushi, various traditional Okinawa dishes and a pig roast. There were several demonstrations of traditional Okinawa dance throughout the evening.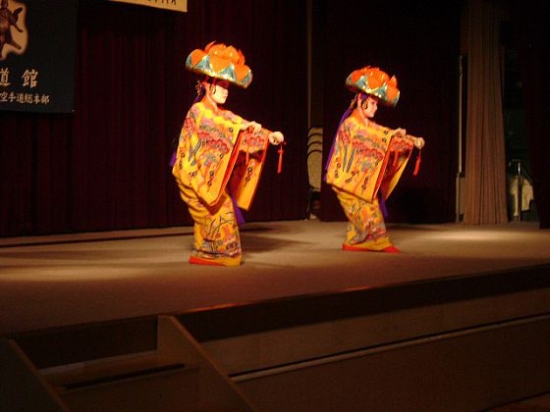 Okinawa dancers
Photo by author
After the celebration it was back to the hotel to pack and prepare for my departure the following morning. The following morning was a rainy day in Okinawa. I was able to walk up and down Kokusai Dori one last time. Looking in all of the various store fronts I realized what a special week I had just experienced, one that I hope to experience again sometime in the future.
Acknowledgements
I would like to thank the following people; my wife, for supporting my love of budo and my desire to travel to Japan. Robert Brown sensei, Tressa Brown sensei and Mike Dunn sensei for including me in this wonderful opportunity. Nate England for introducing himself to me and providing me with an amazing opportunity. Fukuhara sensei, Ikeda san and all the other senior students at Fukuhara sensei's dojo. Michael Veltri sensei for his direction and assistance with making contact with the Okinawa Aikikai. Iwao Yamaguchi sensei and all of his students for welcoming me so freely onto their dojo floor. All of the members of the Jundokan Dojo who shared the historic dojo floor with me. As well as the following teacher's who have encouraged my growth as a person and as a budoka: Phil Hettich, Brian Barnes, Stephen Fabian, Patrick Hardesty and Dave Lowry. Without the involvement of all of these people this trip would not have taken place.