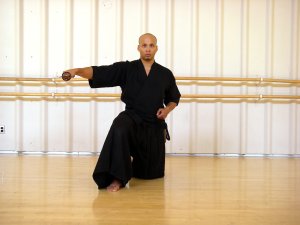 In the first case, the pull, the final position of nuki tsuke shows how the grip comes naturally onto the side of the tsuka (hilt) and this results in a broken wrist, and an elbow that humps upward in a chicken-wing effect. The shoulder is lifted, which you can also see in the secont shot above as Nate Bain pulls the blade out. In fact, if you look closely, that shoulder is starting to rise as he grips the hilt in the first shot.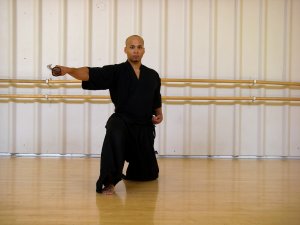 Here, when Nate has pushed the blade out of the saya we see that the hand naturally falls onto the tsuka in a position which allows the wrist, arm and shoulder to remain down, providing a powerful anchor for the horizontal cut.

To try and get this final position, sensei may be saying to you, drop your shoulder, roll the hilt further over, adjust your right hand, tighten your right little finger, straighten your arm... and on and on. You might try thinking "push the sword out" rather than "pull it out".