The Iaido Journal Nov 2007
Kashima Jingu Gasshuku Experience Revisited

copyright © 2007
Raymond Sosnowski
, all rights reserved
The "Kashima Jingu Gasshuku" Experience Revisited
– My Second Trip to Japan for a Jodo Gasshuku
Raymond Sosnowski, Maryland (USA)
Capital Area (Shutoken) Budokai President
(Copyright 2007; photographers retain copyrights of their own material)
Author's Note
The above title, "The 'Kashima Jingu Gasshuku' Experience" refers to titles from seminar reports of Jodo Gasshuku in Maryland in 1998 and 1999 that I had previously written about (Sosnowski, 1999, 2000). In February 2005, I reestablished personal contact with the man that I consider to be my Jodo teacher, Tsunemori Kaminoda of Tokyo, Japan, after almost four and a third years of separation (Sosnowski, 2005). I had attended all five of Kaminoda-s.'s annual Gasshuku in Maryland from 1996 through 2000, and I published seminar reports on all but the first Gasshuku (Sosnowski, 1998, 1999, 2000, 2001).
For those who are unfamiliar with the art as taught by Kaminoda-s., Shindo Muso Ryu or SMR consists of Shindo Muso Ryu Jodo (the "way of the stick"), Kasumi Shindo Ryu Kenjutsu (the "art of sword-usage"), Uchida Ryu Tanjo-jutsu ("walking-stick art"), Isshin Ryu Kusarigama-jutsu ("sickle-and-chain art"), Ikkaku Ryu Jutte-jutsu ("forked-truncheon art") and Ittasu Ryu Hojo-jutsu ("rope-tying art").
The Concept of the 'Kashima Jingu Gasshuku' Experience
Let me explain this concept as I understand it, quoting from my article on the 1998 Gasshuku:
"This year [1998] Kaminoda-s. wanted to bring the 'complete' Kashima Jingu Gasshuku experience to us; this prompted a change of location from the gymnasium of St. John's College in Annapolis, MD, where the previous two Gasshuku [1996 & 1997] were held, to Catoctin Mountain Park in western Maryland, so that we could all eat, sleep, train and socialize together and not be distracted by outside concerns [emphasis added]. I am sure that most, if not all, would agree that we had indeed experienced the essence of the Kashima Jingu Gasshuku. (Sosnowski, 1999)."
That is, the Gasshuku basically takes place at a self-contained facility. Kashima Shinbuden in Kashima City (Ibaraki Prefecture), while have more of suburban than rural setting in Maryland's Catoctin Mountain Park, fit the bill quite nicely. Even better it was the large dojo; although unheated and uncooled, it is tolerable (better that than the hot and extremely humid Japanese summers). We also visited Kashima Jingu, and again demonstrated in the Shrine's dojo.
Introduction
Kaminoda-s., as head of the Nihon Jodokai, holds Jodo Gasshuku twice a year in Kashima City, a rather pleasant change from Tokyo. Typically these Gasshuku are held in Feburary or March and September, October or November – this latter one was scheduled for 1 – 5 November 2006. Although the training emphasizes Jodo, one or more of the minor arts may also be included – this year it was both Kenjutsu and Tanjo-jutsu. What made this Gasshuku more tempting was that Sensei planned to stay on for an extra day of training after the Gasshuku. Unlike my previous trip to Japan in February 2005, I was able to add some time before and after the Gasshuku for other things.
Travel
Japan is 13 hours (and one day) ahead of the US East Coast. Unfortunately travel just takes a long time – 2½ hours to Detroit from BWI, and then another 16½ hours to get to Tokyo's Narita Airport. So leaving from BWI at 9 AM on Sunday, 29 October 2006, with a 1½-hour layover in Detroit, I arrived at Narita at 4 PM on Monday, 30 October. I did not do anything special about the time difference, but caught a couple of hours sleep on the flight over and then on the return flight. On the return, I left from Narita on 7 November at 3:45 PM, and returned to BWI at 5:15 PM (the same day!) after a 2½-hour layover in Detroit. No matter how you cut it, it took 20½ hours going and 21½ hours returning, and that's just from wheels up to wheels down. Add to that 2 hours for international security clearance, plus time to clear customs and immigration, and time to collect carry-on luggage, in addition to time in transit to and from the airport, and total travel time per leg is in excess of 24 hours.
Arriving in Japan (Monday, 30 October 2006)
Fortunately the flight to Japan was not as long as I had remembered from my February 2005 trip. However, things did seem to go in slow motion when I arrived – clearing customs and immigration, changing money, renting a cell-phone, and getting a ticket on the Keisei Skyliner (for the one-hour ride from Narita Airport to Ueno Station in Tokyo); however, this time I was doing the trip solo and not meeting anyone at the airport. I was surprised that it was already dark at 5 PM when the Skyliner train came up from underground. I used my rented cell-phone to contact several of our party already in Japan – I was the sixth of seven to arrive – we had planned on the cell-phones ahead of time since we were all arriving at different times (good idea, Dan).
It took me several foggy-headed minutes to figure out how to get a ticket for the Ginza (subway) Line to take me from Ueno Station to Aoyama-itchome Station near my hotel, Asia Center of Japan. I imagine that I was quite a sight – large over-stuffed backpack, gym-sized shoulder bag, and a PVC fishing pole carrier for my iaito and bokuto. The subway ride was longer and more crowded than I had remembered too.
After exiting the subway, I got a bit disoriented on the street in the dark, and missed the turn for the hotel; I had to double-back – there was a street sign but it was so high that it was practically invisible in the dark. After finally checking in at about 7 PM, I decided to get a couple of things from the local Family Mart (a chain of combini, that is, convenience stores) located about half a block away: pork udon, a small salad, a Coke and a Yebisu Dark (a dark beer – what a treat from the usual Japanese beers – I have got to find a domestic source). I made a few more phone calls, including one to Joshua Badgley to meet at Ueno Station for the trip to Kashima on Wednesday.
I gave my wife a surprise call from my cell-phone – she was thrilled (a 10 PM call from Japan is 7 AM on the US East Coast). I read as much as I could until about 11:30 PM before finally giving in to sleep – except for some fitful napping on the plane, I had been up for over 27 hours. I had packed a lot lighter book-wise this time – paperbacks only – on the flight over, I finished "The Battle of Mogadishu" (edited by [SSgt] Matt Eversmann and [SSgt] Dan Schilling), and had just begun Robert Twigger's "Angry White Pyjamas," his story of training with the Tokyo Riot Police at Yoshinkan Aikido's Hombu Dojo, which I eventually finished on the return flight.
First Full Day in Japan (Tuesday, 31 October 2006)
I had a wonderful buffet breakfast at the hotel in the morning; I ate everything but the rice and salad – I would have rice at every meal while training in Kashima, and salad is just not for breakfast as I see it. I also felt quite dehydrated at breakfast – I downed four glasses of juice, four cups of coffee, a cup of tea and a bottle of water. After breakfast, I did a second "nasal rinse" (a warm saline rinse for the nose based on the Indian Yoga practice of Pranayama; this has been a standard practice of my wife and myself after any air travel for several years to purge the residue of recycled air) because I felt "I needed it." I also realized how humid it was there.
After breakfast, I also used one of the public computers for about 20 minutes (at 100¥ for 10 minutes), and then played my shakuhachi (Japanese 5-hole, end-blown bamboo flute – I have practiced Kinko Ryu for over three years with the Kisuian Dojo headquartered in New York City) for about half an hour – I did not expect to do either of these again until returning to Tokyo on the following Monday. Using an English map of Tokyo that I purchased beforehand, I planned out my day – a "great circle" route on the Tokyo subway systems:
Aoyama-itchome to Kudanshita on the Hanzoman line to go to the Nippon Budokan to visit the All Japan Jukendo Federation (AJJF) offices;

Kudanshita to Mitsukoshime on the Hanzoman line to go to the Meishi-ha Mugai Ryu Hombu Dojo; and

Mitsukoshime to Aoyama-itchome on the Ginza line to return to my hotel.
This route actually makes a big circle around the Imperial Palace grounds.
The Budokan. The Nippon Budokan is an imposing structure located at the north end of the Imperial grounds, and conveniently located next to a subway stop. The building proper was closed for a pop concert rehearsal, and I finally found a young rent-a-guard with enough English skills and knowledge of the grounds to direct me to the AJJF offices. In essence, they were literally "around the back and down the stairs," and it was located next to the All Japan Kendo Federation offices. Although no one there spoke fluent English, I had brought hard copies from their website (in Japanese) highlighting their books and videos. The office manager gave me their annual review publication as a gift (1000¥ value) for making the effort to visit them, and, for 8600¥, I had five thick booklets and a video.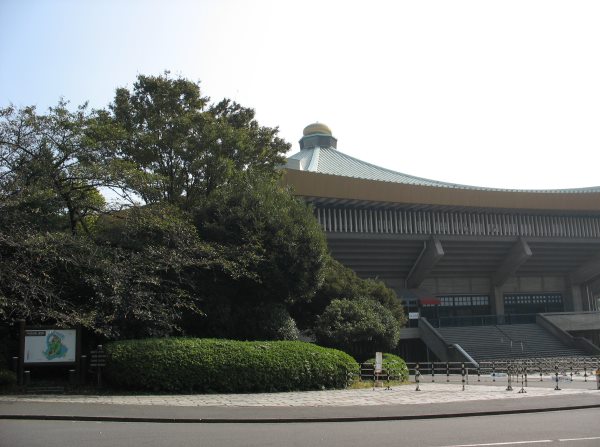 The Nippon Budokan in Tokyo. All photos courtesy of the author except where noted.
My training in the late Taizaburo Nakamura's style of Batto-do, and study of his other training at the Rikugun Toyama Gakko (Toyama Military Academy) has lead me to research training in other military-based arts such as Jukendo and Tankendo (also I trained in Kendo and continue to train in Atarashii Naginata, which are also bogu-based arts). The late Nakamura-s. was famous for a set of six kata of sword vs. short spear that he did with his daughter (as demonstrated on the recent DVD Nakamura Taisaburo to Battodo: Nakamura Ryu Battodo no Subete, <http://budogu.com/shopsite_sc/store/html/product516.html>; Nakamura, 2001, Chapter 9, pp. 151-171). The kata actually are from Jukendo – bokuto vs. juken/mokuju (wooden rifle with bayonet). We know that Juken-jutsu is a mix of French bayonet drills (ca. 1880) and Hozoin Ryu So-jutsu (spear art). The related art is called Tankendo – the tanken is an "unmounted" bayonet, about the size of a wakazashi; I have seen it translated as "trench knife."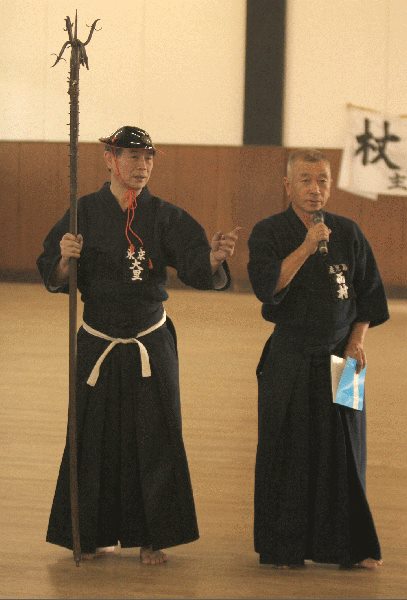 Osato-s. (left) with the Sode Garami and Nishimura-s. (who is also high ranked in Jukendo and Tankendo) with the microphone in the Shimbuden Dojo (Scott Rakow photograph).
As it turned out, a senior member of our Jodo community, Nishimura-s. from Kagoshima (Kyushu, Japan) is also a senior exponent in the Jukendo-Tankendo community in Japan (he is also a member of the Naginata community). He was quite surprised and somewhat impressed when I showed him all the material that I had gotten from the main office. On the last day at Kashima, he gave me an impromptu lesson, my first in Jukendo, and he promised to follow up on my visit to headquarters in Tokyo, and, of course, invited me to train with him in Kagoshima (it turns out that a Canadian friend of mine is teaching in the nearby city of Beppu on Kyushu; also the soke of Niten Ichi Ryu, whom I have a standing invitation to train with, is located in Fukaoka on the north end of Kyushu).
With my AJJF mission accomplished, I took some time to stroll the adjacent area, which is part of the huge park that is the Imperial grounds. The Budokan is close to the north gate onto the Imperial grounds, and the moat around the grounds still exists. I had a box lunch there before continuing on – vending machines are ubiquitous, so it is easy to get a variety of drinks both hot and cold.
Hombu Dojo. I then pressed on to the Mugai Ryu Hombu Dojo, getting off at the Mitsukoshime Station stop, which is close to Tokyo Station. It has ten exits and I immediately got disoriented; a friendly young Japanese man got me reoriented (to exit A1) and onto the street. I ran into further difficulties on the street, and an older Japanese man reoriented me in the right direction. Japanese addresses are not like ours – the address brings you to the right block on the right street. I finally located the entrance on the block. As it turns out, Tony Alvarez of Costa Mesa, CA, was there training (he had graded that morning for 5th dan, and passed) – "Big" Tony is the Beikoku Shibucho for Meishi-ha Mugai Ryu. It was a great reunion; Niina-gosoke (the 16th soke of Mugai Ryu and head of the Meishi line) was very happy to see that I had gotten there.
Niina-gosoke was training Tony in the advanced forms of Mugai Ryu which I got to watch. Tony had to leave to visit his Toyama Ryu instructor in a Tokyo suburb, and Niina-gosoke needed to leave for a doctor's appointment, so I was left to train with his Japanese deshi (disciple), a 6th dan. We ran through the first ten forms for about an hour; his insights were great. I also spent some time just watching him train alone, which was quite instructive. I left before the evening class, so I could rest up before my trip to Kashima the following day. Dinner was carry-out sushi and beer from the Family Mart combini.
Gasshuku Day 1 (Wednesday, 1 November 2006)
I met Joshua Badgley in the morning at Ueno Station, and we caught a train to Mito from where we caught the train to Kashima. It was a very pleasant trip although more expensive than the bus from Tokyo Station, but we got to see that part of suburban bordering-on-rural Japan from another perspective in contrast to the hyper-urbanized Tokyo. We caught a taxi from the station to Kashima Shimbuden, and arrived in time for lunch. After lunch, we received a memorial Taikai tenugui and the Taikai program booklet (foreigners' names were included in katakana).
Our Shutoken Jodokai had a group of seven participants. We would spend the next two and a half days training in Jodo, Tanjo-jutsu and Kenjutsu, lead by Tsunemori Kaminoda, and several other senior instructors, in addition to a trip to Kashima Jingu followed by the Taikai.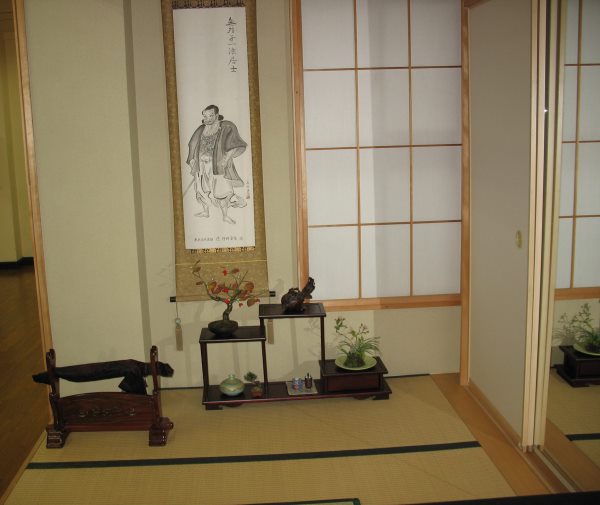 Kamiza alcove at the Meishi-ha Mugai Ryu Hombu Dojo in Tokyo.
We finally opened the Gasshuku at about 1:20 PM – there were the usual welcoming speeches and introductions. We began training with about three laps of the dojo followed by half the kihon. Then the foreigners were divided into three training groups:
Seven from our Shutoken Jodokai plus two seniors from Sweden led by Kaminoda-s. and Sato-sama;

Seven from Wisconsin plus two Texans led by Yamaguchi-s.; and

Twelve from Beikoku Rembukan in Maryland led by Abe-s.
Our group did the first third of Omote kata plus the first quarter of the Kenjutsu Kata. I believe that Osato-s. led a large group of Japanese – outside of our own group is was hard to keep track of who was doing what.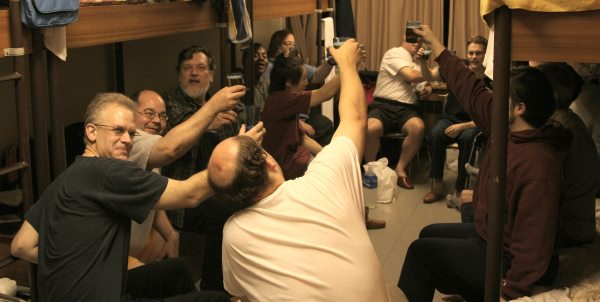 "Kampai! " Opening night party at the Shimbuden in our dormatory room, #206 (Scott Rakow photograph).
After dinner and bath, a group of us headed to the local 7-11 and bought over 7000¥'s worth of beer, sake and munchies for a party in our room with the guys from Wisconsin and Texas. Yamaguchi-s. and Watanabe-s. stopped in to visit as did Mike Rogers. We ran out of steam at about 10 PM. We remarked on how slow and even paced the afternoon practice had been in contrast to previous training experiences.
Gasshuku Day 2 (Thursday, 2 November 2006)
Mornings start before breakfast with the raising of the Japanese flag (and singing Kimi Gayowa, of course) followed by taiso (exercise) – calisthenics on this morning. We also did some police jo techniques plus the first half of the jo kihon. In the morning after breakfast, we trained in Uchiotoshi, the first police jo kata (the other two, Suigetsu and Shamen, are included in the Seitei Jo Gata), and the first five Kenjutsu Kata.
In the afternoon, after lunch, we did all twelve Tanjo-jutsu Kata (both roles) followed by a return to Omote Kata (5, 6, 7). Sensei also brought out his antique police weapons, which included
Tsukuboh (push pole),

Sasumata (spear fork), and

Sode Garami (sleeve grabber).
All three have spikes on their metal sleeves that attached to the shafts to prevent them from being grabbed. Collectively these three weapons are called torimono sandohgu or "three tools of arresting" (Nawa, 1996; Cunningham, 2004). We all had opportunities to hold them – Sensei came up to me as I held a sode garami and said that these weapons looked better when wielded by "big guys." Of course, my thought was "How can I get one (or more) of these things back home with me?"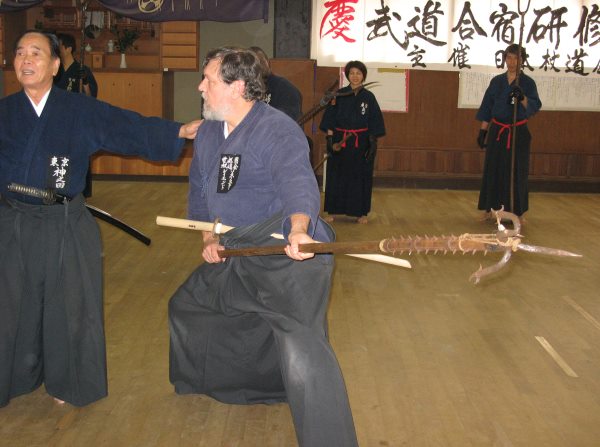 Kaminoda-s. and one of the "big guys" (me) with the Sode Garami.
After dinner, a few of us skipped the evening's party being held in another room, and opted instead for some extra sleep.
Gasshuku Day 3 (Friday, 3 November 2006)
After the flag raising and a run around the dojo, we did Sensei's Jo no Taiso (group jo exercises devised with the late Shimizu-s. for the 1964 Olympics in Tokyo), which was followed by kihon practice and explanations of each one. After breakfast, we returned to the kihon and how they applied to kata such as Uchiotoshi, Sakan, Raiuchi and Midare-dome. Later we returned to the first half of Omote Kata.
After lunch, for the first afternoon session, we reviewed the various sword kamae, and trained in all seven of the odachi-vs.-odachi Kenjutsu Kata, and all the Tanjo-jutsu Kata. For the break, we had a special treat, mochi filled with red-bean paste. The second afternoon session was a dry run of the Taikai. Given four permanent uchitachi on the floor, the rest of us did the first five Tanjo-jutsu Kata. We then did any five Jo Kata with about a dozen uchitachi on the floor.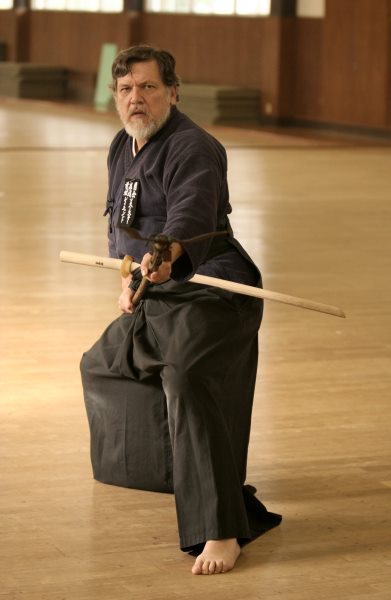 "Nobody moves; nobody gets hurt!" - me with the Satsumata (Scott Rakow photograph).
After dinner and bath, a group headed back to the local 7-11 and bought more beer, sake and munchies to augment our unused supplies from Wednesday night for another party in our room with the guys from Wisconsin and Texas. We were going strong this time as opposed to Wednesday night, but were told by the powers-that-be to wrap it up at 10:30 PM to get a good night's sleep before the following day's events.
Trips to Kashima Jingu & Tsukara Bokuden's Grave (Saturday AM, 4 Nov. 2006)
After the flag raising and a round of Jo no Taiso, we had an earlier than usual breakfast in order to get to Kashima Jingu early. Kashima Jingu, which is traditionally paired with the nearby Katori Jingu, is dedicated to the warrior-kami Taka-mika-zuchi whose story is told in the ancient Japanese text Kojiki ("Records of Ancient Matters," 712 C.E.) (Bocking, 1997). There was a large elaborate chouzuya, a pavilion for the purification ritual (washing the hands and rinsing the mouth – ritual purity is an important aspect of Shinto) before approaching the shrine.
We walked up the path until we came to the place to pay our respects and make an offering at the old shrine. Many walked a distance behind this shrine to visit a stone in a small enclosure, called kaname-ishi, that is believed to be the stone that the warrior-kami had extracted from the head of a giant catfish to seal down the earthquake kami, Nai, who also has the form of a giant catfish (Bocking, 1997). There is a wide boulevard that connects the old shrine to the shinden/honden, the main shrine. We proceeded to the main shrine, and our group was admitted into the sanctuary where we were met by the kannushi (chief priest) and his assistant. We sat in seiza as prayers to the kami were offered on our behalf and then we were blessed.
We then proceeded to the shrine's dojo for our embu (demonstration) – I recall doing a set of Omote Kata and a set of Seitei Gata. We received certificates of participation, and a group photograph was taken. There was also a lovely chrysanthemum display on the shrine grounds. After the embu, we proceeded out the back gate into waiting cars to drive to Tsukahara Bokuden's gravesite nearby.
Tsukahara Bokuden (1490-1571) is the famous kenshi associated with Kashima Jingu – indeed, his father was a Shinto priest at the shrine. He learned the local fencing style called Kashima-ko from his father; a relative of the local lord then adopted the boy, and taught him Katori Shinto Ryu. Like Miyamoto Musashi (1584-1645) who came after him, he went on to test his skills in duels and founded his own style, Shinto Ryu (the name is not unique – there have been more than one ryuha to use this name), which unfortunately did not survive past the next generation. He did leave a manuscript of 98 poems encapsulating his understanding of ken, supposedly composed late in his life while living in a hermitage near Kashima Jingu (similarly, nineteen months before his death, Musashi retired to a cave in Kumamoto in central Kyushu to write his magnum opus, Gorin no Sho). Sugawara (1988) devotes his first chapter to Tsukahara Bokuden (and his second chapter to Musashi).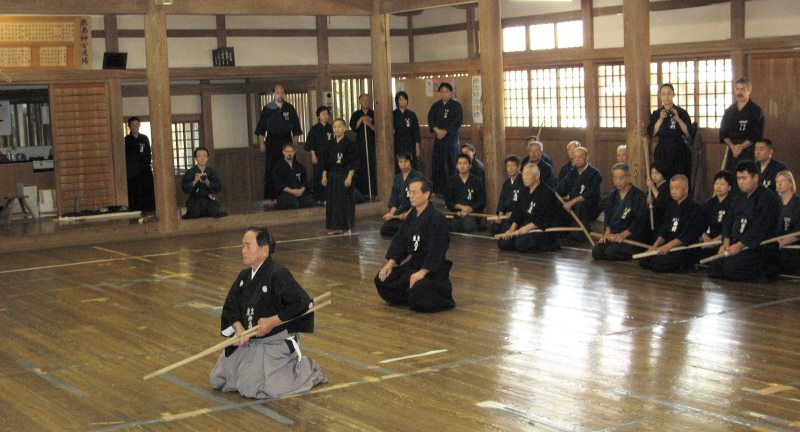 Kaminoda-s. and Osato-s. beginning their embu in the dojo at Kashima Jingu.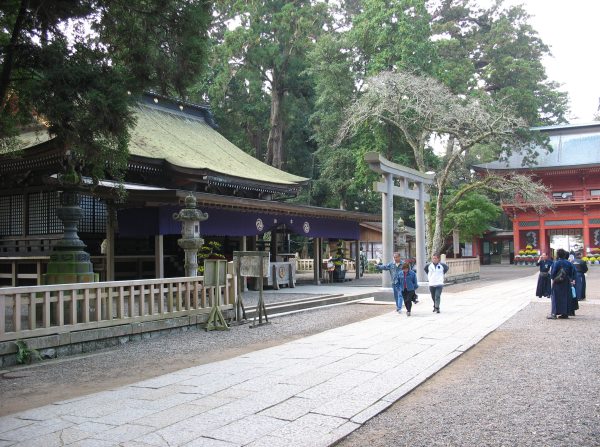 The main shrine at Kashima Jingu.

Group photo of the embu-sha in the dojo at Kashima Jingu (Scott Rakow photograph).
Tsukahara Bokuden's gravesite is on a hillside covered in giant timber bamboo that is approached from a single lane road on the dike between rice paddies. There is a small parking lot at the foot of the hill; unfortunately, because there was work being done to shore up the walls surrounding the openings of a culvert under the roadway, we had to park at a nearby business, and walk in. The lower path passes by a local cemetery; there were some rather old grave markers next to some rather recent ones. Tsukahara Bokuden's grave marker is under a covered pavilion about halfway up the hill. We paid our respects, bowing and burning incense. A large group picture was taken as we walked down.
Taikai (Saturday PM, 4 November 2006)
We returned to the Shimbuden in the afternoon for lunch followed by our international Taikai; the format was more like an embu as there were no explicit shimpan to judge events. We volunteered for given categories of forms (different Jodo sets, Iaido, Kusarigama). I did several Jodo sets with several different people. After the Taikai, Abe-s. did an Aikido demonstration with Corey-sama taking ukemi, and Sensei did several demonstrations including Iaido, Kusarigama, and Jutte and Tessen plus Hojo-jutsu.
Before the Taikai began, Nishimura-s. and "Big" Kato-s. corralled Josh and I, and I worked on the Shikake-oogi of Atarashii Naginata with both Josh and Kato-s. in a small adjacent dojo – it turns out that I was the senior practitioner at 3-dan among the four of us. Nishimura-s. wanted Josh and I to demonstrate Naginata as part of the embu after the Taikai, but Sensei nixed the idea, saying that there would be no extra time for this. Although we were a bit disappointed by this turn of events, it was also a bit of a relief too. Later I gave ECNF ([US] East Coast Naginata Federation) tenugui to Nishimura-s. and Kato-s.; Nishimura-s. gave me a tenugui from a big Jodo Taikai on Kyushu that he had recently participated in with Kaminoda-s.

Post-Taikai group photo in the dojo at Kashima Shimbuden (Scott Rakow photograph).
After the Taikai and embu, we were each presented with lacquered tea tray and a small furoshiki as well as a certificate for participating in the Taikai. A group picture was taken. Nishmoro-s. insisted that all the Shutoken Jodokai members pose for a picture with him for his new brochure. Dinner was special treat with large plates of sashimi accompanied by beer and sake. Everyone, especially the leaders of the foreign groups, was encouraged to give a short speech. After dinner, a few of us skipped the evening's party being held in another room, and opted instead for some extra sleep.
Gasshuku Day 4 and Post-Gasshuku Training (Sunday, 5 November 2006)
Following flag raising in the morning, in the dojo we did a new form of jo-no-taiso created and led by Sensei's successor, Osato-s. of Sendai. After breakfast, we were given a choice of groups to train with:
Omote Kata with Yamaguchi-s.;

Ranai with Kaminoda-s.; and

Kage Kata with Osato-s.
I opted for Ranai. Before the closing at noon, we had received certificates for attendance at the Gasshuku. Each foreign dojo (Rembukan, Shutoken, Wisconsin-shu and Sweden-shu) was also recognized with individual dojo certificates. After lunch, we received a stack of calligraphy done by Sensei – always a welcome gift. About 90% of the participants left after lunch.
Two in our group, Corey Comstock (who had spent six and a half years in Japan, and who had been back in the US for almost a year) and myself, had planned to stay later. Of the almost one hundred attendees, only ten of remained after lunch. Sensei asked me, much to my surprise, what we should do for the afternoon. As we do not get time at home to do Kage, the 4th Jodo set, I opted for it. Aside from Corey and myself, the two Texans, the two Swedes, plus three Japanese were training with Sensei.
The Texans left before dinner; the rest of us had dinner with Sensei. This was followed by a leisurely bath followed by a gathering in Sensei's room with a small question-and-answer session. I asked about his interest in the Sasumata – he answered that he was interested in the police activities of old being a former policeman. He mentioned that the schools have a modern version of the Sasumata for protection against trespassers (see Cunningham, 2004, p. 100). We finally went to bed around midnight.
Extra Training before Returning to Tokyo (Monday, 6 November 2006)
We started the day with taiso led by Corey at the flagpole – the dojo was locked, and Sensei did want to waste time getting the key from the office. After breakfast the Swedes left, and we began packing Sensei's room. We then had an additional two-hour session in the morning of Kage plus (Omote) Tachiotoshi before packing and leaving for the bus station.
After returning from Kashima to Tokyo by bus with Corey, a two-hour ride, we spent another hour at a Starbucks in the bus station discussing on our experiences at Kashima before I headed back to the Mugai Ryu Hombu Dojo, which was a short enough walk from Tokyo Station. I had left my swords there, as I did not think that I would need them in Kashima – that was, of course, the wrong default option. I got there much later than I had originally planned, and I passed on training as I was quite fatigued, but Niina-gosoke insisted on taking me to dinner.
He, his Japanese deshi whom I had trained with earlier, and I went to a "Chinese" restaurant two doors from the dojo. Conversation covered many topics including our planned training in CA in August 2007. I gave ECNF tenugui to Niina-gosoke and his Japanese deshi; I also gave Soke a copy of Kaminoda-s.'s newly published book on Kenjutsu and Tanjo-jutsu – I had also bought a copy for myself to bring back. Soke gave me a program and three tenugui from the Mugai Ryu Taikai in July 2006 that I was unable to attend due to work constraints.
I returned to the Dojo to watch some keiko, after which I said my farewells and returned to my hotel via the Ginza line for my last night in Tokyo before returning home. As I was too tired to go back out to Family Mart, I got two big cans of Kirin from the vending machine (they are just so convenient) in the hotel on the second floor before phoning my wife.
Departure from Tokyo (Tuesday, 7 November 2006)
I had an early breakfast, and checked e-mail for about a half-hour before returning to my room to thoroughly repack my backpack. After this I relaxed by playing the shakuhachi, and writing up notes on the trip until check out time at 11 AM. I arrived back at Narita Airport at 1:30 PM. The guards to some interest in my iaito (especially since it is a long one at 2.75 shaku) – I'm glad I arrived early. The rest of the departure was relatively routine – returning the cell-phone, checking in, clearing security as well as customs and immigration, visiting the bookstore, converting yen back to greenbacks, and waiting to board my return flight.
Sensei's Post-Gasshuku Mailing
Two weeks after returning, our group leader, Dr. Dan Pearson, brought in a large envelope from Sensei, which contained a number of "fat" envelopes individually addressed to our Gasshuku attendees – because of the large number of foreign attendees at the Gasshuku and Taikai, Sensei mailed them in groups rather than individually. In each one, there was a letter from Sensei with a report of the Gasshuku and Taikai. The "fat part" was a series of photographs: group photos taken at Kashima Shinbuden, Kashima Jingu, and Tsukara Bokuden's gravesite, and some contained candids from the embu at Kashima Jingu. As I felt last time, I am simply touched by his thoughtfulness.

Kaminoda-s. flanked by the two "Santas," Steve Hick (left) and myself (right), from [Beikoku] Shutoken at Kashima Jingu.
Acknowledgements
First and foremost I wish to thank Mr. Tsunemori Kaminoda for his generous teachings over the years. Sensei's successor, Mr. Kohei Osato, and senior students, Mr. Mitsuru Yamaguchi and Mr. Osamu Abe, provided much of our instruction during the Gasshuku. Thanks go to Mr. Nishimura and Mr. Kato for their pursuit of Naginata, and in our attempt to bring it to the post-Taikai embu. Also thanks to Nishmoro-s. for the impromptu Jukendo lesson. Also a big thank you to Mr. Gyokudo Niina, 16th soke of Mugai Ryu and head of the Meishi line, for his wonderful hospitality during my two visits to Hombu Dojo in Tokyo.
Dr. Dan Pearson provides the leadership to our local Jodo group in the DC Metro Area, the Shutoken Jodokai. Mr. Corey Comstock provided valuable training pointers (as he has in class in the US for the past ten months since his return from Japan after a six-and-a-half year stay) and real-time translations during the Gasshuku, and he is a wonderful traveling companion (Kashima to Tokyo by bus). Mr. Joshua Badgley is also an excellent traveling companion (Tokyo to Kashima via Mito by train), and also provided translations of written and spoken Japanese. Thanks to Mr. Scott Rakow for his camera work. Many thanks to our other Shutoken Jodokai members, Mr. Steve Hick and Mr. Karl Gellert, with whom we shared training, eating, bathing, partying and sleeping. These guys made this trip a pleasure to be part of.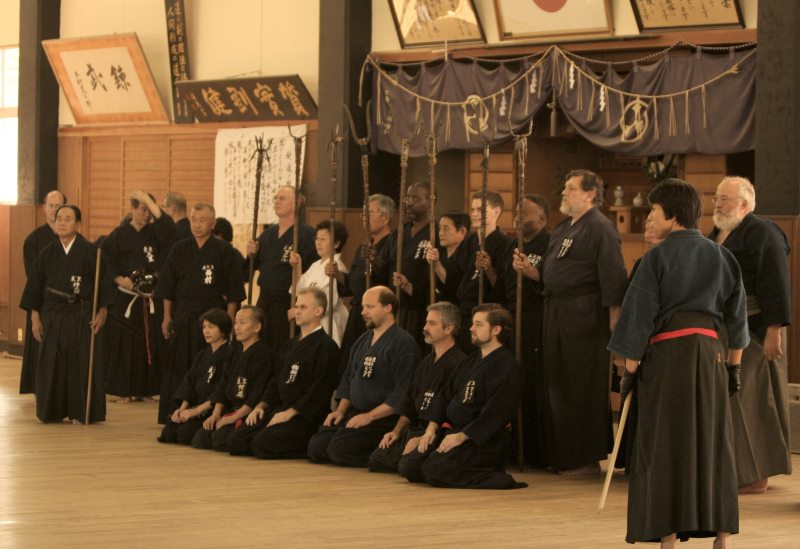 Closest thing to a Shutoken group photograph with some of our friends from Wisconsin, Texas and Japan. (Scott Rakow photograph).
It was good to see Dr. Richard Friman of the Wisconsin-shu again this year along with his senior student, Dr. Claude Gilmore. It was a pleasure meeting the rest of the Wisconsin members including Mr. Charles Warren. It was also a pleasure to see Mr. Jack Bieler of Denton, TX, again – we keep bumping into each other at various gasshuku in Maryland and Guelph (Ontario) since the mid-1990's. It was also a pleasure to finally meet the seniors from the Sweden-shu, Mr. Lars and Mrs. Lena Carlson. Lastly I wish to thank my wife, Ms. Val Matthews, for all her support in my pursuit of Budo, and especially in planning and executing this trip, my second to Japan.
References
Bocking, Brian, 1997. A Popular Dictionary of Shinto, NTC Publishing Group, Lincolnwood, IL. 251 pp.
Cunningham, Don, 2004. Taiho-jutsu – Law and Order in the Age of the Samurai, Tuttle, Boston, MA. 178 pp.
Nakamura, Taizaburo, 2001. Nippon-tō Seishin to Battōdō ("Japanese Sword – Spirit and Battōdō," in Japanese), BAB, Tokyo, 250 pp.
Nawa, Yumio, 1996. Jutte Torinawa Jite: Edo Machi Bugyo to Taihojutsu (Jutte Torinawa Dictionary: Edo Machi Magistrate Office and Arrest Techniques), Yuuzan Kaku Shippan Co., Tokyo. 262 pp.
Sosnowski, Raymond, 1998. "The Second Annual [Oct. 1997] Shindo Muso Ryu Gasshuku in MD" Journal of Japanese Sword Arts #93, 10(7/8), 4-7, July/August.
___, 1999. "The Third Annual [Oct. 1998] Shindo Muso Ryu Gasshuku in MD – the Kashima Jingu Gasshuku Experience," Journal of Japanese Sword Arts #99, 11(2), 3-9, February.
___, 2000. "The Fourth Annual [Oct. 1999] Shindo Muso Ryu Gasshuku in MD – the Kashima Jingu Gasshuku Experience Revisited," Journal of Japanese Sword Arts #106, 12(1-2), 11,13-15, March/April.
___, 2001. "The Fifth Annual [Oct. 2000] Shindo Muso Ryu Gasshuku in MD – the First US Inkyo," Journal of Japanese Sword Arts #112, 13(3-4), 10-15, March/April.
___, 2005. "The "Kashima Jingu Gasshuku" Experience – My First Trip to Japan for a Jodo Gasshuku [5-9 Feb. 2005]," 22 pp. Submitted to The Iaido Journal of EJMAS (Electronic Journals of Martial Arts & Sciences) on 17 May 2005, and published on 20 Oct. 2005 at <http://ejmas.com/tin/2005tin/tinart_sosnowski_1005.html>.
Sugawara, Makoto, 1988. Lives of Master Swordsmen, The East Publications, Tokyo, Japan. 157 pp.
---