The Iaido Journal Nov 2007
A Special Box for a Special Club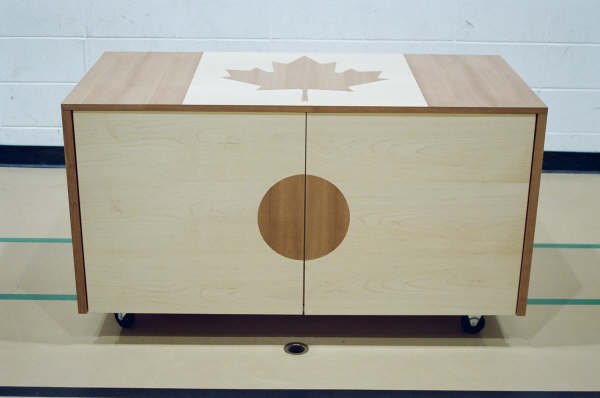 copyright © 2007

Rhona-Mae Arca

, all rights reserved

It all began with a simple request.

"Chris asked if I could put sword holders in our old box," said Tobi Breuer, a member of the Calgary Iaido Club.

Tobi, a furniture and interior design journeyman of 10 years, saw the request as an opportunity. "I have an idea," he said to Chris sensei. "We could build a new box."

It was something Tobi really wanted to do for the club. "When I moved to Calgary," Tobi explained, "I didn't know anyone. Iaido wasn't something I had in Switzerland because of the weapons. When I came to the club, everyone was so open and friendly. I wanted to make it extraordinary for the club. A special box for a special club."

The design came to Tobi rather quickly. "It was just in my head," he said. "I was thinking about putting the pieces together, showing where we are right now and where the martial art is from."

Tobi selected cherry and maple wood, red and white to symbolize Canada and Japan. He especially wanted cherry wood because of its significance in Japan.

Production didn't go as smoothly as planned. While working on a drill press to make the sword holders, Tobi had an accident, lacerating his thumb. He had to go to Emergency, where they performed a partial amputation of his left thumb. "No training for a month," said Tobi ruefully.

The finished product is a work of art. The Canadian flag is on the top of the box, with the maple veneer serving as the red and the cherry, the white. The front panels, when closed, resemble the Japanese flag. They open to showcase various photos as well as calligraphy by Yamamoto sensei. Sword holders are on the cover and in the main part of the box. The craftsmanship is truly top notch.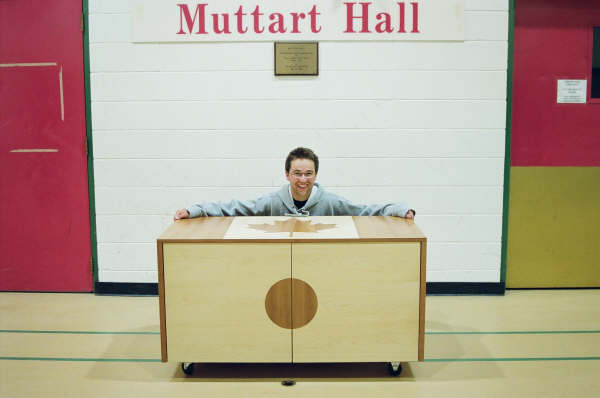 We gush over our box when we take it out and exercise great care when we return it to storage. It has become much more than a sword box; it's our shinzen as well as a symbol of commitment, hard work, sacrifice and a passion for excellence.

As a teen, Tobi studied judo and jujitsu. When Tobi came to our club a little over 1-½ years ago, he was looking for something different. "I was looking for something that had more of the samurai spirit. Being a samurai isn't just being a warrior. It's an art too."

Of course, the coolness factor influenced his decision to study Iaido – to a degree. "Not everybody has a sword," said Tobi with a grin.

Tobi also trains to run marathons. He ran his first marathon in Vancouver this past May – the full 42 kilometres. To Tobi, Iaido and running go hand in hand. When he's running, he draws upon two lessons he has learned from Iaido - patience and perseverance.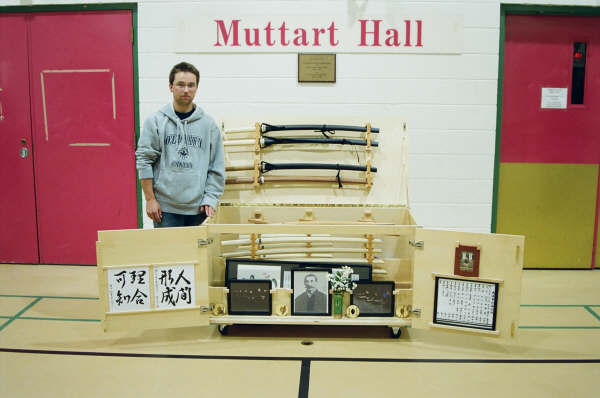 "You learn about your mistakes. With patience and the will to improve yourself, you can make things better…or extraordinary." To Tobi, it's just the way to go, not just in Iaido, but in all areas of life.

---