The Iaido Journal Feb 2006
A Visit to Kochi in November 2003

copyright © 2004, 2006 Pasi Hellsten, all rights reserved

Saturday November 15

Thursday evening, i.e. on November 13, 2003, we returned to Nishimoto Sensei's house in Kobe. We had attended Iwata Norikazu Sensei's intensive 10-day Muso Jikiden Eishin ryu iaido seminar in Ozu, which is located at the western end of Shikoku. Friday morning Neil Kemp left for Scotland and Chen for Taiwan. Brian Morrison and I stayed another week with Nishomoto Sensei. Friday was a washing day for us, and in between we sampled Nishimoto Sensei's plentiful stock of iaido videos.

I had asked Nishimoto Sensei already earlier if it would be possible to visit Kochi during the iaido seminar, but the schedule was too tight for that. One day Nishimoto Sensei asked me if I really wanted to visit the graves of the old Kochi masters. My answer was yes, as this was something I had had in mind already for several years. Nishimoto Sensei told me that we could go to see the local people train, but that it might be difficult to get to train with them as Kochi people still consider Eishin ryu their own art and are not enthusiastic about teaching it to outsiders. We would, however, have an opportunity to participate in the annual grave cleaning ritual, which would take place the next weekend.

Saturday morning we had a light breakfast and at 10 a.m. we packed our things and carried them down to Nishimoto Sensei's car, where Taniyama Sensei was already waiting for us. So we headed for Kochi, the former Tosa prefecture, the source of Eishin ryu. We drove across Awaji-shima and Shikoku Island through many tunnels. Halfway we stopped for lunch in a resting-place where there were restaurants and shops. The Senseis bought local delicacies as a present for Takeshima Sensei.

When we arrived at Kochi we first paid a short visit to Nishimoto Sensei's brother's home, where Nishimoto Sensei left some presents. From there we went to see Takechi Hanbeita's old samurai house and grave. On the way Taniyama Sensei picked some kaki fruits from trees nearby – they had a rather dry taste. Then we drove to the Katsurahama beach, where there is a big statue of Sakamoto Ryoma. Sakamoto is associated with the ending of the Bakufu and return of power to the Emperor. We went also to another beach where young people hang around in the evenings, but we were told it is also a favorite moon-viewing place for people of all ages. When we went there the place was populated mainly by older gentlemen and ladies. To the delight of a group of ladies Taniayama Sensei had us pose for a group picture with them. It seems there is also a dog-fighting arena in the recreation area, but we did not go to see that.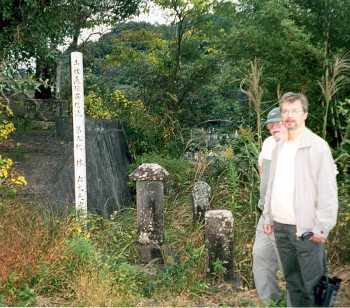 Brian Morrison L and Pasi Hellsten R
at the gravesite of Hayashi Rokudayu 9th soke


Next we drove to the top of the Hitsu-mountain (筆山), where we left our car and walked along narrow paths between old graves to Hayashi Rokudayu's grave. Hayashi Rokudayu was the 9th Soke in the Eishin ryu line (also in the Shinden ryu line). Local iaido people had erected a Kinen-hi beside the grave. A Kinen-hi is a white-painted square pole bearing a legend with the name of the person buried and some other information: Hayashi Rokudayu Sensei, Tosa Jikiden Eishin ryu 9th Soke. Poles like this have been placed at all the known graves that have to do with iaido. They make it easier to find them. We went on to Oe Masamichi's (17th Eishin ryu Soke) and this wife's grave, where we took a couple of pictures. The place is quite difficult to approach as the graveyard has been built high up on the mountainside, but the view from there towards the Kochi town is breathtaking. Unfortunately we could not linger at the place because evening was beginning to fall. There were no lights on the mountainside and we did not fancy returning to the town by tumbling down the path.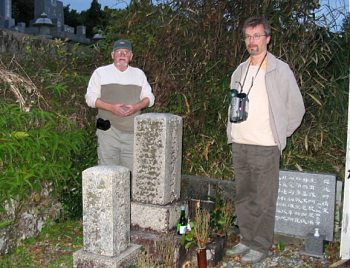 The gravesite of Oe Masamichi, 17th soke


We drove next to Takeshima Soke's house to take Nishimoto Sensei's and Taniyama Sensei's presents and to introduce us. Nishimoto Sensei asked if I could participate in Takeshima Soke's lesson later that night. Takeshima Soke was then 73 years old and did not teach very often as he was recovering from an operation he had undergone in January 2003. Fortunately he was much better already.

We booked in at a Comfort hotel downtown, where I just had time to take a shower, put on a gi and over that a tracksuit. Then it was time to leave again for the dojo. The Kochi Budokan is right beside the Kochi Castle. In front of the dojo there is an old gate, all that remains of Chidokan, the old dojo. We tried to take a few pictures of it in the darkening night, while our sensei's talked to some local people.

We left our shoes in the pigeonholes in the lobby and proceeded deeper into the house through a labyrinth of corridors. There were several training halls in the place. I took off my tracksuit and put on my hakama in a bare kendo changing room. There were no benches or racks in the place, just shelves for bogu. We waited for the end of a somewhat noisy kendo lesson and looked at some iaido people warming up for the lesson ahead. Brian pointed out that the others did not seem to use a sageo. I on the other hand noticed that the local people did not seem to move much forward in the Mae technique. They just put their foot in front while doing nukitsuke, and then furikaburi and kirioroshi in place. It reminded me of an old video I had seen of Kono Hyakuren, the 20th Soke, who had performed Mae in just the same way.

When the kendo lesson ended and some women kendoka came out, we entered the training hall. I hunted for a place for my bag. First I tried to put it into a corner, but it turned out that was where Soke sat. Finally I put my bag beside the door where Nishimoto Sensei and Brian had settled down. Because of knee problems both of them train mainly standing up wherefore they willingly chose to remain spectators this time.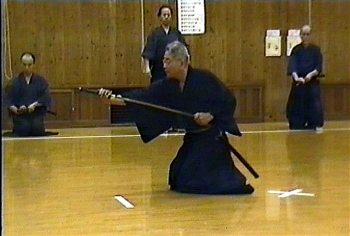 Takeshima soke performing nukitsuke

Students gradually began to find their places along the walls of the practice hall – Nishimoto Sensei showed me my place. There were three or four trainees per wall. Taniyama Sensei was on the door wall to my right and I was sitting directly opposite Shomen. Those students, for whom there was no room on the practice floor, remained seated along the wall behind me. First we went through the Seiza-no-Bu techniques 1 thru 11 at Soke's command, while he looked on from his corner. I tried to watch what the line opposite me was doing and to adapt my technique correspondingly. Their way differed a little from Iwata Sensei's style. After that Soke asked us to do Mae together with him a few times and after that independently. Soke moved from one student to another counter-clockwise and gave his advice.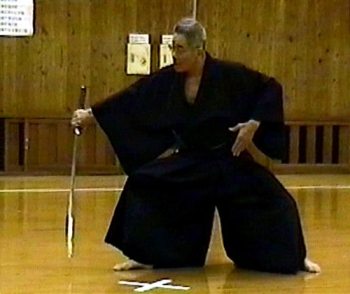 Takeshima soke performing Yaegaki


Soke had a lot to correct in my technique, too. I was too early in rising in relation to my draw, my shoulder was too far in front when drawing and at the end of nukitsuke my wrist was too much bent forward. Kirioroshi rose too much, the arc was too high. Soke explained me that there was no time for big movements: the opponent must not be given an edge. When the position of the feet where changed after chiburi, one's center of balance must be kept in the middle, not on the front leg, which should be relaxed. Special attention was given to my noto, which I kept doing more in the Shinden style, i.e. too much to the right. Nishimoto Sensei had to come to my rescue explaining that I practice mainly Shinden ryu. My overall impression of their style was that it is dynamic, strong and balanced. Nishimoto Sensei helped by translating into English, but Soke, too, spoke a few words of English, and his explicit demonstrations told the rest of the story.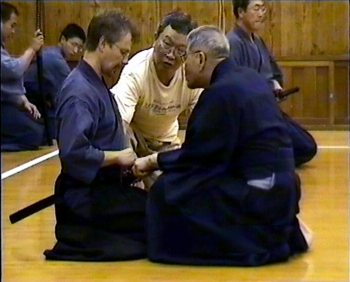 Nishimoto sensei (centre) and Takeshima soke R

explaining a point carefully to Hellsten


Soke taught us for an hour and we ended the lesson by doing Mae five times. That was followed by torei, otagainirei and shomennirei. There were thirty students in all and only now the rest could start their lesson. I went to thank Soke and to give him a small present. As his final words of advice to me Soke told me to find my own iaido, not to imitate others… Soke left and we returned to our hotel, where I took a shower. We had only half an hour left, so we took a taxi downtown. The first fish restaurant was already closing, so we took another taxi to the next. Nishimoto Sensei and Taniyama Sensei ordered an enormous sashimi dish with accompaniments. The others took beer and I sake, as always. Taniyama Sensei had one Sochu, too. After that reasonably early to bed, for Taniyama Sensei usually goes to bed early unlike Nishimoto Sensei, who keeps late hours.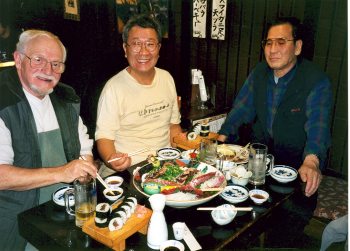 Brian Morrison, Nishimoto-sensei and Taniyama-sensei

sampling the Kochi nightlife


Sunday November 16

Shower at 7 o'clock and breakfast at 7:30. I woke up Brian in the room next to mine. His alarm clock did not work. I chose a Western type meal at the self-service cafeteria. At 8:20 we drove off for the same hill where we had visited the grave the night before.

A small crowd, some thirty or forty people in all, began to gather at the foot of the hill. Some had come all the way from Tokyo, Osaka etc. for the grave cleaning ceremony. The locals gave the groups there assignments: what graves and where were to be cleaned and decorated with fresh flowers. On the other side of the road just off the gathering place there was an otera (temple), which had belonged to the Daimyo Yamanouchi. We took a few photos in front of it.

Soon we were following another car, which led us elsewhere in Azono. We parked our car in a company yard and walked for fifteen minutes through a residential area. Even the local people had to search for the right track between the houses, but finally we found it. A path led to a hill, where there were several hillside graves covered by vegetation. We cleaned Yukimune Sadayoshi's (Shimomura-ha) grave lower down on an embankment above the fields. The jungle had encroached on the area, but we removed all branches and leaves using rakes, hoes and spades which we had borrowed from the local people. We put flowers, rice and snacks on the grave. Then we moved on to the graves of some Eishin ryu headmen: Hayashi Yasudayu (10th Soke), Hayashi Masu-no-Jo (12th Soke) and Hayashi Yadayu (14th Soke). All of these were at Kitamachi in Azono.

When we were finished we drove to the Nakata-cho municipal hall, where some groups were already waiting. We waited until the rest came together with Soke, after which we entered a big tatami room with low rows of tables at which we sat down. A chair was fetched for Brian, who remained behind us in the back row. I sat with Nishimoto Sensei a couple of tables away from Soke, directly in front of him. We ate the bentos we had bought on the way. Most of the people had beer or tea served by our hosts. I was brought sake.

Soke made a long speech, but the only thing I understood was that this time also a Finrandojin and an Igirisujin participated in the cleaning operation. Nishimoto Sensei had time to translate only some short parts of Soke's speech. The main message to me was "do not copy me, find your own iaido!" Soke spoke impressively, calmly and strongly. After that all the first-timers gave a short speech introducing him/herself: who, wherefrom and why here.

The party lasted for a couple of hours, after which Nishimoto Sensei took us to see the Kochi castle. Nishimoto Sensei, Brian and I circled it while Taniyama Sensei slept in the car. The smallish castle is situated on a hill and oversees the town below. One feature I found fascinating in view of some kata was the fact that beside the Daimyo's tatami room there was a guard room with a small aperture opening into the adjacent room. A guard would sit there, perhaps in seiza, and, if need be, crawl to defend his master.

We returned to the car, which we had parked in a street nearby. Taniyama Sensei was nowhere to be seen. We guessed he had gone to see the Sunday market that filled much of the other side of the street

We drove to the Godaisan (五台山) mountain to see the grave of Hokiyama Namio, who was the 18th Soke. From there we headed for Kobe stopping on the way at Hakazu to visit the grave of Fukui Harumasa, the 19th Soke. You have to climb a steep slope to get there, wherefore Brian, who has trouble with his hip, elected to stay at the car with Taniyama Sensei.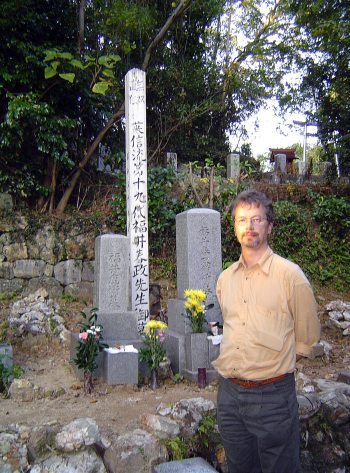 The author at the grave of Fukui Harumasa, 19th soke


In Kobe we drove straight to the dojo, where evening training had began long ago. The same Toyama ryu group that had been there when we last visited the place occupied the other end of the hall. They seemed to be busy with tameshigiri. We changed by the wall and managed to get in 40 minutes of training. To warm ourselves up Nishimoto Sensei told us to do Mae five times at a slow pace. After that we went through Seiza-no-Bu and Tatehiza-no-Bu kata by kata. He corrected just my step forward in kirioroshi: again my hara was left behind! At the end of the lesson we did Mae together five times. Rei and into our street clothes in a hurry, after which we were taken to a cafeteria nearby to have an evening meal. Now we had with us a student who spoke some English so we were able to talk more, though Brian's Cockney gave rise to puzzlement at times.

A note about Takeshima Soke: he was one of Fukui Harumasa's students. When Kono Hyakuren was named Soke, a so-called Bonkei branch was left in Kochi, because the Headmaster had always been a Tosa man. So Takeshima became the 20th Soke. Takeshima Soke has already chosen a successor: Muranaga Hidekami, a college teacher by profession, is going to be the 21st Soke.


---