The Iaido Journal Aug 2004
2004 U. Guelph Haruna seminar
copyright © 2004 ejmas, all rights reserved
The 2004 Haruna seminar was well attended with sensei from Japan and North America teaching jodo and iaido to over 100 students on 4 days. This seminar has been presented by the University of Guelph Sei Do Kai for 14 years and will be held again next May from the 19th to the 23rd. Next year Hyoho Niten Ichiryu will again be part of the seminar, along with jodo and iaido. Check http://www.uoguelph.ca/~iaido/iai.seminar.html later this year for details.
Our jodo sensei this year: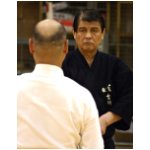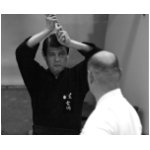 Furukawa Shunya (8d jodo, 7d kendo, 5d iaido)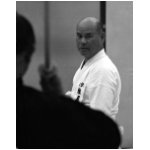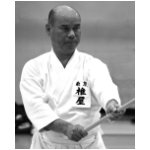 Shiiya Mitsuo (8d jodo, 7d kendo, 7d iaido)
The Jodo sensei in action:
Some of our iaido sensei: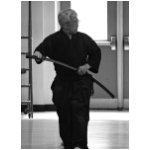 Ohmi Goyo (7d iaido)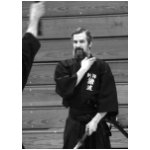 Tom Hooper (6d iaido) "asking for it" from one of the students.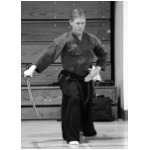 Stephen Cruise (6d iaido)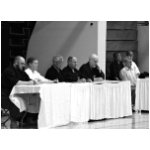 The iaido grading panel, l to r David Green (iaido 5d), Stephen Cruise, Goyo Ohmi, Ken Maneker (iaido 6d), and Bill Mears (iaido 5d)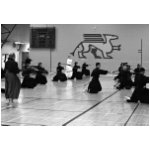 David Green sensei oversees an iaido class.
Some of the crowd: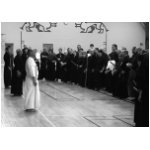 Furukawa, Ohmi and Shiiya talking to the crowd.
Fun and Games: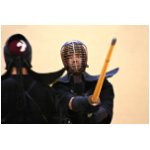 It's not all work of course, after a hard day of iai and jo some students relax with a bit of kendo practice. This is Ed Chart (facing) and Tom Hooper sensei.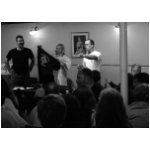 Mario, Lauren and Doug work the crowd at the annual dinner and auction.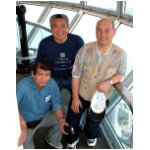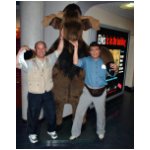 Furukawa, Kimeda and Shiiya sensei visiting the CN Tower in Toronto. Japan meets Canada once again.
Many thanks to everyone who attended the event, and I hope to see you all again next year.
Kim Taylor
Sei Do Kai
---