Physical Training Sept 2003

Tracy Orzechowski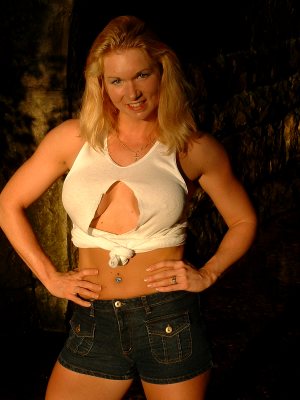 Copyright © EJMAS 2003. All rights reserved.
Photos copyright © Kim Taylor 2003. All rights reserved.
PT: This month we're chatting with Ontario fitness competitor and PT columnist Tracy Orzechowski. Would you mind telling our readers a bit about yourself Tracy?
Tracy: Age 24, I was born in Woodstock, Ontario. I have been working for Brinks Canada Limited for almost 6 years now. I began working there shortly after graduating from a Law & Security Program in hopes to gain more experience in the security field, as my future goal is to pursue a career in policing. I began training about 6 years ago with a simple goal of toning up a little after some inspiration from husband who was already training at the time. He encouraged me to join him in hopes to improve my self-image.
PT: How did you first get interested in competition?
Tracy: After watching a friend compete in a local bodybuilding show I was intrigued with the fitness competitions and thought it was something I could do, and it would be a great way for me to reach my fitness goals. I began training with a couple that owned a small gym in Woodstock and started from scratch. I started with a simple goal of a cartwheel, splits and a few moves I had taped off of t.v. from Fitness America competitions. This was a lot harder for me as I had no dance or gymnatics background and no flexibilty – all of the key components of fitness routines.
PT: Do you train on your own?
Tracy: My husband trains me 4 days a week with weights. He designs all of our workouts, which usually change every 4-6 weeks. I also do cardio 7 days a week – usually using a stationary bike, hiking, or treadmill.
PT: How about coaching in other aspects of the sport?
Tracy: I have taken dance and gymnastics classes in the past, but for my last show I enlisted the help of a friend who is a former gymnastic coach to help me choreograph parts of my routine.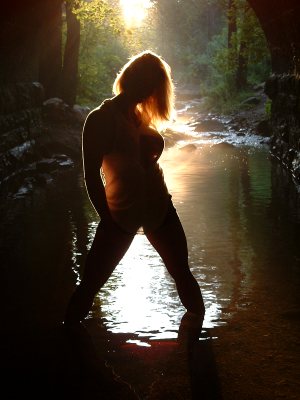 PT: What other sports were/are you involved in?

Tracy: I don't really have time for any other sports when it's my competition season, but I enjoy going for long hikes and swimming.

PT: Do you compete naturally?

Tracy: All of my IFBB sanctioned shows make competitors sign a membership form stating that they can do random drug tests.

PT: How often do you compete?

Tracy: Usually once or twice a year, but the last couple of years I have tried to compete in as many shows as possible with the same diet and preparation, for more experience. Last year I competed in 4 shows, this year so far I have competed in three with the possibility of two more to come. I have chosen to do a few more this year as my husband is dieting for a bodybuilding show so I am dieting along with him for support and to get back in shape after a two month break.

PT: Can you tell us about your competition record please?

Tracy:
1999 Ontario Natural Bodybuilding & Fitness Championships – 3rd Place
1999 Western Ontario Bodybuilding & Fitness Championships – 1st Place
2000 Ontario Bodybuilding & Fitness Championships – no placing
2001 Festival City Bodybuilding & Fitness Championships – 2nd Place
2001 Ontario Bodybuilding & Fitness Championships – 3rd Place Tall Class
2002 Ontario Bodybuilding & Fitness Championships – 6th Place Tall Class
2002 Eastern Bodybuilding and Fitness Championships – 1st Place Fitness
2002 Western Ontario Bodybuilding & Fitness Championships – 2nd Place Fitness
2003 Festival City Bodybuilding, Fitness & Figure Championships – 2nd Place Figure
2003 South Central Bodybuilding, Fitness & Figure Championships – 3rd Place Figure
2003 Canadian National Fitness & Figure Championships – 6th Place Fitness

I am competing in the Eastern & Western Championships again this year

PT: Do you have any major sponsorship or do you rely on your job to make a living?

Tracy: My work sponsored me this year, so that helped covered my travel expenses to Edmonton to compete at the Nationals, and I also receive help with supplements from Fusion Nutrition. Cytodyne Technologies has provided me with some help and is currently using my pictures in the xederine ads.

PT: Many people think that fitness competition and bodybuilding are the same thing, can you tell us the difference?

Tracy: Fitness has two physique rounds where you're judged on your body symmetery, femininity, poise, facial beauty, skin tone, and muscularity (but points are deducted for being too lean or muscular, unlike the look of bodybuilders. Usually in bodybuilding, the bigger and leaner you are the better you place. Fitness athletes also have a routine round where they can display their strength, flexibilty, dance, and gymnastics in a two-minute routine. They are also judged on costumes, presentation, creativity, and stamina. For bodybuilders their routine is not really as important in judging and they have no mandatory rules or guidelines. I have recently switched most of my competitions to a newly created category called Figure which is similar to Fitness but the athletes have no routine round. Instead there are three physique rounds – one one-piece of their choice, a two piece of their choice, and one two piece plain black suit and black heels. I have found that I can be more competitive at this category as judges are putting a lot of emphasis on the fitness routines and I personally feel unless you can flip across the stage or have dance or gymnatics training from a very young age, you can never be competitive in the pro ranks. Figure is a new category and the judges often seem confused about what they're looking for from one show to the next so it is very hard to prepare. One show they look for a "beach body" that is small but shows very little muscularity and another show may reward the more muscular lean body.

PT: It seems to me that the dieting fitness athletes do is a bit extreme; do you find it hard on your body?

Tracy: It is extreme in some cases but people often think that fitness athletes have to starve themselves. Our diets are usually a lot more healthy than the average person's as we include protein, fat and low carb/calorie food choices. The only part I find extreme is the re-bound effect I personally have (but fight with) after a diet. My body thinks that because my calories and food choices have been restricted for so long that I have to eat everything and anything to compensate. I have a hard time feeling full and stopping my eating. I over eat and usually gain more weight than I should. Ideally I would like to stay within 10-15 pounds of my contest weight to make dieting easier on me, and so it's not so hard on the body to gain weight so fast. I often get painful shin splints and joint pains after a show, from water retention due to excess sodium and salt intake from foods that I wouldn't normally eat, and my body doesn't recognize.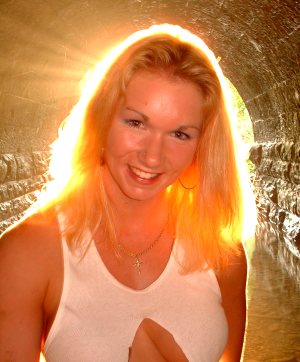 PT: Each month you give our readers a recipe along with a fitness tip. Do columnists really use those recipes or do they just grab them out of a book?

Tracy: I am always looking for new recipes to make foods that are healthy and flavorful. I try to add things to foods to spice them up, especially when dieting. You're always looking for a new cheat food or dessert that is okay to eat. There are so many recipes that are designed to allow you to "have your cake and eat it to" just by substituting some of the main high calorie ingredients.

PT: Supplements seem to be very popular with bodybuilders and fitness athletes, are they really that beneficial?

Tracy: I rely on supplements in my diet. Whey protein is my main staple as it becomes very expensive to try and add chicken or eggs or a protein source from food with all meals. Whey shakes are quick and easy to take when on the run or to add to a snack to make it balanced. I also like to use thermogenics (fat burners) to help speed up my metabolism to burn more calories, provide me with more energy and help curb the appetite some. I also take a mulit-vitamins, vitamin C & E, and flaxseed oil (for healthy fats in the diet)

PT: As a general rule, how do you keep up a decent nutritional balance while dieting?

Tracy: I make sure to have carbs that are high in fiber but low in carbohydrates, some protein and healthy fats from either natural peanut butter, sunflower or flaxseed oil.

PT: What would you say was the age range for competing in fitness?

Tracy: Anywhere from 16 to 65? Most girls are in their 20's to 30's though. There are teen, juniors (under 21) or masters (over 35) shows out there in some organizations.

PT: Is there a minimum age you'd recommend to girls before they get into competitive fitness if they're interested?

Tracy: I don't think so. Fitness is a great sport and keeps you active, although the dieting might be harder for some young girls who haven't had the time for their bodies and muscles to mature that the older girls have.

PT: Do you think there's anything to the accusations that fitness, bodybuilding and/or modeling somehow create eating disorders in young girls?

Tracy: I think that models are often perceived as having eating disorders due to the size and weight that many of them are, a size that is normally not healthy or easily attainable for most people. Fitness models show a more curvacious body image that displays strength and athleticism, not an excessively thin and unhealthy look.

PT: You've done some modeling, including a cover for Physical Training, how do you like that?

Tracy: I enjoy modeling and being in front of the camera when in shape. Fitness has given me some opportunities to work with different photographers and nutrition companies in their ads and promotions.

PT: Does anyone ever suggest, or do you perhaps ever feel that with the fitness and modeling that you're self-absorbed or have body image issues?

Tracy: I think that I have higher standards for myself when it comes to body image. It's hard, after seeing your body in amazing show shape, to still think you look good when you gain back 10-15 pounds. Although most people wouldn't think you're fat, you still feel like it.

PT: Well we've included a few photos here at your between-competition weight so we can let the readers decide how you look, remember she's married boys. So to finish up, tell us your long-term goals?

Tracy: I would like to place in the top three at the Canadian National Figure & Fitness Championships and possibly open my own health or personal training studio.

PT: Well I'm sure you'll make both goals with your determination. Many thanks for the interview and we'll see you next month in your column.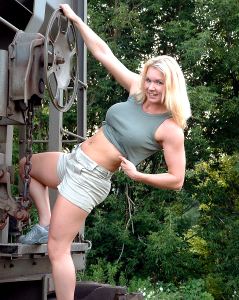 Tracy leaving on the train.