Physical Training June 2002
The Dojo as a Business:
Two Profiles of Budo Business Owners
By Neil Melancon
Copyright © Neil Melancon 2002. All rights reserved.

"As I see society, people make the arts into commercial products; they think of themselves as commodities, and also to make implements as items of commerce. Distinguishing the superficial from the substantial, I find this attitude has less reality than decoration."
-- Musashi Miyamoto (Shimmen), 1643
The Book of Five Rings, Shambala Dragon Edition

When most students join a budo dojo seeking self improvement, they often carry with them many expectations, derived from either popular entertainment, or results seen from others who have undergone similar training. Comparably, many teachers of budo, particularly new ones, have expectations of their students-how they should behave, what attitude they should hold while training, etc.

It seems uncommon for both students and teachers to include among those, expectations of how financial constraints will play upon the time spent in the dojo. Students concern themselves with paying their dues, promotion fees, etc and try their best not to let the world of finances intrude on their training time (many times, this is often why they begin -- to get away from the workaday world). As long as the rent is being paid, teachers are focused on correctly passing on the knowledge given to them the best way they can.

The financial world doesn't end at the dojo door, and as time goes on, both students and teachers find that world intruding into their time together. Dojo facilities must be maintained, repaired and upgraded, uniforms and equipment must be bought, insurance needs met and a host of other typical expenses will crop up unforeseen to plague dojo members even though it's often just an empty mat and a training partner they're looking for.

Rebecca Sexton and John Ray are two dojo owners with much in common, despite being 500 miles apart. Both began studying budo to better themselves, and both fell into teaching martial arts in unexpected ways. Both sensei have seen the need for business acumen in the realm of dojo ownership, while avoiding the "McDojo" phenomenon of chain ownership at the expense of a personal touch in both running the dojo and teaching the students. Each one has a unique perspective in running their schools and adapting to the financial challenges that have presented themselves.

Sexton began her career in martial arts taking her son to Aikido classes in Enid, Oklahoma. Always an active individual, Sexton's interest was piqued, but did not wish to interfere with her son's activities. After he reached the rank of sankyu, she gave in to her interest and began classes at age 41.

Soon after, the family moved to Corpus Christi, Texas, where Sexton lacked both a dojo and training partners, so began her own classes at the YMCA. Shortly after she was promoted to nidan her husband was relocated to Baton Rouge, La. where she opened Gentle Wind Dojo in its first location in 1987.

"I just fell into this because I was looking for someone to train with when I went to Corpus," Sexton said. "There was no one in Baton Rouge at all. I had to advertise for students and then train them in the basics, all the while still traveling to Houston, Texas (where there were senior instructors) for my own training in both Judo and Aikido. It was slow going for a while there."
Ray had thought about teaching for years, but had about given up on it before a fortuitous encounter with a neighbor pushed him back towards his dream.

"I had always had it in the back of my head to teach," Ray said. "After pretty much hanging up my sword and karategi, a neighbor who had heard about my experiences in martial arts, asked to see it. I showed him on my back porch and he asked me to teach him.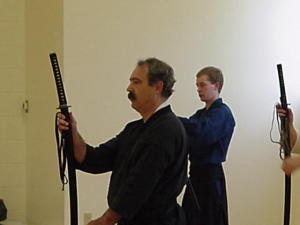 Sensei John Ray, nanadan kyoshi, leads a class in
Muso Jikiden Eishin Ryu Iaido. In addition to 20-plus years of iaido,
Ray has over 30 years experience in Uechi-ryu karate, which he also
teaches at his Denton, Tx dojo.
"That back porch became my first dojo and he, my first student. Other old students heard about me teaching, and it grew from there," Ray continued. "We have moved into two different, larger facilities since then (1996)."
One of Sexton's first students was Gary Hebert, who is now a rokudan in Aikido and co-owner of the school. Sexton asked him to help with ownership partially to defray costs, rent being foremost among these. She finds the biggest barrier to financial solvency for the dojo is the inconsistent rate at which students attend and pay fees.
"We might get months where we have 10-15 students each class and they all pay and everything's fine," Sexton said. "Then it might slack off to three or four and then we're scrambling to make ends meet."
In contrast to many modern dojo, Sexton does not require students to sign contracts.
"We let them pay month by month," Sexton said. "I'm not a good business person, but I just feel it's unethical and immoral to force people to continue to do something they're not interested in or not capable of continuing."
Ray too does not have contracts for his students to sign, but finds a balance when it comes to rent.
"(The Dojo) has at least paid for itself since the first day," Ray said. "People never cease to surprise me in their cavalier attitude toward money owed. To balance out the scales, however, other people never cease to surprise me at their generosity. You can never predict it."
Maintaining the Dojo can require a bit of pushing, and Ray does expect his students to pitch in like traditional Japanese dojo.
"Lately the Dojo has gotten a little dirty, so I've had to ask for people to come in and clean it," he said. "What I'd like is routine cleaning so we don't have to get it all done in one big push. We just opened in this location and I'd like to keep things from wearing out as much as possible."
Gentle Wind Dojo relies primarily upon volunteers for upkeep, according to Sexton. Inevitable periodic expenses do crop up, which strain the budget.
"We've been blessed by capable people who can do things like repair the air conditioning unit, do minor rewiring, shelve the locker rooms and other routine things like that," Sexton said. "Plus, most of our students pitch in when it comes time to clean the mat, paint the walls or redo the carpeting.
"Problems crop up when we have to buy new padding for under the mat, for example," Sexton continued. "Another thing is we want to raise the lights to give additional room for our jo classes. These things need to get done, but when you have trouble meeting the rent month to month, the additional expense is hard to come up with."
Both Sexton and Ray tend to keep marketing their schools low key. However, both would advertise more and are always seeking new students.
"I use a web site, yellow pages, signs in front of the dojo, and word-of-mouth," Ray said.
"We have a very small (by commercial dojo standards) new student group. As I have
another full time job, I really don't have the time or the money to aggressively
promote the dojo. A true case of being careful of what you wish for. We have an age
limit (13) and arts which don't appeal to soccer moms."
Sexton also uses the Internet, phone book and word-of-mouth communication to market the school. She feels that the art itself weeds out the lower quality students.
"I'm really not worried if our advertising brings in a lot of students, from a quality-control point of view," Sexton said. "We've had bad apples before. Generally, those who can't commit or are unsuited to the environment we have here at the school just stop coming back on their own. My primary concern is ensuring the continuing of quality instruction."
The financial end of dojo affairs also finds its way back home for both instructors. Ray, whose wife Denise and he have two children, sees a strain being put on his family life. From the given time spent at the dojo instead of home, traveling for seminars, balancing the Dojo books at home, even parties being thrown for the dojo at their home -- family time becomes a precious commodity.
"The family makes a sacrifice for a dojocho (dojo leader)," Ray said. "Sports events, school events, and just quality time with wife and kids are all missed in order to invest yourself into your dojo."
Although Sexton is retired, she is still an active member of her church and often finds schedule conflicts that have to be covered. However, she credits her faith for enabling her to adjust to the demands of running a school.
"I thank God everyday for helping me to get through everything I have to keep up with," Sexton said. "Some days I think of retiring for good, particularly when times are tough. However, something keeps bringing me back to it, and it's the students that I do it for."
The Dojo: http://www.dentondojo.com
Gentle Wind Dojo: http://www.gentlewinddojo.com