Physical Training Oct 2003
Stripping for Fitness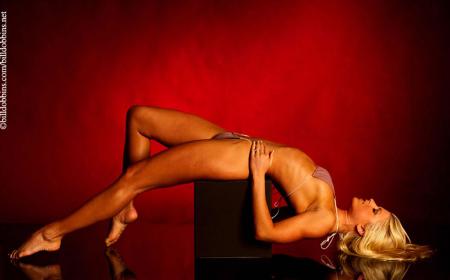 Photo © Bill Dobbins
By Exotic Dance Instructor & Fitness Model Fawnia Mondey
Copyright © Fawnia Mondey 2003. All rights reserved
Popular in Los Angeles, since June of '99, at the Crunch health club chain on Sunset Strip, the latest dance sensation is strip aerobics. Developer Jeff Costa bills 'Cardio Strip Tease' as adult fun for everyone. People of all body types, ages 18 and up take this class. Appearances range from '"Baywatch' babe" with the perfect body to the 70-year-old woman who seems to like the program because the steps are easy to follow, he said. Proof of Cardio Strip's success is that the Los Angeles gym is usually packed on Wednesday nights when Costa teaches his class. About 30 people -- mostly women -- show up specifically for the class, and a horde of weight lifters show up to drool.
Crunch, an international health club chain based in New York, markets itself as the industry rule breaker, the club for exercisers who like to experiment. And Costas said Crunch had been toying with the idea of a strip class for a couple of years. Formally a choreographer for a male review at the Roxy in Boston in 1996, Costa taught strippers how to move, dance, and block on stage. Then the idea of 'Cardio Strip' was born.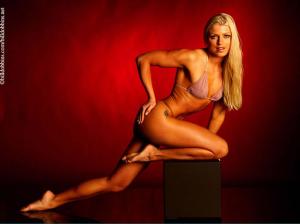 Photo © Bill Dobbins
If you are the shy type, then this class is also for you. Cardio strip lets you do things that someone may have told you was dirty or wrong. After all, it's human nature. Great for toning your body, in class you will do plenty of hip rolls and body waves (starting with your chest and rolling down through your abdomen and glutes). In Costas' class there is also a lot of touching yourself and for a grand finale, you perform a lap dance. Participants are encouraged to get a little daring and peel off their clothes, but no one is asked to shed more then he or she wants. "It's not about getting naked" says Costa. The class is about building self-esteem and looking beautiful. "It's about getting into your body, getting in touch with your abs and inner thighs," he said, "and learning that you can be totally sexual and spiritual at the same time." This is a class that leaves you feeling like you just worked out your body and mind, while also jump starting your imagination.
SHEDDING POUNDS & CLOTHES
Bridges, a red-haired Missouri native who has graced a dozen magazine covers, including an upcoming ``Playboy,'' says she was relieved to find that the class is as much about exercise as it as about exhibition. "I thought they would be using poles and straddling chairs and doing all this crazy stuff, but it's actually the best workout I've ever had.''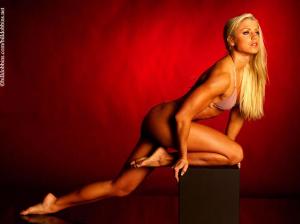 Photo © Bill Dobbins

If you want to tone and gain flexibility & confidence, then Cardio Strip is for you. Just keep in mind that you are not going to get the same workout as you would if you were lifting weights and running 30 minutes. Being medium intensity and low-to-no-impact makes it a safe workout for everyone. Rather then jumping, participants gently move and wriggle while keeping their feet firmly planted on the floor. Exotic dancers are known for their firm bodies, and with strip aerobics you are performing the same moves they do. Keeping your abs tight and walking with your chest high exuding confidence, you'll be sliding your way into smaller clothes sizes with each class. Just be sure you never miss a show (class).

DO YOU WANT TO STRIP?
Cardio Strip may not be for everyone, or every city. Will it expand beyond its New York and Los Angeles foothold to become the next national aerobics craze? With the exotic dance industry changing and becoming more 'mainstream' we'll have to wait and see, or push the envelope yourself and talk to your gym about one of their instructors starting a class!
If you are not daring enough to bump and grind in a public setting, have you thought about exotic dancing in your own home? O.K. maybe I am taking this a little far or maybe not. My name is Fawnia, and I teach exotic dancing to dancers, and women and men who want to impress their partner and spice up their love lives. From 1994 - 1996, I danced throughout Canada and in Belgium, quickly climbing to the top of the industry and featuring.
My titles include:
Miss Nude B.C. 95/96
Miss Nude Western Canada 95/96
North American Exotic Dance Champion
Canada's Rookie of the Year 95/96
Canada's Western Champion 95/96
Canada's Edmonton Champion 95/96
Miss Nude Amateur World 95/96"
Since 1998 when my first instructional video was released, I have spoken with women all over the United States who wanted to know where they could find a video on dancing for their husbands. For the past several years I have been working as a personal fitness trainer, model, and exotic dance instructor. If the thought of exotic dancing intrigues you, visit my site http://www.exoticdancelessons.com and see what videos and books are in store for you and your partner.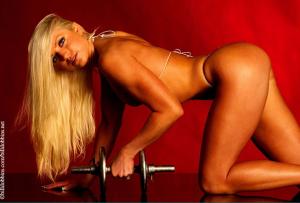 Photo © Bill Dobbins
THE HISTORY OF BURLESQUE
* Most people picture "burlesque" with female strippers walking a runway to a bump and grind beat. But that was burlesque in its declining years. At its peak, this form of variety was a rich source of music and comedy that kept America laughing from the late 1800's onward.
FOR THE EXHIBITIONIST IN ALL OF US
* At nude and clothing-optional resorts - You donít have to be self-conscious about an imperfect body because the general clientele are average people: housewives, students, doctors, lawyers, grandparents and teachers, ranging from those in their 20s to those in their 80s. http://www.fantasticvoyages.com/
* Dirty Dancing: The Perfect Gift. Have someone special you would like to surprise? They say communication is the key to a strong relationship, so start using your body language to get even closer. Choose from a variety of instructional video's and books and start learning the art of seduction. http://www.exoticdancelessons.com
FOR THE VOYEUR IN ALL OF US
* The Exotic World Strippers Hall of Fame may just be the summer destination for you. Located in Helendale, CA, on a 40-acre spread in the middle of the desert, this museum memorializes the history of stripping and celebrates the art of exotic dancing. http://www.roadsideamerica.com/attract/CAHELexotic.html
---
Fawnia is featured in Playboy's, Best of Canadian Girls 2004 Calendar (in stores now) and Ironman Magazine for November.
---
Our Sponsor, SDKsupplies