2011 Ottawa Iaido Seminar
copyright © 2011 Patrick Suen
, all rights reserved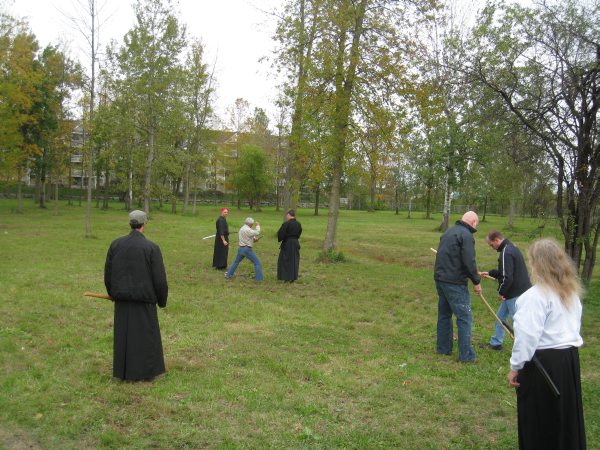 It was a cool and breezy morning - hardly reaching double digits in celsius. We arrived at the community centre 30 minutes early to see a decent sized group of students already hard at work in the...field? Apparently, the doors were still locked, and not ones who stand around with an opportunity to train, the early arrivers took to a flat grass-covered area and started swinging.
We were let inside a short time later and officially started the seminar. The gym was small, but comfortable, with a small window looking out to the previously mentioned field, and basketball nets on opposite walls.
Standing in the front, next to a lovely banner commissioned by the Tateyama dojo, were visiting sensei Goyo Ohmi (Renshi 7 Dan), Kim Taylor (Renshi 7 Dan), as well as local sensei David Green (Renshi 6 Dan) and Ed Chart (5 Dan). Participants from Toronto, Montreal, Fredericton, Guelph, Bolton, and Ottawa lined the other side of the room.
Taylor
sensei
started us off with
Seitei
practice using the 2009 ZNKR
Iaido
Manual as well as personal notes. Key points on etiquette and the first seven
kata
were exposed and worked on until lunch time. We focused on a few points that were emphasized in recent national seminars like "
hiki-nuki
" and the position of opponents in turning
kata
.
After lunch, we were split into those who were grading and wanted to work on more Seitei, and those who wanted to learn Koryu from Ohmi sensei.
A goal of these types of seminars is to get instruction that you would not normally receive in your regular class; as such, Hanna and I stuck with Taylor Sensei. Our group worked mostly on basics. We worked hard on sinking our lower body and relaxing our upper bodies. We lined up our feet with our hips and tried making our "light swords look heavy" or "heavy swords look light".
I received some personal instruction on flowing from Nukitsuke through Furikaburi and into Kirioroshi without excessive force and tightness. I'll be working on that for a while, and it feels good!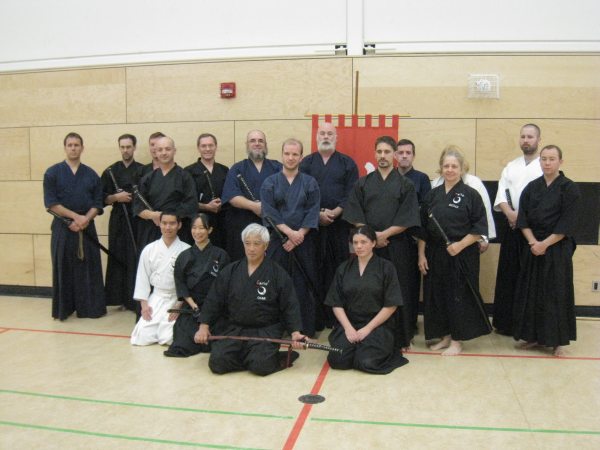 This report is an excerpt from: http://sueniaidokyudo.blogspot.com/2011/10/2011-ottawa-iaido-seminar.html
---
---