2010 Welland Iaido Seminar

copyright © 2010 EJMAS
, all rights reserved

Front row seated far right, organizer Ron Mattie, seated 6th from right, Goyo Ohmi, to his right Stephen Cruise and then Kim Taylor.
The Hayakawa Kendo/Iaido Club presented a day-long iaido seminar May 6, 2010 with CKF nanadan instructors Goyo Ohmi, Stephen Cruise and Kim Taylor. The iaido and kendo clubs practice at the
Welland Martial Arts Centre
with Iaido being taught by seminar organizer Ron Mattie under the supervision of Stephen Cruise.
Close to 40 students from clubs around Southern Ontario (Toronto, Etobicoke, Guelph, Simcoe, St. Catherines, Peterborough) and the Northern USA (Detroit, Rochester) attended the event. Training was in the Zen Ken Ren iai forms.
The group was split into three sections, non-degree and ikkyu, shodan to sandan and yondan to rokudan. The kata were split into three sections as well, and the sensei rotated between the groups so that every student had a chance to practice for four kata with each instructor. This is the first time I've come across this style of training and it was quite interesting. I suspect the students had some valuable insights as they compared the advice they received. I recommend it for other seminars.
For myself it was a lot of fun to be able to work with everyone in the seminar and I thank all those involved for their hard work and their attention. I hope the event is repeated again soon.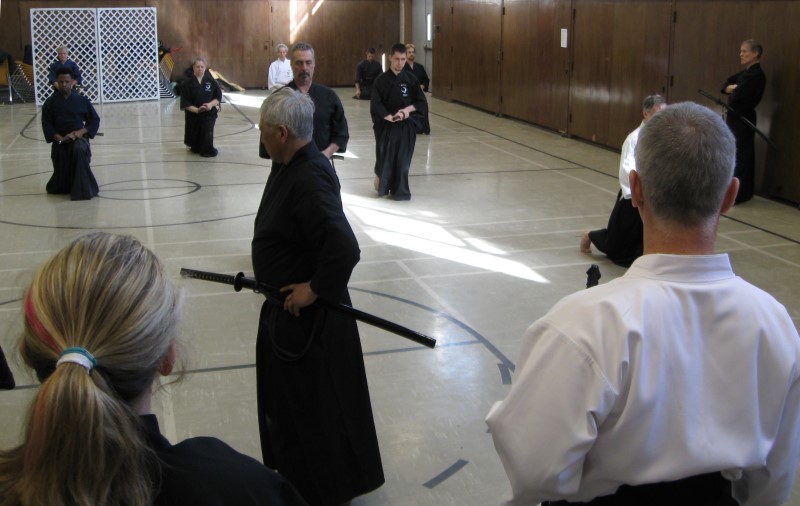 The senior students working while Goyo Ohmi and Stephen Cruise look on.
---
---