Published by Blue Snake Books/Frog, Ltd. (An Imprint of North Atlantic Books, Berkeley, California) this vividly illustrated work chronicles the absorbing history of the cultural weapon-lore of the ancient lua and warriors of Hawai'i documents the complex customs and military traditions of the oftentimes obscured koa warriors. His exquisite artwork (over 50 pieces) colorfully and boldly captures and depicts the deadly tools that these fierce Stone Age warriors used in battles among the rival chieftains and kings of that long bygone era.
Campbell states, "From ancient times until the arrival of Captain Cook in 1778, the warriors employed a wide array of deceptively simple but brutally effective weaponry, much of it unique to the islands and utilizing local materials such as shark's teeth." Featured here are the main types used in combat, including spears and daggers, slings, tripping weapons, stone weapons, strangling cords, and others. Campbell also provides detailed explanations of how these sculpturally beautiful but quite lethal weapons were employed in spear throwing, spear thrusting, pole-vaulting, singlestick, rough-and-tumble wrestling, boxing, and on the battlefield.
This beautifully illustrated full-color hardback edition features an assortment photos and lithographs that were provided courtesy of the Bishop Museum in Honolulu, Hawai'i. Also, Campbell's beautifully rendered art illustrations add another dimension of authenticity from his recollections from his visit to the museum's archival vaults on O'ahu. Upon viewing the actual archived weapons in the archives, Campbell had a renewed sense of appreciation for the skills and craftsmanship that went into making such lethal weapons that were undoubted used in actual battles in the Hawai'ian Islands. He also included chapters and much historic information regarding the wide array of various weapons from that era prior to the arrival of foreigners (haole) in the late 1700's. Chapters also include usage techniques, strategies, construction-lore, battle formations, extensive tactics as well as an in depth timeline and glossary.
Highlighted features include:
Stunning original oil paintings by the author depict the warriors and the era up to the arrival of Captain Cook.
Original, rare historical information about Hawai'i's warrior culture.
Detailed explanation of complex customs of the Hawai'ian culture and military training.
This book, drawing on the oral tradition and teachings of Sid Campbell's Hawai'ian 'ohana, his years of painstaking research, and his passionate artistic vision, tells the story of this important part of our American heritage, the lost warrior arts of Hawai'i.
What the reader find fascinating about this topic is the contrasting way in which many envision the Hawai'ian Islands as a paradise where mele (music), hula (dance), and luau (feast and party) are the traditional customs of these enchanting lands. Granted, these mystical islands represent those traditions quite splendidly, but this historic book is compelling evidence that the traditional warriors of Hawai'i were truly creative, courageous, and incorrigible fighters whose legend defies the myth held by most Westerners that the Polynesians were carefree and pacifist by nature. They were adeptly skilled in fighting, loyal to their kings, and brutally efficient at annihilating the enemies who would attempt to invade their island kingdoms. Above all, they were ruthless and feared no one!
Excerpt: Chapter 1
THE KOA WARRIOR'S LIFE AND TIMES
Hawaii's natives have always called themselves "Ka poe Hawaii""the Hawaiian people" and many of the terms expressed in this work will use the language that are in accordance with the way the islanders described or conveyed their meaning in ancient times. The glossary in the back of this text will be especially helpful should to encounter difficulty in understanding these interpretations or wish to gain more clarity of their meaning.
Suffice it to say that since this book's primary purpose of this reference is to feature and depict the cultural weapons and warrior arts (strategy and tactics) of ancient Hawai'i, there will be very little mention of the daily life, culture and traditional customs of life and times of Ka poe Hawaii in general. That will be my endeavor in another book of similar size and content at another time.
But at the outset of this monumental work I will begin by stating that the koa warrior's development in the fighting traditions began in childhood, with sports that helped strengthen his body and promoted dexterity, quickness and flexibility. This strenuous training also included bare-fisted boxing, hand and body wrestling.
In the process, he became adept at striking an opponent's chest with open palms to unbalance him, interlocking index fingers or clasping thumbs with an opponent to pull or push him into submission, and, from a seated position, pushing his opponent over with his feet. To enhance his ancillary skills, there were long-distance foot races to teach him endurance, and races in cartwheels and somersaults to teach him balance and agility.
Since ancient times, long before the arrival of the British in 1778, the Hawaiian warrior's life was one of devoted service to the ali'i nui (high chief), and demanded rigorous physical training to maintain his specialized offensive and defensive skills. Though he was a commoner with no royal or noble distinction, the young adolescents were groomed, first, for battle to protect his island against attack and invasion from rival kingdoms. However, he also had occasion to demonstrate his fighting skills in more peaceful settings like in mock warfare competitions on the athletic playing fields of the annual Makahiki celebrations. These ceremonial displays of fierceness and ruthlessness were performed to impress chiefs and commoners alike.
As with any culture, the preservation of its society was contingent on the ability to defend or ward off threat or invasion with the force and might of its warriors. Regional island entities and ali'i that failed or ignored this basic precept were destined to lose their domain.
Austerity or lower-class status was not necessarily a way of life for the koa (warrior). He was highly respected and treated with the utmost of courtesy. He was never one to be taken for granted or slighted and his dignity was to never be questioned or doubted.
Seasoned condition and fighting prowess of the warriors of the Hawaiian Islands were of paramount importance to the kingdom in general. In order to condition and make the warrior fit for battle, the Hawaiian koa warrior trained from childhood in sports that developed strength, agility, quickness and endurance.
In ancient times, a warrior chief was called 'a'ama kua lenalena-"rock crab with yellow back"-because of his agility, swiftness and the brightly colored feathered cape that covered his shoulders. He was likened to the fierce 'ahi fish, the powerful shark and the eel, in that he fought bravely to survive. Likewise, warriors in combat were compared to gaming cocks with razor-sharp spurs; in phalanx formation, they were powerful ocean currents, sweeping over the battlefield and leveling the opposing army.
He learned the use of implements that improved coordination and judgment. Wooden spears were for fencing, parrying and hurling at targets such as cut banana stumps. To develop strength and accuracy, he excelled at the sport called 'ulu maika, in which stone bowling discs (originally unripe breadfruit, or 'ulu) were rolled on playing fields 200-250 feet long. He also practiced at throwing or sliding javelins, darts and sugar cane stalks on grassy courses, and sharpened his aim and distance perception by casting sling-stones and shooting arrows of cane flower stalks.
At the completion of each phase of training, he underwent difficult tests of skill. In one test, the student stood with arms outstretched, palms down, not lowering either arm as a second person walked on top of the right arm, over his head to the left arm, then back again to the right.
It should be mentioned from the outset of this text that a warrior attained the status of 'olohe, or expert, by mastering the disciplines of hula and ku'i a lua (fighting arts, of the same name as the deity Ku'ialua). So highly regarded were these two sacred traditions, that each was said to stand in the shadow of the other. Hula acknowledged the dual nature of Laka-as the deity of forest greenery, healing and creative energy, and as Kapo, Laka's opposing, or negative, side. The fighting arts, honoring Ku'ialua, included instruction in the human anatomy and healing techniques, along with the numerous fighting holds or strokes, called 'ai.
'Olohe dedicated to ku'i a lua formed an elite class of warriors who served as bodyguards to the chiefs. They had formidable "weapons"-well-placed strokes and holds that broke bones, dislocated joints and applied pressure to nerve centers and vital organs. Each 'ai, or hold, was known by a specific name that usually contained references to gods, chiefs, places, birds, sea creatures and other things found in nature or in material culture. These names were quite descriptive, and even poetic: "The loincloth of Chief Liloa," for example, or "The snout of the hog," or "The beauty of the evening rain of Manoa returns."
The weapons, fighting arts and strategies contained within this thoroughly researched work should attest to the prowess and abilities of Hawai'i's koa and should shed some light on just how ruthless, courageous and loyal these warriors really were. They were a breed apart from what we imagine and know what warriors are today. With nothing more than their hands and simple weapons-by today's standards-they put their life on the line with unhesitating fervor. Undaunted by threats or intimidation of a superiorly armed force from a rival kingdom of another island in the Hawaiian archipelago, these magnificent, well-trained militiamen knew not the meaning of fear or peril. They were groomed for fighting to the death in the name of their king. After all, they were the elite Hawaiian koa.
Endorsements:

My congratulations to haumana Sid Campbell on the completion of the Warrior Arts and Weapons of Ancient Hawai'i. As a fellow lifelong martial artist it has been an honor to know him as a friend, warrior, writer, artist, and above all as a bearer of the aloha spirit. As an Olohe Lua it is rare to see a man so sincere in his efforts to portray our culture and our warrior ancestors with the honor and valor only a true warrior can understand. He went about his research with humility and true respect for the Hawaiian people and the cultural realm he was entering. This is a rare and wonderful quality. I hope this work helps many future generations of Hawaiians rediscover their roots and leads others on the warrior path to appreciate our history.

On this auspicious occasion I give to Sid Campbell the Hawaiian name KA'IMI, which means "The Seeker". This name is a portion of my own name and this because I recognize Ka'imi as family. My friend and brother Ka'imi Campbell is a true seeker of knowledge in the warrior traditions of all the cultures in our great human family. He learns and shares with an open heart. With this name may he always call Hawai'i his home.

Malama Pono,
SIR KAINOA KEKOAOKALANI LI
Olohe Lua
Kahuna Lomi Lomi
Pa Ku'i A Lua A Ku Waha Ilo
Mililani a me Makaha, Hawaii.


Awareness of the martial arts, weaponry, dances, music, tools, diet, and language are so important amongst the Hawaiian's cultural heritage. The spirituality goes hand in hand with all of the aforementioned. This book will be a steppingstone to many readers who have not yet grasped this aspect of the Hawaiian culture. Many of the various styles and shapes of weapons used in battle during the era of King Kamehameha were not shown to the general public, therefore, it is with great respect and honor to the younger generation that your illustrations are revealed in such a way where it will be educational and profitable in knowledge to everyone concerned.


The hula kahiko (ancient Hawaiian dance) reveals a kauna (hidden meaning) as well as the Hawaiian Lua (Hawaiian Martial Art) in warfare as well as romances or tales of long ago. You have unveiled a lot of unanswered questions and visions pertaining to the Hawaiian myths; legends; and untold stories and my deepest respect go to you and your awesome endeavor of this Hawaiian treasured book.

With fondest aloha & respect,
Al Dacascos
Lua Practitioner, Kajukenbo Grandmaster,
Founder Won Hop Kune Do Kung-fu
Oahu. Hawai'i

"Uncle" Sid Campbell's art and writing is truly reflective of the Hawai'i that I remember the makua (parents and relatives) describing as I was growing up in Maui. The kahiko (ancient dances) that I love so much reflects the true spirit of the warriors of yore. I think "Uncle" Sid has captured that splendidly with his book Warrior arts and Weapons of Ancient Hawai'i.

His love of Hawai'ian history, culture, tradition and sense of documenting the islands is simply the best. What makes it even more unique is the fact that he has studied the martial arts for over forty-five years and really knows how to convey the pure essence of what his is writing and painting about and that if Hawai'i. His art is awesome!

Aloha and mahalo,
Lysha Kamisato
Miss Maui, 2004

Sid Campbell is as much óhana as my own family. We have shared much of the ancient ways that existed in Hawai'i long before the Europeans arrived. My ancestors were warriors and passed many stories to me and I am honored that he decided to convey some of these ancient teachings in his latest book.

As fellow martial artists, I am blessed to know Sid Campbell and have always enjoyed the way he writes so passionately about the history, traditions and the people he loves.


Much Aloha,
Kailani Koa
Black Belt, Kajukenbo
Hula Dancer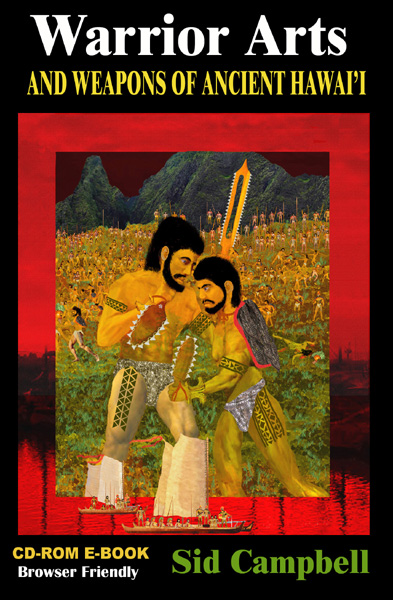 Publishing Information:
ISBN-10: 1-58394-160-6
ISBN-13: 978-1-58394-160-7
$39.95
Trade Cloth
288pp, 8 x 10
Color photos and illustrations throughout
Martial Arts & Self-Defense
HISTORY / United States/State & Local/West (AK, CA, CO, HI, ID, MT, NV, UT, WY)
HIS036140
Fall 2006

Author information:
Author and artist Sid Campbell's passion for Hawai'iana culture and traditional ancient weapons lore is reflected in his original artwork found in this book. Campbell has made the primary theme of his art the warriors and the cultural lore surrounding the mystique of these ancient fighters, in a gallery-sized collection of highly detailed Hawai'ian warrior art. In the past 40 years Hanshi (Grandmaster) Sid Campbell, 10th dan (Tenth-degree black belt), has taught over 15,000 students and has been either directly or indirectly responsible for black belt rank awards being bestowed on over 850 martial artists who have earned these prestigious honors in the art of Shorin-Ryu (Kobayashi-ryu) karate-do.
Websites:
Email: Dragun3@aol.com