Physical Training Sept 2006
Cleaning the Niten Ichiryu Dojo

copyright © 2006

Jeff Broderick

, all rights reserved



I think I might get the chance to get a bit more into Niten Ichi Ryu. I had a one-on-one practice with Iwami Soke a couple weekends ago, and it was really good. Well, actually it was terrible; or rather, I'm terrible ... we were practicing walking, for God's sake. That's how far back to the beginning we had to go.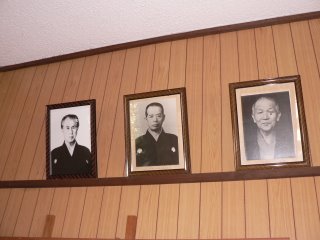 Cleaning the dojo under the watchful eyes of Imai Soke, Kiyonaga Soke, and Aoki Soke.





It was an interesting practice, though. First, we spent about an hour cleaning Imai Sensei's old dojo. It was a bit neglected. As it was well over 30 degrees and extremely humid, I was really embarrassed because, as I shlepped the vacuum cleaner over the floorboards, I was literally leaving a trail of sweat droplets every few inches. By the time we finished cleaning, I was dehydrated and absolutely exhausted. It was really, really tough for me to muster up any strength or "spirit" for training, and that's awful when Sensei wants to see how much spirit you can develop. I looked and felt like a wet rag.

It made me happy to be able to clean the dojo, though. I have always felt that true training is synonymous with being in service; with being of use to somebody. Perhaps, if we really believe that the focus of martial arts is self-improvement, we should go out a few nights a week and hit a soup kitchen and skip the dojo entirely...

Anyway, here's the flipside of things ... a tongue in cheek portrait of "Jeff-as-samurai". (To be perfectly honest, I ran into my friend on my way to practice, and she insisted on taking a picture of me.) But actually, it's not a bad shot... if every Japanese woman under the age of 60 didn't think that "budo" was synonymous with "weirdo" maybe I could use it to pick up chicks... if only ...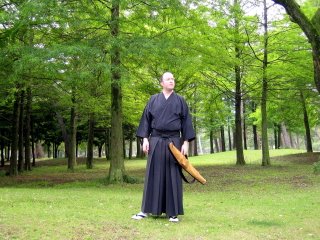 Yeah, I'll admit it: I only got into iai because of the cool clothes. And I'm okay with that
.
---
Our Sponsor, SDKsupplies