Physical Training May 2005
A Visit to Shimane
Copyright © Sebastien Cyr 2005. All rights reserved.

The following travelogue is a brief description of part of my travels to Japan in March 2005. In this travel I was able to meet my iaido teacher who had retired in the mountains of Shimane prefecture. It had been 5 years since I last met him in Japan and for many reasons I had not had any contact with him for that long period of time and was not able to find where he had moved to in Shimane when he left Osaka. With the help of a fellow budoka in North America I was able to find where he now lived. So I decided to visit him on my next trip.

I arrived in Japan on the first of March at the Kansai airport in Osaka and for the first couple of days I stayed in Kyoto to visit some of my relations at various temples and also my shakuhachi teacher. From there I went to Seki in Gifu prefecture to meet my friend Taro who is a swordsmith, and to pick up the shakujo (monk's staff) he had made for my trip. I stayed in Seki for 2 days and prepared for my trip both physically and mentally at a small Tendai temple before leaving for Shimane.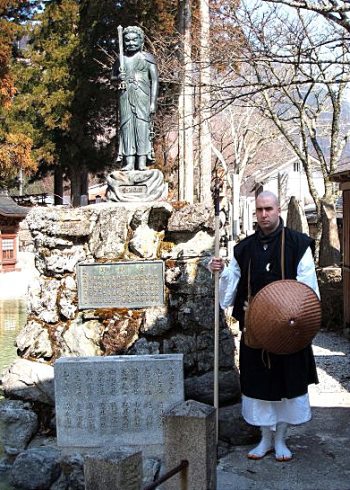 Our traveler with his new shakujo,

trying to look tough in the cold


I left Seki at 5:00am and Taro took me to the nearest Shinkansen station wich was Gifu-Hashima. From there I took the Shinkansen all the way down to the Shin-Yamaguchi station. From there I took a local train all the way to the prefecture of Shimane. While on this local train I started to realize more clearly why my teacher had decided to go back to his native place after so long away. Even if this place is south of the main island in Japan I was surprised at the size of the mountains and even more by the fact that it was full of snow and getting colder with each station we passed. From what I could see and feel this place was truly remote and the nature still intact, indeed this place was the kind of place a budo teacher would choose to retire with the kami and bossatsu (gods and buddhas) deep in the mountains.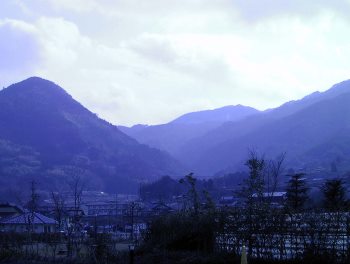 The mountains in Shimane

I finally arrived in the little town of Tsuwano and went to my ryokan (Japanese style inn). Walking about 3km from the train station I truly felt the cold getting into my bones since I was only dressed up in my monk's travelling garb with only a fundoshi (loincloth) as underwear. Morever my jikatabi (sandals) were starting to get wet from all the snow around me in the streets. As soon as I arrived at the ryokan I asked about the easiest way to get to my teacher's place, and was told I was not mentally sane if I wanted to get there by foot with all the snow that had fallen. Nonetheless the next morning I picked up my shakujo, bowed to them and left for Kakinoki-mura deep in the mountains.

I left the ryokan at 11:00 am and got to the mountain road that led to my teacher's house from Tsuwano. From there I walked deep into the mountains for more than 4 hours before reaching his place. The road to his house was indeed full of snow and also deserted, I saw no cars the whole time and later found out that only one truck in the area can make it up the road. The views, however, were beautiful and helped me forget about the cold a little. My shakujo was getting heavier each step I made, and I started to rely on reciting various texts to keep me going. Eventually I saw a small house with a front gate that had my teacher's family crest and like most Japanese houses, the family name written on a wood plate and for this occasion including the name of his dojo.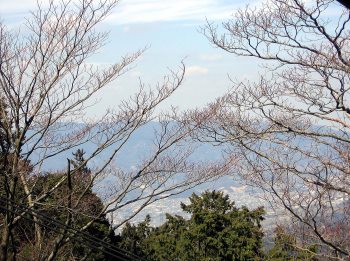 On the road

I straightened my sleeves and shook the snow off my straw hat and proceeded to knock on the door. Sensei's wife came and opened the door but since I was dressed as a monk did not recognize me. When sensei arrived to greet me at the front door his face looked as if he had seen a ghost. Now remembering the scene I fully understand since it was snowing with grey skies and out of nowhere a monk comes to knock at your door, but turns out to be one of your old students who most of all is a foreigner. Nonetheless I was invited inside and we chatted for a couple of hours about his present life and also why I became a monk. We also remembered how different I was 5 years ago and it reminded us that we never know how life is going to turn out, since who would have planned we would meet again under such conditions. By that time it started to get dark and my teacher offered to have me stay at one of their neighbours a couple of km away but I decided to walk back to Tsuwano for some stupid reason, even after I was invited to stay. So I read a few basic sutras for them and I stepped through the front door agreeing to keep in touch, bowed to them, shook my shakujo, and left.

Back on the road it started to snow again and it got colder each minute as the sun went down. At that time I knew I had to walk fast and get out of those mountains to reach Tsuwano as soon as possible or I would freeze to death. While walking in the dark I only had the sound of my bell, my chanting and the ghosts in the woods to keep me company. It is at that moment that I started to truly understand the hardships that the monks had to go through in the old days, walking from village to village to bring the teachings of Buddhism. Although I was soaking wet and could not feel my feet anymore, I found my true inner strength and kept going, knowing that this little suffering was nothing compared to what many others went through.

When I got out of the mountains I stopped at the first house I could find to ask for shelter since by that time the wind was very strong and I could feel some of my clothes freezing on my body. The old lady at that house was more than happy to welcome this strange monk at such a time. She got me undressed at once all the way down to my fundoshi and took me to the bathroom for a hot bath. When I got out she and her husband invited me in their main room to talk a bit but first I asked to call the ryokan I was supposed to stay at in order to let them know I was OK and not to worry about me. The ryokan called the police to tell them that the strange foreigner was not lost in the mountains after all. When that was done I explained my story to both of my hosts and then was invited to sleep.

The next morning when all my clothes were dry I offered my services as a monk and read the sutras in front of the family butsudan. After I was done my hosts offered to give me money to put me back on the road and help me in my studies. I didn't accept the money but said I would be happy to receive some food instead. My hosts started to laugh saying it was unusual for a monk in Japan to refuse money these days. I then left to pick up my other items at the ryokan before proceeding to back to Kyoto where some other unexepected events happened that I will leave for another travelogue.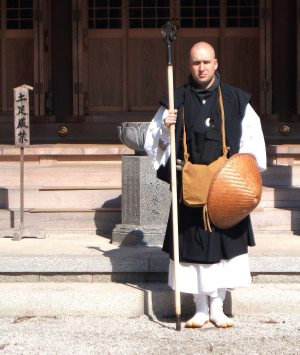 Our traveler safe and dry
---
Sebastien Cyr is a Rinzai priest and iaido instructor in Montreal Quebec. His iaido teacher is Miura Takeyuki Hidefusa. You will find Cyr sensei's webpage at
http://www3.sympatico.ca/shunpukandojo/home.html
Our Sponsor, SDKsupplies