Physical Training May 2004
Tisha: Fit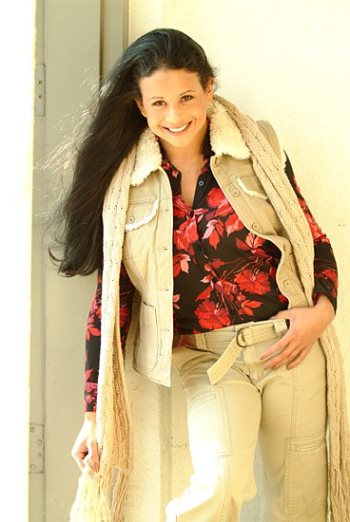 Ken Morgan copyright © 2004 all rights reserved
This month we're featuring model, writer and fitness competitor Tisha Rodrigues in an interview with Ken Morgan.
Ken Morgan. Where and when were you born?
Tisha Rodrigues. I was born in providence, R.I. on December 6, 1976.
KM. Are you married? Children?
TR. I am married for almost 8 years now with three beautiful, full of life children.
KM. What do you do for a living? How do you pay the bills?
TR. I am a personal trainer and model. My husband pays the bills.
KM. Can you give us a brief run down on your experience in Fitness/shape/bodybuilding competitions? Anything coming up?
TR. I have been competing for three years. I have competed in NABF, Fitness America and ANBC. I have an upcoming competition on April 24th in Connecticut for Ms. Bikini Atlantic, which is physique. I also will be doing my first NPC show in May in Boston, Ma.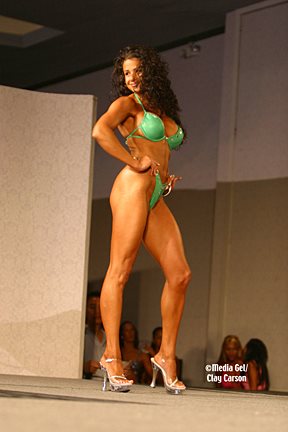 KM. That sounds like a lot of shows in a short period of time. How do you stay in contest shape when the shows are only a month apart, without getting run down?
TR. I stay in shape by switching up my routines and trying new exercises and classes on a regular basis. Whether it be sparring, bicycling, a Bosu or Yoga class to intense weight training or training by repetitions with lighter weights, switching back and fourth from Universal equipment to Hammer Strength and good old dumbbells.
KM. Forgive me but what exactly is Bosu?
TR. Bosu is the new Fitness ball with two sides, one side is a ball and the other is a platform. Bosu was designed to help you achieve your balance while obtaining ultimate core strength. I am sure the Bosu craze will spread very quickly leaving no one unknown to its amazing benefits. It's funny you ask, I will be turning in my article on it for bodybuilding.com by the end of the month, I will let you know when it comes out.
KM. How did you develop an interest in fitness competitions?
TR. I started working out at the gym and seeing my scrawny arms actually taking shape, I started reading magazines such as Oxygen and Muscle and Fitness and reading up about competitions, and I decided to give figure a shot! The rest is history.
KM. Having three young children and training as often as you do must be very difficult, how do you balance it out and stay sane/guilt free(!!)?
TR. Yes, it is very difficult, I personally do not believe in excuses, because if I can find the time, then quite frankly anyone can. It's really all about what you want and how bad you want it. I train while my children are in school. I also do an hour of cardio every day in the toy room we built downstairs for the kids, so that I am nearby to see what they are up to. The only time I feel selfish is when I take money to compete out of state, because these events are much more time consuming and costly. That is why I mainly compete in one-day local events. Working out IS what keeps me sane.
KM. Any advice for women thinking about beginning to weight train?
TR. My advice would be first off, do NOT be afraid of weight training! You WILL NOT look like a warrior princess a month or two from now, in fact, you never will. Women who train in bodybuilding are on special diets and supplements with workout regimens you couldn't even dream up, so no worries. Lifting is all about reshaping and toning your body and best of all...burning fat like a sauna! Once you see what lifting can do for your physique and your health, you will never want to turn back.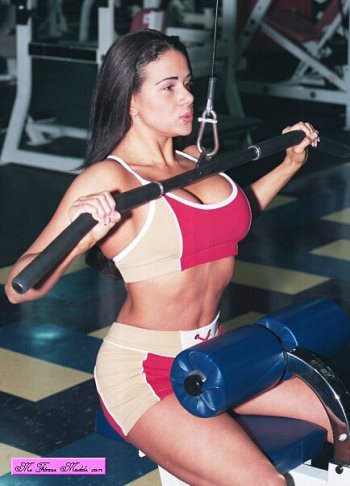 KM. Any thoughts on the decline of woman's bodybuilding and the current popularity of physique/shape/fitness shows .
TR. I think it's a shame that women bodybuilders do not get the respect that they deserve. Myself, I personally like the more figure-type physique, but these women are way overdue on public credits. It is absolutely phenomenal the way these women are built and what they go through to achieve it. I think the same way about figure competitions, they are so underestimated and it really isn't fair. We are all athletes, who have dedicated our lives to the sport, can we get an APPLAUSE? Please...
KM. What is the most difficult aspect for you when competing? Eating? Weight training? Stage routine? Mental focus?
TR. The most difficult aspect of competing for me is the diet. I am such a junk food junkie, it's out of control, of course as I have gotten older, it's much more regulated, but I hate not being able to snack especially throughout the weekends. The mental will get to you, if you let it. The most valuable advice I have ever been given came from Mia Finnegan after my 3rd contest. She said, that you have to love competing and basically accept all that comes along with it, if you cannot learn to accept that, then it isn't for you. I take the good with the bad, of course I am still waiting for my day, but I work hard, I am positive it will come, soon, I hope...The lifting is the best part, I feel so strong when I lift. I was always teased about being a stick figure, come tease me now! (laughing)
KM. Do you have a preference for free weights or machines? Or do you just like to mix them up?
TR.I actually prefer free weights, because it's the old school way, but I constantly switch up my workouts for the best results, you have to keep your muscles on their toes of course.
KM. How does your training differ prior to a show and off-season?
TR. Off season I am strictly weight training. I try to put on a couple pounds of muscle during my time off as well as taking a well-needed rest so that my body can recuperate and rebuild as well. I take in the most protein during this time, but I am not always eating very clean.
On season, I am in the gym two times per day 5 days per week as well as a Saturday morning yoga class for finding myself and staying in focus so that I can concentrate on the goals I want to reach. In the mornings Monday through Friday I do cardio. Monday is an hour of Bosu, which is cardio and core strength in one. Monday afternoon I train shoulders/chest and abs.
Tuesday is step aerobics for 1/2 an hour and kickboxing for 1/2 an hour. In the afternoon at home I will do another hour of cardio either on my stationery bike or trekking on my treadmill.
Wednesday mornings I take circuit training class for 1 hour and then return in the afternoon to train triceps and biceps/abs, I may do another hour of cardio at home depending on my energy levels.
Thursday morning I take a 1 hr. kickboxing class and then an hour of cardio at home in the late afternoon.
Friday morning I take the circuit truing class and return in the afternoon to train shoulders again as well as back and abs.
Saturday morning I go to yoga for 1 hour and then I train legs and Glutes, I am done for the weekend, unless I have a moment of weakness.

KM. What type of cardio do you do off-season? Prior to a show?
TR. I don't do much cardio off-season, I take that time to add size. The most I may do is bike riding or skating with the family. I also love swimming in the summer in our pool and playing with the kids is always a great cardio session.
KM. What weight do you get to off-season? What type of body fat do you routinely carry on show day?
TR. Off season I am about 125-126 pounds. On season I drop to about 119-120. My body fat % is around 14-15% off-season and 10-12% on contest. Just 1 year ago before I started working with Ritch Finnegan for nutrition, I was 10 pounds lighter on muscle. I put on 9 pounds of lean muscle mass working with him in a very short amount of time, it was amazing!
KM. How does your nutritional intake vary off-season?
TR. I don't diet whatsoever off-season. I take in my protein but I eat whatever I want, I am blessed in that sense. But come competition time, the game is on! I stay extremely focused on my goals and what I want out of the upcoming competition.
KM. You talked about having higher amounts of protein off-season, as you try to gain lean mass, what are your primary sources? Meats, poultry, Fish, shakes? Why? Is there a brand of protein that you prefer?
TR. I eat lots of chicken, lots and lots of Chicken. Steak and roasted meat. The funny thing is I HATE fish, ugh, I hate it really bad! I will eat tuna, but that is where I draw the line, it's a shame really. I also use a whey protein, which is low carb, by Biochem (Ultimate Lo Carb) I just got it from Bodybuilding.com, I think it tastes great!
KM. As EJMAS has a great many martial artists visiting, I have to ask about your martial arts experience. I understand that you currently do some kick boxing and in the past did some TKD? Do you find the experiences having a positive effect on you personally and professionally?
TR. I was training with Tony 'TNT' Ventura for a short while in kickboxing and then it became unfeasible as an addition to my workout regimen with the children and life, I began training at home with my husband who is a very experienced martial artist. I love it, I was actually trying to enter fights, but naturally that would have been a bad move for my modeling career and I knew if I stayed in that environment for too much longer, my heart would have given in to the sport for sure.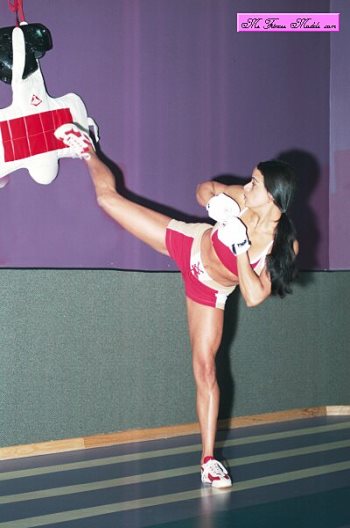 KM. Is there one moment in your training/competitions that you are particularly proud off?
TR. Yes, I came in fourth place in Ms. Bikini last year in Boston, my goal was to place in the top 5 and that is what I did, I felt very accomplished!
KM. Can you be contacted through your web site for guest appearances, personal training and such?
TR. I can be contacted through my website http://www.Tishafit.com for guest appearances, modeling inquiries and personal training.
KM. What do you do that is completely and totally for you? How do you relax?
TR. Not much really, not too much time, so I would have to say the time I take training at the gym everyday. That is my alone time, but I love to lift, I love the pump, I couldn't feel right at the end of the day without a workout. Once in awhile, my husband will treat me to a day at the spa and that works too! (laughing)
KM. What does the future hold for Tisha Rodrigues? Where do you want to be in five years?
TR.I hope to be helping others get started in the Industry, showing them the way, hopefully, I can one day be looked up to as an icon or just a great role model, that would complete me. I want to be exactly what Mia and Ritch Finnegan are to the Fitness World, they are my inspiration and I will do it. I would also like to continue my writing with the fitness columns as well as possibly publishing my long overdue book of poetry and life story.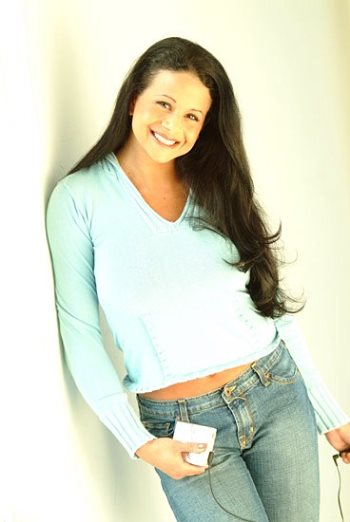 ---
Our Sponsor, SDKsupplies