Physical Training Feb 2004
Showballs: Juggling Basketballs and Kids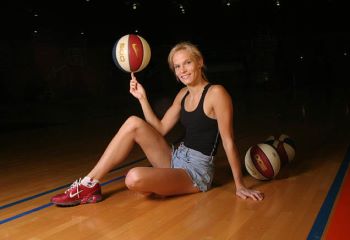 Ilze Luneau is a basketball-juggling six-foot stunner who also models while raising a couple of kids. We thought this month the readers of PT might like to learn a bit about time management.
Interview by Ken Morgan copyright © 2004 all rights reserved
Physical Training: Tell us a bit about yourself Ilze, where and when were you born?
Ilze Luneau: I was born in a resort city Jurmala in a Baltic State called Latvia. I was born on August 24, 1974.
PT: Married? Kids? Education?
IL: I'm married to Matt Luneau who is an assistant women's basketball coach at Syracuse University. I have two daughters, Iliana age 3, and Marika age almost 2 (in May). I have a business degree from The College of Saint Rose in Albany, NY, and a MBA Degree in Marketing from SUNY, Albany.

PT: Business degrees? I would have thought that with your background a Phys Ed degree would have been in the cards?
IL: At the time I was not sure what I wanted to do after college, so I went for business because I was good in math and logic. Later I realized that I really like marketing, so I got my MBA in it. My education does help me in marketing myself, and maybe in future I will work with an advertising agency. I am one of the rare people who love to look at the commercials and would like to maybe someday help design them.

PT: I hear that you don't own a Television set, why?
IL: Well, we do own one now, just for the winter months for the kids to watch a video or two. We get the basic three channels on TV, too. But in spring time we put it away because we believe in active play for the kids, and we ourselves don't want to waste our time watching TV.
PT: Active play in what way?
IL: Spring, summer, and fall we are always outside playing in the yard, going for walks or to the park. I like to play with my kids outside, and go exploring. I also get a chance to practice my basketball tricks while they are playing outside with their balls or toys.

PT: Tell us about your love of basketball?
IL: I have played basketball since the age of 9. In Latvia, where I'm from, you commit yourself to one sport instead of playing several, and you do it pretty seriously. I practiced every day from an early age, and 2-3 times a day in summer time. I probably missed 1/3 of the school year during my highschool years playing and traveling around with my club and youth national teams. I grew up with a basketball team being my second family. Then I married my husband Matt who is a college basketball coach and started doing basketball entertainment and motivational shows, so I've been around basketball all my life.
PT: Do you miss the competitiveness of basketball? Of actually being on the court?
IL: I did miss it a lot for the first year after college. I think that was actually one of the reasons I picked up the ballhandling practice from Matt, because I missed being involved in basketball. I don't really miss playing any more, too busy, I guess. I do like playing once in a while, I most often just play one-on-one with Matt, that's fun.

PT: You and Matt offer ball handling classes as both entertainment and for improving a player's ball handling skills. How did you both get started in this end of the game?
IL: My husband got me into it. I saw how much fun he was having, and how much positive impact on the kids he had, and I wanted to do that, too. That kept me involved in basketball after playing in college was over. I also loved and still love to practice new tricks to get ready for the shows.
PT: How do you develop the new tricks?
IL: We just kind of just come up with an idea. Most of them are Matt's, some we have gotten from seeing others perform. Right now I'm working on dribbling 5 basketballs, and it's just trial-and-error in the begginning to find out what works, and then it's just practice to perfect it.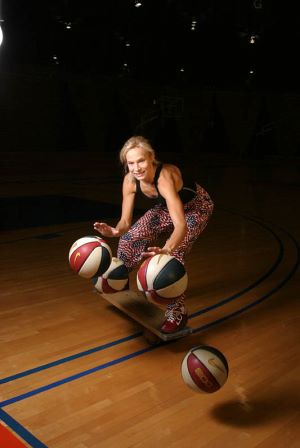 Ilze juggling 4 balls on a teeter board
PT: I understand that you also do some modeling, how did you get started in that?
IL: Yes, I do some. I have always been told by people that I should model because of my height and built, so I tried it, and I love it. It's a lot of fun, I like being "in the spotlight", and I love meeting and working with new people.
PT: Any particular aspect of modeling you enjoy the most? Photography? Runway?
IL: I definitely like photography the best, and commercials. Runway is fun, but not my favourite.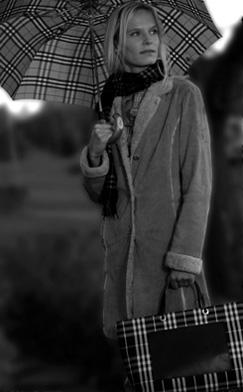 Ilze for Burberry
PT: Modeling, basketball, children, marriage, that's a full plate for anybody!! What do you do that is completely for you?
IL: When you love what you do, it doesn't feel like work. I love doing basketball shows, I love practicing for them , and I like modeling. I definately love spending time with my kids and husband, so I don't really need anything else. I feel like I have it all. My favourite thing of all for relaxation is going to my husband's, parents' place in St. Albans, Vermont in summer time and spending some time outside on the farm. Nothing else comes even close to that!
PT: What about training? In order to keep your basketball skills up you must put in countless hours of practice?
IL: Yes, I did in the beginning before I had the kids... now we go to the gym in the afternoons about 4-5 times a week for an hour, and a couple times a week I get a couple of hours on my own when the kids are in the nursery school. I also practice at home in our yard in summer time and in the living room in winter.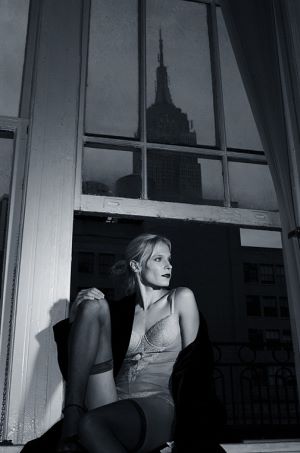 Ilze in NYC
PT: What other types of training do you do? Running? Weights? Biking?
IL: I used to run a lot, again, before I had the kids. Now I just do a little bit of running here and there. I would love to get a stationary bike, because I could exercise right in my home while the kids are napping, but I don't have one now. In summer time I just put both of them in a jogger, and go for a run. In winter time it becomes more of a challange to work out, but my basketball juggling is like weight lifting and I manage to get 2-3 runs in a week for 2-3 miles each. I might join a gym to get more of a work-out eventually, because the gym offers to take care of the kids for couple of hours. Everything becomes more complicated when you have kids...
PT: Running after the kids?! Any other sports that you participate in?
IL: Actually, running after the kids is my main work out! and carrying them around. I don't really concentrate on any other sports beside basketball, but I like playing any sports in summer time for fun with friends.
PT: With such a busy lifestyle what is your dietary intake like in a typical day?
IL: I just eat what I want in reasonable portions. I'm not really a follower of any particular diets, but I'm also not a big junk food eater.
PT: It must be difficult to maintain a model's shape with your training and busy life style?
IL: No, I'm very blessed to have a high metabolism, I guess. Since I had kids, I have actually became about 10-15 pounds lighter without even trying. I think the busy lifestyle and basketball training keeps me in pretty good shape so far.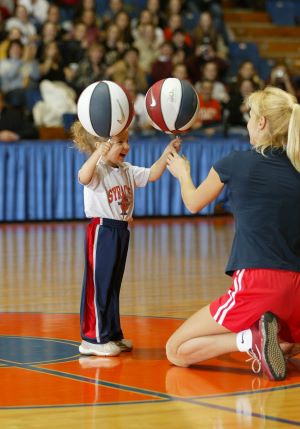 Iliana working with mom
PT: The business that Matt and you have, http://www.showballs.com, is there a particular message that you try to get across to the kids that you train?
IL: Yes, we not only do the show for basketball players, but also for kids. We do basketball assemblies in schools where we talk about having a dream, believing in yourself, working hard, having fun, never giving up, not being afraid and not using drugs and alcohol.
PT: What does the future hold for Ilze? Where will you go from here?
IL: I love what I do right now, and just would like to expand on that. I would love to do some shows for professional basketball team half-times, do more shows for school assemblies, and of course, keep speaking at basketball camps. I would also love to do some more commercial print and advertising modeling.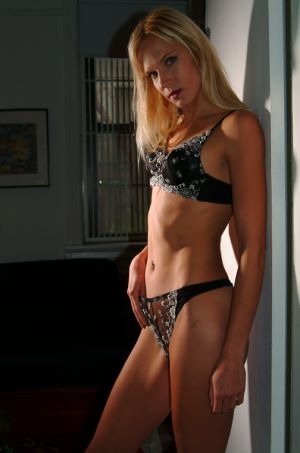 PT: We suspect you'll get your wish! Many thanks for speaking to us this month Ilze.
---
Check out Ilze's website at http://www.showballs.com
---
Our Sponsor, SDKsupplies