Robert "Ripper" Takeshita
Journal of Combative Sport November 1999
By Joseph R. Svinth
Copyright © 1999. All rights reserved.

Robert Mitsuo Takeshita was born at Palama, on the island of Oahu, in 1927. Although never weighing much over 140 pounds, at Honolulu's Farrington High School he played varsity football.
After graduating from high school in 1945, Takeshita took up amateur boxing in Honolulu. "His mannerisms and attitude were extremely cocky," said Ted Yamachika, "or so it looked to the fans. People started to dislike him then and they made no bones about wanting to see him get dumped and they came out to see him every time he fought." But such people were disappointed because Takeshita won all his fights and went on to become the US AAU welterweight champion in April 1946.
On June 21, 1946 Takeshita turned pro. His promoter and manager was Sam Ichinose. Born on Maui on November 12, 1907, Ichinose took up boxing after dropping out of high school in the early 1920s. He wasn't much good, however, and lost his one amateur fight on a foul. ("I hit the guy in the balls," Ichinose recalled. "I guess he was jumping around too much.") He liked the gym and the men in it, however, and in 1931 he organized his own boxing club called the 49th Street Gym. His most famous prewar professional fighter was probably Freddie Gomez, who boxed as Mexicali Rose. After 1935 Ichinose also established the short-lived Japanese American Athletic Association in Honolulu. This organization promoted amateur boxing, and fighters who fought under its auspices included Paul Matsumoto, Johnny Manalo, Salvador ("Dado") Marino, and Yasu Yasutake. Finally, in 1940 Ichinose took a Hawaiian boxing team to Japan and Korea for a series of international contests that ended in a 2-2 tie.
The way Ichinose afforded this expensive hobby was by borrowing money. "Prior to the war, it seemed like I was always in hock to the loan company," he said. "The thing that kept Sam going," his future partner Ralph Yempuku said in 1988, "was not money. It was the fact that he loved boxing. It was his life. This guy could make a fight but… couldn't make money."
So, to make money, on November 30, 1941 Ichinose turned to another of his hobbies and opened a bar on Hotel Street called "Sad Sam's." (The name referred to the hangdog expression Ichinose presented to sportswriters whenever he had to explain how one of his fighters had been robbed of a decision. "I'd talk to the writers," he said, "and the face I'd present was like, gee, just like it's going to be the end of the world for me.") The timing of the purchase was outstanding, too, as a week later he wouldn't have been allowed to buy the bar, which minted money during the war.
After the war Ichinose spent most of his wartime profits chasing the world flyweight title. His fighter was Dado Marino, a former amateur champion who had turned pro in June 1941. World War II kept Marino from doing much fighting outside Hawaii, but once the war ended Ichinose began arranging for him to start fighting throughout the US, Europe, and Japan. Marino's postwar stable mates and sparring partners included Tommy Blondin, Tsuneshi Maruo, Baldwin Okamoto, and of course Robert Takeshita.
Takeshita's won his first pro fight, against Justo Aguilan on June 21, 1946, with a knockout in the first. He continued winning most of his fights by knockout and was proclaimed Hawaii's athlete of the year in January 1947.
The string of successes caused Ichinose to start talking about getting Takeshita some fights in New York City, maybe even at Madison Square Garden. However this was soon changed to a European tour because Ichinose had signed Dado Marino to a match with world flyweight champion Jackie Paterson in Glasgow, Scotland.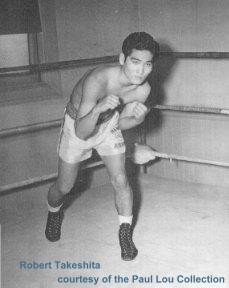 Ichinose and his fighters left Honolulu by air on May 2, 1947. They reached New York City on May 3, paused long enough to spar a bit in Stillman's Gym, and then boarded another plane for Britain, finally reaching Glasgow on May 5.
They set up headquarters at the Bull Inn in Renton, about seventeen miles from Glasgow. The fighters' bright-colored aloha shirts caused quite a stir in Scotland, still drab from the war, but the cool weather was not much to the liking of the Hawaiians.
The innkeeper provided the skipping ropes and punching bags while his wife did the cooking. By rationed British standards the Americans ate like amazing quantities of food. At one meal alone, reported the Pacific Citizen in May 1947, "Marino, Ichinose, Takeshita, Okamoto, and Blondin started off with grapefruit, worked their way through 38 shillings' worth (about $7.60) of fish to a couple of chickens and topped off with dessert."
Then, the week before the fight, the British Boxing Board of Control notified Sam Ichinose that it would not sanction the fight. The stated reason was the Hawaiians were not of "international repute." The real reason, though, was that Jackie Paterson was overweight.
Disgusted, Takeshita returned to Honolulu, where he fought Jimmy Florita, a Filipino boxer best remembered for knocking out Hal Hoshino in December 1941, on August 1, 1947. The result was a victory for Takeshita, a win by knockout in the fifth.
On July 26, 1948 Takeshita fought the highly regarded Max Docusen. The fight took place in Honolulu before 17,334 fans, and resulted in a defeat for Takeshita. "Badly outslugged and outboxed," Ted Yamachika wrote, "Takeshita nevertheless displayed magnificent courage and kept fighting against tremendous odds. And 'tis claimed that Robert made more friends in this single fight than in all his other fights put together." And for his part, Sad Sam Ichinose for once made some money because the gate was announced as $52,785.
"My boy is headed for the top," Sam Ichinose said about this time. But he was wrong; Takeshita was already as high as he would go. On February 1, 1949 Takeshita had a fight with Rudy Cruz in Honolulu. Although Takeshita knocked Cruz down five times referee Walter Cho stopped the fight at the end of the seventh round, calling it a no- contest. "I suspected something was wrong in the third round and became convinced of it when neither boxer made a real effort to fight in the next five," Cho later told the Star- Bulletin's Bill Gee.
The decision triggered an investigation into the fight by the Territorial Senate. After a month of inquiries the Territorial boxing commission renewed the licenses of Takeshita and Cruz but ordered the two men to forfeit their purses. The reason the Commission gave was that it had determined that the unsatisfactory nature of the fight was due to Takeshita trying to give the fans a good show rather than his trying to influence betting odds.
Sam Ichinose explained his part in this fiasco years later. "You have to know your fighter, his capabilities, and match him accordingly," he said. "That's why it's important to import talent that your local talent can overcome… I'm not talking about fixed fights or some other kind of farce… I made mistakes, I admit that. But on a whole I thought my importations were very good fighters."
Unfortunately getting his fighter's license renewed and getting him new fights proved to be two different matters. And, unable to get any fights in Hawaii, Takeshita flew to California where promoter Joe Herman figured his reputation would still draw crowds. Takeshita was immediately offered a fight with Art Aragon at the Hollywood Legion but Herman turned this down because he wasn't sure that Takeshita was up to meeting a top- ranked fighter. As a result he arranged for Takeshita to meet Mungo Luciano in a preliminary bout in Oakland. Then that fight was cancelled because the headliner, Jess Flores, got sick. So Herman arranged for Takeshita to fight Rudy Gutierrez in Los Angeles. That match took place on October 4, 1949. To Herman's horror, Gutierrez won the slow ten-round fight which sportswriters subsequently called the city's biggest boxing upset of the year.
As a result the disappointed Takeshita returned to Honolulu, where his last two fights were two losses by knockout to Philip Kim, one on April 11, 1950 and another on May 29, 1950.
This string of losses effectively ended Takeshita's professional career. He subsequently worked in a photographic studio and as a policeman, and is today living in a long-term care facility in Honolulu.
JCS Nov 1999