Journal of Combative Sport, Nov 2000
Nisei Boxer: Fred Egawa
By Joseph R. Svinth

Copyright © 2000 Joseph R. Svinth. All rights reserved.

Based on an interview with Fred Egawa conducted on December 9, 1999. The assistance of the Egawa family, John Ochs, the Japanese American National Museum, and the King County Landmarks and Heritage Commission is gratefully acknowledged.

Fred Egawa was born in Hawaii on November 5, 1908, and came to San Francisco at age 12. So this would have been around 1920-1921.

In San Francisco, he worked for an uncle named Sam at the latter's restaurant. He washed dishes, cleaned floors, and the like. He didn't get paid, but he did get room and board.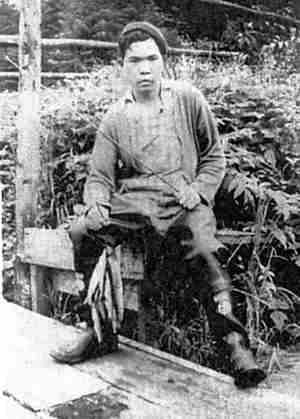 Fred Egawa, circa 1930
To get money, he sold newspapers. "Extra! Extra! Read all about it!" That was him shouting. One day a bigger guy a couple years older came up and asked Egawa for money. He told the guy to go make his own money. The guy knew Egawa had been selling papers all day, and said he wanted all the money he'd made or he'd beat him up. Egawa didn't want to get beat up so he gave him all the money he had, which was $2.78.
Egawa had always been interested in boxing and used to watch the boxers train, so after hearing that he had been robbed a black man at the gym asked him if he was interested in starting training. The young man said yes. "Can you do what I tell you?" the black man wanted to know. "I sure will," said Egawa. So he started training with the black man, whose name was Sam.
Sam was old and a little goofy, probably as the result of being in too many fights of his own. He was not at all good with money, but didn't charge much and gave Egawa a place to sleep. So it was a good relationship.
Training consisted of hitting the bag, jumping rope, and running five miles a day. After this got easy then they got into the ring and did some sparring. Once Sam thought Egawa was ready he arranged a fight for him. Egawa didn't really want to fight, but he didn't want to lose the place he slept, either. So he fought. He won, too, not by knockout but by points.
A few months later Egawa got another fight. He won that one, too, and Sam decided that it was time to go to Seattle.
Before they left California Egawa went to the restaurant where he worked to tell his uncle that he was leaving. His uncle gave him two dollars, which was like a hundred dollars today. Upon leaving the restaurant he saw the fellow who had robbed him a couple years earlier. Egawa walked up. "You remember me?" he said. "I want my money back. Let's go in the alley." There he got back two dollars, because that was all that the fellow had. He didn't even have to beat the guy up; he gave it to him.
In Seattle Egawa did judo at the Seattle Dojo for three years, plus trained every day at the Austin and Bishop gym on 9th Avenue. He didn't pay anything to use the gym: if the boxers didn't go there, then nobody went there and then the gym made no money at all. There were no other Japanese there, but lots of blacks and Filipinos. Egawa's friends included Tony Santos, the brother of the well-known boxer Sammy Santos.
Around 1933 Egawa began boxing professionally, mostly at White Center. That was south of town, near Burien, and being unincorporated King County, it was subject to different laws regarding prizefighting. His manager, Sam, got fifteen percent, which meant that from a $3 fight Egawa took home $2 and change.
He had at least eighteen fights, most of which were wins or draws. [EN1] The opponents were billed as good fighters, but really they were nothing. There were some good fighters on the cards, though, the best-known being Al Hostak, who went on to become a world champion.
Egawa's last fight was in Bremerton in early 1934. The promoter told him to be nice to the opponent, who was supposed to be a good kid with a future. This sounded pretty silly to Egawa, but he needed the money so he went along with it. During the third round they got into a clinch and the opponent kneed Egawa in the crotch. Egawa went down and the referee started counting. Egawa could have gotten up about five, but didn't see the point and stayed down. Afterward the promoter gave him his two dollars and told him that he was no good. No problem, said Egawa, he didn't want to fight any more anyway.
After that Egawa worked at a variety of jobs. The first was as a railroad tracklayer. He lifted the ties up with a shovel, to keep the tracks straight. "I got tired of that, sleeping in a boxcar rather than a hotel. Four beds in there. I got tired of that."
His next job was at a logging camp near Eatonville, which is southwest of Tacoma, out by Mount Rainier. The logging was done about ten or fifteen miles from the railroad. Bulldozers made a skid road to the railroad; then the logs were loaded on railcars for delivery to the millpond. He liked that job, and so worked it for four years.
He met Grace, his future wife, in Seattle in 1936. She was seventeen or eighteen then, and all the boys were chasing her. They had gone out a couple times when this Filipino who liked her too decided he was going to shoot Egawa. "She's not interested in you," Egawa told the Filipino. "You can shoot me, but then you'll go to jail, and you won't have her there, so you might as well leave her alone." That made sense to the Pinoy, so he followed the advice and left.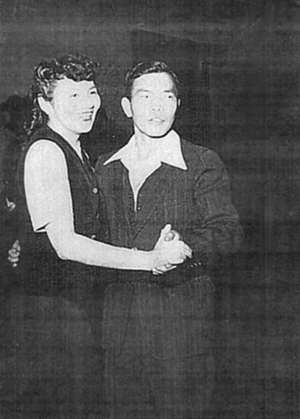 Grace and Fred Egawa
Egawa wasn't planning on getting married, but one thing led to another, and soon he and Grace were in Bremerton looking for a marriage license. The judge said they needed a witness to get married, so Egawa asked a passing policeman if he would do it. The policeman said he couldn't, but knew a cook who could. So the cook was the witness and the judge said a few words, and they were married. "Just a kid at play. A few words. I didn't pay nothing, I was a bum anyway, and the judge knew it."
With a daughter on the way, the Egawa family needed money, and so Egawa went to Cordova, Alaska, to work in a fish cannery for the summer of 1937. He didn't like fish all that much before he started working there, and really didn't like fish afterwards. The people at the cannery treated him well, though, and after finding out that he had been a boxer, they arranged a fight with a local kid for the Fourth of July. "I knocked him down. He was nothing. I just had to hit him." As a result he got a few dollars.
He worked in Cordova the following summer, too, then got a job driving a truck for US Customs.
"I did everything for work," Egawa says, "but boxing was the only job I really didn't like, because I got beat up. I didn't like that 'don't hurt that guy' bit, either. It was an awfully rough life."
During World War II the Egawas, like many other Seattle-area Japanese American families, were sent to the Minidoka Relocation Center in Hunt, Idaho. After the war the family, now grown to three children (Marie, Jim, and Fred Jr.), returned to Seattle, where Egawa continued to work until his retirement. In 1999 Fred and Grace Egawa lived in an assisted living facility in Kenmore, Washington, and their favorite activities included visits from their grandchildren Litonya, Chenoa, Keith, Donald, David, Ken, Theresa, and Aaron.


EDITOR'S NOTES
EN1. For dates of Egawa's Seattle fights, see Post-Intelligencer, February 16, 1933; Post-Intelligencer, March 3, 1933; Post-Intelligencer, March 30, 1933; Post-Intelligencer, April 9, 1933; Post-Intelligencer, April 14, 1933; Seattle Star, April 18, 1933; Post-Intelligencer, April 21, 1933; Post-Intelligencer, May 12, 1933; Post-Intelligencer, June 2, 1933; Post-Intelligencer, October 13, 1933; Post-Intelligencer, October 26, 1933; Post-Intelligencer, November 10, 1933; Post-Intelligencer, December 8, 1933; Post-Intelligencer, December 16, 1933. In general, the fight was the preceding evening.