Journal of Combative Sport, February 2000
The Exemplar of the Piston Attack: The Imperial Japanese Boxer Tsuneo Horiguchi

By Joseph R. Svinth Copyright © 2000 All rights reserved
Imperial Japan's best professional boxers -- Tetsuro Uemura, Teiken Jo, Umio Gen, and Ryushin Boku -- were mostly ethnic Koreans. Professional boxing is, after all, a business taken up mostly by the underclass. The most famous Imperial Japanese boxer, though, was a Japanese named Tsuneo "Piston" Horiguchi. "He did not have a lot of ability," said post-World War II trainer Takayuki Yamagata, told Leo Noonan (The Fighters, 1:1, 1974), "But those fists always, and I mean always, were coming at you. In one fight, both of his eyes had been swollen shut. He went on. Do you know he won the fight?"
Added Hitoshi Misako, a post-World War II Japanese boxer, "Ability did not have a lot to do with the way they fought [before the war]. They were spirited, perhaps more so than most… The fighting spirit that flowed through the veins of all prewar Japanese boxers, say in the nineteen thirties, has diminished greatly."
Finally, Horiguchi's style of fighting, which was known as the "piston attack," after the piston-like way that his arms kept hammering the opponent without giving any thought to defense, exemplified pre-World War II Japanese theories of personal combat. Even the Japan Times admitted that the piston attack wasn't boxing, but it did satisfy fans, and to the Imperial Japanese boxer, pleasing the crowd was far more important than winning or losing, or even his health.
So, as an exemplar of the Imperial Japanese boxer, Horiguchi's career deserves a detailed examination.
***
During the winter of 1932-1933, physicians discovered that the French featherweight (126-pound) champion Emile Pladner was almost blind in one eye. As a result, his license was suspended in Europe. Meanwhile a Japanese newspaper called the Yomiuri Shimbun was looking to promote Western-style boxing in Japan. As the Japanese physicians were willing to overlook Pladner's blindness, in the spring of 1933 Pladner and his sparring partners Aime Raphael and Raoul Hugues took a trip to Asia.
To determine who would fight the French, the Japanese newspaper organized a series of elimination tournaments. Among the entrants was Tsuneo Horiguchi, a 19-year old Waseda University student who boxed at Yujiro Watanabe's Tokyo-based Nihon Boxing Club, and also did some karate with Choki Motobu. [EN1] As he weighed about 125 pounds, Horiguchi usually fought featherweight. (I say "usually" because Japanese promoters tended to match fighters by their ability to please the crowd rather than their actual weights.)
During the first elimination fought in Tokyo on March 23, 1933, Horiguchi earned a four-round decision over M. Kamiyama. During the next elimination match held at Hichiya Auditorium on April 27, Horiguchi beat Jo Fukuyama by a technical knockout in the third. Two weeks later, on May 11, Horiguchi fought Shuku Hashimoto. Wrote the Japan Times' Leslie Nakamura afterward: "Horiguchi … beat the veteran Hashimoto in every round. He had a beautiful combination of piston-like body blows, occasional hooks and straights, and held Hashimoto puzzled until the very end." Finally, on May 23, Horiguchi staged what the Japan Times called "one of the greatest upsets in local ring history when he clipped [Japanese featherweight champion] Kaneo Nakamura" by technical knockout in the second. [EN2]
The latter victory earned Horiguchi a shot at the French fighters. The first match took place at Tokyo's Kokugikan Sumo Hall on June 6, 1933. The opponent was Raoul Hugues. Said the Japan Times afterward, Horiguchi worked "his arms like pistons," and easily earned the eight-round decision.
Horiguchi's next fight was with Emile Pladner. The bout took place at the Waseda University baseball field on July 3, 1933, and the result was an eight-round draw. Pladner probably wasn't trying too hard, however (he got paid the same no matter what the result) and a few weeks later in Shanghai he had this to say about the Japanese boxers: "While the Japanese are game and willing fighters they are not boxers. They lack style and skill and the necessary ringcraft so important in the game. They are all very fit and continually on the go but in spite of the fact that they are strong and tough, they fail badly when it comes to hitting. They seem to specialize in jabbing, rather than using straight blows and hooks that have more power behind them. Another fault is that they take too much punishment, being essentially crowd pleasers."
On October 3, 1933 Horiguchi fought a Korean called Tetsuro Uemura. (In its Imperial translation, Uemura's Korean name was Ryushoku Ri.) According to the Japan Times, the Korean "started at a fast clip and sent Horiguchi to the canvas with a terrific right swing to the jaw for a no-count in the first round, but he could not keep up the advantage. Horiguchi made a brilliant recovery in the second round and severely punished Uemura with lightning rights and hooks to the jaw and body." As a result Horiguchi won by knockout in the third.
At Hichiya Auditorium on November 26, Horiguchi earned an eight-round draw with a Filipino named Fernando "Young Tommy" Opao. Horiguchi's draw owed more than a little to the home town advantage, as the Japan Times reported afterward that Horiguchi "lowered his head and waded in, firing lefts and rights constantly, as is his usual style."
Anson Rego, a Hawaiian boxer who had five fights in Japan during 1933-34, was certain that Horiguchi took too much punishment. As he told local sportswriters upon returning to Honolulu, Horiguchi "was in the hospital when I landed in Tokyo and he was still in it when I left. It was just a case of taking too much punishment. Horiguchi is through. It is too bad because he was the best boy Japan ever had." [EN3]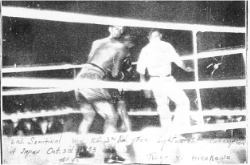 But Rego was hasty in his judgment and on May 1, 1934 Horiguchi had a rematch with Young Tommy. This time Horiguchi won the fight after Tommy committed a foul in the seventh. Before that, however, said the Japan Times: "He made the champion [Young Tommy was the California bantamweight champion] look like a novice." This probably means that Young Tommy had been spending his time partying rather than training, as he was a far better technical fighter than Horiguchi.
During some political squabbling in early 1935 the Nihon Boxing Club was dropped from the Japan Boxing Federation. In the process Horiguchi, a member of the Nihon Boxing Club, was stripped of his Japanese featherweight title. This caused him to be booked for far fewer fights than he was used to, so in August 1935, expressing dissatisfaction over his ability to appear in worthwhile bouts, he quit the Nihon Boxing Club.
His new manager, Fuji Okamoto, then arranged for Horiguchi to rejuvenate his career with some bouts in Hawai'i. The Hawaiian fight promoters included a Japanese American named Steere G. Noda and a Korean American named Mark Choo. [EN4]
Horiguchi's first Hawaiian fight took place in Honolulu on February 7, 1936. The result was a ten-round draw with H. Baguio, who fought under the name Young Gildo. "On the basis of his performance," said the Hilo Tribune-Herald, "it was proved conclusively that … any … top-flight featherweight in the territory can put Horiguchi away any time they want to." Added Honolulu sportswriter Don Watson, "Horiguchi has an unusual amount of stamina and fighting heart … [but his punch] isn't hard enough to dent a package of two day old poi."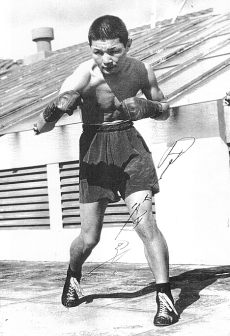 Local fighters concurred with this assessment. In Hilo, for example, Horiguchi trained with a Japanese American fighter named Spud Kuratsu. Horiguchi was "all show and no go," Kuratsu told Curtis Narimatsu decades later. "He had no power in his punches and an ineffective defense." Another sparring partner, Sabas Jamito, agreed. [EN5]
Nevertheless Horiguchi had enough power to pose a threat to a flyweight, and he proved this in Hilo on February 22, 1936 by knocking out a flyweight club fighter named Alejandro Pasmore in four. "Paying scant attention to defensive tactics," said the Hilo Tribune-Herald:
Horiguchi followed a machine-like routine of flailing fists, absorbing three or four to land one or two.

He beat a steady staccato of jabs and straight rights, interspersed with left hooks to the body. His pace was deadly and regular. He kept boring in, pumping away with both fists, cornering Pasmore or backing him into the ropes…

There was no flash to his style. He merely poured in a steady shower of blows.
Not having been in Hilo to see the fight, Honolulu sportswriter Don Watson was more sympathetic, writing in the Star-Bulletin on February 26:
One informer expressed the opinion that Pasmore went down more from sheer exhaustion than from any one punch. A couple of others report that a left hook to the body finished the Filipino boy.

Horiguchi would have to do some real body punching to stop Pasmore, and we give him credit. Augie Curtis hit Pasmore plenty in the body and could not put him away. In fact this is the first time Pasmore has been stopped in something like 30 fights in the islands -- and Midget Wolgast [real name: Joseph R. Loscalzo] was one of his opponents.
Either way, Horiguchi was a featherweight while Pasmore was a flyweight, and against competent boxers his own size Horiguchi's lack of punching power was a serious problem.

In his rematch with Young Gildo on March 14, 1936, the Tribune-Herald said that referee Joseph Baptiste, who gave Horiguchi a draw, robbed Gildo. "Very few of Horiguchi's blows could be identified as effective," said the paper: "He tossed about a bushel of gloves in every round, but none hurt Gildo to any great extent. Gildo's defense was superb, and Horiguchi's relentless attack bothersome but not injurious."

Most importantly, said the sportswriter, "Gildo was unmarked [excepting a sprained knuckle in his right hand] after the scrap, but Piston's face was puffed and his lips bruised."

From Hilo, both Horiguchi and Young Gildo went to Wailuku, Maui. The fight ended in another draw.

Horiguchi's fifth Hawaiian fight took place at Honolulu's Civic Auditorium on May 8. This time the opponent was Buenaventura de Guzman, who claimed various Filipino (but no Hawaiian or American) titles. As a result the promoters billed the fight as the featherweight championship of the Orient.

During the fight, "in possibly one hundred blows not one damaged the Filipino," the Associated Press reported afterwards. "Many seemed to be with the open hand, others slid off elbows and shoulders; but Horiguchi threw enough punches to win on points." But in this he was lucky that the fight was only for ten rounds and not twelve or fifteen, as in the ninth De Guzman closed Horiguchi's left eye and was starting to work on the right.

The Filipino fans in the audience were not pleased by the decision. Several thereupon incited their countrymen to riot. About 150 chairs were broken, a dozen uniformed police were called in, and "there was a mad rush for exits by those who did not wish to get mixed up in the trouble and during this maneuver a number of people were trampled a bit," said the Star-Bulletin afterward.

On May 16, 1936 Mark Choo signed Horiguchi for a rematch with De Guzman, but nine days later Horiguchi caught a ship back to Japan instead. Many Filipino Americans said that Horiguchi was running from the beating he deserved. Nikkei [Americans of Japanese ancestry] angrily replied that Horiguchi was the champion of the Orient and didn't need another fight to prove it.

Partisan squabbles aside, Horiguchi went home because the promoters were the only ones making any money. According to Hawaii State Boxing Commission records, Horiguchi grossed $3,417.38 during five fights and three months. After giving half to his managers and promoters he still had to pay his travel, hotel, and training expenses. So like Joe Louis, the more he fought, the poorer he became.

Back in Japan Horiguchi's first fight was with Koichi Takeda. It took place in Tokyo on June 25, 1936. Although Horiguchi won by technical knockout in the sixth, Leslie Nakashima of the Japan Times was unimpressed: "All offense and no defense continues to be Horiguchi's tactics."

A few months later (September 16, 1936), Nakashima complained, "Something needs to be done about proper judging of this so-called 'piston attack' which was made popular among the fight fans by Tsuneo 'Piston' Horiguchi. The fans virtually go into a frenzy whenever a fighter forces his opponent against the ropes and hammers away with both hands. They think he is scoring points galore even though in reality his blows may not be finding their target and he is being punished by the other's counter punches." But of course it would take another thirty-five years and Muhammad Ali before the "rope-a-dope" defense became acceptable to the average Japanese fight fan.

Horiguchi's next fight was in Osaka on November 1, 1936. The opponent, Clever Sison, was several years past his prime and most likely was on the payroll when he fell to a knockout in the first. [EN6]

On January 4, 1937, Horiguchi fought the Korean boxer Teiken Jo in Tokyo. Jo had lost his last seven fights and hadn't had a match in eleven months. Although Horiguchi won by knockout in the fourth, Leslie Nakashima said, "Teiken's performance was a distinct disappointment. At times, it looked as if he weren't really trying, especially when he covered up and made no attempt to fight himself out of Horiguchi's two-fisted offense."

Two weeks later Horiguchi had a twelve-round fight with Joe Eagle in Tokyo. Wrote Nakashima:
The Filipino won a clean cut decision before 25,000 fans but the supporters of Horiguchi, who had been hoping for a draw if not victory… hurled cushions and the ring and put the place in an uproar. So the Fuji Boxing club, with which Horiguchi is connected, protested against the decision.

Referee Sadayuki Ogino … and the two judges, Kikachi Yoshida and Toyo Sato, were to meet with representatives of the Fuji Boxing club and others concerned the next day, but it fizzled out when the officials failed to get together. Meanwhile Referee Ogino stuck to his decision that Eagle had won the fight.

The Fuji Boxing club … issued a statement yesterday that the vote of the judges and the referee were two to one in favor of Horiguchi, therefore the Japanese boy won… They also made public the copy of an apology written by the announcer, Hachiro Kawada, for having raised Eagle's hand in token of victory…

Referee Ogino declared today he was sticking to his decision. So the controversy is bound to continue. And the fans will be divided in their contention as to the winner.
On October 15, 1937 Horiguchi married 23-year old Akiko Kobayashi. The couple was scheduled to honeymoon in the Philippines, where he had some bouts scheduled. But around January 1938 he was found to have hepatitis and as a result became physically unfit for several months. When he returned to boxing his trainers discovered that he had lost considerable speed. As this rendered his piston attack almost useless, this was a problem. But, rather than encouraging him to retire, Horiguchi's trainers told him that he lacked sufficient Yamato damashii, or "Japanese spirit." So, toward restoring this spirit in their fighter, the trainers then had Horiguchi take up kendo. Said a Seattle community newspaper called the North American Times in August 1939, "He has been practicing nightly at the Ryobukan kendo hall in Tokyo and proving an enthusiastic, if not scientific, pupil. Since Horiguchi is intent only on learning the samurai spirit, his form is said to be very crude and unorthodox. He holds a stubby, specially made sword in each hand and wields them at terrific speed. In fact, so unusual and unorthodox is his alleged kendo form that it has been intimated by the brave that he uses these short swords just like he does his gloves."

While the special training gave Horiguchi sufficient speed and stamina to outlast Cris Peneda, a Filipino who hadn't been in his prime since 1933, it proved ineffective against the fancy footwork of Umio Gen, a Korean with a record of eighteen straight draws or losses in the United States. (Peneda lost by technical knockout in the tenth round of a fight in Tokyo on February 12, 1939; Gen won a ten-round decision in Tokyo on May 29, 1939.) [EN7]

During August 1939 Horiguchi traveled to Osaka, where he beat Yukito Tanaka in ten. Once the act was rehearsed, Horiguchi returned to Tokyo to beat Tanaka by knockout in the eighth.

In September 1939 Horiguchi used his karate and kendo on a Filipino called Fighting De Guzman. It didn't help much, and as far as Leslie Nakashima was concerned the only reason Horiguchi won was a lucky left hook in the sixth that resulted in an undeserved knockout.

On November 27, 1939 Horiguchi fought Taro Aizawa. The venue was Asia's largest indoor movie theater, the Kokusai Theater in Tokyo. Although Horiguchi won the ten-round decision, it was such a sloppy fight that the Japan Times called it a "bitter disappointment to his admirers."

Horiguchi's next fight took place in Tokyo on January 5, 1940. The opponent was again Umio Gen, who, probably due to his failing eyesight -- he had suffered detached retinas in the United States -- hadn't had a fight since beating Horiguchi the year before. No matter: the fans were thrilled and general admission tickets priced at ¥3 were scalped at the gate for ¥8. The fight itself was slow, but as Horiguchi proved fitter past the ninth he hung on win the fight on points.

On February 20, 1940 Horiguchi knocked out Joe Eagle, a man that the Japan Times described as being "fat and slow on his feet." In March and April Horiguchi had rematches with Aizawa in Osaka and Tokyo. Aizawa evidently needed the money, as he lost both times, the second by knockout.

After meeting and defeating several more second-raters, on October 12, 1940 Horiguchi made the mistake of meeting a former collegiate boxing champion named Ryushin Boku. The Korean fought in the collegiate style, meaning that he stayed at range and jabbed, and to the disgust of the Tokyo fight crowd he easily defeated Horiguchi.

Although washed up as a fighter, Horiguchi remained popular with the fans so he spent 1941 beating second-raters in exhibitions. His last recorded victory, on November 7, 1941, was a ten-round decision over the still slow Joe Eagle.

Following the Japanese Navy's attack on Pearl Harbor on December 7, 1941 the Japan Times quit carrying accounts of sporting events. But, being a combative sport, boxing did not face the negative publicity of less-martial foreign games such as baseball and as a result boxing exhibitions continued to take place at Japanese military and naval bases and hospitals until late 1943 or early 1944.

During 1948 and 1949 Horiguchi tried a comeback but was easily beaten down. So in October 1950 he ended his life by walking in front of a moving train. Meanwhile his lackluster former opponent Joe Eagle became a leading promoter of Japanese boxing.



Career record, Tsuneo "Piston" Horiguchi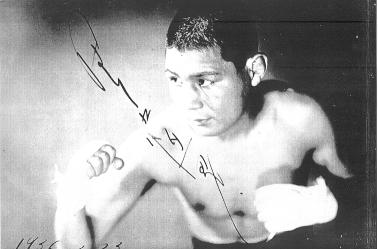 Best weight: Featherweight (126 pounds)
Born: October 7, 1914
Died: October 1950
Japanese sources frequently list Horiguchi as Imperial Japan's best boxer, but this ignores the Korean Teiken Jo. (From 1910 to 1945, Korea was a Japanese colony, Jo got his start in Tokyo, and as one Japanese American sportswriter put it, in his day Jo was considered a Japanese when he won and a Korean when he lost.)
I say this because my research shows Jo's career record as 41 wins, 12 draws, and 23 losses. Because many of these fights were against internationally ranked opponents, in January 1934 The Ring ranked Jo sixth in the world, as did Everlast Ring Record in late 1935. Meanwhile, my research shows Horiguchi having a career record of 49 wins (27 by knockout), 7 draws, and 5 losses (one by knockout). While an impressive record, few of Horiguchi's victories were over internationally ranked fighters, and as a result his highest international rating was third-best in Hawai'i.
As I believe sixth-best in the world to be better than third-best in Hawai'i, it is my opinion that Horiguchi is better viewed as Japan's favorite pre-World War II boxer than its best.
Be that as it may, the following is the career summary I have compiled for Horiguchi. Readers with additions or corrections are invited to submit them to jsvinth@ejmas.com.



| | | | |
| --- | --- | --- | --- |
| Date of Bout | Opponent | Venue | Result |
| 1933 Mar 23 | M. Kamiyama | Tokyo | W4 |
| 1933 Apr 27 | Jo Fukuyama | Tokyo | TKO3 |
| 1933 May 11 | Shuku Hashimoto | Tokyo | W4 |
| 1933 May 23 | Kaneo Nakamura | Tokyo | TKO2 |
| 1933 Jun 6 | Raoul Hugues | Tokyo | W8 |
| 1933 Jul 3 | Emile Pladner | Tokyo | D8 |
| 1933 Sep 16 | Shuku Hashimoto | Tokyo | TKO5 |
| 1933 Oct 3 | Tetsuro Uemura | Tokyo | KO3 |
| 1933 Nov 26 | Young Tommy | Tokyo | D8 |
| 1934 Mar 2 | Tetsu Yamaoka | Tokyo | W8 |
| 1934 Mar 14 | Eimei Hattori | Tokyo | TKO3 |
| 1934 May 1 | Young Tommy | Tokyo | W7 by foul |
| 1934 Oct 24 | Hideo Hara | Tokyo | TKO2 |
| 1934 Nov 30 | M. Hosoi | Tokyo | KO2 |
| 1934 Dec 10 | Y. Masumura | Tokyo | TKO2 |
| 1934 Dec 20 | Shuko Hashimoto | Tokyo | W6 |
| 1935 Jan 1 | Sonekazu Koike | Tokyo | D10 |
| 1935 May 20 | Vick Amado | Tokyo | W5 by foul |
| 1935 Jun 13 | Vincente Venturillo | Tokyo | TKO3 |
| 1936 Feb 7 | Young Gildo | Honolulu | D10 |
| 1936 Feb 22 | Alejandro Pasmore | Hilo | KO4 |
| 1936 Mar 14 | Young Gildo | Hilo | D8 |
| 1936 Apr 11 | Young Gildo | Wailuku | D8 |
| 1936 May 8 | Buenaventura De Guzman | Honolulu | W10 |
| 1936 Jun 25 | Koichi Takeda | Tokyo | TKO5 |
| 1936 Sep 30 | Toshitaka Nagahara | Tokyo | TKO6 |
| 1936 Nov 1 | Clever Sison | Osaka | KO1 |
| 1937 Jan 4 | Teiken Jo | Tokyo | TKO4 |
| 1937 Jan 27 | Joe Eagle | Tokyo | L12 (Disputed) |
| 1937 May 26 | Joe Eagle | Tokyo | W12 |
| 1937 Jul 2 | Umio Gen | Tokyo | W12 |
| 1938 Aug 7 | Susumu Tokunaga | Kobe | KO3 |
| 1938 Aug 20 | Ichida | Tokyo | W |
| 1938 Aug 29 | Fighting De Guzman | Tokyo | KO3 |
| 1938 Oct 5 | Toshio Yuki | Kobe | W |
| 1938 Nov 8 | Goro Kikuchi | Tokyo | TKO4 |
| 1939 Feb 12 | Cris Peneda | Tokyo | TKO10 |
| 1939 Mar 25 | Matsu Amino | Tokyo | W5 by foul |
| 1939 May 29 | Umio Gen | Tokyo | L10 |
| 1939 Aug 5 | Yukito Tanaka | Osaka | W10 |
| 1939 Aug 28 | Yukito Tanaka | Tokyo | KO8 |
| 1939 Nov 27 | Taro Aizawa | Tokyo | W10 |
| 1940 Jan 5 | Umio Gen | Tokyo | W12 |
| 1940 Feb 19 | Joe Eagle | Tokyo | KO3 |
| 1940 Mar 17 | Taro Aizawa | Osaka | W10 |
| 1940 Apr 17 | Taro Aizawa | Tokyo | KO7 |
| 1940 Jun 15 | Young Dundee | Tokyo | W10 |
| 1940 Jul 7 | Young Dundee | Tokyo | W12 |
| 1940 Sep 21 | Takeshi Keido | Nishinomiya | KO5 |
| 1940 Oct 12 | Ryushin Boku | Tokyo | L10 |
| 1940 Dec 17 | Kid Sauda | Tokyo | TKO8 |
| 1941 Jan | So-kyoku Chin | ? | W |
| 1941 Feb 10 | Fighting Carlos | Tokyo | KO2 |
| 1941 Mar | Kid Sauda | Nagoya | D10 |
| 1941 May 28 | K.O. Sasaki | Tokyo | KO5 |
| 1941 Jun 19 | Baby Gustillo | Tokyo | KO5 |
| 1941 Nov 7 | Joe Eagle | Tokyo | W10 |
| 1948 Summer | Haruki Fumimoto | Tokyo | L |
| 1949 Jun 27 | Okashita | Tokyo | TKO4 |
| 1949 Jul 22 | Kanechika | Tokyo | TKO by 7 |
ACKNOWLEDGMENTS
Funding sources for this paper included the Japanese American National Museum and King County Landmarks and Heritage Commission. Copies of the manuscript with complete annotation are on file at the Japanese American National Museum, the University of Washington Special Collections, and Wing Luke Asian Heritage Museum.
The assistance of the following people is gratefully acknowledged: Hank Kaplan, Paul Lou, Michael D. Machado, Curtis Narimatsu, Brian Niiya, Graham Noble, John Ochs, Robert W. Smith, and Wayne A. Wilson. Photos courtesy Curtic Narimatsu.
ENDNOTES (hit your back button to return to the text)
EN1. Horiguchi's Hawaiian boxing license said that he was born October 7, 1914. This is supported by the Japan Times saying on October 28, 1950 that Horiguchi was 37 years old at the time of his death. Nevertheless in May 1933 Japan Times reported that Horiguchi was aged 17. Perhaps this was a misprint or reporter's error.
EN2. Although I haven't tracked Nakamura's career too closely, it appears he had been losing fairly frequently since late 1930. His best years were therefore in the United States between 1927 and 1930.
EN3. The source is an undated clipping in Curtis Narimatsu collection. According to an article by Harry Blauvelt published in the Honolulu Star-Bulletin on January 22, 1988, Rego had about 30 legal bouts during his career, and an unknown number before boxing was legalized in Hawai'i in 1929. His training included a stint at J.J. "Moose" Taussig's gym in San Francisco during the late 1920s. He normally fought featherweight (126) or lightweight (135).
EN4. As an amateur, Okamoto fought bantamweight, and at the age of 24 the Oriental Commercial School graduate was selected to go to the 1928 Olympics. Of his style, Japanese boxing promoter Yujiro Watanabe said, "He has a good strong right and left straight punch with a quick movement." Okamoto failed to make the trip, however, and in the end was replaced by Kintaro Usuda.
EN5. Although the Hilo Tribune-Herald, February 18, 1936, says that Horiguchi had Jamito on the verge of a knockout in one round, Jamito denies this happened. The denial is plausible, too, as Jamito was known for his iron jaw. Letter from Curtis Narimatsu, February 1999.
EN6. When Clever Sison came to the United States in 1933 he defeated Baby Arizmendi and other first-rate fighters. But by 1936 he was over the hill.
EN7. On October 25, 1933 Dick Sharp of the Seattle Post-Intelligencer described Peneda as "a fighter of ability but almost strictly a counter puncher… The Filipino would wait for [the other fighter] to lead and then smack him with two or three fast, chopping punches." Being old and slow by 1939, he was unable to make this trick work, as in physical conditioning Horiguchi had few equals anywhere.
JCS Feb 2000