InYo: Journal of Alternative Perspectives July 2000

A Day to Rest and Wrestle: Benjamin Franklin Roller, Master of Angles and Feuds
By Joseph R. Svinth Copyright © 2000 All Rights Reserved
Editor's notes: A version of this article appeared in Wrestling Then & Now 1998 annual, and it is reprinted here as a continuation of the story begun in "The Discipline Necessary for Attaining the Highest Rewards: Amateur Wrestling at the University of Washington, 1905-1942," http://ejmas.com/jcs/jcsframe.htm, volume II. For the additions, the assistance of Mark Hewitt, Graham Noble, and Steve Yohe is gratefully acknowledged.
The theme of this piece is that the professional wrestling of great-grandpa's day was as much a circus act as the professional wrestling of today, and that the athletes and promoters simply used different methods to work (e.g., arouse) the crowd. Because this is a contentious argument -- if you believe some wrestling writers, turn-of-the-century wrestling was honest competition rather than muscular theater, and Frank Gotch was the finest (if dirtiest) wrestler who ever lived -- I thought it better to let the sportswriters of the day speak for themselves rather than summarizing their words.
Editorial annotations follow entries in italics.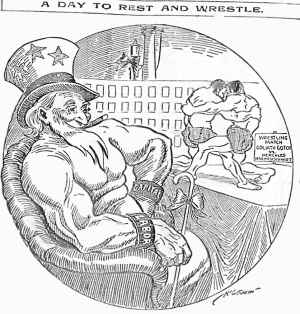 From the Chicago Daily Tribune, September 4, 1911
"Dr. B.F. Roller," Seattle Mail and Herald, December 22, 1906, 12.
Born in Illinois in 1876, Dr. Roller was brought up on a farm. He graduated from Du Pauw University, completing the seven years' course in five years. While there he was captain and coach of the track team and football team, and was pronounced by the Indianapolis and Chicago papers the best football player in the central states.

He represented the Chicago Athletic Association against that of New York, and broke the world's record in discus throwing, and made 148 feet 6 inches with a 16-pound hammer.

Dr. Roller graduated from the medical department of the University of Pennsylvania with the highest honors, winning a Saunder's prize of $100 in gold.

He used athletics as a means of getting his education by teaching wrestling and playing football… Coming to Seattle in 1904 Dr. Roller accepted a professorship in the University of Washington, delivering lectures on physical culture and hygiene and also having the direction of all the athletic work of the University and the Seattle Athletic Club. He resigned his position in the University for the practice of his profession [wrestling], to which he is now devoting all his energies.
Roller wrestled for gold rather than glory. Therefore he paid no attention to what champion Frank Gotch thought about wrestling for a living.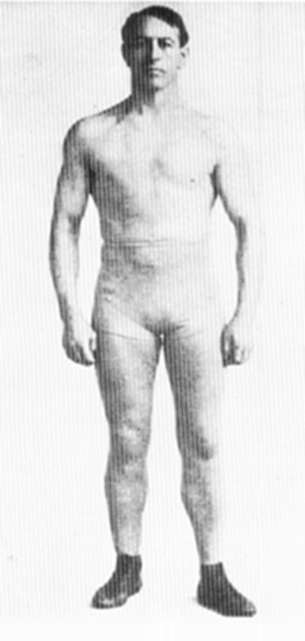 Benjamin Franklin Roller
"Gotch Not Proud of His Wrestling Title," New York World, January 28, 1907, 8.
Frank Gotch, who is just now taking his turn as champion wrestler of America, …[says]:

'It's a poor game this wrestling. My advice to aspirants is – "don't try it." Because there's no money in it until you are champion. It's a long, hard fight up to that point, and there's room for only one at the top. And after you're pushed away, you're done for good. At the best you can't last longer than from five to seven years. It's pretty hard at the end to settle down to humdrum life. The old game spirit is in you. You'll think of the crowds, the glare of the calcium lights, the cries for the champion, the struggle on the mat. And you rebel. I rebel even now when I stay long on my farm.'
Roller's first professional match was against a Canadian wrestler in 1906. After that, he started having matches around the Northwest. The following is a typical description.
"Roller Wins in Private Contest in Two Straight Falls," Seattle Post-Intelligencer, September 26, 1907, 10.
Dr. B.F. Roller defeated Emil Klank, of Denver, in two straight falls of sixteen and thirteen minutes respectively in a private match at West Seattle yesterday… Klank is not much on the offensive, but he is a wonder on the defensive and cleverly slipped out of half-Nelsons, Nelsons and hammerlocks. Roller then went for his legs…
Roller's manager Joe Carroll, a man who had managed the North American champion Frank Gotch for several years in the Yukon Territory and Washington State. Unfortunately, Carroll was also more corrupt than was the average promoter, which is saying a lot. But, as Roller disliked fleecing people (he didn't mind working a crowd, but he thought the paying customers should get some entertainment for their money), he and Carroll eventually parted ways. This annoyed Carroll, so besides importing wrestlers he thought could beat Roller, he also started calling him a crook.
"Dr. Roller Beats Emil Klank Easily," Tacoma Daily Ledger, September 28, 1907
Dr. Roller won from Emil Klank in a private wrestling match this morning [September 27] in two straight falls. He took the first fall in sixteen minutes and got the second fall and the match in thirteen minutes. Roller threw Klank as easily and in about the same time as Gotch turned the trick in Denver a few weeks ago.

The match was reputed to be for $1,000 a side and was pulled off over a saloon in West Seattle. About twenty-five invited guests were present… Eddie Gaffney, who used to wrestle for the Seattle Athletic Club, was the referee. Charley Beckingham, county commissioner, was timekeeper. Joe Shulte, a big Indian who learned to play football at Carlisle and who has been doing some fighting since, was in Klank's corner and Lonnie Austin and Tom McDonald fanned Roller.
Lonnie Austin was the boxing instructor at the Seattle Athletic Club, and a fixture of Seattle boxing promotions for the next four decades.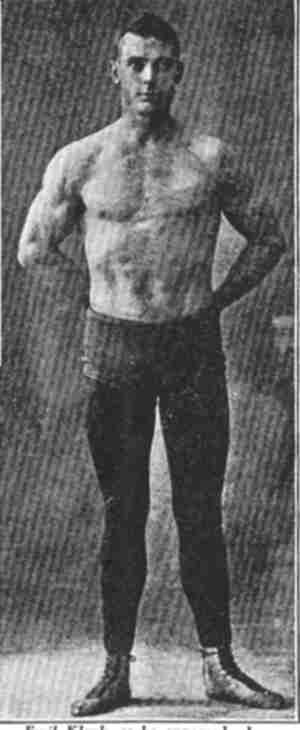 Emil Klank
"Roller the Victor in Great Wrestling Match," Tacoma Daily Ledger, November 4, 1907.
In the fiercest and, at the same time, very cleanest wrestling match ever seen in Tacoma, Dr. B. F. Roller of Seattle last night twice pinned "Sharkey" McLaglen, the South African champion, to the mat and won the bout after a forty-two minute struggle before an assembly of 800 appreciative lovers of sports at the Savoy Theater.
The 21-year old McLaglen later went to Hollywood, where he acted under his birth name, Victor. His older brother Leopold meanwhile claimed the jujitsu championship of the world based on some victories in San Francisco and, British Columbia in 1907, and continued training police in unarmed combatives until the 1930s.
"Roller Wins, As Expected," Tacoma Daily Ledger, January 24, 1908.
In a seventy minute exhibition, on a par with the many fake wrestling matches pulled off in this city [Seattle], usually with negroes and Japs contesting, during the past twenty years, Dr. B. F. Roller of Seattle defeated "Farmer" Burns of Iowa in two straight falls. There was practically no betting on the result, as it was a foregone conclusion with the majority of the spectators that the local man would win…

It was as poorly managed an affair of the kind as was ever seen even in the sawdust district of the early days… Burns is such an old stager at the wrestling game that he does not care for any more glory. He does not make any effort to conceal the fact that he is sticking with the sport solely for the money. The division of the proceeds last night was made entirely to Burns' liking, win or lose. He had nothing to gain by winning and nothing to lose by losing…

Last night's exhibition served merely as an advertisement for the [forthcoming] Gotch affair.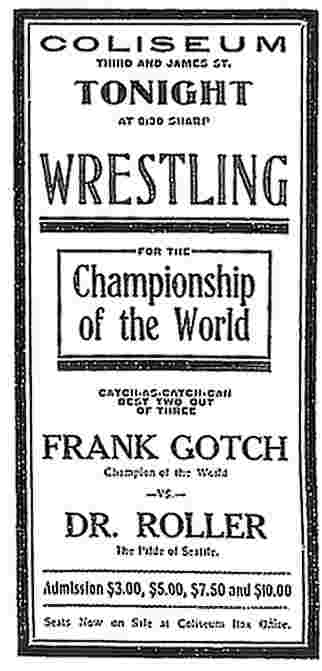 Poster for the Gotch vs. Roller match held in Seattle in July 1908; Gotch, who was advertised as the American champion, was of course the winner.
"Roller Too Clever for Big Turk," Seattle Times, June 10, 1909, 9.
Dr. B.F. Roller signalized his return to Seattle last night by defeating Big Yussif [Armenian wrestler Bob Managoff], one of the Terrible Turks, in the Arena at the exposition grounds, in one of the roughest matches ever seen in this city…

Between the bouts all sorts of challenges were read and wrestlers were introduced. Matchmaker Jack Curley, with his bland smile, handled this part of the performance nicely.

The challenge that created the most interest among those in the know came from Bert Warner. For some reason or other Warner has it in for Roller, and has been making cracks for weeks that as soon as Roller came back to Seattle he was going after him…

Other challenges were bugled by John Berg, who used to be known around here as the Bellingham Strong Boy, but of late has been traveling under the name of Charles Hackenschmidt; Henry Ordemann, of Minneapolis, whom Gotch picks as his successor; Charles Olson, of Indianapolis, who was known around Seattle a few years ago as Miller, and who once wrestled an impromptu match with Joe Carroll on the stage of the Grand Opera House for a $50 note; and Americus, of Baltimore, one of the best wrestlers in this country.
The bout was not as rough as it looked, as Managoff and Roller essentially repeated it two weeks later. Said the Seattle Times following the rematch, "There is just one complaint to make of the show. It dragged out to too great length. It takes quite a while for one to come to the city from the exposition grounds and with this 1 o'clock closing ordinance in force there is not much chance for a thirsty soul when the wrestlers fool around until nearly midnight."
This scenario, the feud so beloved in modern professional wrestling, continued throughout the summer: different wrestlers challenging Roller, who had never been defeated in Seattle. Finally came the match everyone had been awaiting: Roller's meeting with Gotch's handpicked successor.


"Ordeman and Roller Will Fight to a Finish Tonight," Seattle Post-Intelligencer, September 3, 1909, 10.
Every wrestler carries a handle with the word 'champion.' Some are coming champions, others claim the title of their own nationality. For instance, Ordeman is called the Norwegian champion, but all agree that Frank Gotch is the champion of all champions. However, there is a strong feeling of competition for second honor and there is no question but that Dr. Roller and Henry Ordeman have the best right to wrestle for the right to be called the best man in America, next to Gotch, and that means the world.
"Wrestling Again," Bobby Boyce, Seattle Argus, September 4, 1909, 5.
Wrestling as wrestling is a grand and clean sport, but the kind of wrestling we have had here during the past few years has not been altogether lovely. I think it would be a good thing if the mat men left Seattle alone for a year or two…

Joe Carroll and Doc Roller have had a falling out and now Carroll is after some man who can beat the big medico… It wasn't so very long ago that Joe was claiming Roller could defeat any man in the world barring Hackenschmidt and Gotch, and now he thinks the woods are full of wrestlers who can make mince pie out of the doctor…

Personally, I believe Carroll when he says he can find an American, other than Gotch, who can throw Roller. I believe he can, beyond question.


"Ordeman Hands a Bunch to Roller," Seattle Post-Intelligencer, September 4, 1909, 10.
After an hour and six minutes of savage wrestling at the Grand opera house last night, Henry Ordeman, of Minneapolis, picked up Dr. Roller, the local physician-athlete, and dashed him to the mat with such force that the doctor was put out of business…

The big physician narrowly escaped serious injury. He was knocked completely unconscious but not completely hurt…

The dope had gone out that Joe Carroll imported Ordeman from Minneapolis especially to beat Roller, and there was literally a fight for tickets.
Yet immediately after the Ordeman match, the Seattle wrestling community started leaving town.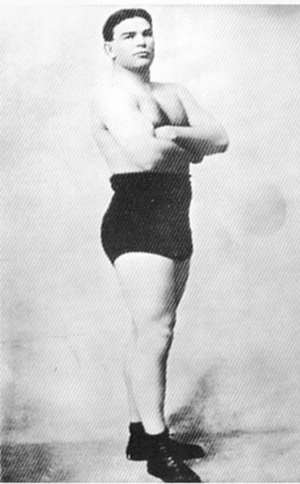 Frank Gotch
"Exit of Wrestlers after Roller Match," Seattle Post-Intelligencer, September 6, 1909, 2.
It is the grand exodus of heavyweight wrestlers, who are returning to their homes in the East, North and South. The wrestlers evidently see no bright prospects for the Seattle wrestling game, and they charge the sudden change to the downfall of Dr. Roller and the escape of Henry Ordeman without granting the physician-wrestler a rematch…

The only mat notable who failed to use the Union station iron gates to make his getaway was Dr. Roller, and he left on the noon boat for his summer home at Eagle Harbor. He told Jack Curley that he had no set plans, but that he would want a few days in the country to rest up and think over his future plans.
The reason for the exodus was rumors about postal authorities investigating match fixing. As the sporting press hadn't heard those rumors yet, it attributed the wrestlers' departure to other reasons.
"The Wrestlers Have Gone," Bobby Boyce, Seattle Argus, September 11, 1909, 5.
It looks as though the wrestling game was a dead one in Seattle. As soon as Ordeman shattered the career of one B. Roller, the wise wrestlers took the big hike for the tall and uncut… And it's a good thing at that. Seattle has stood for this bunk long enough. We don't begrudge the boys the easy money they pulled out, but this is such a good field that it is no more than fair that they work Kansas City or Denver or Omaha for a while.
Not everyone left, of course, and Roller and Bert Warner had a match in Seattle on September 20, 1909. In the ring before the start of festivities, Joe Carroll and Warner shouted that Roller rigged his matches, and couldn't actually wrestle. Roller refused to wrestle, but the roar of the crowd caused him to reconsider.
"Bert Warner Quits before Dr. Roller," Seattle Post-Intelligencer, September 21, 1909, 10.
'I'll agree to this simply because I want to show that his [Warner's] talk of laying down is foolish,' said Roller. 'He says after these two falls he'll go in and show me up. Here's his chance. Carroll and Warner have simply tried to ruin the show, to get the crowd sore at myself and the Arena, management, and to kill wrestling in this town.'

Then followed the spectacle of Warner deliberately falling on his back before Roller had put a hand on him and Referee [Tom] McDonald gave the fall to Roller.

Then Carroll was satisfied. 'Now my man will go in and beat Roller just to show he can do it,' he yelled to the spectators.

By this time the crowd was wild with excitement… But if the crowd expected any whirl of arms and legs, any spectacular headspins or grand and lofty tumbling, it was disappointed. The match was intensely exciting throughout because of the bitter hatred with which the men fought, but they worked slowly and carefully…

Instead of showing Roller up, Roller showed Warner up last night. He never gave Warner a chance… There is no question that Bert Warner, or Billy Maynard, or Bert Shores, or whatever his real name is, can wrestle. But he is not in Roller's class except on the defense…

The end came as unexpectedly as the other events of the evening. Roller picked Warner up with a crotch and arm hold, poised him a moment in the air and then threw him on the mat, falling on top with all his weight.

It was exactly the same treatment that Roller got a few days ago from Henry Ordeman. And, as in the previous case, the man underneath did not get up.
His reputation "saved" -- one assumes the excitement was scripted rather than real -- Roller then went to the Midwest and East as part of Gotch's entourage. There the reporters wrote whatever they liked, usually without wasting much time on research, as the following item, reprinted from a Midwest newspaper, shows.
"Roller Wrestles at Purdue," University of Washington Daily, October 28, 1909, 4.
The term 'Doctor', as applied to Dr. Roller, is not merely an empty title, as he is really one of the best of doctors and is recognized as an authority in his specialty. His text book on "Gynechology" (sic) is considered by the medical profession to be one of the best that was ever published. It was while he was holding a position as professor in the Seattle Medical school that Dr. Roller first became interested in wrestling as a recreation and he soon became so good that he began meeting the professionals who, from time to time, visited his city.
Excepting Roller actually possessing a medical degree and having taken up professional wrestling while living in Seattle, there is little true in that entire paragraph. The Library of Congress, for example, has only one photograph of Roller in its collection (LC-USZ62-96140 DLC, B&W film copy negative) and no medical texts at all. Meanwhile, at the University of Washington Roller was professor of physical culture rather than medicine.
Be that as it may, on September 23, 1909 US postal authorities indicted Joe Carroll, Bert Warner, and eighty-two others on the charge of fixing horse races, foot races, and (say it ain't so!) wrestling matches. The eighty-five victims named in the case included Hans Anderson of Ketchikan, Alaska; F. Ellison and H. Ford of Vancouver, British Columbia; and John H. Sizer of Seattle.


"Penitentiary Doors Yawn for Joe Carroll," Seattle Times, March 10, 1910, 18.
Joe Carroll and Bert Warner, well known in Seattle, and Wynn Harris, of Spokane, yesterday pleaded guilty at Council Bluffs, Iowa, to the charge of conspiracy to defraud, rather than stand trial in the federal court there…

There are about eighty members of the famous John C. Maybray gang under indictment back there, and it is believed that others will … plead guilty.

Carroll, … who was indicted under the name of George Marsh, is well known in Seattle. He came to the Northwest country more than ten years ago and gained an unenviable notoriety up in the Klondike region. He took Frank Gotch up there under the name of Kennedy, and a lot of trusting miners were plucked of their gold dust betting against Kennedy.

Later, Gotch and Carroll stopped at Bellingham quite a while. Carroll was Gotch's manager and boosted him into the championship…

After the wrestling game had been put on the blink in Bellingham, Gotch went East and Carroll came to Seattle. He had no part in any public matches around here until he took Dr. Roller under his wing, but there were rumors of fake matches pulled off in a little house on the shores of Union Bay…

Carroll and Roller made good money in the wrestling game here, but when Roller went East he went alone and put himself under the management of Jack Curley in Chicago…

Carroll then began a systematic campaign to discredit Roller and kill the wrestling game in Seattle, and Bert Warner, or Bert Shores, or whatever his real name is, was the man used by Carroll to badger Roller into a match…


"Joe Carroll Now Learning Art of Brick Making at Pen," Seattle Times, April 10, 1910, 23.
Joe Carroll, whose real name is Marsh, and Bert Warner, who says his name is Shores, are tending a brick machine at the United States penitentiary at Leavenworth, Kan., and John C. Maybray, chief of the gang of sure-thing men who swindled gullible sports out of about $2,000,000 in two years, is making the brick that Carroll and Warner are carrying away.

They are all doing time as the result of sentences imposed by the federal court at Council Bluffs, and it is the first time any of them have worked in some time.
John C. Maybray and his confederates were released from the penitentiary in late 1911. The ring was prosecuted by postal authorities, and fell apart due to boasting. While an article called "The Man Who Fleeced a Town of $750,000" (Seattle Times, August 6, 1911, Sunday Magazine, page 5), describes how the ring was broken, the following article explains how their scam was worked.
For his part, Maybray only said, "I never 'milked' an honest man." Carroll meanwhile returned to promoting wrestling, and as late as 1920, he was telling anyone who would listen that wrestling matches were fixed, and that the current champion, Jim Londos, refused to meet anyone on the level. (Which was true -- in March 1934, Pete Ladjimi said in a Los Angeles court that the only people allowed to wrestle Londos had previously agreed to let Londos win -- but back then the fans didn't want to hear that.)
Anyway, the following entry describes one way that the marks were fleeced.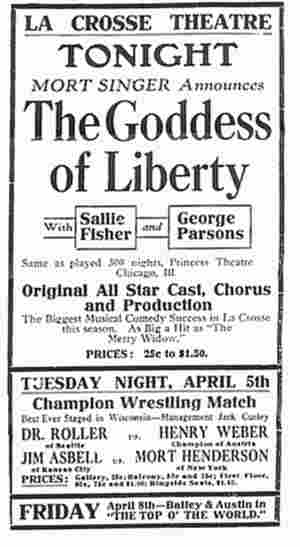 "Stranger Thought He Could Wrestle," Seattle Post-Intelligencer, July 15, 1906, Sports, 1.
Harrington, Wash., awoke one morning to the astonishing discovery that it had a great wrestler. His name was Herr Heinrich, and as his prowess on the mat became better known he was called the 'strong boy.' Strange as it may seem the discovery of the 'strong boy' was made by Duncan McMillan, who has been in the wrestling game so many years that no one can tell the beginning…

A stranger drifted into the neighborhood, and when the subject of catch-as-catch-can came up for discussion he showed passing interest.

Yes, he had wrestled a little, and thought he might be able to give the 'strong boy' something to do. The match was made, and again, strange to say, Ole Marsh, who is in reality Joe Carroll, one of the best wrestlers in the country, bobbed up as referee.

Harrington was prosperous. Everybody had money and they bet it on the 'strong boy.' It looked like a cinch. When they had got down a fat sum they went back home for more.

The match was pulled off and the stranger showed the 'strong boy' things about wrestling he had never heard of or dreamed existed.

Harrington came to earth with a dull and sickening thud. The stranger proved to be Frank Coleman, the Chicago wrestler, who has few superiors in the country.

Duncan scratched his head, whistled and sorrowfully remarked, "Frank Coleman! --- ---- ! I hadn't seen him for eight years, and didn't recognize him."

Ole Marsh was thunderstruck at the discovery. He didn't even know Coleman. His memory as to the times they had wrestled was a blank – as blank as some of the pocketbooks in Harrington.

When strangers come to Harrington now and say they know something about wrestling there is a chilliness in the air.
Dan McMillan lost a match to Frank Gotch in Whatcom, Washington, in October 1903. (See the Seattle Times, October 25, 1903, 19.) During the championship match between Tom Jenkins and Frank Gotch in Bellingham (Whatcom merged with Fairhaven to become Bellingham, so it's the same town) on January 27, 1904, Joe Carroll was Gotch's second, while McMillan was Jenkins's second. See the Seattle Post-Intelligencer, January 28, 1904, 13. The routine fixing of results in wrestling matches probably explains why both Frank Gotch and his parents were embarrassed by his choice of professions.
Roller, meanwhile, found his medical training very helpful in faking injuries. Oddly, his system seems to have attracted attention only in Seattle, apparently because cynical sportswriters such as Ed Hughes of the Seattle Times were following his career more closely than most. For example, in Kansas City, Missouri, on April 8, 1910, Roller "injured" his right shoulder during a match in Kansas City, and a month later, he repeated the act in Buffalo.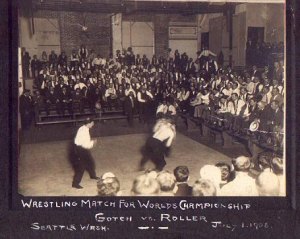 "Roller Falls Before Giant Pole in Match at Buffalo," Seattle Times, May 17, 1910, 15.
Dr. Roller was licked by [Stanislaus] Zbyszko at Buffalo [New York] last night in two straight falls. The first bout lasted one hour and five minutes and Roller went down with his left shoulder badly wrenched. He lost the second fall and the match in one minute and forty seconds…

Roller has not been making much of a showing in his matches of late. He usually gets hurt and loses, and he puts in the time between matches in various hospitals nursing his hurts and fighting off attacks of blood poisoning. But Roller has the money, and gets a chunk of it every time he starts.
Roller continued "injuring" himself upon going to London, England.
"Hindu Hugs Roller So Hard He Cracks Two of His Ribs," Seattle Times, August 9, 1910, 13.
Dr. Roller had two ribs broken in his match with Gama, the Indian wrestler, Monday.

'Doc' is the real unfortunate kid. Every time he loses a match the report follows that he has broken a rib, dislocated a shoulder, developed an abscess or sprung a new crop of boils. Defeat affects him strangely, but he recuperates quickly when there is another match in sight…

He must have caught a Tartar Monday in this Gama man. Roller had a big advantage in height and weight, yet this smoked Hindu man not only threw him two falls in less than two minutes, but crushed two of his ribs during the operation…

Some live promoter will be sleeping on the job if he does not bring Gama over here for a campaign, with Gotch reserved for the last man… Now if Gama will come over here and toss three or four men, it is a cinch that he would pull a big house when he is matched with Gotch.

It is almost as equally certain that Gotch will flatten him like a gob of mud on a puncheon floor.
Gama was Muslim, not Hindu, and despite Ed Hughes' understandable cynicism, probably was not on the take. The reason was that he was on the payroll of Bengali millionaire Sharat Kumar Mishra, an ardent Indian nationalist who paid for Gama's European adventure specifically in hopes of humiliating the British.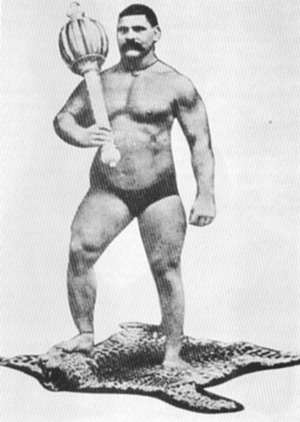 The Great Gama
"Seattle Man Not Impressed by Gama, Indian Wrestler," Seattle Times, September 4, 1910, 27.
James D. Thagard, of Seattle, saw Dr. Roller go down to defeat before Gama, the Indian wrestler, at London, England, a few weeks ago, and unlike a lot of others who are singing the praises of the East Indian, he does not think Gama is such a much in the wrestling game…

'He just banged Roller about by main strength. Gama was puffing like a porpoise and seemed much nearer exhaustion than Roller when he discovered quite by accident that Roller's ribs were sore. Then he kept digging and punching away at the sore spot until Roller was worn out and had to succumb…'

'I called to see Roller the day after the match and he was in bed nursing his sore ribs. His wife was with him, and Jack Curley and his wife were also there. Curley was going to take the two women on a shopping tour and Roller had ordered some chops for himself. The English waiter took Roller's order to mean that he wanted chops and trimmings for the whole party, and when I got there Roller had the bill in his hand and was on the verge of apoplexy.'

'The bill called for $14, and Roller indulged in some lurid language as he gave his opinion of the stupidity of English waiters.'

Those who know Roller can readily understand how that bill for $14 hurt him far worse than his broken ribs.
While Roller was out of the country, North American wrestling fans convinced themselves that the Maybray convictions had cleaned up the game. Relieved promoters then started building up the story that all the best wrestlers were foreign anyway, thus inciting fan support for a match between a European champion and the American champion Frank Gotch.
"Little Real Crookedness in Wrestling Game Now," Lloyd Kenyon Jones, Seattle Times, September 11, 1910, Sports, 4.
The only way to enjoy a wrestling match is to forget to place a bet on it – and then the moral status of it will never worry one much. And besides, to the loser, the event is always a frame-up…

And what, pray, makes crooked wrestling? The betting? Very seldom… [The wrestler's] idea of business is to get his guarantee or percentage and let it go at that. But sometimes there is a reason – a very good one. And crookedness may be the desire of a capable wrestler to give the fans a run for their money. It is crooked to let a fellow 'stay' longer than he can stay. It is crooked to throw a fall even if the match itself is won; that is, the other two falls. But it is often done, and is not infrequently done without the knowledge of the poorer man… And beyond that is the fact that a good man isn't going to wear himself out throwing poor men in jig time.


"Emil Klank Says that Gama, Indian Wrestler, is Goods," Lloyd Kenyon Jones, Seattle Times, September 16, 1910, Sports, 3.
'Gama,' said Klank, 'is the real mat goods – and what he did to Roller was a pity, a shame, and other things. I saw the match, and the Seattle physician had as much of a look-in as an A. P. A. at a St. Patrick's day parade. Of course, in the Gama-Zbysco (sic) meet, there wasn't much done – and the East Indian didn't try to do much. He just tortured the big Pole; that's all. And say, when it came time for Zbysco's return, he was just as much absent as one of last year's bird nests in the tree that was chopped down yesterday.'
"No Set Standard by Which to Judge Wrestler's Ability," Lloyd Kenyon Jones, Seattle Times, October 9, 1910, Sports, 1.
The capable wrestler doesn't always throw his man as rapidly as possible because of several reasons.

In the first place, he may not care to expend his strength in a sudden burst of speed, preferring to let the other fellow wear himself out before the climax is brought about. In the second place the wrestler might harbor a certain amount of revenge and purposely put his opponent in numerous bad positions and to considerable pain before culminating the match in a fall. A third element is found in the possibility that the poorer man is very tricky under certain conditions, and the better man does not propose to give the other fellow any advantage. Therefore he tries to wear his man out without taking any chance whatever in actually trying to throw him. The fourth reason may be to cover up the actual ability the better man possess so that some other match may be arranged between himself and a more worthy opponent. The fifth reason may be that the better man is not in the best of condition. Naturally his opponent does not care to take the chance of rushing the affair to a speedy conclusion. He estimates that the other fellow is willing to take a match over a considerable route, and is very glad to take advantage of the situation. There have undoubtedly been times in the career of even the best men when vastly inferior grapplers could have thrown them had they known the truth about the condition of their ordinarily better opponents.
To digress a bit, after beating Roller, Gama challenged the European champion George Hackenschmidt to a match. Unsurprisingly, Hackenschmidt suddenly decided it was time to go to Switzerland for his health. Therefore Gama's next match was instead with the Greco-Roman champion Stanislaus Zbyszko. "Two minutes' wrestling in 2½ hours" was how the London Sporting Life described that match, in which Zbyszko's method of securing the draw emulated the modern Olympic practice of hugging the mat until time was called.
The following is how the match was reported in Seattle.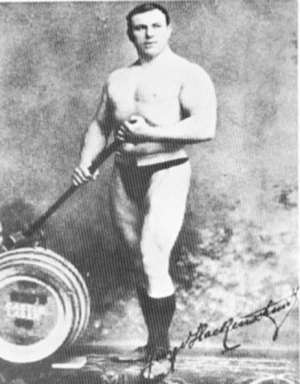 George Hackenschmidt
"Gama Gets Belt and Title over in England," Seattle Times, October 15, 1910, 5.
The end of the Zbysco-Gamma (sic) farce came when, before an admiring throng of Britons and East Indians, Horatio Bottomley presented Gamma with a belt inscribed, 'Champion Wrestler of the World.' To their credit be it said that the papers here want to know where Gotch comes in. Zybsco failed to appear on the last day of the continuous performance 'wrestle,' as he had a very important engagement to meet Doc Roller in Vienna.
The important engagement with Roller was doubtless intended to avoid another fiasco like the first.
While in Europe, Roller and his manager Jack Curley looked up Hackenschmidt and proposed that he make another North American tour. Hackenschmidt liked the idea, and so soon after he left Europe for North America, where night after night he thrilled the crowd by throwing Ben Roller.


"Dr. Roller Tossed Twice by Mighty Hackenschmidt," Seattle Times, November 29, 1910, 16.
Dr. Roller of Seattle was licked again last night. He went to the mat with George Hackenschmidt, the 'Russian Lion,' in Montreal last night and was beaten in two straight falls – the first in forty-seven minutes and the second one and the match in nineteen minutes…

Hack is billed to wrestle Jess Westergaard in Chicago in a finish match pretty soon. He will beat Jess, too, and after cleaning up a few more like him the boards will be swept clean for Gotch. Along about the first of the year the yapping will begin for Gotch to come out of his retirement and clip the whiskers of the Russian Lion, who, by the way, is a German.
While of German descent, Hackenschmidt was actually an Estonian bodybuilder who had taken up wrestling in St. Petersburg rather than Berlin. Thus his title, "The Russian Lion."
"Hackenschmidt Does Away with Ringside Challenges," Seattle Times, December 4, 1910, Sports, 4.
[Hackenschmidt] and his manager, Jack Curley, have suppressed the practice of issuing ringside challenges… So, in future, at shows in which Hackenschmidt appears, nobody, unless possibly the man whom Hackenschmidt is to meet at some future show in that city, will be presented to the crowd…

Hackenschmidt continues to follow out his avowed purpose of wrestling himself into condition during his tour on the road. He is barring nobody, and even during his idle moments welcomes the coming of aspirants who seek only a little practice bout with him.
By eliminating the necessity for shills in the crowd, Hackenschmidt and Roller restored a sense of legitimacy and decorum to US professional wrestling, and the syndicated sportswriters went wild.
"Many High Class Men in Wrestling Game at Present," Lloyd Kenyon Jones, Seattle Times, December 4, 1910, Sports, 4.
Within the past five years wrestling has attained a much broader patronage than it ever had in the old days. This is due largely to the disfavor of the legislatures of the different states to prize fighting and by the adoption of grappling by so many young athletes who would have undoubtedly entered the prize ring under different conditions.
Knowing Ben Roller well, Ed Hughes of the Seattle Times remained skeptical.
"Roller Gets Rich Losing Every Bout," Seattle Times, December 18, 1910, Sports, 1.
It would appear that the doctor fairly can be accused of 'commercializing his art,' for the wildest dopester in the country couldn't figure out how he still retains any hope of becoming champion or even a near-champion…

Jack Curley, who formerly was Roller's manager, … writes that Roller is showing just as often as he can get a date, and is simply raking in bundles of kale…
Still, the Seattle Spirit was boosterism, and to many Seattle sports, it didn't matter how their city's name got into lights, just so long as it did.
"Roland Cotterrill Tells of Roller and Mat Game in East," Seattle Times, December 19, 1910, 13.
'I had a chat with Doc before the match and he told me he was wrestling nearly every night, had twenty-one matches in November and lost only five falls.

'Some of our Seattle people have said some harsh things about Doc Roller, but I want to tell you he is a credit to us and is advertising Seattle in great shape. I have been through various Eastern cities and 'Doctor B.F. Roller of Seattle' is in every paper you pick up and on every billboard.
For both promoters and wrestlers, even scandals were better than no publicity at all.
"Big Mahmout Exposes Fakers in Wrestling," Seattle Times, January 1, 1911, Sports, 1.
The wrestling trust seems to be on the way to busting… Some entertaining facts have been divulged in the negotiations for a match between Mahmout, the Turk, and Zybysko (sic), the Pole, and the most interesting is the fact that in the last three years there have been but three matches in Chicago that were on the square.

One was the Hackenschmidt-Gotch match, which as an exhibition was the worst ever seen. But it was honest. Another with a taste of squareness was the Mahmout-Americus contest, one fall of which was on the level. The other square bout is not exactly known.

The information comes with the declaration of Mahmout the Turk that he is going to reform… It is safe to say that 99 per cent of all wrestling matches where an admission fee is charged and where professionals take part have been prearranged before the men shake hands. Many have even trained together – those that made any show of training. The hitting and biting in the matches, the kicking, the calling of foul vulgar names, the threats, the falls from the stage, the challenges from the audience – all those things are the little jokers used to stir up the maddened crowd. It does little harm, and it makes the game 'good,' say the wrestlers.
So much for wrestling being honest in Grandpa's day -- Mahmout was Frank Gotch's partner during a 1911 North American tour. (It is my only partially facetious contention that professional wrestling was always honest when the speaker was eleven years old, and became decadent about the time he discovered girls.) Be that as it may, Doc Roller was part of the new system, the one where matches were fixed in such a way that the crowd got its money's worth night after night, show after show.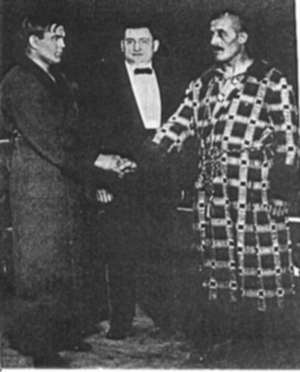 Frank Gotch (left) and Youssouf Mahmout (right); referee unidentified.
Hergeleci Ibrahim, who wrestled as Youssouf Mahmout, was born in the
Bulgarian village of Islopol, near Razgrad, in 1848. He was the Turkish
Kirkpinar champion of 1914, and died the following year.
"Dr. Roller is Hack's Real Backer on Present Tour," Seattle Times, February 8, 1911, 13.
Dr. Roller of Seattle advertised the town some more last night by being beaten by George Hackenschmidt in Toronto. The 'Doc' lost in two straight falls and the faithful old Associated Press comes through with the information that 'Dr. Roller had a cold which interfered with his breathing. He wrestled gamely, evading many difficult holds, but the Russian beat him down.'

Every time business gets a little dull and Hack has an open date he flops Roller and, as the man from Battle Creek, Mich., has it, 'there's a reason for it.'

… Roller is Hackenschmidt's financial backer this trip. Jack Curley always tells with a straight face about how rich Hack is and how he wrestles only for the love of the sport and not for the lure of the coin, but just the same, they say it was 'Doc' Roller of Seattle who put up the $20,000 guarantee for Hack's present tour.

Curley and Roller ostensibly parted company when Hack came over here, and that made it possible to use Roller as an opponent to Hack when others were shy about coming forward. And at that Roller can put on a better show with the big Russian than almost any other man in the country, so those who pay their money to see the men in action do not get cheated a bit.

But it really is amusing to read every so often about Hack and Roller, his real manager, having had a terrific struggle, and always in a different city. Roller will clean up a bunch of money on Hack's tour and he is entitled to it for being game enough to take a chance on the proposition…

Frank [Gotch] will now go the rounds, trimming Beell, Ordeman, Roller maybe; Jess Westergaard, possibly old Farmer Burns, and then wind up with Zbyszsko [sic] and Hackenschmidt. It's the old merry-go-round that is worked year after year. The public likes it and there's nothing better in sight, so what's the difference?
Beyond the money, another reason the wrestlers preferred the merry-go-round was that it was a whole lot safer than the alternative.
"Both Wrestlers Were Using Assumed Names," Seattle Times, February 13, 1911, 13.
Charley Olson, wrestler, flitted unobserved through St. Louis a day or two ago, on his way to Indianapolis. He came from the Southwest, after having participated in the match with one McRay, who died as a result of injuries received in their match at Amarillo, Texas…

McRay is not the first to die following a match with Olson. Several years ago a black wrestler succumbed, following a mat match with Olson, in Montreal, Canada…

This is one reason why there is so much 'faking' in the mat game. There is very seldom enough at stake to make really good men endure the punishment incident to a real battle to the finish.
"I cried like a baby," Olson later told John C. Meyers. "That dead man's father jumped on the mat and it was a terrible scene. My friends hurried me from the place as fast as we could get away and I took the first train out of town." The Canadian death occurred in 1906 when the black wrestler was thrown from the ring and hit his head on a chair. The Texan fatality occurred while the wrestler was being driven into a mat using a crotch hold.
Both piledrivers and crotch holds were (and are) quite normal tricks of the trade. But "to reduce the risk," the sports started clamoring for the elimination of "the deadly toe hold," a move that sometimes caused injuries but so far as I know never killed anyone.
Now, admittedly, the toehold was not a nice move. Instead, as described by E.J. Harrison in Wrestling(London: W. Foulsham & Co., 1934), page 76, it was a "really nasty and potentially dangerous lock. It is applied when your opponent is lying face downward on the mat. Cross his feet, say the right over the left, above the ankle; then locking them against your chest, force him to bend his legs. Then reaching forward and downwards you clasp both hands against the crown of his head which you force backwards, in this manner inflicting intolerable pain upon his spine and neck." Nevertheless, it was a controllable submission technique, and thus far safer than throwing the wrestlers into the chairs. But it wasn't nearly as thrilling to watch.


"Dr. Roller Thinks Deadly Toe Hold Should Be Barred," Dr. B.F. Roller, Seattle Times, February 20, 1911, 10.
The toe hold, although as old as catch-as-catch-can wrestling, has only been 'played up' as a feature in the past three years, simply because it enabled Frank Gotch, who developed it to its highest efficiency, to work his way to the championship of the world.

I think, however, that Gotch would have eventually become champion without this terrible hold, thus adding force to my argument that the toe hold produces little except punishment…

I am not in favor of making wrestling a gentle sport, by any means. I want to see it just as rugged as it can be made, but I want it to be, above all things, sportsmanlike…
Unfortunately, sportsmanlike conduct was not something the wrestling fans liked to see. And, as the following article shows, police used the sham violence of the ring to insist on greater payoffs. [FN1]
"Champion Wrestler of Japan Meets Defeat at Last," Seattle Times, March 3, 1911, 17.
Claude Bannick, our blonde chief of police, says there will be no wrestling bouts so long as he is on the job. [Promoter] Kid Herman [Lanfield] had an idea that it would be a fine thing to put Hackenschmidt and Ordeman on here for an exhibition bout and turn over part of the profits to the fund for the starving Chinese, and the committee handling the fund thought well of the suggestion. R.P. Wilson took it upon himself to talk to Chief Bannick about the matter, and after the interview he looked as if he had passed through a blizzard…

The chief is said to base his opposition to wrestling bouts on the ground that the people who attend them are 'not the right sort.' This will be an awful jolt to the pride of some of the swells who used to have ringside seats at all the big matches here…
In boxing, corruption was rarely mentioned because promoters such as Jack Kearns and Tex Rickard normally provided the reporters with a percentage of the gates or bottles of whiskey. But wrestling promoters rarely followed suit, so of course the sportswriters had no remorse about panning wrestling whenever they could.
"Frisco Sports Do Not Care for Wrestling," T.P. McGilligan, Seattle Times, April 18, 1911, 13.
Wrestling as a sport here [San Francisco] seems about as popular as a reptile at a Sunday school picnic, and there was so little coin in the house that the promoters were afraid to count it. After the expenses of running the match had been settled, Gotch took his end and bought a cigar and a sandwich for himself. Ordeman got enough to pay his carfare and demand a transfer in a haughty tone.

… There were few of those present who seemed to have even a rudimentary knowledge of the most ancient sport in the world. Some of the boys were calling the half-nelsons half-uppercuts, and when Gotch pressed an English arm lock on Ordeman now and then, the more excitable lads in the gallery wanted Gotch disqualified for hitting in the clinches.
But the fans didn't care, and meanwhile the wrestlers and promoters gleefully added fuel to the feuding fires. For example, following Hackenschmidt's very poor showing against Gotch during a world championship match held in Chicago on September 4, 1911, Roller had this to say.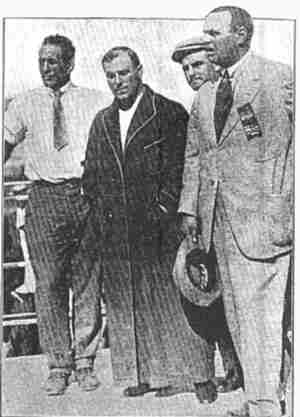 From left to right, Roller, Hackenschmidt, Americus, and Jack Curly; the photo was taken just before the match with Gotch in Chicago
"Dr. B.F. Roller Is Not Satisfied with Hack's Work on Mat," Dr. B.F. Roller, Seattle Times, September 5, 1911, 1.
My hat is off to Gotch. He is still the champion of the world.

He is a greater man than I ever thought he was. I think he is better today than I ever saw him in my life. Gotch wrestled very cautiously, he wrestled beautifully, but after all it was temperament more than anything else that defeated Hack…

The only way to see him [Hackenschmidt] at his best, however, is to spring a surprise match on him with an hour's notice. For the past week, at least, he has slept very little…

His stubbornness made it impossible for us to have control over him. I tried to outline his condition and I told him that it should be a rushing fight, but he told me to shut up, that he knew what he was doing…

I saw Monday morning at sunrise that Hack's courage was waning. I don't want to say much of this sort, for I do not want the public to think I am turning against a man because he is defeated, but I must admit that, as I predicted yesterday, gameness was a long factor in this contest…

In the gymnasium he [Hackenschmidt] is a greater man than he showed today, but unfortunately championship matches are not wrestled in gymnasiums. I tried my best to make a winner out of him and put him into the ring in the best possible condition, but as I said yesterday, gameness is something you cannot put into a man. I am glad the thing is over and I would not go through with it again for the entire gate.
For his part, Hackenschmidt replied that the pain from Gotch's vaunted toehold had been excruciating, especially since he had a preexisting knee injury. [FN2] Be that as it may, there was no public interest in a third match between the two men; Gotch was widely conceded to be the true world champion. (Given the tenor of the times, the Great Gama and various Japanese professional wrestlers of the day were of course not considered.)
"Dr. Roller Calls, Looking Like General Prosperity," Seattle Times, September 25, 1911, 12.
'Hack can take Gotch in a gymnasium and beat him today,' continued the doctor, 'but a child could have beaten the Lion in Chicago the day of the big match. Talk about Jeff's having buck ague at Reno – it was a mild case of the shakes compared to what Hack had at Chicago. He could not sleep the night before the match and he cried like a baby after it; he would not listen to me or anyone else and was as peevish as a teething baby.'

'I firmly believe that Gotch was scared, too, but Gotch is a good bluffer, so he made a few rough passes at Hack, and Hack simply wilted. I was terribly disappointed in Hack's showing because I had worked hard with him, and, had he won, I would have cleaned up about $80,000 with him showing him around the country.'

But Roller really did not do so badly on the big match as that, for he has just been over to Yakima buying another bunch of fruit land with the money gleaned at Chicago. Had Hack won he figured on buying the whole county, but as Hack quit cold on him he had to be content with just buying one more ranch. By the way, the big doctor now calls Yakima [Washington] his home town…

Gotch beat himself out of a nice chunk of money by insisting upon a guarantee of $21,000. Frank never was much of a hand at taking a chance. He was offered 40 per cent as his bit, but he preferred a guarantee of $21,000 and 50 per cent of the moving pictures. Roller and Curley, who were not afraid to take a chance, cleaned up much more money than Gotch did, and they will have half of the picture money with which to buy meal tickets this winter.
This was no exaggeration, as Roller earned at least $22,000 from the film rights and his share of the gate. Hackenschmidt did fine, too, at least until World War I wiped out hundreds of thousands of dollars worth of investments in Russia and Germany.
The American wrestling audiences meanwhile clamored to see more of Frank Gotch's deadly toehold.


"Toe Hold Not Barred at Dreamland Tomorrow Night," Seattle Times, November 2, 1911, 15.
The toe hold is not barred at the big wrestling show to be staged at Dreamland Pavilion tomorrow night, and Frank Gotch, champion of the world, will probably illustrate the hold. He says is not coming to Seattle any more as a wrestler, so he will very likely show how to apply the hold which he has made famous…

… the champion will be seen in a good work-out, and that will be worth the price of admission. An exhibition bout between two clever men is far more enjoyable than a blood match anyway, for the wrestlers can thus illustrate all the holds in the game and how to break them, where they would be afraid to take chances in a blood match.


"Seattle's Sport-Hungry Folks Like Wrestling Bouts," Seattle Times, November 4, 1911, 8.
Though it was well known that Jack Leon could not put up a real contest against Champion Frank Gotch, still the folks of this town have been shut off from all kinds of sporting events for so long that they fairly flocked to the pavilion just to see the champion in action…
Modern show wrestling had entered the world.
"Jack Johnson Fat as Prize Porker Will Fight No More," Seattle Times, December 12, 1911, 15.
Dr. B.F. Roller, once of Seattle, but now of everywhere, wrestled with Jesse Pederson, the Swedish giant, at Chicago last night and won the match on a foul. Pederson got peeved about something and hoisting the kicking doctor high in the air he pitched him out into the audience. Of course a return match is the thing now. When two men show such temper as Roller and Pederson displayed last night, it would be a shame not to let them have it out. In his brief career on the mat, Roller has had a lot of queer experiences… Verily age cannot wither nor custom stale the infinite variety of angles in the wrestling game. Chicago is no boob town, but still the wrestlers flourish there and wax fat.
The foreign wrestler started becoming a joke instead of a serious threat.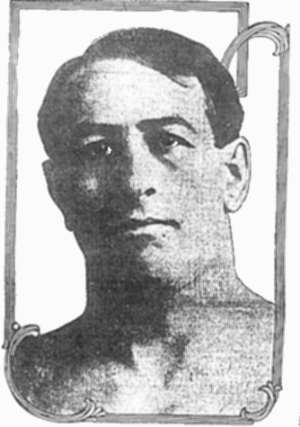 Benjamin Franklin Roller
"Seattle Athletic Club Puts on Big Smoker Tonight," Seattle Times, December 15, 1911, 21.
Zbyszko, the Polish wrestler who is built like a barrel of pork, is coming out this way again, and inquiries are being made about a date for him to appear in Seattle. Zbyszko was here about two years ago. He wrestled with Dr. Roller in the Grand Opera House and the bout pulled hardly receipts enough to pay for the lights and janitor service. It was the smallest house Seattle ever turned out to a wrestling match, where the principals had any pretense of class. That night the giant Pole looked as slow as a stall-fed ox, but there is no denying his strength, and he flopped Roller twice. Maybe he will draw better the next time he comes.
Why? Let syndicated columnist Lloyd Jones explain.
"Foreign Wrestlers Poor Lot Yet Demand Big Money," Lloyd Kenyon Jones, Seattle Times, December 19, 1911, 19.
The public has pretty nearly lost all interest in wrestling. Gate money runs lower than at any time since the days of Evan Lewis, when $300 or $400 was a princely sum. Labor Day [and the second Gotch-Hackenschmidt bout] did it. And is the public going to repeat Labor Day? Everybody supposed that Hackenschmidt was better than he proved to be. His miserable showing started a long echo traveling – and it hasn't made the round trip by long odds.

These other Europeans aver they are the masters of Hack – but they never wrestled him as far as the records show. Their titles for the most part have been won in tournaments, and in this connection let us quote the words of a man familiar with these tournaments.

'A wrestler aspiring to easy money, engages a grappling band of twenty or thirty ordinary mat men at a weekly stipend. He stages his tournament. He calls it, perhaps, the world's championship – as Ralcevich did in Mexico after Gotch trimmed him in Chicago. Being the employer, he graciously wins.'

If this is the brutal truth, let it be known. If European titles have grown on shrubs of this kind, let Americans study the botany of their own species and draw their own conclusions.
Roller, nonplused, continued his merry moneymaking ways.
"Short Jabs at Sport," Seattle Times, March 19, 1912, 13.
At Knoxville, Tenn., last night Jess Westergard beat Dr. B.F. Roller of Seattle. After 40 minutes of wrestling without a fall, Roller was injured slightly when the men fell through the ropes. He was unable to continue the match, although he recovered within a few minutes.
Sportswriters continued panning the game, saying it wasn't sport.
"Gotch-Hack Fiasco Put Big Crimp in Wrestling Game," Hugh E. Knough, Seattle Times, April 14, 1912, 29.
There is only one excuse for professional wrestling, and that is the absence of boxing… It is 'an exhibition' game, which … cannot support its players as anything else. Far worse than being crooked, it is stupid. One can overlook the crooked part of it, as one does not have to be deceived, but its stupidity is unforgivable.
But audiences didn't care -- they've always liked what James Twitchell calls "preposterous violence"-- and the promoters laughed all the way to the bank.
"Large Belgian Wrestler Breaks One of Roller's Ribs," Seattle Times, November 16, 1912, 9.
Dr. Roller has had his ribs broken again. Doc has had ribs broken in London, Seattle, Philadelphia, and several other seaports, both in football and in wrestling, and last night he honored Ottawa, the capital of Ontario, by having his slats cracked there. He was wrestling a large, well-fed Belgian named Constant Le Marin.
As for Roller, he continued wrestling -- and breaking ribs -- for another decade. He died of pneumonia on April 19, 1933, age 57.
Footnotes
FN1. For insight into Pacific Northwest police corruption, see William J. Chambliss, On the Take: From Petty Crooks to Presidents (Bloomington: University of Indiana Press, 2nd edition, 1988). With a little effort, one could surely document similar situations in most US cities of the period.
FN2. Lou Thesz insists that Hackenschmidt's knee injury was the result of a match with Ad Santel. Santel was in Chicago in January 1911 (his moniker was Adolph Ernst), so Santel and Hackenschmidt could have worked and trained together. Nevertheless, it is strikes me as unlikely that a last-minute injury caused Hackenschmidt to fall (lose is surely not the correct verb to apply to the outcome of any twentieth century professional wrestling match) to Gotch in Chicago.