InYo: Journal of Alternative Perspectives May 2000
Strong, Intelligent, Powerful and Feminine: A profile of Tamami "Sky" Hosoya
By Evan Ginzburg, http://www.walkertown.com/wtnow
Copyright © 2000. All rights reserved.
Tamami Hosoya was born in Tokyo, Japan. Her parents came to New York when she was a small child, and growing up in Queens, she competed in everything from scholastic basketball to tennis to running, and also studied ballet, jazz dance, and aerobics. Under peer and societal pressure, she sought the "thin glamour model look. I tried so hard to contour my body into that look. But now I know that it is not healthy, nor is it very sexy. Thank heaven women are finally starting to realize that a healthy, strong, muscular body is a wonderful way of life."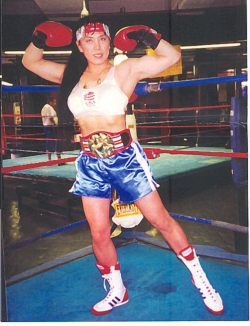 As a young adult, Hosoya "went back to Japan to find my roots. To get by, I was teaching English to Japanese businessmen who were very chauvinistic. I couldnít deal with that, so my only release was to go to the gym and do aerobics." At the gym she caught the eye of the reigning Ms. Japan, bodybuilder Hiromi Ishikawa, who told her that she was wasting her time doing aerobics, what she needed to do was lift weights. So she did. "Bodybuilding is sculpting with living flesh!" says Hosoya. "What a wonderful concept, Ďliving sculpture.í I love the way training hard makes me feel, so strong and powerful! Itís addictive."
In Japan, Hosoya competed in several bodybuilding competitions. "I think a woman can be strong, intelligent, and powerful and still be very feminine. I think a hard, tight, and muscular body is as sexy as you can possibly get. It doesnít matter if you are a man or a woman."
Upon returning to New York, she continued lifting weights at Gleasonís Boxing Gym in Brooklyn. In 1995 Gleasonís owner Bruce Silverglade dared her to compete in the first Womenís Golden Gloves, which were being held in New York City. At first this sounded wild, but then she decided to give it a try. "I think everyone who has fantasized about unleashing their strength and feeling the powerful force of another opponent should try it at least once," she says.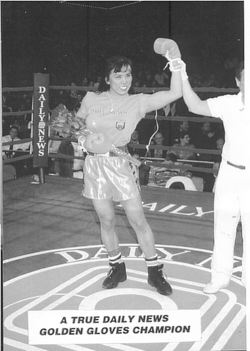 Hosoyaís boxing trainer was Antonio Tomahawk. In 1997 he told a reporter for The Village Voice, "We used to stick her in there with kids who were like, 16, 17 years old. These kids were strong and fast. But she knocked one out of the ring with a jab alone. She punches so hard that these kids would forget she was a woman; they would come back at her and throw the kitchen sink."
"I have really bad technique," Hosoya admits, "but Iíve got power. When I land a shot and see their eyes roll back in their head, then I know. I like to end it quickly, mercifully. That way she doesnít need to take much punishment, and I donít either. Iím a Buddhist, and I believe itís better to give than to receive. Especially in the ring."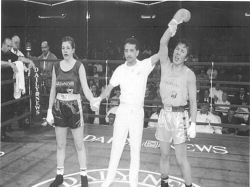 Hosoya was the first woman to win the New York Daily News Golden Gloves Boxing Championship three years in a row (1993, 1994, 1995), and in August, Georgia, in 1997, she took first place in the 147-pound class of the USA Boxing Womenís National Championships. "In the USA Championship finals I fought a woman who looked like a large farm girl from Massachusetts. It was pretty hard and the fight went the distance. She kept holding and I could feel her breasts on my face. It was toe-to-toe, breast-to-breast. I won the decision 5-0."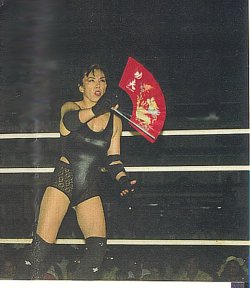 Subsequently Hosoya began wrestling professionally, both as herself and as Empress Asia. "Wrestlers are the nicest, sweetest people," says Hosoya. "Theyíre just like big puppy dogs once you win their respect. You have to show youíre just as serious and dedicated as they are. I love wrestling; it makes me feel so alive, the adrenaline gets flowing, the muscles get so hard and pumped as we lock up our strength in various holds."
Furthermore, she likes the sport itself. "Itís a raw game, with no room for the timid, but like chess, you still must use your cunning technique to weave a strategic web for your opponent. Itís the ultimate sport!"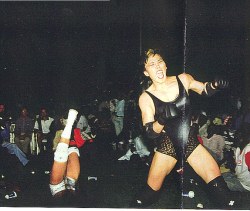 She would like to earn a living wrestling. "Doing what you love, thatís what real happiness is. Sure, I could be working in an office, taking aerobic classes twice a week, and complaining about how to slim my hips, but thatís not for me. Iíd rather play rough and hard with the big boys. If youíre interested in something, no matter how crazy, give it a try."
Unfortunately, there isnít a lot of paying market for independent wrestlers, and to earn a livable wage, a wrestler has to be a television wrestler. Today, getting on television is more about marketing than technical ability. "Wrestling in America," says Hosoya, "is all about cosmetics and visuals and a womanís place. They donít take women as seriously here in the United States as in Japan. In Japan the womenís league is taken very seriously- as much as the maleís. There the women are considered athletes. Here itís all about looks and T&A and Pamela Anderson boob jobs."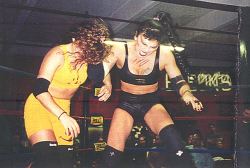 Meanwhile, to pay the bills, she works in New York as a personal trainer. "I donít know what the future holds for me," she says. "I can only try to do my best and live my life out to its fullest potential. I think anyone who wants to can live out their dreams. There are no excuses; excuses are for the weak. Live your dreams, whatever they may be, but keep the body healthy and strong and it will make the journey a lot more fulfilling."



Contact Information
You can reach Sky by writing her care of Asia, P. O. Box 4507, New York, NY 10185.
In North America, fifteen seconds of film featuring Sky appears halfway through the first hour of "Martial Arts: The Real Story," a documentary that debuted on The Learning Channel on July 7, 2000; see http://www.pacificstreetfilms.com. Female athletes featured in much greater depth during that same show included actress Kelly Hu, capoeirista Edna Lima, and naginata teacher Ms. Tokunaga.



About the Author
Evan Ginzburg is publisher of Wrestling Then & Now.

InYo May 2000