InYo: Journal of Alternative Perspectives Nov 2000, updated Jan 2005

Japanese Professional Wrestling Pioneer: Sorakichi Matsuda
By Joseph R. Svinth
Copyright © Joseph R. Svinth 2000. All rights reserved.
The assistance of R. Benjamin, Mark Hewitt, Brian Niiya, Graham Noble, Robert W. Smith, Steve Yohe, and the Japanese American National Museum is gratefully acknowledged.
Although Commodore Perry saw sumotori during his visit to Japan, the first Japanese to wrestle competitively with Americans were the scores of Japanese serving with the US Navy between 1881 and 1920; there was a Japanese named Yamada serving aboard USS Maine when it blew up in Havana harbor in 1898 and other Japanese served in the US fleet as late as World War I.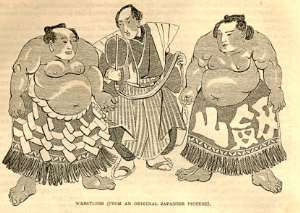 From "Commodore Perry's Expedition to Japan," Harper's New Monthly Magazine, LXXII, May 1856, page 740
The naval connection continued on shore, too; as Mitziko Sawada wrote in Tokyo Life, New York Dreams (1996): "In 1890-1891, over half of the 600 [mostly male] Japanese issei [first generation immigrants] in the New York area lived and worked in Brooklyn… Their job was to repair and resupply U.S. Navy ships." Most of the rest were bankers, business executives, or domestics; there was no Issei middle class in turn-of-the-century New York.
And a few were wrestlers.
Sorakichi Matsuda was probably the first Japanese to wrestle professionally in North America. A middleweight who came to the United States around 1883, he made his wrestling debut in New York City on January 14, 1884. The opponent was the 148-pound Englishman Edwin Bibby and the result was a loss.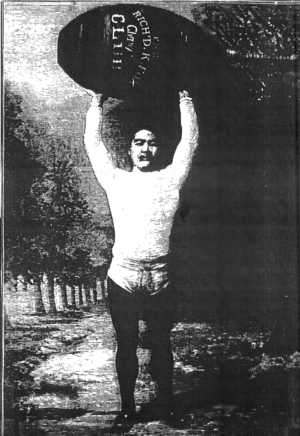 Sorakichi Matsuda, from undated Police Gazette article
In March 1884 Matsuda beat Bibby and then James Daley in New York. After that, he went on the road and over the next few months he wrestled in Cleveland, Baltimore, Buffalo, Rochester, Philadelphia, Cincinnati, Chicago, and Peoria. His opponents included Duncan Ross, Jack Gallagher, Benny Jones, Joe Acton, Carlos Martino, and Ted George.
His most famous opponent, however, was the US champion William Muldoon, who beat Matsuda in Chicago on July 18, 1884. By defeating the German Thiebaud Bauer in 1880, Muldoon had become the United States' first famous wrestling champion. An avid physical culturalist, Muldoon also had done some prize fighting. He preferred wrestling, however, as the purses were larger: seven dollars to the winner and three to the loser, instead of three dollars to the winner and two to the loser.
In late August 1884 Matsuda returned to New York City, where he remained until June 1885. There he beat James Quigley and Jack Herd, drew with Karl Abs and William Muldoon, and lost twice to Abs. That same year, Abs beat Muldoon, thus winning what the New York papers called the championship of the world.
After that Matsuda was back on the road, wrestling in Cleveland in June 1885 and Scranton, Pennsylvania in December. Meanwhile he gained significant notoriety after his European American wife, the former Ella B. Lodge of Philadelphia, complained that Matsuda and his friends squandered her inheritance and threatened her with violence whenever she complained. Furthermore, she said, Matsuda kept his Japanese girlfriend in their home. They must have patched things up, however, as in February 1886 the New York Times reported that Mrs. Matsuda was in Chicago "attending his every motion."
On January 28, 1886, Matsuda lost to the 175-pound Evan Lewis (real name: Henry Clayton) in Chicago. On February 8, Matsuda wrestled Lewis again. According to legend it was during this match that Lewis earned his nickname "Strangler" because of the chokehold he used to defeat Matsuda yet again. However, according to the New York Times, Lewis had actually used a leg lock rather than a stranglehold. ("Though no bone is fractured one of the cords of the leg is broken, and all the muscles are so strained and twisted that Sorakichi is more badly hurt than if the limb had been actually broken. This evening his knee was swollen to double its natural size.")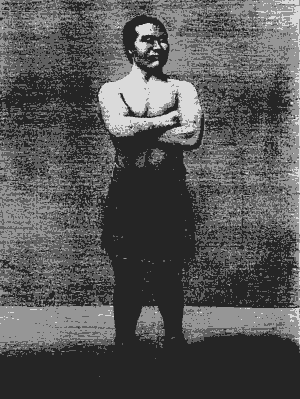 Sorakichi Matsuda, from undated Police Gazette article
In March 1886 Matsuda lost to the British champion Tom Cannon in Cleveland and drew with the German champion Ernst Roeber in New York City. The latter match took place at the Germania Assembly Rooms in the Bowery, and on April 1, 1886, the New York Times reported that "only four Japs besides the Mikado [Matsuda] were in the hall. These four Japs sat in the front row and vigourously applauded their fellow-countryman."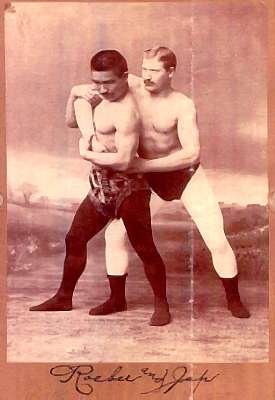 "Ernst Roeber and a Japanese wrestler, probably Sorakichi Matsuda, circa 1886. Photo courtesy Michael Murphy."
During the rest of 1886 Matsuda was on the road, wrestling in Cleveland, Philadelphia, Ashland, Wisconsin, and St. Louis. Opponents included Duncan Ross, Joe Acton, Jack Carkeek, James Doner, James Faulkner, and Bernarr Macfadden. Sixteen years later, Carkeek still remembered Matsuda fondly, telling the British sporting paper Mirror of Life in February 1902 that he held "a high opinion of Sorasky, the Jap., whom he considers to be probably the cleverest man in the world at his weight. The plucky little Jap. has suffered numerous defeats simply because he has tackled all the best men of the day, no matter what their size and weight might be, and the good little ones must ever go down to big ones."
Matsuda continued traveling during 1887, wrestling in Buffalo, Cleveland, Detroit, and Baltimore. In 1888, he was in Pennsylvania (Philadelphia, Pittsburgh, Erie, and Scranton), and Lowell, Massachusetts. His opponents included Jesse Clark, Jack Hart, Joe Acton, Jim Connors, H.M. Dufar, Harvey Parker, and William Muldoon.
During January and February 1889, Matsuda wrestled August La Grange, William Muldoon, and Ted George in Philadelphia.
On May 13, 1891 Matsuda lost to the future US champion Martin "Farmer" Burns in Troy, New York. Three months later, on August 16, 1891, Matsuda died of illness in New York City, without money or friends. He was aged 32.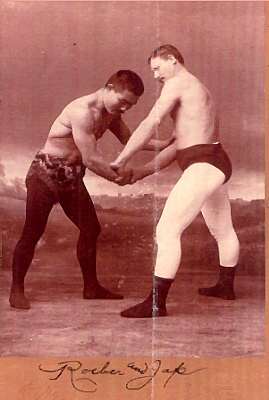 "Ernst Roeber and a Japanese wrestler, probably Sorakichi Matsuda, circa 1886. Photo courtesy Michael Murphy."
Career Summary
This record is doubtless incomplete; readers with additional information are requested to contact the editor at jsvinth@ejmas.com.

| | | |
| --- | --- | --- |
| Date | Place | Result |
| 1884 Jan 14 | New York City | Lost to Edwin Bibby (debut) |
| 1884 Mar 10 | New York City | Beat Edwin Bibby |
| 1884 Mar 24 | New York City | Beat James Daly |
| 1884 Apr 8 | Cleveland | Lost to Duncan C. Ross (mixed-style) |
| 1884 Apr 12 | Cleveland | Drew Andre Christol |
| 1884 Apr 20 | Baltimore | Drew Duncan C. Ross |
| 1884 May 3 | Buffalo | Beat Jack Gallagher |
| 1884 May 20 | Rochester | Beat Benny Jones |
| 1884 Jun 2 | New York City | Lost to Duncan C. Ross |
| 1884 Jun 16 | Philadelphia | Lost to Joe Acton |
| 1884 Jul 7 | Philadelphia | Drew Benny Jones |
| 1884 Jul 15 | Cincinnati | Beat Carlos Martino |
| 1884 Jul 18 | Chicago | Lost to William Muldoon |
| 1884 Jul 25 | Peoria | Beat Ted George |
| 1884 Aug 19 | New York City | Beat James Quigley |
| 1884 Nov 9 | New York City | Beat Jack Herd |
| 1885 Apr 1 | New York City | Drew Karl Abs |
| 1885 Apr 15 | New York City | Lost to Karl Abs |
| 1885 Apr | New York City | Beat William Muldoon in handicap match (Muldoon failed to throw five times in an hour) |
| 1885 Jun 8 | New York City | Lost to Karl Abs |
| 1885 Jun 21 | Cleveland | Lost to Duncan C. Ross |
| 1885 Dec 24 | Scranton, PA | Beat Benny Jones |
| 1886 Jan 28 | Chicago | Lost to Evan "Strangler" Lewis |
| 1886 Feb 8 | Chicago | Lost to Evan "Strangler" Lewis |
| 1886 Mar 23 | Cleveland | Lost to Tom Cannon |
| 1886 Mar 31 | New York City | Drew Ernst Roeber |
| 1886 Jul 2 | Cleveland | Beat Duncan C. Ross |
| 1886 Jul 18 | Philadelphia | Lost to Joe Acton in handicap match; Acton threw him five times in an hour) |
| 1886 Jul 25 | Cleveland | Lost to Jack Carkeek |
| 1886 Sep 15 | Ashland, WI | Beat James Doner |
| 1886 Oct 30 | Cleveland | Beat James Faulkner |
| 1886 Dec 8 | Cleveland | Beat Duncan C. Ross |
| 1886 | St. Louis | Beat Bernarr Macfadden |
| 1887 Feb 15 | Buffalo | Beat James Faulkner |
| 1887 Feb 19 | Buffalo | Beat Jack Hines |
| 1887 Mar 5 | Cleveland | Beat James Faulkner (best of 5 falls) |
| 1887 Apr 27 | Buffalo | Lost to Mort Waters |
| 1887 May 5 | Detroit | Lost to John McMahon |
| 1887 May 23 | New Haven | Beat William Muldoon |
| 1887 Jun 26 | Baltimore | Beat John Boyle |
| 1887 Jul 4 | Springfield, OH | Lost to William Muldoon |
| 1887 Jul 30 | Buffalo | Lost to Dennis Gallagher |
| 1887 Sep 30 | ? | Drew William Muldoon |
| 1887 Oct 21 | Buffalo | Lost to William Muldoon |
| 1887 Oct 26 | Buffalo | Lost to Dennis Gallagher |
| 1887 Oct 28 | Buffalo | Lost to Edwin Bibby |
| 1888 Jan 24 | Pittsburgh | Failed to throw Jim Connors (handicap) |
| 1888 Feb | Philadelphia | Wrestled all comers for a week |
| | Monday | Beat Jesse Clark |
| | Tuesday | Beat Jack Hart |
| | Wednesday | Failed to throw Joe Acton |
| | Thursday | Failed to throw Joe Acton |
| | Friday | Beat Prof. Coupe and Jesse Clark |
| 1888 Sep 18 | Lowell, MA | Beat H.M. Dufar |
| 1888 Nov 14 | Erie, PA | Failed to throw Haney Parker |
| 1888 Dec 17 | Philadelphia | Lost to William Muldoon |
| 1889 Jan 10 | Philadelphia | Beat August La Grange |
| 1889 Jan 12 | Philadelphia | Lost to William Muldoon |
| 1889 Jan 16 | Philadelphia | Beat Ted George |
| 1889 Jan 21 | Scranton, PA | Lost to Antonio Pierri |
| 1889 Feb 7 | Philadelphia | Lost to Ted George |
| 1889 July 12 | Seattle | Beat Schumacher |
| 1891 May 13 | Troy, NY | Lost to Martin "Farmer" Burns |
| 1891 Aug 16 | New York City | Died |
Sorakichi Matsuda in the San Francisco Chronicle -- 1884
Contributed by Jason Couch, 2004
SFC, 1-15-1884, p.3
A new aspirant for arenic honors recently arrived in New York City in the person of Matsada Sorakichi, the champion wrestler of Japan, who was imported by Phil Kirby for the purpose of contesting for the catch-as-catch-can championship. A match was speedily arranged between the Jap and Edwin Bibby for $500 a side, the affair to come off at New York within a fortnight from the date of signing the articles of agreement. Matsada is a native of Tokio, stands five feet seven inches, weighs 175 pounds, has an immense breadth of chest, muscular arms and shoulders, a very small waist, muscular thighs, prominent calves, tapering ankles and the smallest of feet. He dresses in an elaborate Oriental manner, his coiled hair being held in place by a diamond pin. He wears two articles of Western manufacture—a pair of eight-button black kid gloves and a pair of diminutive elastic morocco garters. This somewhat eccentric costume attracts great attention wherever he goes. Of his wrestling powers there cannot, however, be much doubt, as he has figured in over 50 matches with good results. Phil Kirby is well known in San Francisco as a purveyor of curiosities to Barnum's show, and he it was who got up the great Siamese white elephant yarn that went the rounds of the press both in Europe and in this country. Some months since, he landed here with a troupe of Japanese dancers, jugglers, and athletes, and it is now more than probable that this Matsada was amongst the number.
SFC, 1-29-1884, p.3
The dispatches briefly announced the result of the wrestling match between Edwin Bibby and the champion of Japan, Matsada Sorakiche, which took place recently at Irving Hall, New York, but the encounter was so unique that a few particulars gathered from the daily press will prove admissible. The Jap was brought over by Phil H. Kirby and is remembered from having passed through here as a burly, adipose young fellow of medium height, with his black hair arranged in a topknot. As soon as time was called Bibby went to the center of the stage, prepared to wrestle, but Sorakiche stepped only to the side of the padded portion, spread his legs far apart, put his right hand on his right knee, with his left hand in the air, stamped the floor with his feet and then made a spring for Bibby. He pushed the Englishman quite a distance, when Bibby whirled out of his grasp and instantly catching the Japanese by the left thigh and right shoulder, twisted him to the floor. In 32 seconds after the match had begun Sorakiche lay flat upon his back. This evidently surprised the Jap, but he was game to the toes and came promptly to time after the 15 minutes rest and showed himself to be an unusually active and muscular athlete, but he lacked knowledge of catch-as-catch-can wrestling and failed to make the most of the advantageous positions into which he forced his more experienced adversary. Once Bibby had his man on head and one shoulder and essayed to get the other shoulder to the floor by pressing upon the Jap's chest, but the latter was strong enough to resist and it was by another leg-and-shoulder throw that Bibby secured the second fall in 2:19. The Jap forced the work from the start, and it is plain that had he not been as ignorant of what he was to face as a baby he might have given Bibby considerable trouble. His native style had been to wrestle in a nine-foot ring with men whose object it was to throw him out of it. As a majority of them failed and he threw the most of them over the ropes, he thereby became champion.
SFC, 2-5-1884, p.3
Kirby now wants to back his man Matsada Sorakichi against any man in America for $1000 to $700, only the wrestling must be in the Japanese style [e.g., sumo].
SFC, 3-11-1884, p.3
A wrestling match had been arranged to take place between Bibby and Matsada Sorakichi, Japanese style.
SFC, 3-25-1884, p.3
Bibby had been butted out by the Japanese wrestler Matsada Sorakichi, the match, which took place at Clarendon Hall, New York, on the 10th, being a return match and being conducted as nearly as possible according to the Japanese rules, best three in five falls. The reports of the match which have come to hand are so interesting that it is a pity to be obliged to publish, as one is, only a condensation. Though the match was advertised at 8 o'clock, the hall was crowded at 7, the greatest excitement prevailing all the evening. Bibby did not understand Japanese and Sorakichi did not understand English, but it was, after much trouble, agreed among them that a fall should be had by any part of the body touching the ground except the hands or feet, although the Jap insisted for awhile that the hands should count. When time was called the Jap rose to his full height, stretched out his arms, clinched his fingers, bent over backward and roared with the mighty roar of an angry bull. Then he dropped his head forward as though his neck were broken and screeched like a frenzied owl. The muscles stood out all over his body in huge rolls and bunches, and the sinew of his neck and arms were like whipcords. Bibby stood with his legs well apart and his hands outstretched, watching the Jap with amazement. Then the Oriental stamped his bare feet like pile-drivers, rubbed his hands on the floor, and without an instant's hesitation shot head foremost at his rival, going forward as if shot from a catapult. His head caught Bibby just on the shoulder and sent him flying against the ropes. The Jap claimed the fall and then there was more misunderstanding and wrangling, it being finally agreed that they should begin again. Once more the Jap shot forward, but Bibby was ready for him. The Englishman lowered his head and the two athletes came together like goats. Both recoiled. Then, before Bibby could pull himself together, the Jap dashed forward, seized the Englishman by the back of his head and by terrific effort yanked him forward. Bibby, taken entirely unawares, shot head first to the floor on his face and the Jap won the first fall. So he did the second and then came the fun. The Jap once more tried to butt, but Bibby was ready for him. As the Jap came at him he lowered his head and dashed forward. He got lower than his antagonist and butted him partly on the face and partly on the chest. He loosened the Jap's teeth, set the blood flying from his nose and made him pant for breath. Jap butted again, but once more Bibby got in on him. Then Sorakichi gathered himself together and dashed forward again. Bibby acted as if he had been caught in a cyclone. He was knocked halfway through the ropes and before he could gather himself together was yanked forward once more and sent sprawling on the floor. He didn't know what had struck him. The Jap roared with delight, danced around the stage and then joined his friends.
SFC, 4-15-1884, p.3
Of all the styles of wrestling now in vogue, the Japanese throw appears to be the most eccentric and sensational. The Jap is evidently a tough customer not only at his own tactics, but also in catch-as-catch-can, as it took Andre Christol four and six minutes to gain his fall after lively and exciting struggles, whereas the Jap won his throws in the quickest and easiest manner. He is evidently creating quite a sensation among his heavy opponents, who are unaccustomed to his biting, scratching and jumping tactics.
SFC, 4-22-1884, p.3
Dunn's challenge to Sorakichi, the "Japanese whirlwind," has so far brought no reply, nor has there been time to receive an answer yet. Should Matsada come out, though, there might be a revival in what is now nearly a dead sport. [NOTE: Harry Dunn was an English champion in the Cumberland style and had only recently arrived in the USA.]
SFC, 5-6-1884, p.3
A letter had been received from Australia stating that Professor Miller will leave Melbourne on the 22d of May for this city, but his departure has so often been announced and then denied that even if the statement be now true he will be apt to arrive when the wrestling sensation is on its wane, unless John Conners or the Jap can be induced to visit this coast.
Matsada Sorakichi is a curio in his way. In order to give him additional strength his trainer put him on an American diet, but the viands were too rich for him and he now feeds on fish and rice. He is making great progress in catch-as-catch-can style and promises to be the champion before long.
An offer has been made to back the Jap against Muldoon for from $500 to $5000 a side, the match to take place in New York. The conditions offered are two bouts Japanese style, two Graeco-Roman, and, if not decided in four falls, then a fifth—catch-as-as-catch-can—to settle the match. If this is arranged it will be a great drawing card and will realize a small fortune, although, the Jap was recently defeated by Duncan Ross.
SFC, 5-13-1884, p.3
Patsy Hogan is evidently not going to let the grass grow under his feet, for scarcely had he arrived in New York before he forwarded the following dispatch:
NEW YORK, May 10, 1884. To the Editor of the Chronicle- SIR: Is there a man there who will wrestle a square match, mixed styles, for $100 a side? Answer. PATSY HOGAN. [NOTE: Hogan was a local boxing and wrestling promoter rather than an active wrestler; he also owned Elk Varieties.]
After consulting with Clarence Whistler, the following reply was forwarded:
SAN FRANCISCO, May 10, 1884. Patsy Hogan, New York—SIR: Clarence Whistler is willing, Graeco-Roman and catch-as-catch-can. Forfeit money ready. EDITOR CHRONICLE.
During the above interview, Whistler, in reply to the suggestion that Hogan's unknown might be the Jap, replied that he was not yet well informed as to the Japanese tactics and could not, therefore, include that style in the mixed bout. As Hogan does not make a mention of the Jap, it may be some other aspirant for arenic honors on this coast, where there are still a few who are eager for the fray, as the following will show:
SAN FRANCISCO, May 10, 1884. To the Editor of the Chronicle- SIR: Seeing a challenge in the Examiner from Clarence Whistler to wrestle any man in the world Graeco-Roman style, I hereby will match an unknown against him for $1000, the match to take place within thirty days from signing articles. This challenge is open not only to Mr. Whistler, but to any other man on the Pacific coast. I would prefer the match to take place privately, with twenty-five friends to accompany each of the wrestlers. An answer through your columns will meet with immediate attention and herewith is my note for $250, as a proof of good faith. Yours, C. J. EDGAR, 242 Kearny Street.
The Jap is fast improving in catch-as-catch-can. Of Bibby, who first bested him, Matsada said through an interpreter: "Bibby can beat me now with American tricks because he knows how to get me into position where I am powerless to use my strength. But see how it was when we wrestled in Japanese fashion. I have no difficulty at all in throwing him. If the ropes had not been there to stop him, I could have thrown him down stairs. Bibby is very strong and smart, but he isn't quick enough. His eyes are not good enough. In Japan we wrestle with our eyes more than anything else. Bibby watches my hands to see what I am going to do. That is not right; I can move my hands quicker than he can see, and he is not prepared. In Japan we do not watch a man's hands or feet; we watch only his eyes and shoulders. From them we can tell what he is going to do as soon as he knows it himself, so that we are ready for him. I am going to study American rules for six weeks, and then I will wrestle anybody in that way."
SFC, 5-20-1884, p.3
The telegram sent on by Professor Hogan from New York inquiring if there were a man here who was willing to wrestle a square match, mixed styles, for $1000 a side, was promptly answered by Clarence Whistler, with the sole proviso that the mixed styles should only include Graeco-Roman and catch-as-catch-can. This proviso was inserted because Whistler had a shrewd idea that Hogan's purpose was to include the Japanese in the mixed styles, and Whistler had no idea of meeting the Jap in a butting match until he had seen what he can do himself with his head against a stone wall. That this idea was well founded is proved by the fact that nothing more had been heard from Hogan.
It is inevitable, however, that the Jap, whose full name, by the by, is Matsada Kogerei Sorakichi, will drift out here. At least a dozen men are trying to get the Japanese whirlwind under the engagement, looking to his advent to cause a new boom in the arena of wrestling. Certainly Matsada is a remarkable fellow, and anything that concerns him is most entertaining. The New York papers devote column after column to the Jap, describing his peculiarities and encounters.
SFC, 5-27-1884, p.3
Matsada Sorakichi was so badly used up in his last butting match with Ross that he is now an inmate of a London hospital.
SFC, 6-3-1884, p.5
The Unknown, backed by Hogan to wrestle Whistler, is in all probability Joe Acton, the "little demon," whom Hogan has long had his eye upon. Whistler will meet him, whoever he is, so that what with the probability and the chances of a return match between Whistler and Cannon, catch-as-catch-can, wrestling stock is taking another upward move. The last time Action and Whistler met the match was a draw, with Acton getting the best of it, but Whistler says he would like to take another turn at the "little demon." Action, however, cannot come here directly, as he is at present negotiating a match with the Japanese champion.
The report that Matsada Sorakichi was all broken up was a little premature, as, according to the Police Gazette, he is enjoying the best of health and ready to butt or wrestle anybody. What is more, Richard K. Fox will back the Japanese wrestler against Muldoon for from $500 to $5000 a side, the match to take place in New York city, the conditions of the match to be two falls Japanese style, two falls Graeco-Roman style, and, if not decided in four bouts, a fifth to be Graeco-Roman, or the Jap will wrestle any of the champions, one each day of the week, or he will arrange a butting match with any one who thinks they excel in butting.
SFC, 6-17-1884, p.3
The Jap is having all the work he can attend to. His last wrestle was with Ross, at Irving Hall, on the 2d. The conditions were Japanese and catch-as-catch-can style. Ross weighed 210 pounds while the wonderful Jap scaled 180 pounds. The first bout lasted fifty-seven minutes, when Ross won the fall. The Jap won the second bout in just fifteen seconds, while the third bout was won by Ross in eight minutes and the fourth bout in fifteen seconds, which gave the match to Ross.
Yesterday the greatest struggle of all was to take place, that between Acton and the Jap at Acton's Park, Philadelphia, the match being in three styles for $500 a side.
SFC, 6-24-1884, p.3
Matsada Sorakichi, the Japanese champion wrestler, dressed in a new suit resembling Joseph's coat of many colors, was down among the stockbrokers a few days ago. Some one called him "Chinaman." Instantly the eyes of the Japanese flashed, and the next instant he knocked the man who insulted him down. The latter quickly got up and tackled the Jap. But the Jap butted his opponent against the wall, and would have badly disfigured him only he was prevented from doing so by the spectators. A tremendous crowd surrounded Sorakichi, but he was not afraid and left the scene of the conflict a hero.
SFC, 7-22-1884, p.3
A match has been made in New York between Carlos Martino, the strong man of Mexico, and Matsada Sorakichi, the Jap, for $500 a side, on a bet made to Fox by Jere Dunn, who backs Martino, that his man could throw Matsada. The match is to come off at Cincinnati inside of fifteen days.
Fox wants to see Muldoon and Matsada together and offers the ex-policeman $1000 if he can win match from the Jap, two falls Graeco-Roman, two Japanese.
SFC, 7-29-1884, p.3
Having met almost every wrestler in the East with varying success, Sorakichi was at last anxious to have a tussle with Muldoon. Some time ago Jere Dunn, Muldoon's backer; came to New York, called on Richard K. Fox and agreed to arrange the match if butting was barred out of the Japanese style, claiming that Muldoon did not desire to have his face damaged, his teeth knocked out, or any ribs broke. Mr. Fox refused to arrange a match unless the Japanese was allowed to wrestle according to the regular Japanese style, which includes butting. Dunn left disappointed and said he would try and influence Muldoon to allow the butting, Muldoon being eager to defeat Richard K. Fox's protégé. Mr. Muldoon finally agreed, however, to allow the Jap to butt, and Jere Dunn decided to arrange the match and wager $500. Articles of agreement were signed for Muldoon and the Jap to wrestle for $500 a side. The conditions which were to govern the contest were two bouts Japanese style, butting allowed, two bouts Graeco-Roman, and the final bout catch-as-catch-can. The match was to have taken place at Chicago on the 18th inst., but as nothing has been heard of it, it is quite possible there was a funk about this also.
SFC, 8-5-1884, p.3
Martino and Matsada had a wrestling match at Cincinnati July 15th, the Jap winning, throwing his man three times Japanese style, but losing the two rounds which were had in Graeco-Roman style.
It is said the Jap gets $25 per week for wrestling, W. E. Harding taking all the profits.
SFC, 9-2-1884, p.3
Of all the remarkable excuses made for not continuing a wrestling match was that made by James Quigley in New York on the 19th of August. He was engaged with the Jap to a large attendance and after wrestling for thirty-five minutes in the first round, having the advantage, Quigley said he wouldn't wrestle any more, as the Jap was covered with a loathsome disease. The referee, with Quigley's consent, awarded the match to Matsada.
SFC, 9-16-1884, p.3
Harry Maynard is said to have a Japanese wrestler whom Cannon will not be able to down five times in an hour. A match under these conditions can be made for $200. [NOTE: This was not Sorakichi Matsuda, rather, it was the "Tomiok" as mentioned on 12-2. Harry Maynard was a local saloon-owning promoter of wrestling and boxing]
SFC, 9-23-1884, p.3
A novel wrestling match has been arranged to come off at 125 Pine Street next Friday evening. Harry Maynard has backed a Japanese to the amount of $100 against Tom Cannon, Cannon to throw the Jap five times in one hour. The style will be catch-as-catch-can, any part of the body touching the ground constituting a fall. The Jap will be allowed to use his head and it is said he can "butt" like a ram in the springtime. His hair, which is short and as stiff as a curry-brush, cuts into bare flesh like a rat-tail file. It is believed that he will give Cannon a hard tussle.
SFC, 10-14-1884, p.3
The wrestlers are still quiet, and notwithstanding the fact that such men as Whistler, Cannon, Bauer, and O'Hanlon, to say nothing of the Japs, are somewhere in the neighborhood, there is no matchmaking among the professionals.
SFC, 11-25-1884, p.3
[A] correspondent writes to the Police Gazette from Oakland that any wrestler, no matter whether it is Joe Acton, Edwin Bibby or Matsada Sorakichi, who will visit the Pacific coast and defeat Clarence Whistler or Tom Cannon in a match at catch-as-catch-can wrestling, can win from $5000 to $10,000.
SFC, 12-2-1884, p.3
He next met Tomiok, the Japanese wrestler, for a purse of $200, given by H. Maynard, Japanese style. Cannon, to win, had to down the Jap five times in one hour. He won with ease in 26m. [NOTE: Refers to Cannon's September match mentioned above on 9-16 and 9-23.]
SFC, 12-9-1884, p.3
Muldoon has offered to wrestle the two Japs—Matsada and Hamada—catch-as-catch-can, Graeco-Roman and Japanese style for $500 a side. Muldoon will have his hands full on that proposition, but he shows his shrewdness in placing the Japanese as the final bout. Duncan Ross has gained some experience in that style and he says that if the Jap can get a good butt at his antagonist the effect would be almost sufficient to knock the wind out of a cyclone.