| | |
| --- | --- |
| | Electronic Journals of Martial Arts and Sciences |
Our EJMAS editorial staff:
---

David Cvet
Editor: JWMA
President & Founder, Academy of European Medieval Martial Arts, Toronto (Canada) Mr. Cvet is the founder and President of the Academy of European Medieval Martial Arts (AEMMA), an organization dedicated to the resurrection and formalization of medieval martial arts training systems across all weapons disciplines. He has studied Asian combat arts as well as participated in various medieval organizations including historical longsword training that employed steel weapons in northern Italy. This combination of background experience fired his desire to pursue the development of a formal medieval martial arts training program. To satisfy this desire, he founded AEMMA in mid-1998. In addition to AEMMA, he is also on the advisor for the Swordplay Symposium International (SSI), participating board member of the Association for Historical Fencing (AHF), and executive editor of the Western Martial Arts Journal of the Electronic Journals of Martial Arts & Sciences.

---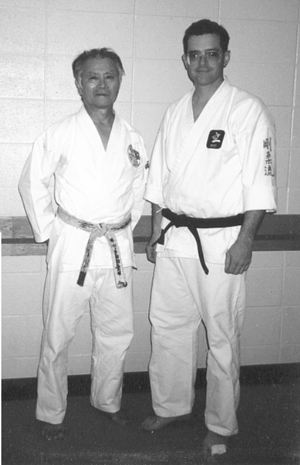 Joseph Svinth:
Editor: JCS, JNC, INYO
Author: Kronos
Joseph Svinth served as a US Marine from 1975-1980. Assignments included combat engineer at Camp Pendleton and Marine Security Guard in Tehran, Iran, and Pretoria, South Africa. He subsequently served fulltime with the Washington Army National Guard and eventually retired as a sergeant first class, E-7. His civilian education includes a bachelor's degree with university honors from Western Washington University (1983) and a master's degree from the University of Washington (1985).
He has published many articles on the martial arts and combative sports, and was co-writer for The Learning Channel documentary "Martial Arts: The Real Story" in 2000. He began martial art training in 1980 and has trained in Goju and Kyokushin Kai karate ever since. The photo shows him with Tomu Arakawa, a Goju Ryu 8-dan from Hawaii, while Mr. Arakawa was giving a seminar in Seattle in 1991.
---