| | |
| --- | --- |
| | The History of Jon Bluming: From Street Punk to Tenth Dan. |
By Jon Bluming (Amsterdam: Self-published, 2000) Paper, 21 cm. x 30 cm., 160 pages, 149 pages of text (about half in Dutch); 11 pages of sponsors' advertisements, 418 B&W photos. No ISBN.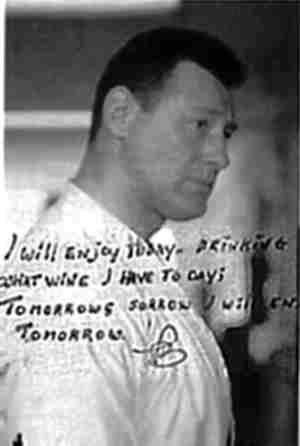 Jon Bluming is a well-known Dutch judo and Kyokushin Kai karate teacher, and the Electronic Journals of Martial Arts and Sciences are proud to be the sole North American distributor of his recent autobiography.

The author is a colorful and often controversial individual, and this book, with its blunt assessments of Donn Draeger, Isao Inokuma, Mas Oyama, and other well-known martial arts figures, shows why. The photographic selection is outstanding and the author's discussion of the Dutch military involvement in the Korean War is unique. However, the book has some severe drawbacks, notably the tiny typeface and the absence of professional editing and proofreading.

For online reviews of this book, see the EJMAS Product Reviews.

For edited examples of Bluming's writing, see:

For some other descriptions of Bluming's life, see: Cost:

US $31 (USA, Canada, and Mexico), US $34 (all other countries). All copies are autographed.

Normally in stock, but when ordering please provide an e-mail address so that you can be notified if there are delays. Dedicated copies are available upon special request.

Order from:
EJMAS
PO Box 14361,
Tumwater, WA 98551-4361
USA

Payment:
Checks or money order drawn in US funds.
Or Order by credit card from EJMAS Unique Books